So, who is the favourite to win Origin 3 and therefore the 2022 State of Origin Series?
Here is a summary of the State of Origin results from 2012 to 2022: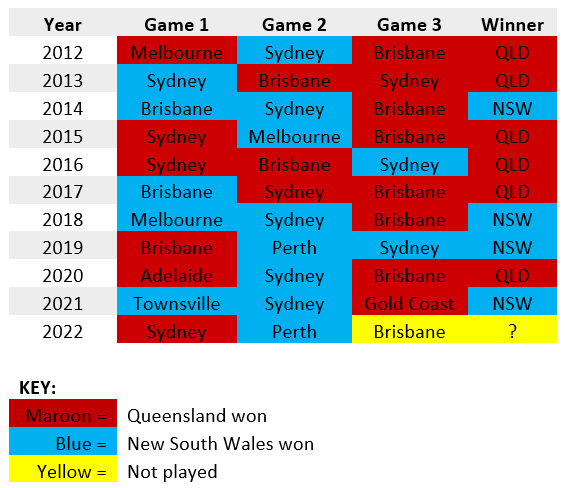 Queensland has won 77% of their home games since 2012, which is 10 out of 13 matches. This supports the theory of home game advantage. From 2012 to 2021, the Maroons won exactly one home game in every State of Origin series. In all three of the games Queensland has lost at home since 2012 they lost in Game 1 of the Origin series. These losses were in 2014, 2017 and 2021. This led to an Origin series defeat in two of these years, 2014 and 2021.
Queensland has won 33% or two of the six Origin games that have been hosted at neutral grounds over the last decade. This includes their Origin 1 victories in Melbourne in 2012 and Adelaide in 2020.
Interestingly, Queensland's Origin winning record is higher for away games at 38% than it is for neutral games (33%), though far fewer matches at neutral venues have been played. They have won five out of 13 of their away games from the start of the 2012 series to the present.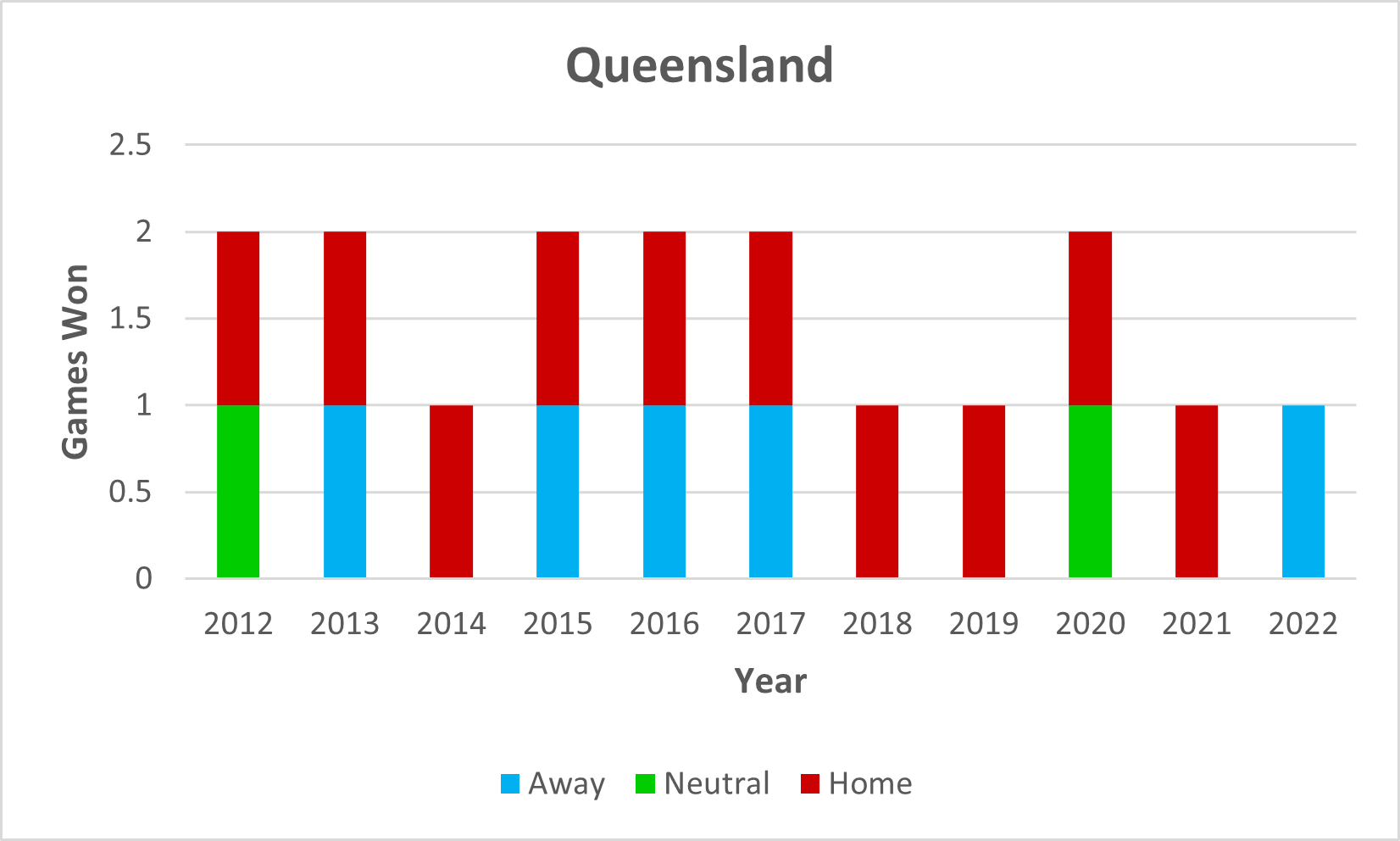 Unlike Queensland's Origin statistics, NSW's results don't reflect the home game advantage theory particularly strongly. New South Wales has won 62% of their home games since 2012, which is eight out of 13 matches. They have failed to win a home game in several Origin series over the last 11 years, including in their 2015 and 2017 series defeats and again in 2022.
New South Wales is dominant when it comes to neutral matches. They have won 67% or four out of six of these neural games since 2012. This includes two wins in Melbourne, in Game 2 of 2015 and Game 1 of 2018, and two wins in Perth. When the Origin series made its debut at Perth Stadium in Game 2 of 2019, New South Wales thrashed Queensland in a 36-4 victory. They replicated this last week with another 32-point victory.
Naturally, since Queensland are so dominant when they play at home, New South Wales struggles to win on Queensland's turf. They have only done so on three occasions, which is a win rate of 23%. New South Wales's winning record for neutral games is higher than their record for away games.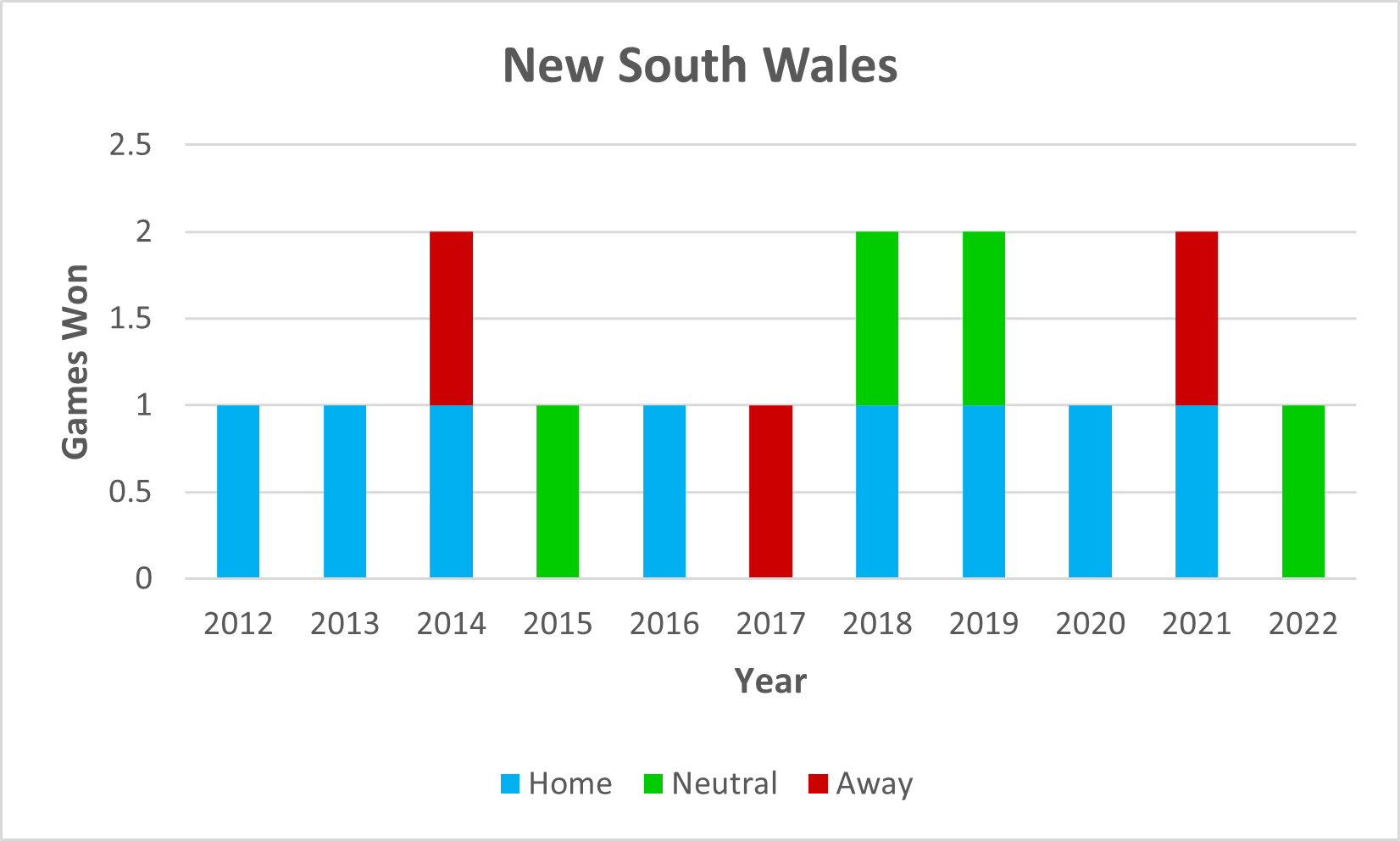 Who Will Win State of Origin in 2022?
This is the all-important question. Here are a few trends we've noticed that give an indication of how the 2022 Origin series may play out:
If Queensland loses at home, it happens in Origin 1
Over the last decade, Queensland has only ever lost at home in Origin 1. With this year's Queensland home game taking place in Origin 3, does this suggest that the statistics are on Queensland's side?
If NSW loses at home, they lose the series
NSW has lost at home three times since 2012. When this happened in 2015 and 2017, it led to the Blues losing the series. Given that NSW lost at home again in 2022, will history repeat itself with NSW losing the series?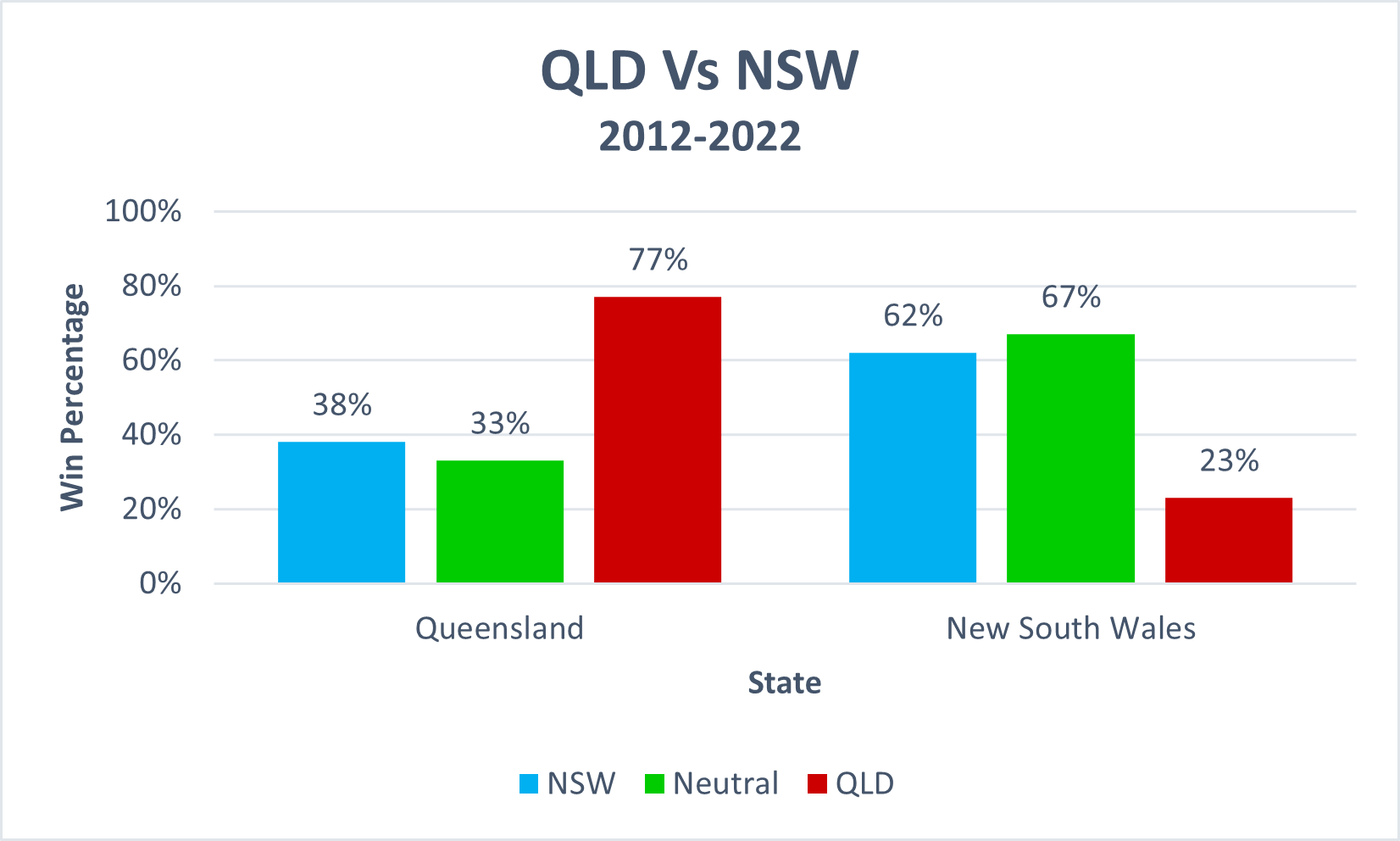 Queensland are the kings of the decider and the home game
The State of Origin series has gone to a decider six times since 2012, excluding 2022. Queensland has won on five of these occasions, including three times after winning Origin 1 and twice after winning Origin 2. Meanwhile, NSW has only won one decider in this period, which was after staging a comeback and winning Origin 2 and 3 in 2019.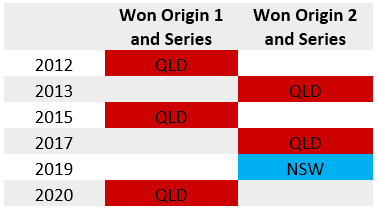 As the kings of not only the State of Origin decider, but also the home game, it seems that the statistics are backing Queensland to beat New South Wales in Brisbane on July 13. In saying this, actions speak louder than words or statistics ever can. So, whether your jersey is blue or maroon, you can rest assured that your dream of Origin victory in 2022 is still alive… and kicking.