Coming up with an all-time greatest Matildas XI was one of the most difficult tasks I have ever been given. The national team has 224 capped senior players, and all of them played a part in building the game, whether that was laying the foundations in the pilot Women's World Cup in 1988, or winning Australia's first silverware in Asia.
Many of these players are among my favourites. At least triple the amount listed in this article could have been included. But that was not the most difficult aspect of this.
Crafting an all-time men's XI is also a huge task, but one made easier by access. One can safely say that Johan Cryuff or George Best belong on a list of great players in history because not only is there limitless documentation of their feats, but also plenty of video footage available at the click of a mouse.
This has not been the case for women's football. As recently as 2011, the Women's World Cup did not have a full broadcast in Australia. But in the years before that, highlights are scarce, and other than a few exceptions, full games are impossible to find. Many of Australia's greatest player's feats exist only in the memories of those who were lucky enough to watch them and lovingly curated by those who work to keep their legacies alive.
So, while I am confident that this lineup (and game changers on the bench) would contend for a Women's World Cup if they all took to the pitch at their peak, I am certain others have missed out.
To start with, I began with the "locks". Players who simply had to be on the team. Sam Kerr, Kate Gill, and Lisa De Vanna make up the front three. These are Australia's top three goal-scorers of all time. Controversially, Kerr has been pushed out to the right flank. This is because it is where she started off, and where she scored a crucial goal to help Australia win the 2010 Asian Cup.
Gill is the spearhead. Unlike De Vanna or Kerr, she can play on the wings but is second only to Kerr on Australia's list of pure centre forwards.
Melissa Barbieri, and Clare Polkinghorne were the next names down. "Polks" is about to play in her fifth Women's World Cup. She has been one of the first names on the team sheet since she first became a senior Matilda and that remains the same to this day. Her selection was a no-brainer.
Barbieri was the captain of the 2010 Asian Cup side. The first Australian team to win AFC silverware and they did so in dramatic circumstances with a penalty shootout win against North Korea in torrential rain.
Cheryl Salisbury had 151 caps in defence for The Green and Gold and would be an automatic selection in almost any era. Rounding out the defence, is Collette McCullum, a player with a wand of a left foot, and 81 caps.
If we were to go with a back four, Alison Foreman would start, but for the purposes of this squad, she is one of the game-changers.
Matildas cap number one, Julie Dolan starts in midfield alongside vice-captain Moya Dodd, and Sally Shiphard. Julie Murray starts just ahead as support for the strikers. It is a midfield loaded with goalscoring potential and hard-working players.
Elisse Kellond-Knight was a hard one to leave out. The two-time FIFA All-Star is undoubtedly one of Australia's greatest midfielders and is in the extended squad. Few players have been able to dictate the tempo of a match like "KK".
Lydia Williams is the backup goalie for "Bubs". It would feel wrong to try and separate them on quality, so silverware is the main factor. Barbieri won the Asian Cup. If Williams can win us the Women's World Cup, this article will immediately be amended. Australia has been blessed for choice in the goalkeeping stocks and these are two of the very best.
Steph Catley, Kyah Simon and Ellie Carpenter feature from the current team. Catley is simply one of the most gifted footballers to ever wear the national team shirt. 2023 will be her third Women's World Cup, and she has been one of Australia's most important players during her era. The Matildas are a different proposition with her delivery, creativity and reading of the game.
Ellie Carpenter needs no introduction. The Cowra-born, Lyon star is one of the world's best right-backs. So far, all of her silverware has come at the club level, but she was an established star by her 18th birthday.
Simon has scored two of Australia's most important goals. At 18 she stepped up to slot the winning penalty in the 2010 Asian Cup, and in 2015 she scored the goal that secured Australian football's first (and still only) knockout round win at the World Cup.
Joey Peters, Heather Garriock, Alisha Ferguson, Sharon Black and Sandra Brentnall make up the rest of the team. All were crucial players and outright stars in their era.
Peters scored 28 goals in 110 caps, Ferguson brings composure to the midfield, and Garriock adds more creativity. Black was an Olympian at Sydney 2000, and a classy midfielder. Brentnall was a creative and elusive forward. This team would be a nightmare to play against.
Coaching the squad is Tom Sermanni. Not only is he the coach that brought home the Asian Cup, he did so by bringing through many of the players who will star at this World Cup. Sermanni gave Kerr, Polkinghorne and Kellond-Knight debuts among many others.
Although he has not coached a national side since taking charge of New Zealand at the Tokyo 2020 Olympics, he remains a popular and respected figure in the game.
This squad is made up of legends of their time, and icons of the game. The women's game has never been bigger but it stands upon the shoulders of giants.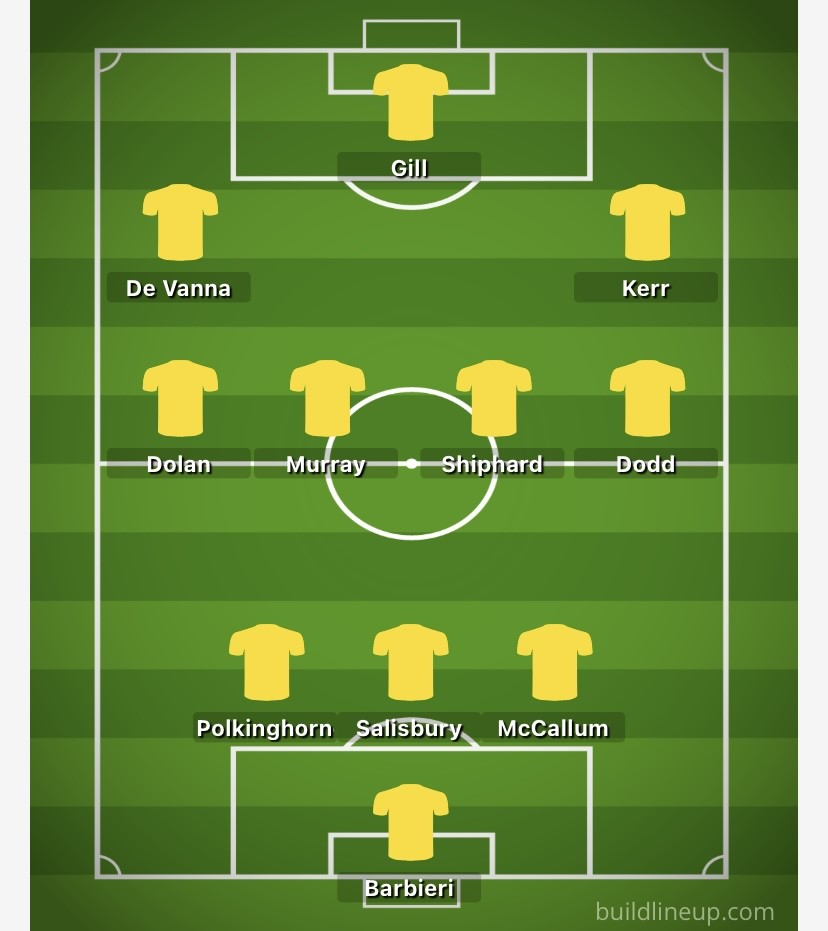 Squad: Melissa Barbieri (GK), Collette McCallum, Cheryl Salisbury, Clare Polkinghorne, Julie Dolan, Sally Shiphard, Julie Murray, Sam Kerr, Kate Gill, Lisa De Vanna
Bench: Steph Catley, Kyah Simon, Heather Garriock, Alisha Ferguson, Ellie Carpenter, Joey Peters, Lydia Williams (GK), Sharon Black, Sandra Brentnall
Also don't forget to listen to the Australian World Cup Podcast on Spotify and Apple Podcasts. New episode out now!