The Solomon Islands government voted yesterday to amend their constitution, delaying their national elections till 2024.
Prime Minister Manasseh Sogavare had argued his country could not afford to pay for the upcoming Pacific Games as well as their national election and would have to delay their elections as a cost-saving measure.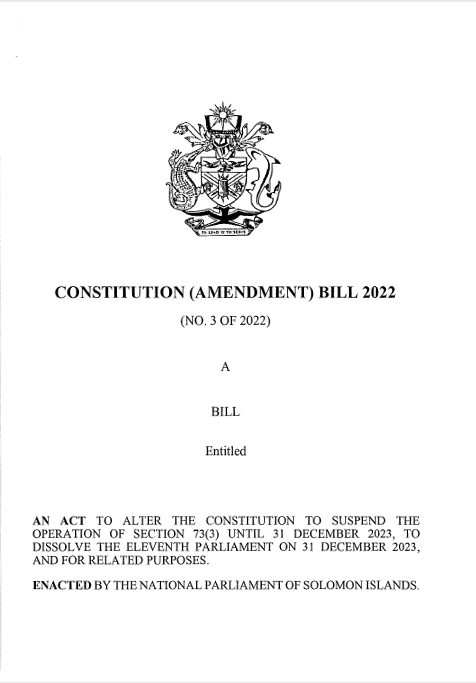 Australia and China have both provided foreign aid to the Solomon Islands to fund the Pacific Games purported to be causing the funding gap. China committed to funding the construction of a $74 million stadium for the games as well as supplying workers to aid in construction. Australia contributed $17.3 million for the games themselves.
Australia has also offered to fund Solomon Islands national elections, eliciting criticism from Sogavare, who accused the Australian government on Tuesday of "direct interference" in their domestic affairs.
"The timing of the public media announcement by the Australian Government is in effect a strategy to influence how Members of Parliament will vote on this Bill…" said Sogavare.
Leader of the Opposition in the Australian Senate, Simon Birmingham, questioned Foreign Minister Senator Penny Wong on the proposed funding on Wednesday, repeating Sogavare's concerns Australia was attempting to influence Solomon Islands' elections.
Senator Birmingham additionally questioned the timing of the offer, implying Minister Wong had acted too late.
Senator Wong said the offer of funding was consistent with foreign aid policy and was "an offer respectful of the sovereignty of the Solomon Islands."
"I would reiterate the standing offer the Australian government has to support the Solomon Islands next election, whether held in 2023 or 2024." Said Wong, "Obviously, as I've made clear publicly, the timing of the election is entirely a matter for the government and parliament of Solomon Islands."
Solomon Islands opposition leader Matthew Wale has expressed concern over Sogavare's bill, saying it will cost voters their "right to exercise their votes at the general election in 2023."
"There is no popular electoral mandate for this bill. That's the fundamental problem with this bill. This alone should have given [the government] pause." said Wale.
Prime Minister Sogavare was quick to reverse their stance following the parliamentary vote on Thursday, which approved his bill.
Sogavare appeared to mock the Australian offer of aid, accepting funds for their election while delaying the poll.
"They've offered now, so you get ready, brother, to fund the costs. It's a big cost, Mr. Speaker, the Electoral Commission needs a lot of money." Said Sogavare, "So you offer, you must prepare to give the money that you said you want to offer us, Mr. Speaker!"