Australian artists are playing important parts in Hollywood's biggest projects. The Edge Of The Crowd spoke to Rising Sun Pictures to learn how they contribute to the worlds we see on screen.
One of the biggest changes in the way we watch movies in the last decade is that audiences now sit right through the credits of many major films.
In a bygone era, you might sit for a few verses of the Will Smith song or leave once all the lights come up. But now, the film is not over until well after the final line of text has crossed the screen and the final "post credits" scene appears.
Attentive Australians might notice a familiar sight in a surprising place - The Australian Coat of Arms.
Sometimes these blockbusters are filmed here, often they use our acclaimed local visual effects studios to bring the vision to life.
This is in part due to an incentive known as the PDV Offset. A 30% federal rebate for the studios on any digital effects work done by Australians, regardless of where principal photography takes place.
This subsidy provides jobs and opportunities to Australian artists and careers in our local film industry. However, the local studios still need to deliver, leaving their mark on some of the biggest films in history.
Rising Sun Pictures [RSP] is one of the reasons that Australia is thanked between when Spider-Man has won, the credits roll and when Samuel L Jackson shows up one last time.
Located in South Australia, their credits include,Captain Marvel, Black Widow, Jungle Cruise and Thor Ragnarök, along with the aforementionedSpider-Man: Far From Home.
Rising Sun Pictures have studios located in Adelaide and Brisbane, and employ over 200 digital artists. They have played a large part in modern pop culture and put Australian film on the world stage.
RSP's Head of Business Development, Jennie Zeiher, says that there is a simple reason that Hollywood's giants come to Australia.
"Brand and reputation," she toldThe Edge Of The Crowd.
"The studios know key members of our team, know our work and they trust us to deliver for them.
Zeiher states that the bidding process is quite different to that of other industries.
"Leads are normally generated through studios or through our existing relationships. Decision Makers have in mind who they would like to work with, check availability, and brief the work.
"There are generally rounds of bidding where the package of work becomes more and more refined.
"It's a little different to quoting a building job as a lot of the work is bespoke and intangible.
"There are also several VFX companies bidding and work is often split between several vendors. In order to demonstrate capability, the vendor often provides a reel showcasing previous work."
Zeiher describes a very collaborative process to deliver the director's vision.
"Each project is different, but RSP normally works directly with the client VFX Supervisor that briefs the work and communicates the vision, look and feel.
"The VFX Supervisor could be working with tens of vendors and wrangling thousands of shots.
"The client VFX Supervisor then showcases that work to the Director for feedback."
"Even the subtlest of differences you can tell that something is fake."
Rising Sun Pictures has worked on a variety of films. They have been helped create the fantastical surreal world of Tim Burton'sDumboand more photorealistic grounded images forFord vs Ferrari.
As with casting actors for a role, a visual effects studio has artists that are more suited to one style or skill.
"Some artists might be better for developing looks, while others might be better at running shots," explains Zeiher.
"Also, a lot of artists have a specific discipline in which they work such as Effects or Compositing, so they are really looking at honing their skills and developing in that one discipline."
Visual effects studios must be versatile enough to produce all kinds of images. There are no easy options, and creating a flying aeroplane has the same challenges as a flying elephant.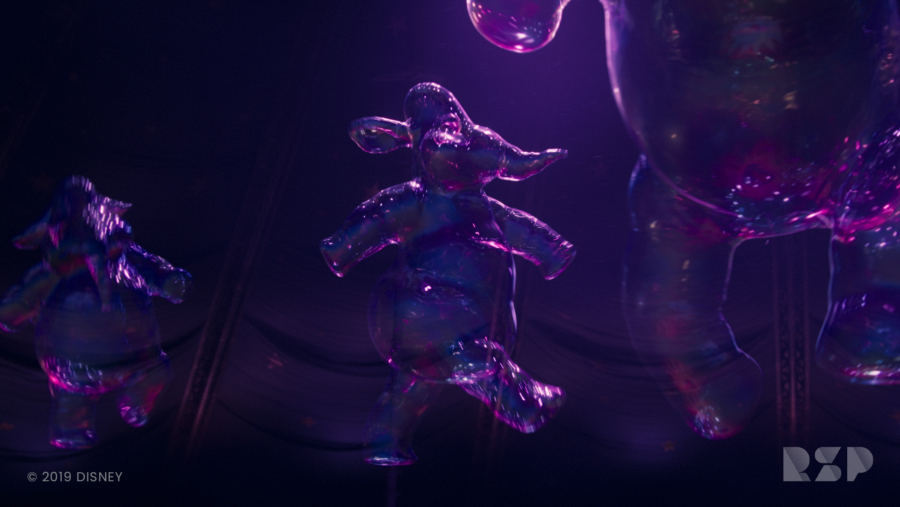 "They both have their challenges," says Zeiher.
"However, anything that is replicated in real life is always hard.
"It has taken years to get to the point where we can have photo-realistic humans! Even the subtlest of differences you can tell that something is fake."
Blockbusters are increasingly being helmed by directors more known for smaller projects or indie films. They may be unfamiliar with the visual effects, but they have a vision.
Zeiher says that they are all working towards the same goal of bringing that vision to the screen.
"It becomes the job of the client-side VFX team to educate the director on the importance of visual effects, the steps we go through, and that at the end of the day there are hundreds of artists working to fulfil their vision."
Nurturing the local industry
The work that creators like Rising Sun Pictures have produced is a reminder of our local filmmaking talent. It is something that the studio is keen to nurture.
"It is important that we promote this as an option for high school students to realise that this can be a career for them.
"Our courses with the University of South Australia are sought after and our students have gone to work nationally and internationally."
There is a hidden downside to working in visual effects. Does it feel difficult to enjoy a movie without looking for and critiquing the shots they have worked on or comparing to others? Is it hard to just enjoy the film like the rest of us?
"SO hard," Zeiher exclaims.
"I like a really good story or script and that way I avoid analysing the visual effects."
It may not always feel like it but watching the latest Marvel film can be a way of supporting the local industry. In more ways than one.
"Support the theatres that have had a tough couple of years, which also supports local cinema and film-making," implores Zeiher.
"It is important to understand why the federal and state governments incentivise filmmakers to work in Australia.
"Both the federal and states incentives make a huge economic impact to Australia. We saw this during the start of the pandemic when there was a flurry of filming activity.
"This is great because it builds capability as well as boosts the economy. However, we need consistent work, as well as support, as to not lose any of that capability."