Gold Coast Suns forward Joel Jeffrey had a breakout game in Round 10 which earned him a Rising Star nomination but it was the chance to put a smile on the faces of his family members that meant the most to the young Sun.
Speaking to the media this morning, Jeffrey described that it was "a great feeling" but said that he had more to play for in the Suns game against the Bulldogs than just the four points.
"[I] had a tough week last week with my niece passing. It was a big week for me and my family," he confessed.
"I sat down with Dewy (Stewart Dew) and he said, 'The balls in your court if you want to play or not' and I said 'Yeah, I'm mentally ready, I'm ready to go, I've got something to play for'. So yeah, [I] went out there and played a good game which I got my family in smiles which was a great feeling for me.
"On [the] day, we didn't get the win, but the boys fought hard until the end, they didn't give up."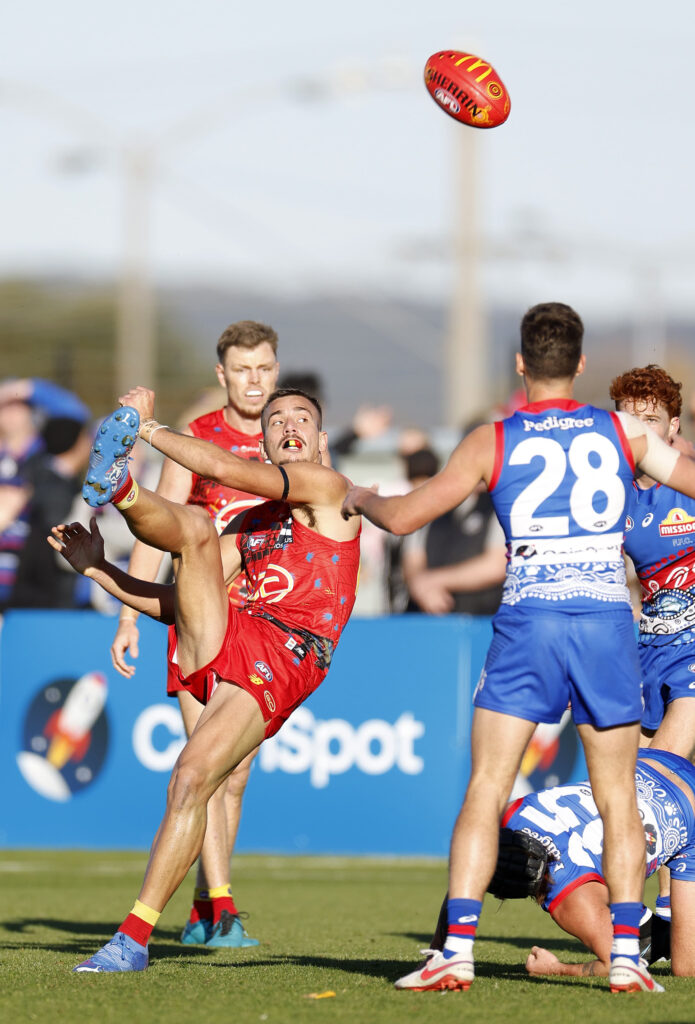 The chance to put smiles on the faces of his family members back in Darwin was a source of inspiration behind his five-goal haul on the weekend.
"Bloody oath, I love playing for family that's why I love playing the game. So I just went out to do it for her (his niece), did it for my other family members. Got a big couple of weeks back in Darwin so hopefully I can back it up in front of the fans up there and family."
Gold Coast face Hawthorn and North Melbourne across the next fortnight, with each matches taking place at TIO Stadium in Darwin, the chance to play in front of family a dream come true for Jeffrey.
"It's unreal it's a childhood dream, that's for sure," he said.
"Growing up on playing on that field, to go up and play an AFL game on that ground is very special to me and my family and I can't wait."
Jeffrey's family is just as excited to see him and the Suns play live with the family already lining up for tickets.
"Bloody oath, they've been getting in to me about getting tickets and stuff and I said sort it out with Jarrod Harbrow", he said.
"I don't want to be focusing on that too much this week and more focus on my game but yeah, they're stoked to have the game up there and like dad said yesterday he just can't wait to watch the boys live."
Growing up in Darwin, Jeffrey spent most of his time with a football in hand or hunting and fishing as he reflected on his upbringing.
"Just footy, footy, footy! The boys back there love playing footy. Everyone's really close around there just love growing up in Darwin lot of things to do. Off-field stuff was fishing and hunting for me, love that. [It's] very hot up there so can't wait to get up there", he told.
Jeffery's dad has played a huge part in getting Jeffrey to where he is today, with Jeffery looking up to his father since he was a kid.
"Dad's been great. He's the one that put me in the right step to play AFL footy. I just idolised him all my childhood until now, he has been a big influence so has mum so the I can't thank them enough", he said.
After a bad run with injury earlier in his career, Jeffrey is now putting together a string of consistent performances in the early stages of a career that is only six games in so far.
"I had a slow start with injury and stuff with my ankle, [I] didn't have the start I would have liked," he mentioned.
"Finally, to get back in the AFL side, two weeks ago out here against Freo, it was a bit scrappy but finally put my foot down and put my hand up to stay in the AFL side. It means a lot, [I] just hope I can keep playing consistent footy."
The Gold Coast Suns will come up against the Hawthorn Hawks on Saturday night from 7:10pm ACST at TIO Stadium in Darwin.