Adelaide Crows Star Hannah Munyard was one of the handful of Adelaide players to win their first AFLW Premiership when the Crows defeated Melbourne to secure the club's third AFLW Premiership.
Munyard joined the Crows during the 2020 sign and trade period after making the move from the Western Bulldogs to return home to South Australia. During the 2021 season, Munyard couldn't cement herself in the Adelaide Crows side after only playing the three games for that season.
Flash forward to 2022 and Munyard has featured in eight games for the Crows in the 2022 season, including the historic Grand Final win.
Speaking exclusively toEdge of the Crowd, Munyard said that a full pre-season and getting her hands on a footy whenever she could really helped her become a key player in the Crow's side.
"I definitely just worked really hard to get really fit," Munyard toldEdge of the Crowd.
"I think last year I had a couple of injuries and things like that that slowed me down in the pre-season, so I wasn't able to have that full preseason, being fit definitely helped me a lot.
"Also just getting the ball in my hand as much as possible and I worked with Ebony Marinoff quite a bit to just get my skills better."
Running out onto a packed Adelaide Oval was an experience she'd never forget, but most importantly being able to play in a Grand Final with her teammates is something she'll never forget.
"It was an amazing and incredible experience. I think it only really hit me as I was running through the banner and just heard the crowd that I was actually playing in an AFLW grand final at Adelaide Oval.
"It was so surreal and obviously just the excitement of being able to do that with my teammates but with some of my best friends as well. So, it was just the best day of my life."
The final message before the team ran out onto Adelaide Oval was simple, to leave everything out on the field.
"Before running out we were just kind of getting really pumped up. I think we just said like we've worked so hard all pre-season for this like we've worked for the last six months just for this one day and for this one moment.
"So that was pretty much the final message and just to not leave anything left in the tank. So just to work as hard as we could and just bring the pressure.
The Crows dominated the match for most of the first three quarters but a momentum swing in the last half of the third quarter saw the Demons get themselves right back into the contest.
The message from coach Matthew Clarke was to bring that pressure that the Crows are so well known for because when the Crows brought the heat, there weren't many teams that could withhold their pressure.
"We just had to start 0-0 and I think that's what we said at every break of the game, we just wipe the slate clean and we just need to keep going and bring the pressure. I think when we bring our pressure is when teams do start to freak out a little bit.
"So, if we bring our best pressure game, I think it's pretty hard for teams to come up against that but it's when that kind of lacks towards the end of the quarters. So, we just had to bring the pressure."
The match itself brought its tough moments with Melbourne really trying to stay in touch with the match but for Munyard it was a great experience to be able to play in a Grand Final with 21 of her best mates.
"Yeah, it was really fun. Obviously, had some really tough moments like during the game and obviously a very, very physical game and very highly contested.
"I actually did have a lot of fun, to be honest, and just looking around at my teammates and just taking it all in, I didn't really until after the siren went. I just looked up at the sky and I just took it all in and looked around at my friends. It's just such a surreal moment."
When the final siren went Munyard was overwhelmed with feelings that after all the hard work throughout the season, she is now a premiership player.
"I was just in absolute shock, I was standing on the sidelines as the siren went so you know with about 30,45 seconds to go you kind of look at the scoreboard in that moment I kind of knew but it was just such an incredible feeling and overwhelming.
"It means a lot [to be a premiership player]. I just can't believe it and I'm extremely grateful to my teammates and coaching staff for believing in me to get me where I am now and yeah, I'm just super happy and grateful."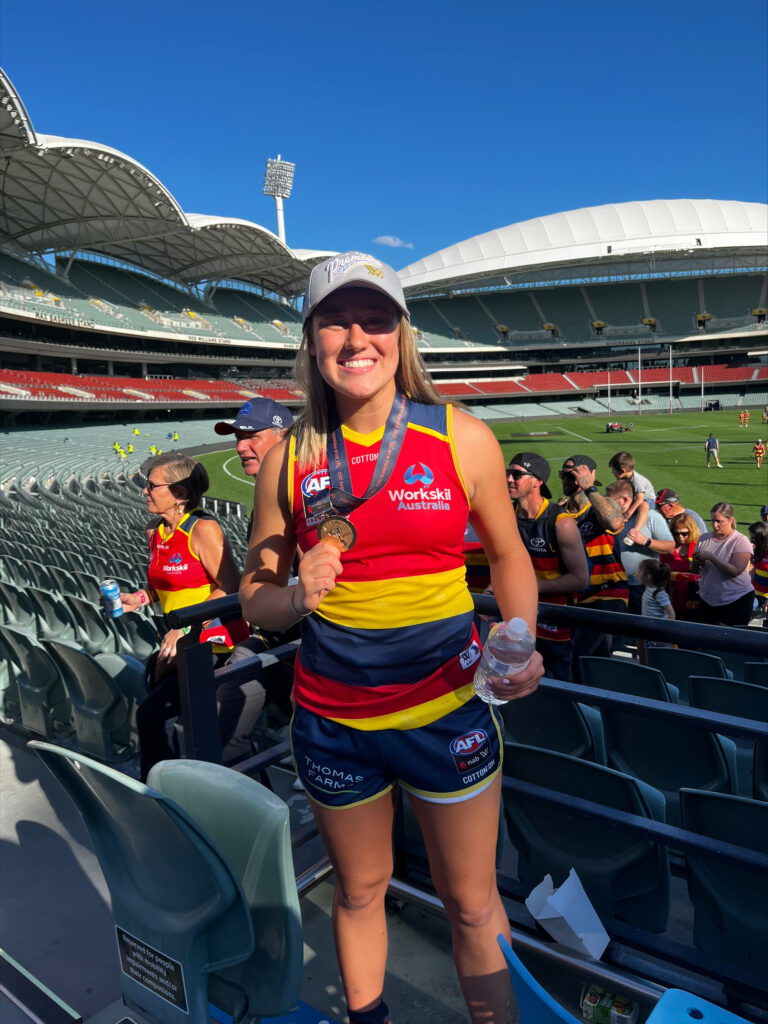 It was just 12 months earlier that the Adelaide Crows were on the other side of the equation, having lost the 2021 Grand Final against Brisbane. Having overcome all the emotions of that Grand Final loss to be standing on Adelaide Oval as premiers a year later made the win that little sweeter.
"All the girls just had such a heartbreak last year and we obviously worked extremely hard and I think we were last year obviously very disappointed. We did a lot of reflection on that and obviously just did not want to feel that pain again. So, it absolutely did make it a little bit sweeter for us this year."
It would be the last time that the Adelaide Crows team would play together, with expansion looming and Erin Phillips the first player to depart to Port Adelaide. Despite the potential of more players leaving the club, there's not much that can break the bond of that Adelaide Crows team.
"I think we just have such a strong bond. We've spent a lot of time together and we really opened up to each other this season especially. I think just being vulnerable to each other and having friendships and those relationships with each other is just really, really important because obviously, you are spending a lot of time together with the training and stuff so to know what's going on outside of football, I think is really important.
"Obviously the girls mean everything to me, and I think not much is going to break the bond even if we do lose some people, I think our group is really strong."