Niles Abston has had a big couple of years. Since 2020, the L.A based comedian has released an hour long stand up special, released his first short film, and achieved a long-held ambition. He talks toThe Edge of the Crowdfollowing the recording of his first appearance on Comedy Central.
"It was crazy, a lot of people showed up for me and it was loud," reflects Abston of the recording.
"It was really fun I wish they would drop the set tomorrow. I'm excited to see it.
"They [Comedy Central] hit me up at the beginning of the year, around mid-January.
"It was one of those things I had to keep to myself for a while. They just randomly made the announcement one day and I was like 'thanks for telling me guys.'"
Abston has been performing six years, but shot to wider recognition with the release of his specialGirlsDon't Twerk To Jokes.The hour-long show was made available online for free in 2020.
It quickly found a worldwide audience. He is now part of a new generation of new comedy voices in America.Girls Don't Twerkwas a chance to showcase his full range of material.
Abston is a unique comedian. He has an ability to approach almost any topic, no matter how serious it may seem on the surface, and give it a new spin or unpredictable punchline.
From Drake to Martin Luther King Jnr, nobody is untouchable to Abston. His delivery and material allow him to dial up the tension in the room to almost unbearable levels before the audience erupts into laughter.
It is a tightrope that few comedians can, and one that Abston has learned after early missteps.
"It was something I had to develop," he says of his material and delivery.
"I was talking to one comedian before, and he said a lot of time you have ideas but you're not the comedian yet that you need to be to do the joke.
"I started comedy really young, as soon as I turned 21, I was going to places to do stand up.
"There was a lot of concepts and wilds things I wanted to talk about, but I just wasn't funny enough yet or really knew how to structure a joke yet to get it across.
"I failed a lot doing that in my first two years trying to do these jokes with a high degree of difficulty.
"Part of stand-up is finding your voice, and really early on I realized that I want to talk about things that are kind of taboo culturally and politically and just make them funny.
"I like kind of tearing those things down"
Abston finds some of the biggest laughs come from the topics he is not expected to touch.
"I want to do jokes that old Black people get mad about," he says.
"I think it's funny because there a lot of things traditionally as a Black person that we're not supposed to make fun of.
"We're all supposed to believe in God, we're all supposed to vote Democrat, and Martin Luther King is perfect.
"I like kind of tearing those things down because that's bullshit.
"I never said he (M.L.K) wasn't a great man…but he had flaws too just like anybody else.
"I think that makes him cooler when you find out this dude had these flaws, he did this wild shit and he still was able to be this huge freedom fighter and civil rights leader.
"I think when you make these people seem more human you inspire more people to do the things that they did because, 'oh I can be like MLK even though I did this dumb shit the other day.'
"He's a human being, that's what I wanted to do in a funny way."
"One of my favorite misdirects"
One particular popular routine is his increasingly famous discussion of pronouns.
Abston's routine begins by providing context and empathy for the world the trans community lives in. He lays out the importance of correct pronouns and what is at risk for the individuals.
There is never any doubt that he is on the right side of things, but his explanation of why he finds it so easy to use correct pronouns is at once a relief and very funny.
It is easy for any of us to use correct pronouns. But in this routine, Nile's explains that its is even easier for him.
"I really knew I had something good when I was at this really small show at a hotel and this trans woman came up to me after the show as was like 'that joke, please keep doing it, it's hilarious.'
He describes it as like a rollercoaster that the audience is teetering at the top of before he delivers the punchline. Instead of trying to shock or offend, he delivers a laugh.
"I love that joke for that purpose. It's one of my favorite misdirects that I've been able to do."
"You meet the most interesting people in the world"
Niles Abston is a rising star in the comedy world, but his career began by chance. He moved to Las Angeles to be a screenwriter. Stand Up comedy was not something he had ever considered until a friend suggested it after reading a short story.
"I thought every comedian I'd see on TV was just up there talking and just happened to be really funny. I didn't know you go to places and practise and hit open mics and all this kind of stuff.
"When I started it, I was really bad.
"My first time was an open mic, it was three minutes, and I couldn't even get through the three minutes, I think I quit right at two minutes and just walked off stage.
"For me, I was 21 new to LA I don't have any life experience. I just got to meet all these interesting people.
"If you do stand up, good or bad you meet the most interesting people in the world.
"You meet some of the nicest, funniest people in the world, you meet some of the weirdest people in the world. I was just fascinated at this underground world that nobody knew about.
"I kind of grew up in comedy. That's why I didn't quit, I just met so many cool people and I happened to get funny too."
"He's literally like Batman"
He might have grown up in comedy, but comedy also helped him grow up. Abston recalls how he first discovered the art in middle school. It is one of the formative moments on his life.
"For me, I wasn't really into stand-up comedy growing up. I didn't know it was a thing.
"My parents are very religious there wasn't a lot of the TV where people were cursing.
"What happened was when I was in middle school, I was kind of in a weird depressed state. I didn't really like my school and the other kids and things like that.
"But I found this dude named Kat Williams.
"I found thePimp Chronicleswhich I think is his best special.
"Every day I would come home and either listen to or watch it.
"I'd sneak off to myself and it would make me laugh every single day no matter how many times I watched it.
"To this day I can recitePimp Chroniclesfrom beginning to end because I would just listen to it every day. That kind of got me through Middle School listening to Kat Williams.
"Then as I got older, when I got into comedy I became this comedy nerd….Kat Williams, Chris Rock, Wanda Sykes, Roy Wood Jnr, they're all inspirations for me.
Roy Wood Jnr has also become a mentor for Abston. He toured as an opening act to the Daily Show correspondent in 2021. It was an experience that enhanced Wood Jnr's standing in Abston's eyes.
"He does so much for younger comedians and really helps us out.
"I'll meet a younger comedian that's around my age, we'll get to talking about Roy and they'll tell this story, 'Roy helped me do this, he helped my mom.'
"I'm like wait when does this dude sleep?
"He's literally like Batman, he's always helping somebody and doing something good and he also happens to be one of the funniest people in the world."
The opportunities that are coming now can be traced back toGirls Don't Twerk To Jokes.
The special was Abston's first attempt at a full hour of material. Remarkably it was shot in one take at popular L.A venue Scoopty Boopty's. Abston was originally asked to do 30 minutes but set himself the task of a full special. Screen time on Netflix, Comedy Central or HBO had so far been evasive. He decided to make his own opportunity.
That decision to forge his own path has created more chances for himself and his friends.The Basement Festseries of shows and the Youtube documentaryWhy Are You On The Train?are both different but excellent examples of the content he is putting out.
"It's crazy that people are real fans of it," Abston says of the special that started it all.
"It doesn't even feel like it's my comedy special any more.
"The people that watched it, it's their special now.
"It's been cool to see people wearing the merch. It's been humbling and I'm grateful for the people that really responded to it because without them I wouldn't have built an audience of a following."
Out of that following came the chance Abston had wanted since moving to L.A. an admirer of the show provided him the chance to make a short film with a small financial grant.
"The comedy special was doing well on line and this really nice guy named Bill Bossert, he has a production company and film grants.
"He gave me a certain amount of money and I literally came home that day and I looked at my roommate.
"I was like 'yo I've got money to make short film, have you got any ideas? Because I don't'
"We wrote the script in a day. We sent him the script at the end of March, by the third week of April we were shooting the movie."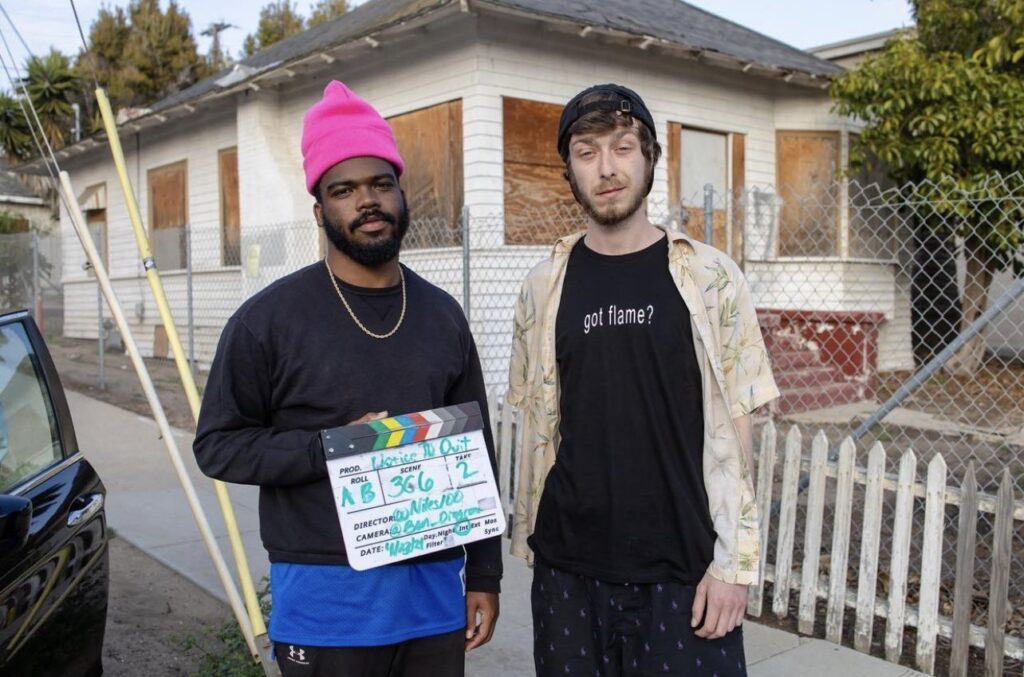 Notice to Quit, a directorial debut
Notice To Quitis a 20 minute film, made on a shoestring budget over less than a week. It is another example of Niles Abston's appeal and creativity.
The script and performances feature all the unpredictability and quirkiness that his writing is known for. It is small in its scale but cinematic in its feel.
It feels like a combination ofAtlantaandCurb Your Enthusiasm. Yet it is very much its own thing, and as writer, director, and co-star of the film, it is Abston's vision and voice.
"It's harder than I thought, but easier than I thought [too]," he says of his first time directing.
"Harder because I was one of the main characters in the film. The difficult part was figuring how I fit into certain scenes and directing other people at the same time.
"After the first day I kind of got it down, by the third day I felt like I was really in a groove with it."
The experience of filming and his satisfaction with the final product has removed some of the mystique of filmmaking for Abston.
"I think, industry-wise, they make directing seem like this whole mysterious, hard thing to do to discourage certain people from doing it.
"It's not as hard as people make it out to be, these dudes aren't geniuses.
"It's all about the team you put together; who's in the movie, how strong the story is and how much time you have to prepare.
"I can only imagine if you give a dude $30 million to make a movie and say five months to shoot it, shouldn't it be good?
"Seeing what we did with little to no money and some of my money in three days, I'm not really impressed anymore by these directors who everybody makes out to savants.
"If you've got 70 million dollars and Leo Di Caprio to make a movie shouldn't it be good?"
"The movie was proof of concept"
The Stoner-Comedy tells the story of two roommates trying to avoid paying rent by trying to blackmail their (possibly cheating) landlord.
Niles Abston pairs up with Johnny Mac as his friend, a 30 year old trying to start an unboxing YouTube channel despite warnings that it is "too late."
Niles plays a fictional version of himself as the kind of person who spends the rent money on weed then "turns around and asks their grandma for money."
To describe much more of the plot would be venturing into spoiler territory. But it is packed with funny dialogue, a memorable cast, and a plot that escalates despite the simplicity.
"Our goal right now is to get a Stoner TV show.
"To use a lot of the people from the film as different characters.
"The movie was a proof of concept, for wild adventures where they get into things way over their head.
"A writer I really like told me he watched it, and [said] it felt like an indie movie and a TV show at the same time which is what we we're going for."
Niles Abston's career is evolving quickly. After six years in the industry he has a full hour special, a short film, a nation wide tour and a Comedy Central feature to him name.
His next comedy special is due to be recorded during the Black History Year World Tour soon to take place. The tour will take in cities across the U.S and then London. Chicago will be the location for his next filmed performance.
Niles Abston is forging his own path in comedy and film. The world is now his stage.