Whilst the new women's football season in Western Australia might be a few weeks off still, two major announcements over the past 24 hours have whetted the appetites of fans in the state.
Northern Redbacks merger creates Perth Red Star
Western Australia's most famous and most successful female-only football club, the Northern Redbacks has merged with ECU Joondalup Soccer Club to form Perth Red Star - a club that will incorporate women's, men's, and youth football.
The Redbacks, formed in 1991 as Morley Windmills were the inaugural WANPL WA Grand Final winners in 2020.
Prior to the establishment of the Women's NPL in the state, Northern Redbacks had won 15 Premier League Championships. Nine state league cups were also held aloft.
The Redbacks also had the outstanding achievement of winning the Inter-State Challenge Cup in 2013 by defeating Adelaide City.
The club have also produced three Matildas, countless Perth Glory players, and international players for Wales, Northern Ireland, and Zambia.
However, the Redbacks have always been about far more than its senior team. They fielded a total of seven teams down to U14s and have experienced huge success. Age group league championships were won and a U16 side represented the club at the World Youth Cup in Sweden - the first WA-based team to ever do so.
The link-up with ECU Joondalup aims to create a sustainable future for both clubs. Speaking about the announcement, General Manager of the new Perth Red Star club Simon Hicks said the merge will increase interest and participation in the women's game.
"Bringing together around 60 years of soccer development in Perth, Red Star FC is in a unique position to become the premier youth development club for soccer in WA - both for girls as well as boys," Hicks said.
"Women's soccer is a big part of the future in Australia. Interest is likely to skyrocket when the Matildas co-host the Women's World Cup with New Zealand next year. Even more girls (are likely to) discover a love for the game."
Related Articles
Epakis keeps focus on the immediate amidst constant changes (edgeofthecrowd.com)
Deborah-Ann de la Harpe: In the form of her life (edgeofthecrowd.com)
Mie Leth-Jans on life with Perth Glory (edgeofthecrowd.com)
WNPL WA Night Series schedule announced
The first sign that the new season of state league football is rapidly approaching in WA with the arrival of the WNPL Night Series fixtures.
Ahead of the third Women's NPL season in the West, the Night Series competition sees eight teams divided into two groups of four. Each team will play each other once in their group.
Group A contains both of last year's Night Series winners Balcatta and runners-up Murdoch University Melville; the latter was also WNPL WA league champions in 2021. They are joined by Subiaco and the new Perth Red Star club (formerly Northern Redbacks, 2020 WNPL WA champions) in what looks to be a fiendishly difficult draw.
The group opens on February 25 when Murdoch University Melville takes on Subiaco and Balcatta face the Northern Redbacks at Ellenbrook Sports Hub.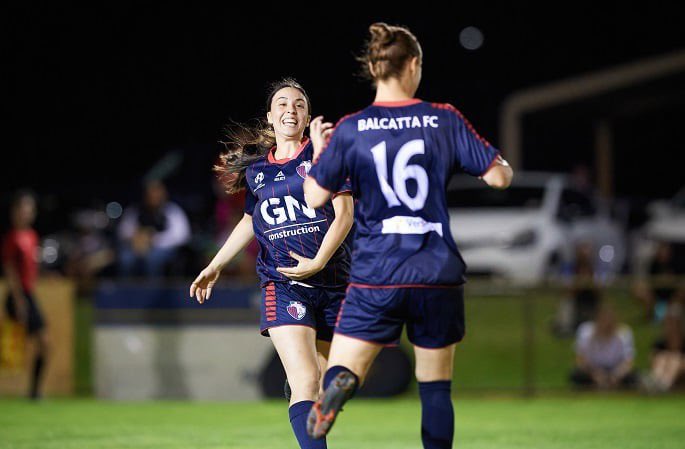 Perth SC is in Group B along with Curtin University, Hyundai NTC, and Fremantle City. The first round of matches here will take place on February 26 when Perth SC faces Curtin and the NTC take on Fremantle City at Dorrien Gardens.
The top two sides will then advance to the semi-finals ahead of the final which will take place on Saturday March 26.
Last season's final stages of the WNPL WA Night Series saw only one goal separate each side at the semi-final stages. Balcatta saw off Fremantle City 2-1 and Murdoch University Melville (MUM) defeated Perth SC by the same scoreline.
The final at Macedonia Park started with a bang when Balcatta took a two-goal lead with just 10 minutes on the clock thanks to goals from Kimberley McCartney and Cassandra Harvey. MUM hit back just before the hour mark through Thalia Organ.
Despite MUM's constant search for an equalizer, Balcatta claimed its first-ever piece of silverware. MUM will be going all out for revenge when the two sides meet in Group A.