The SANFL Women's competition has kicked off for 2022, and there were talking points aplenty.
From a six-goal haul and a monster tackle count to inaccuracy in front of goals and the dreaded COVID-19, round one of the SANFLW, 2022 season had everything.
Here are some of the stand-out moments of the round.
Tigers continue 2021's roaring success
Reigning premiers Glenelg flexed its muscles against a lacklustre Norwood in the first game of the SANFLW 2022 season.
The Tigers set the tone with the first goal of the match scored through an impressive dribbling effort by vice-captain Chelsea Packer within two minutes of the first bounce.
The goals continued to flow from there, with seamless passages of play unable to be stopped by the Redlegs.
Glenelg ran out 73-point winners on Norwood's home deck.
Brooke's bag of six big ones
Young Glenelg gun Brooke Tonon showed exactly why the Adelaide Crows drafted her for this season by snagging six goals in her first SANFLW match of 2022.
She was on the end of the first goal of the second half, which took the Tigers all of 16 seconds to score.
Her sweet tooth was on show when selling some candy to collect one of her goals kicked in the third quarter.
COVID-19 creates chaos for Roosters
As to be expected in this day and age, some clubs were impacted by COVID-19, ruining preparations for round one of SANFLW 2022.
North Adelaide coach Krissie Steen toldThe Advertiserthat up to 10 league players were scratched off the team list due to being in isolation.
While Steen believed pre-match could still come away with the win thanks to their training system, it was not to be.
Bays' Bates brings Redlegs to ground
Opponents, beware: Jessica Bates is here to take you down.
A stand-out performance from another Glenelg player saw Bates notch up a massive 19 tackles in her mission to crush Norwood.
Not only did she register the highest amount of tackles in round one, she also had a handy 23 disposals - most collected through her defensive pressure.
To put it simply, it was not North Adelaide's night when it came to slotting majors.
The Roosters' kicked at a disappointing 27 per cent scoring accuracy, with a final score of 4.11 (35).
Going down to West Adelaide by a mere five points, had just two of those shots on goal been majors instead of points, they could have snagged a win.
Other impressive on-field efforts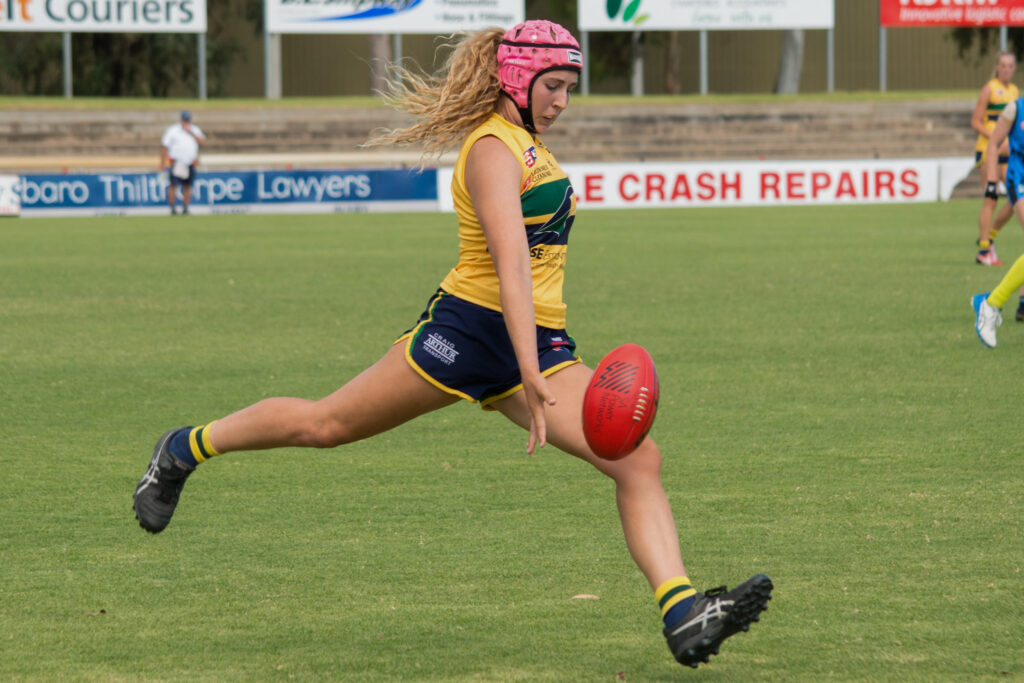 Norwood 2.2 (14) def by Glenelg 13.9 (87)
GOALS: Norwood - Lindsay Bigg, Jade Halfpenny; Glenelg - Brooke Tonon 6, Chelsea Packer 3, Lucy Armitage, Laura Chigwidden, Caitlyn Swanson, Piper Window.
West Adelaide 6.4 (40) def North Adelaide 4.11 (35)
GOALS: West Adelaide - Melanie Elsegood 2, Ebony Barrenger, Paris Francis, Nicole Hooper, Charlie Scutchings; North Adelaide - Hannah Ewings 2, Paris Crowe, Jaime Norup.
Central District 4.3 (27) def by South Adelaide 10.13 (73)
GOALS: Central District - Demi Sonneman 2, Keeley Cannizzaro, Isabelle Starmer; South Adelaide - Shae Archbold 3, Jess Waterhouse 3, Lauren Clifton, Jess Kirk, Lucy Northcott, Brianna Wedding.
Woodville-West Torrens 2.8 (20) def by Sturt 7.8 (50)
GOALS: Woodville-West Torrens: McKenzie Dowrick, Jemima Whitington-Charity; Sturt - Abbey Rigter 2, Amy Brooks-Birve, Elsie Dawes, Alysha Healy, Ellen Lynch, India Rasheed.
One player is being sent to the SANFLW tribunal after a front-on collision in the first match of the season.
Strong Glenelg forward Jess Searle can accept a reprimand with an early guilty plea after a forceful front-on hit against Norwood's Ali Ferrall.
With the conduct deemed careless, the contact high, and the impact low, the base sanction is a one-match suspension.