The Melbourne Vixens look to turn things around in 2022, after a disappointing season last year. With a few new recruits and a tough pre-season, they'll be heading into the Team Girls' Cup this weekend preparing to show the rest of the competition that they mean business in 2022.
The Vixens took to Traralgon a few weeks ago to take on the Thunderbirds with the side taking a lot from the hit-outs.
"It was awesome to just get out there and play," Liz Watson toldEdge of the Crowd.
"We had a few of our training partners get out on court as well. Our game plan we felt was really good and really solid and there is a few things to work on it that but I think overall it was a success.
"To get the wins was awesome but it wasn't about that it was just to see where we're at and it was our first real hit-out for the season."
Over the off-season, the Vixens brought in star goaler Kiera Austin and up and coming defender Olivia Lewis to help the club get back to finals. Watson said that they've already brought a lot to the team in the short time they've been in Melbourne.
"Kiera [Austin] is doing really well coming back from her knee injury, she's spending a few more minutes out there, playing some real matches which is awesome.
"Liv [Olivia Lewis] from Perth has done an amazing job as well, she's just like that spark of energy and provides that enthusiasm out there on court.
"I think they're certainly settling into Melbourne life really well, they love it, they love the coffee here, they love the food so I think they're enjoying it."
Related Stories
OVER A THIRD – COVID-19 IN SSN AND WHAT WE WANT FROM FOX SPORTS
FORMER DIAMONDS CAPTAIN CAITLIN BASSETT CALLS TIME ON NETBALL CAREER
'IT'S AN ABSOLUTE HONOUR TO CAPTAIN THIS CLUB': KIM RAVAILLION ON NEW ROLE
With Team Girls this weekend, the Vixens are looking to put their brand of netball out on display during the last competitive hit-out until they face the Firebirds in Round One.
"We just want to play really hard and really strong and this is our last test to see where we're at from the whole competition, so it's a really important part for us," Watson said.
"It's a part of our training week as well to go out there play those matches, be able to back up and have the ten that we're going to select there and play and just put out the game we want to play for the rest of the season."
Watson was named as a Fox Netball ambassador during the week and she says that she's looking forward to netball getting the recognition that it deserves.
"Really exciting, just to be here and have this amazing event. It's the place where everyone goes to watch sport so just to be on their channel and to know that netball is going to get the viewers and I guess the recognition it deserves because it's been a strong sport for so long.
"So to now have it on fox and people can watch it who maybe haven't watched netball before it's exciting, they've been such a great crew to work with already and the season hasn't even started."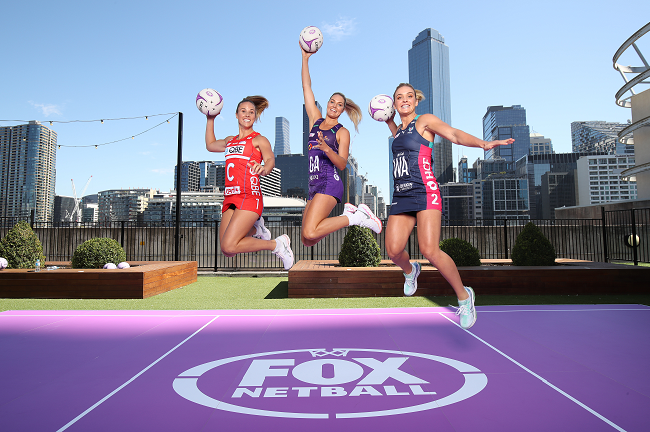 Liz Watson alongside fellow Fox Netball Ambassadors in Paige Hadley and Gretel Bueta. (Photo: Supplied)
The Quad series in January marked Watson's first since she officially took over as captain from Caitlin Bassett and the first time stepping out on court since the 2021 Constellation Cup.
Although those things weren't going through her mind while over in England, instead of enjoying the fact that the Diamonds are back playing international netball.
"It was awesome, I have such a great team and everyone did such an amazing job there was so much going on that I didn't really think that it was my first time as captain and first time back on court," Watson said.
"More excited that we are here playing international netball. It was a bit of a mission to get there with covid and dodge it all to get on that flight but I think everyone did an amazing job and it gives our team so much confidence as we don't actually meet again until Comm Games."
The Melbourne Vixens will kick off its Team Girls campaign as they take on the Queensland Firebirds tonight at 6 pm.