There aren't many people who win two National Championships, and head to their high school formal in the same week. And yet, that's how Torrie Lewis spent the first week in April.
This weekend, the 17 year old will run the Stawell Gift. And she'll be doing Australia's biggest handicap race off scratch. She's giving everyone else a handicap.
And while Lewis is no long-distance runner, the story of how she got to this point, is not short.
Lewis spoke toEdge of the Crowdabout the journey of her career.
The young sprinter hasn't always been a sprinter. She started as a gymnast, and quite a talented one at that.
"So when I was doing gymnastics, I was doing 20 hours a week at 9-10 years old, and I was all fine," Lewis explained.
It didn't all go to plan for Lewis, as she started to struggle a few years later.
"My body started to ache and I was sore, and I kept getting really sore from gymnastics, and I went to the doctors and found out I had coeliac disease.
"It's an autoimmune disease that attacks your own gut, and it made me feel really really bad, and so I quit gymnastics because I just couldn't keep going with that 20 hours a week in the state my body was in, but I still wanted to stay fit.
"I was doing little athletics at the time, and I had some friends over there, and so I just kept doing a little bit of running. I had a training group, but I'd only go once a week maybe, and then since I had so much free time with no gymnastics, I bumped it up to two sessions a week.
"I just kept getting better results in competitions, too. I think I won my first State title that year when I quit gymnastics. I just started to think 'if I put more effort into it, maybe I can do something with it,' and ever since, I've been putting more effort into it and getting better results."
'Better results' sums up Lewis' growth since then. Lewis has qualified for the World Junior Championships later this year in the 100, 200m and 400m.
It's quite incredible that Lewis has qualified in all three events. She ran a 400m for the first time in competition earlier in 2022, and was surprised by the result.
"I never trained for the 400 at all. The first 400 I did for about 3 years was just for my school at one of their championships.
"I thought I was taking it pretty easy, just running it to win, and I just ran a 55 seconds [400m], and it didn't really feel like I was trying for that 55 seconds, and then State [Championships] was just a few weeks later.
"I just wanted to see how fast I could go in it, if I actually tried and pushed it as far as I can, and that's how I got that 53 [second 400m], but we never train for the 400 at all, and I don't consider it one of my events."
Lewis does consider the 100m and 200m her events, and she was recently crowned the Australian u20 champion over both distances.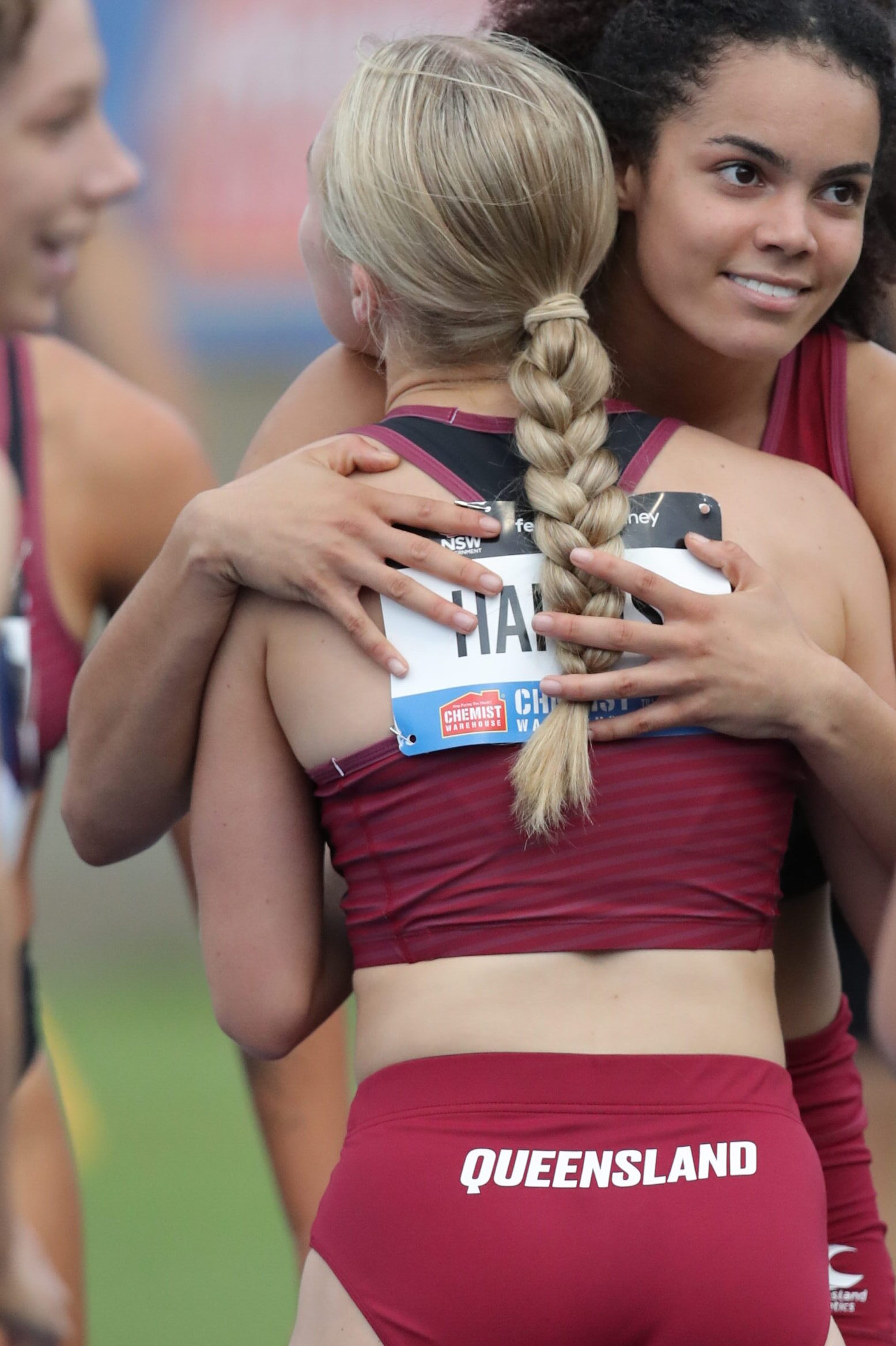 In the Open Queensland Championships in March, she finished second in the Open Women's 100m, behind eventual National Champion Ella Connolly, and ahead of Olympian Hana Basic.
For Lewis, the challenge of racing in the Opens is one she relishes, and she will get another chance at the Stawell Gift this weekend.
"I raced both of them. I do really enjoy competing against the Opens, it's just that extra bit of competition but not as much pressure, because I'm not expected to win, and it's really good."
Despite that enjoyment, Lewis will compete at World Junior Championships, rather than the Commonwealth Games later this year.
The young sprinter explained the rationale behind that decision.
"Commonwealth Games is on the same week as World Juniors, so I pretty much had to choose between Comm Games and World Juniors, which kinda sucks, because I would have loved to be on a relay team for the Comm Games and then go run a couple of individual events at World Juniors.
"We had this conversation with one of the development people from Athletics Australia and I am leaning towards World Juniors, as long as I get selected obviously, but I think World Juniors is going to be the go this year.
"I feel like I'm just at the start of the season and I've already dropped that fast time in the 100, and I feel like I have a little bit more improvement in me before that June/July period when World Juniors is. I feel like I can put myself in a really good chance for a final, and maybe even a medal contention.
"I just think, individual possible medal in the 100 or 200 and a good chance at a relay, because we have a good u20 team, would be better than just a relay at Comm Games, so I think it would put me in a bit of a better position."
She can see the upside of competing at World Juniors though, and it's not just about the extra luggage she might get to carry home.
"Definitely testing myself a bit at World Juniors to see how I deal with the international pressure and then hopefully, if all goes well there, we have World Championships next year, and then Olympics the year after.
"I will definitely hoping to get to those teams, because I do have a long term plan for those competitions as well, not just the short term ones as well.
"I'd be 19 for Paris. If I did manage to get all those, it could be World Juniors this year, World Champs next year and then Olympics after that, that is the long term plan that I want to get."
Despite the meteoric rise, it hasn't all been smooth sailing for the young star.
Lewis moved up to Queensland in 2020, just as COVID-19 hit Australia, and it had a huge impact on her training that year.
"The whole of 2020, I was training alone, because we had just moved up to Queensland from NSW," Lewis explained.
"My coach was still in NSW, and he was supposed to be able to come up every couple of weeks to Queensland, but because the borders were shut I only saw him about twice all year, and then I didn't have a group up here, so I was training by myself the whole of 2020."
Travelling for meets isn't easy for the coeliac either.
"When I'm at home, it's all fine, but it is a bit hard when I'm travelling, because I either have to take a chance and eat out, and there's always the possibility that something can be cross-contaminated, and then I would get sick while I'm out for competition.
"Or we have to bring all our own food from home and make it in the hotel, but it is one of those issues that's kind of frustrating, so whenever we travel it's a bit hard."
But those are the big frustrations for Lewis. She hasn't settled on a preferred event, and isn't in any rush.
"It depends on the day. If I'm feeling a little bit tired, not feeling the bend, the 100 definitely. If I'm not feeling the start, then the 200.
"I interchange between which one is my favourite all the time. It's either going to be a 100 day or a 200 day. I can tell. It's just a feeling."
Luckily for Lewis, with her scratch, the Stawell Gift is 120m, but with no bend to worry about.
From Stawell, the big stop from this season will be Cali, Columbia, for the World Junior Athletics Championships. But you can bet it won't be the last stop. This gifted young sprinter is just getting started.