A complete, 60 minute performance from the Adelaide Thunderbirds has seen them dominate the Queensland Firebirds to take out the battle of the birds, 68-55.
Sticking with their seven for the whole match to reach their highest score this season, it was 13 gains (nine from the circle defenders) and a 69 per cent gain to goal conversion rate that were the keys to Wednesday night's victory to close out Round 10 Super Netball action.
It was a disappointing display from the Firebirds, who have now dropped three in a row and find themselves sliding out of the top four, very tight on 16 points, equal with their two recent opponents - the Magpies and Thunderbirds.
When asked post-match what she put the win down to, Thunderbirds' coach Tania Obst responded with a laugh and suggested it was a "secret formula" that had got the job done tonight.
"I think, probably, I just had a really quick glance at the stats there, and you know our lost possessions were probably the lowest it's been for a very, very long time and I think when you maintain possession of the ball and don't throw it away [it goes in your favour].
"And we were patient to goal, and I think that that was probably a really big difference for us tonight.
Even Megan Anderson seemed a little stunned with how good the Thunderbirds played, explaining to media post-match that her side just didn't match it with the home side tonight.
"Yeah it was a very strong performance [by the Thunderbirds]," Anderson said.
"I think they had great centre pass conversion, great turnover conversion and I think they just put pressure on us right from the start, so we were always chasing.
"They were very good tonight and we just didn't match it with them, unfortunately.
"It's always good to start a game scoring your own centre passes, and we didn't do that a couple of times in a row, and definitely it put doubt in our minds and I think we just didn't come back from that for the rest of the game."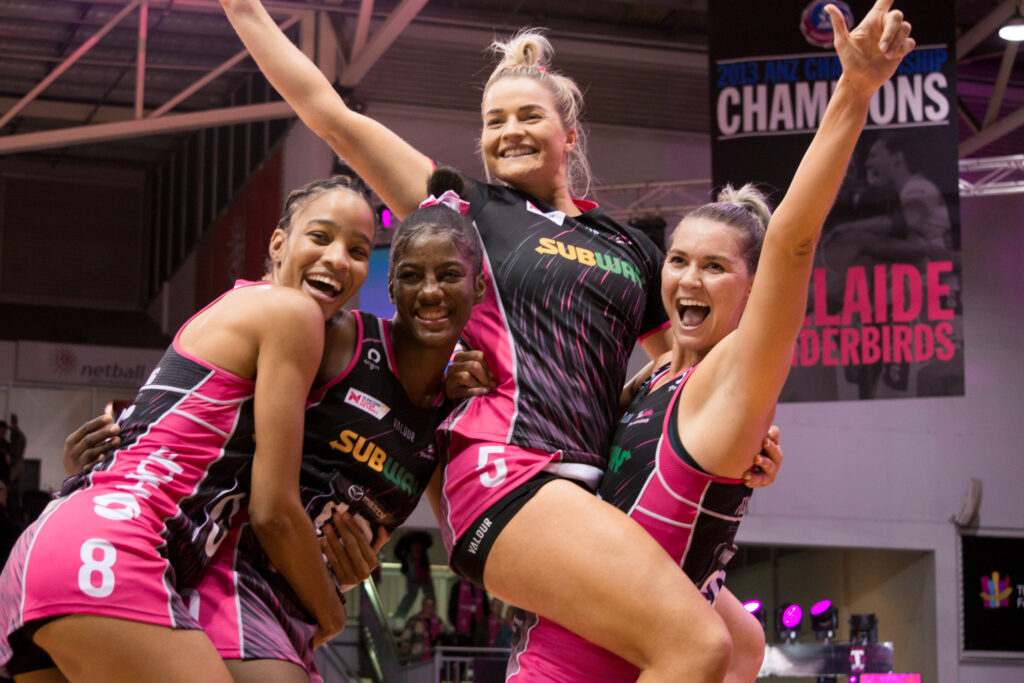 The Queensland Firebirds were without midcourter Jemma Mi Mi, who underwent scans following the weekend's loss to Collingwood, revealing a partial tear to her Achilles tendon. Macy Gardner came into the side.
Williams got her first start in 2022, taking the centre bib after putting together a couple of impressive efforts off the bench for the Thunderbirds.
It was the Thunderbirds in control of the opening quarter in this contest. The link-up play in the Thunderbirds' attacking half was able to capitalise off their four gains.
Georgie Horjus continued her impressive season at wing attack, dominating her match-up with Firebirds' wing defence Gabi Simpson. Horjus had 17 feeds, including eight goal assists, in the first quarter and the Firebirds desperately needed to shut down the playmaker.
At quarter time, the Firebirds looked for answers to Horjus, but less than five minutes in and things hadn't improved - the Firebirds forced to call a time-out, now seven points down.
Kim Jenner came on at goal defence, replacing Ruby Bakewell-Doran, who had been giving Tippah Dwan a bit too much space.
The Thunderbirds' gave a couple away with errors in the goal circle, capitalised on by the Firebirds, resulting in a Thunderbirds' time-out.
Bringing Mia Stower on in goal shooter for the Power Five was productive, the long-range specialist sunk two two-point shots, but the margin remained at five at half-time as the likes of Shamera Sterling and Latanya Wilson found themselves in between a few feeds as well.
Stower remained on court for the Firebirds, however the changes came in defence, with Jenner moving into goal keeper and Bakewell-Doran returning at defence.
It was two goals each way to start the third quarter, but an intercept from Simpson over the reach of Horjus helped the Firebirds peg one back in their deficit.
The margin was drawn back in to just three, but the Thunderbirds responded in the final five, despite not making a super shot, putting up three in a row.
The combination of Dwan and Lenize Potgieter was the best it has been all season on Wednesday night against the Firebirds, something Obst puts down to a combination of things: perhaps more confidence, more time together on court, or even it finally all clicking.
"We had a specific game plan that we wanted to sort of implement down there, I thought Tippah was heading into the goal circle a lot earlier, which was then giving the Firebirds more to think about than just Leni in the circle and that allowed then Tayla and Georgie to work the ball sort of closer to circle edge or onto circle edge.
"And then we sort of had the two options in the circle, so I thought that their connection was great today, and I think Tippah's speed, she's very zippy and a bit slippery through there and something a little bit different. I thought that she had a really good game against her old team."
That point, on Dwan's speed and going to the circle earlier was reinforced throughout the match, as Obst repeatedly instructed at time-outs to "give and go" and get to the circle.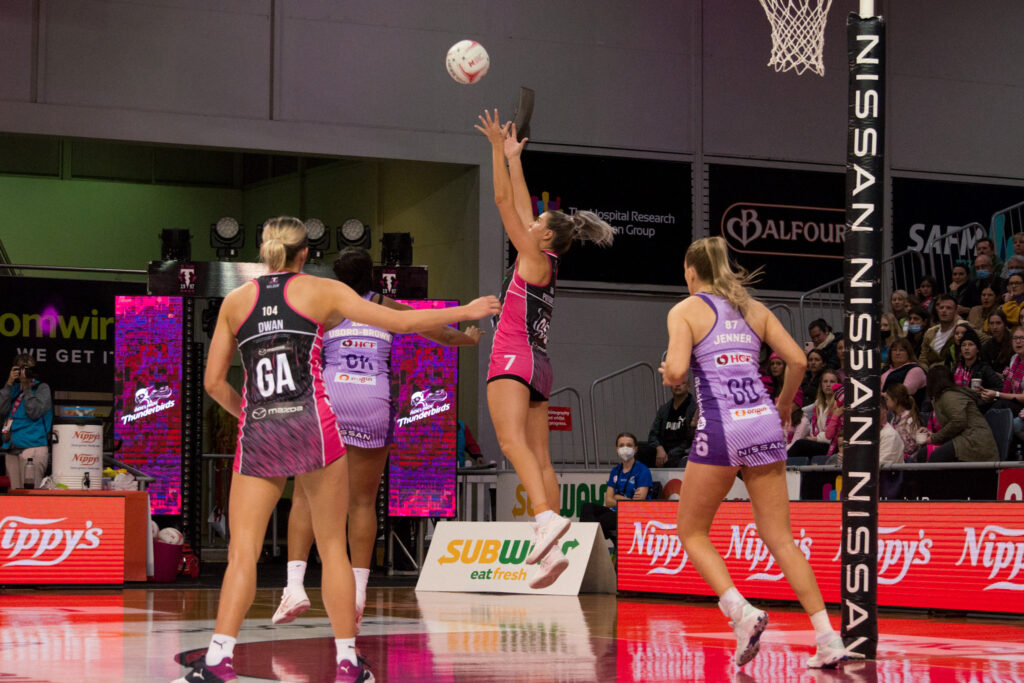 A block from Sterling flustered the Firebirds' Power Five in the third, Wilson followed up with a tip, but the Firebirds still managed to score and after another 15 minutes of even netball, the margin remained at five.
With Firebirds after a comeback, Anderson swung the changes, bringing Usoro-Brown on, along with Donnell Wallam and Gardner (at wing attack).
Potgieter resumed her frustrating ways, and despite a little flurry by the Firebirds, it was the Thunderbirds who took a seven point lead into a Firebirds' timeout.
Further changes were made, with Dunkley returning to the court at centre, pushing Ravaillion into wing defence and Simpson to the bench.
A ball through the hands of Wallam gave Thunderbirds possession back and Dwan made the most of it.
Forced into super shots, Bueta missed her first, as did Wallam and the Thunderbirds transitioned the ball all the way down to Potgieter.
It continued to unravel, though, for the Firebirds, as Wallam missed another two-point attempt and then on their next play, they lost another ball out the back of the court. After starting the quarter with a pep in their step, the Firebirds fell away to an eight point final quarter, and 13 point loss.
Wilson finished with 10 deflections, four pick ups and three intercepts, resulting in a total five gains and 104.5 Nissan NetPoints.
Obst, as she has with the likes of Matilda Garrett, Elle McDonald, and Latanya Wilson throughout the season, rewarded Williams' training efforts and her recent performance against the Swifts, giving Williams her first Super Netball start.
Speaking on her young gun, Obst is really pleased with how far Williams has come this season.
"Very good (progression). Like, she's just been coming along, coming along with what we've been wanting her to do.
"We know that Tayla's very good with ball in hand, she's generally a very good decision maker and I think tonight, she sort of proved that, and, you know, she did do that on Sunday, against the Swifts for the time that she was on, and then she's obviously backed it up tonight with the 60 minutes. So, yeah very proud and pleased with what she did."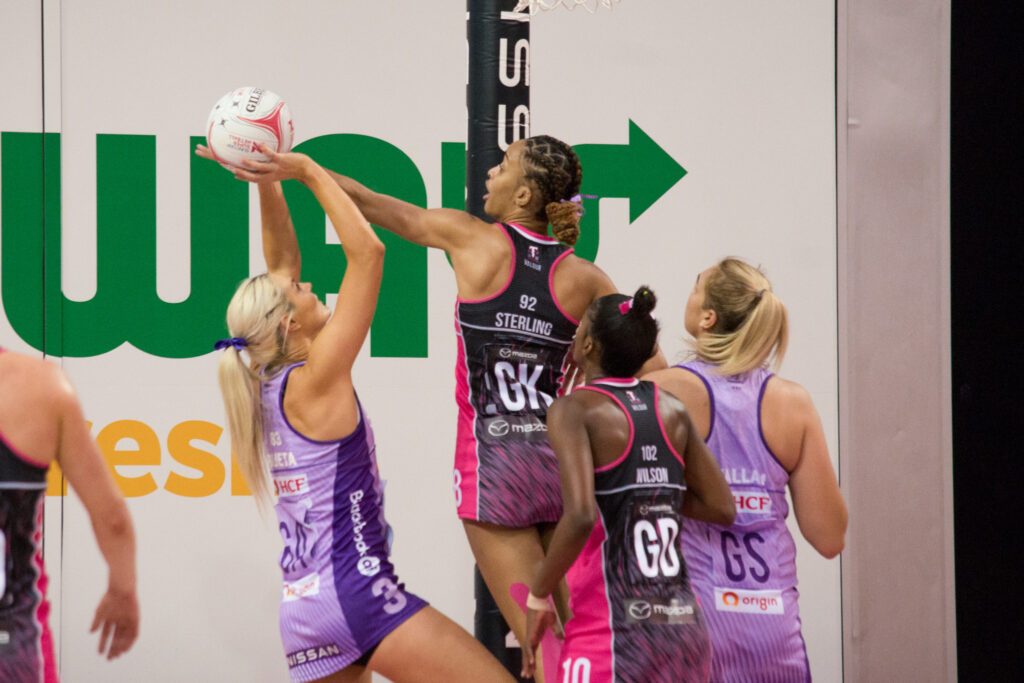 Disappointed with the result in Adelaide, the Firebirds now get to return home and will look to end this three game losing streak they've been on, aiming to end the condensed stretch with a win.
"The message, you know, we know that we can beat anybody when we execute our game and so we've just got to have the belief that we can do that in the last four games. We haven't got too long to dwell on it, two days and then we play our next game, so we've got to just deal with it and move on and make sure we execute next game.
"It's so good that we've got a game at home now... we've just got to be ready to show up on the day and put in a really solid performance across the court."
It's a tough stretch for all teams, and the Firebirds are desperate to turn things around against the Lightning, but the Thunderbirds are now in a position to use this momentum - though, they're not thinking finals just yet!
"As we know, this competition is so tough, and I don't say that from a negative point of view - you can't think too far ahead," Obst said.
"You know, we had a bit of a focus on obviously, this week, with the three games, so wasn't probably what we wanted to put out on Sunday against the Swifts...
"Tonight, I think we were very, very good, and we come up against a Magpies, who I believe lost tonight. The ladder is too tight, and the games are too even to start thinking about finals, we'll just try and put together another four quarter performance."
Round 11 action kicks off with the Queensland Firebirds hosting the Sunshine Coast Lightning in the Battle of the Bruce on Saturday afternoon, while the Adelaide Thunderbirds travel to Melbourne to take on the Collingwood Magpies.