Anne Hatchard has been at the Adelaide Crows since the beginning, being drafted with pick 87 in the 2016 draft and this weekend will step out in her fourth Grand Final appearance.
The AFLW has been running for six years and the Crows have been a part of four Grand Finals, cementing themselves as one of the benchmark teams in the competition, since the leagues inception back in 2017.
Adelaide midfielder Hatchard said that being a part of those four Grand Finals is something that she never expected.
"To be honest, no [I didn't think they'd have this much success so quickly]. It's so crazy to think about, you know, going to my fourth Grand Final," Hatchard told media on Monday.
"You know I hadn't really played footy growing up and then suddenly playing in all these Grand Finals has just been amazing, just this whole journey has just been incredible."
The Crows have won three out of the four Grand Finals they've appeared in with last years Grand Final just slipping away, losing to the Lions. This time around the Crows won't be letting history repeat itself.
"So that (2021 Grand Final loss) was absolute heartbreak. Just walking off that field when you don't win, it's just, it's just the worst feeling," she commented.
"So, we went into preseason, we worked super hard and hopefully, you know, we know that feeling of losing, we don't want to do that again. We're doing everything we can to try and get another win."
A big part of the Crows success to date is Hatchard's combination with fellow midfielder Ebony Marinoff with the pair being amongst the best one-two midfield punch in the league, a factor that Hatchard believes is signifying of their success.
"Yeah, it's been awesome, playing with Eb (Ebony Marinoff) in the midfield. You know, when I first started, I was in the backline, and then I got a bit fitter and then was able to come in the midfield." she recalled.
"So it's been a good three years now, playing there together, and we just cause chaos in there. We just run, and run, and run. So [I] just absolutely love playing with her.
"She just gets in there and gets involved and then sometimes I'll just float out there, get it and run so yeah, we just kind of know exactly what's going on, we read the ball so well, and we just get on with it and just play, and just [go] so hard at it."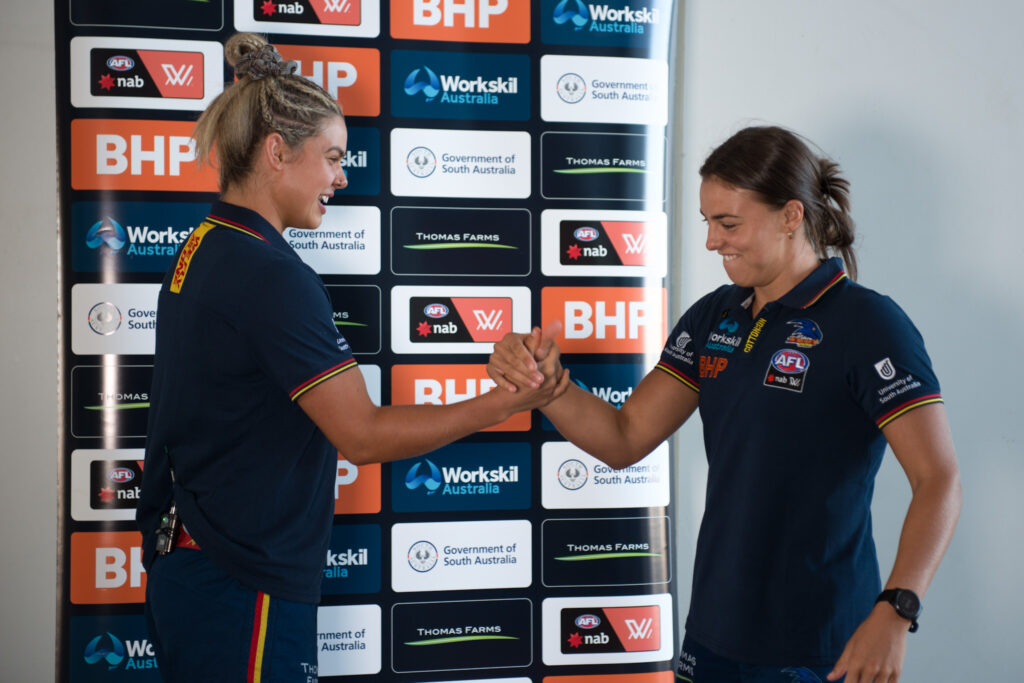 Looking to the Grand Final match-up against Melbourne this Saturday afternoon, one of the biggest battles will be in the middle with both midfields jam packed with superstars; the Crows having Hatchard and Marinoff and the Demons having the likes of Karen Paxman and Lily Mithen.
"Yeah, it'll be a big battle, so Melbourne, they have a strong midfield," Hatchard said.
"That game we played against them this year, was, you know, a strong, contested game. So, just going out there, we're just going to try to focus on our game a bit more and not focus too much on them, and hopefully we'll get the job done."
Last time the two sides met was in Round Four this season with Adelaide taking home the four points. Adelaide was able to keep Melbourne scoreless for the first three quarters of the match which played a huge part in the side getting the win.
"Yeah, look, we just got to go out there and play our footy, you know. It starts in the midfield, and then our backline's just been so strong all year as well" she mentioned.
"Leading with Sarah [Allen] back there, she's just been amazing all season, so yeah, hopefully we can just get out there, play hard and come home with the win."
Despite playing in her fourth Grand Final on the weekend, the two-time premiership player admitted there will still be some nerves when she runs out onto Adelaide Oval.
"Yeah, so I get quite nervous leading up to the game, but once I step over the white line they kind of dissolve, fizzle away, so hopefully leading into this week it's the same", she said.
Hatchard will be trying to keep her mind off the game this week, with her partner Georgie and new puppy Toby playing a big part in settling those nerves.
"I think my partner Georgie is really good at that, just keeping footy out of any conversation. She's not a big footy head, which actually helps" Hatchard said.
"So yeah, just kind of try and get out there. Got a new puppy, so he actually distracts a lot. He's a lot to handle, but [I] love him, so he'll probably be my distraction leading into this week."
The Adelaide Crows will face the Melbourne Demons in the AFLW Grand Final on Sunday afternoon at Adelaide Oval with the first bounce taking place at 12pm local time.