Team Girls Cup was the blockbuster start to the 2022 Suncorp Super Netball season that everyone was hoping for. Although theMelbourne Vixens were crowned the winners, every team took something different out of the weekend and considered that there were small victories for them.
Edge of the Crowdheard from players and coaches across the league about how they thought the Team Girls Cup went, and what they learned over the weekend.
The NSW Swifts left the Team Girls Cup without a win. An understaffed Swifts finished the weekend with star shooters Helen Housby and Sam Wallace coaching after head coach Briony Akle was in isolation as a Covid-19 close contact, and assistant and stand-in coach Bec Bulley was out on the final day with illness.
Edge of the Crowdheard from Maddy Proud after the weekend, as the Swifts' captain was positive despite the result.
"This weekend for us was always about trying new things and seeing where we are at, and also getting as many tools in the toolkit as we can," Proud said.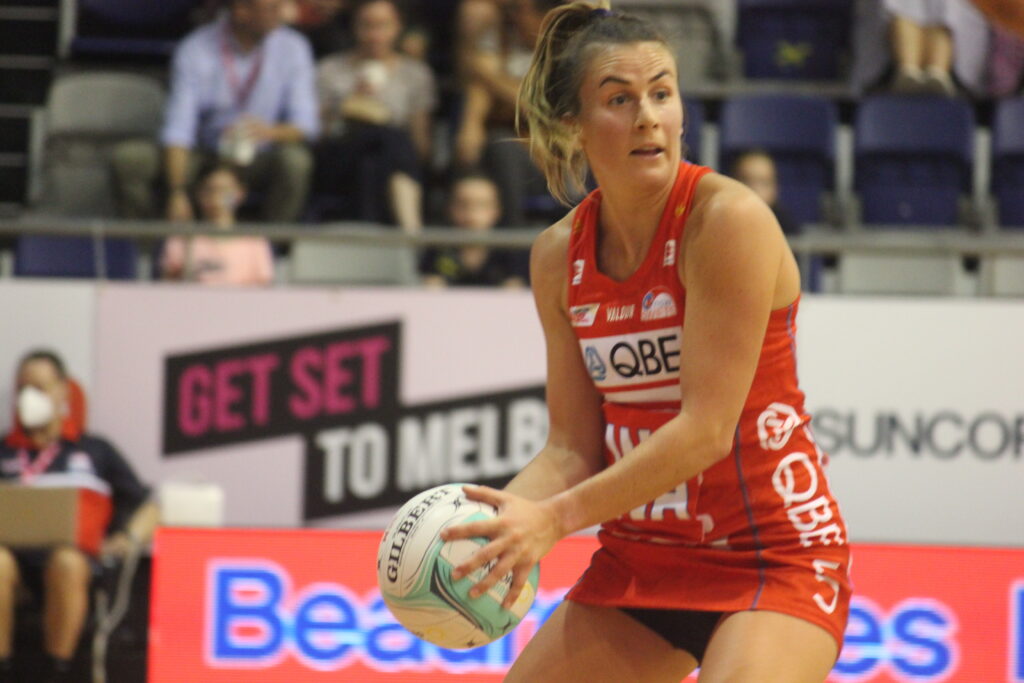 "I think that losing coaches and Helen and Sam step up and having 9 players for the game, those are things that you kind of can't script and you can't plan for so for them to happen in a preseason tournament, we hope that doesn't happen during the season, but for it to happen now, it gives us a lot of lessons and a lot of learnings and hoping that if that does happen, we've got the tools to go about that.
"I think it was an awesome weekend, to get so many of our young ones out, We had the likes of Laura Towell who hasn't had a game in two years because of Covid and injuries and things like that.
"I think Kelly Singleton hadn't played for nearly three quarters of a year as well, so to get girls like that consistent court time was just unreal, and to see a lot of those young ones step up when we needed them was great to see."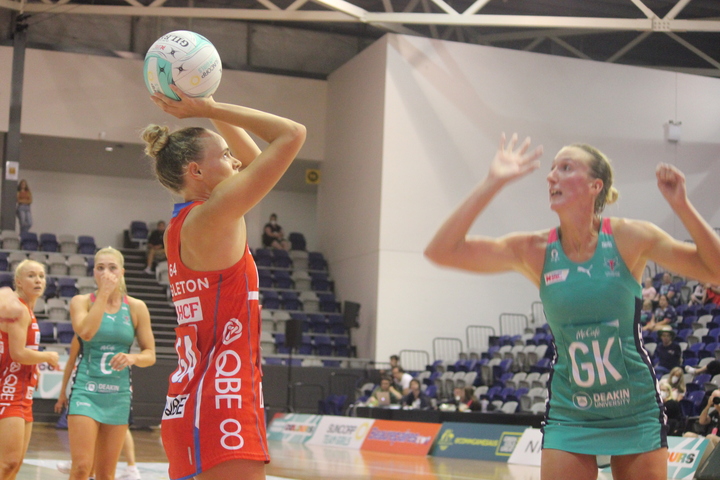 Kelly Singleton was one of the stars of the weekend for the Swifts, stepping into a leadership role, despite her inexperience, as the high-profile shooters coached from the sideline.
"When you think that someone who has played one or two games for us, and only played a handful of games the last couple of years, for her to be the experienced head is pretty crazy, but I think that just shows the type of player that Kelly is.
"We always say she is that cool as a cucumber under pressure, she's so calm, I remember her playing with us in a preseason game a few years ago, and she was literally the one that came on and steadied the ship. She's got that great nature about her that no matter what is happening in the game, she always keeps her cool and you know what you're going to get with Kel and I think she just grew this weekend.
"She's definitely shown that there are three great shooters in that ten that we've got, and gives Briony that luxury knowing that she's got that versatility in the circle."
Giants Netball - Amy Parmenter
The Giants beat the Swifts in the 7th/8th playoff, as the grand finalists faced off at the bottom of the ladder. The Giants, who were missing Maddie Hay and April Brandley struggled at times but had plenty of time to test their combinations.
Amy Parmenter spoke at the end of the competition and was upbeat about what the Giants took out of the weekend.
"For us, it's building on that consistency," Parmenter explained.
"Throughout the weekend we've had moments where we were really good and promising and then we have a few minutes where we lapse in concentration and make silly mistakes and it really lets the opponents back in the game, so I think for us it's about really staying present in the moment and building on that consistency and performance every week.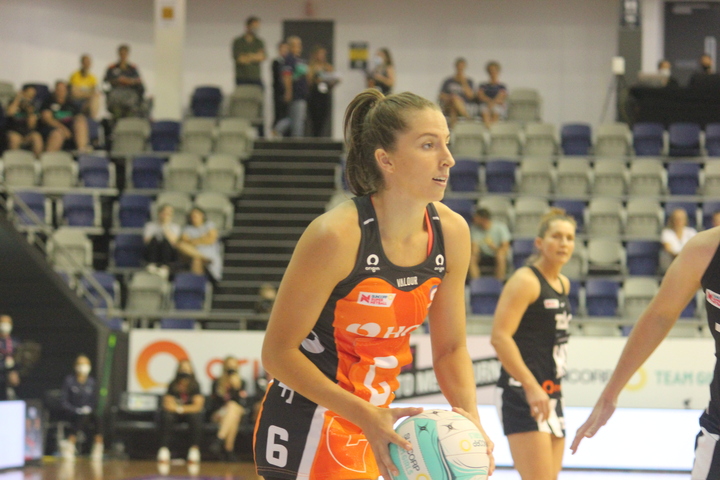 Amy Sligar was one of the stars, stepping into the wing attack position with Maddie Hay out.
"Amy Sligar's just come into the team this year. She's an awesome wing defence so for her to come out and play against some of the best wing defences in the competition over the weekend is pretty impressive.
"She's done really well and just taken it on, and she's only 19. I didn't even have a contract then, so to have that confidence and that composure is really awesome and she's done a great job stepping into some pretty big shoes of Maddie Hay.
Parmenter was thrilled for Sligar at Team Girls Cup 2022, but she is ready for Hay and Brandley to return.
"Sligar has done awesome but Maddie just brings that experience and that cool head and I think Sophie Dwyer gets a lot of confidence from Maddie Hay, and they're a really awesome combination and they complement each other really well, so that's a really awesome combination for us so I think its really important that we get her back on the court.
"Same as April. We missed April this weekend. Loz and Tilly are awesome, but just to have that other option and that experience down the back end is so valuable."
Collingwood Magpies - Jacqui Newton
The Collingwood Magpies are one of the teams that will be counting the cost of the weekend, after suffering some injuries. Despite those injuries, there were some positives for the Magpies, one of which was Jacqui Newton getting an extended run on court.
"Had a little hit out in goalkeeper which I'm obviously not as used to," Newton toldEdge of the Crowdafter the Team Girls Cup.
"It's interesting, especially when of all the gaolers you can go against, yesterday it was Jhaniele and today it was Donnell, there are some big bodies about there. It's just about getting off, using your feet, finding some space. Obviously, when you get stuck on the body, they're so tall and strong in the air, so it's just about finding some space, using your feet.
"I never thought I would be the experienced one down there, considering what we normally have, between Geva and Jodi we've probably lost 20+ years experience, but we gave it a red hot crack. Braz [Ash Brazill] and I just said as long as we keep the voice up and the structures that we know, we could only do so much.
"To come so close, it's obviously disappointing not to get the win, but we can build and there was never a time today where we felt overwhelmed as a defensive unit, there were always things we were trying, so we will just go back and watch some footage and try and learn."
At the other end of the court, the Magpies were testing a new combination, with Shimona Nelson and Gabby Sinclair joined this season by Sophie Garbin. Newton saw improvement in the shooting trio across the weekend and knows there is more improvement coming.
"They've [Garbin, Sinclair and Nelson] just built from one strength to another. Obviously, Gab [Sinclair] and Shim [Nelson] have been working together for a few years now, whereas Sophie has come in and is slowly trying to build that combination, but as you could see, even from Friday to today, you could see a new level already, so we're excited to see where it can go.
"The results didn't quite go our way but I thought there were always times when we were near our best, not quite at our best, but you'd be more worried coming out of a weekend like this thinking you've done all you possibly could, that would be more disappointing, but we know that we've built and we can take this away to our training and really work towards something."
Queensland Firebirds - Eboni Usoro-Brown
The Queensland Firebirds showed plenty of promise and fight. After a slow start, the Firebirds won their last two matches, as the combinations started to click. Donnell Wallam and Eboni Usoro-Brown were two of the big movers for the Firebirds over the weekend, and Usoro-Brown spoke toEdge of the Crowdafter the final match of the weekend.
"There have been some really good patches of performance," Usoro-Brown said.
"There are some things we will go back and want to improve, but in terms of things we set out to do this weekend, to build combinations, building some confidence, sticking to some of the game plans, so we can work on ourselves before Round 1.
"I think we ticked quite a few boxes, so I think the playing group and the coaching staff and the support staff will be pleased."
Usoro-Brown herself is a player who was familiarising herself with her teammates and opponents over the weekend.
"I was saying this morning that there were lots of firsts for me this weekend; exploring the two-point shot, actually putting the purple dress on and getting to know some of the shooters of the competition, so certainly it's great to be back on Australian shores and looking forward to the competition ahead.
"They're [the shooters] taller, they're stronger, but I've seen quite a lot of them on the international stage but it's just trying to work them out in this setting. It's just about getting used to the umpires, and the pace of the game.
"I had a lot of fun out there today. I've still got quite a lot of work to do. I've got to sharpen up my footwork and get some more video analysis under my belt but it's a step in the right direction."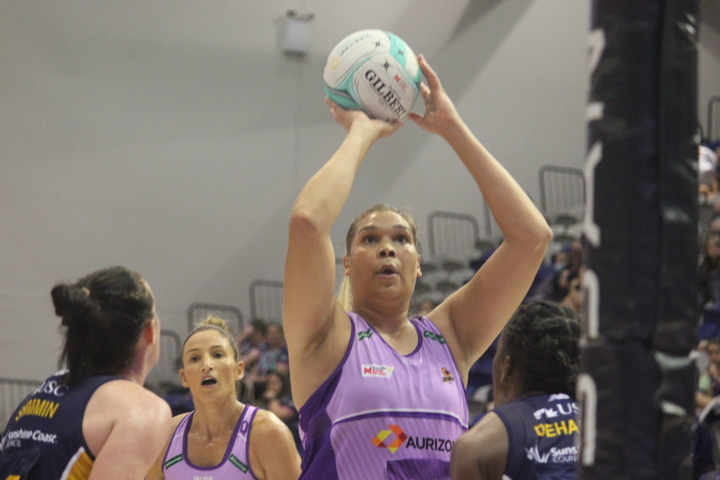 Usoro-Brown was also impressed with her new (potentially) teammate Wallam, who was playing for a potential full-time roster spot this season, with Romelda George expected to take maternity leave for much of the season.
"Hasn't Donnell been exceptional? She's actually been lethal under the post.
"She was so nervous getting on court yesterday, but she absolutely killed it. Kudos to her, she's been working really hard in the gym and she deserves it, and it's great to see her perform and perform really well and the combination with Gretel [Bueta] is really coming along.
Adelaide Thunderbirds - Tippah Dwan and Tayla Williams
The Adelaide Thunderbirds were one of the surprise packages of the weekend, finishing third, with a strong performance. After a disappointing year last year, the Thunderbirds maintained faith in the local talent, and if Team Girls Cup is anything to go by, the faith is being restored.
At the end of the weekend, Tayla Williams spoke about her first experience in the Thunderbirds dress as a full-time player.
"There are lots of similarities in terms of the training load, especially in preseason, obviously when the season comes it will be a bit different," Williams said.
"Preseason we have really done most of the stuff, but I guess its a level up in expectation and things that come with an actual contract, but I feel like its been good so far, it's nice to be in a full-time position and actually getting paid for it and all those lovely things, that's really exciting.
"This is my fourth year with the team, I've obviously been a training partner for a few years now, and we've been able to manage to keep the same group of girls which is really exciting and building on what we've done previously, so it's really exciting."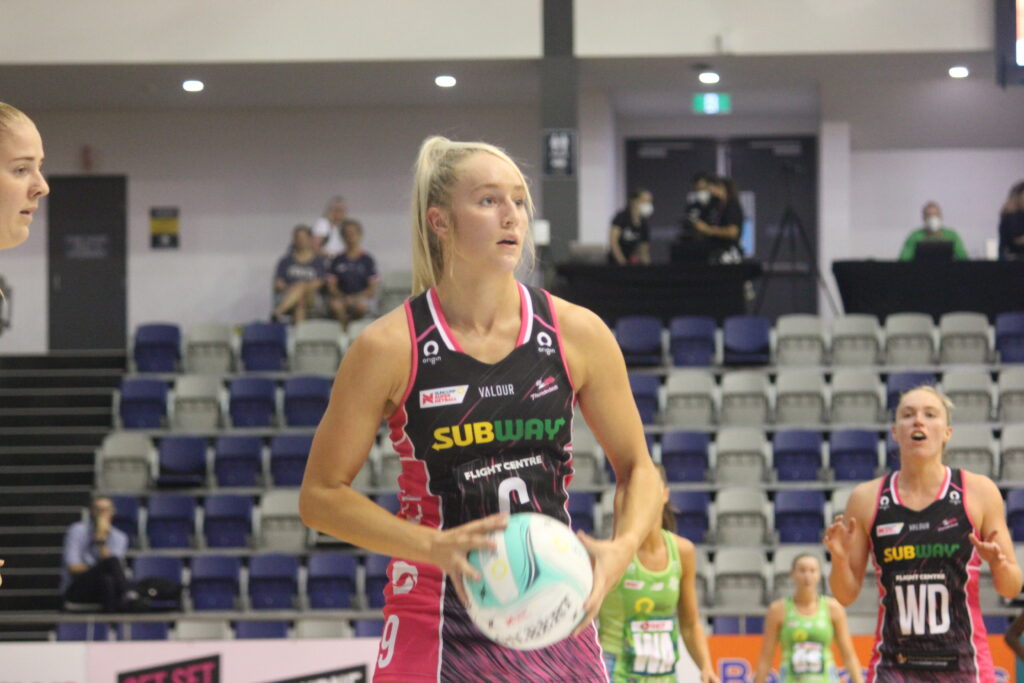 Williams said the team took a lot of confidence from the weekend, as the combinations gelled together.
"We're really happy, finally getting to put against a different style of opposition, and different style of play, but sticking to our game plan, and executing our structures and doing what we intend to put out there really well, and I think.
"It was really exciting on court, moving everyone around, it didn't really matter who played where we all stuck to the game plan and did what we wanted and it worked.
"I think no matter what team you come off, and what position you're playing, it's always someone incredible. Lots of Aussie diamonds, lots of international players, so there's no one better or worse than anyone, it's all really quality players, and it's always a challenge, no matter who it is.
"We've had 3 weeks on the road now, so lots of quality opposition, lots of preseason whiteouts, lots of learning, lots of experience, now we go back and we've got a month to work on the things that we want to work on and be ready come for Round 1 and hopefully there are more wins then."
Tippah Dwan was also thrilled with her first proper weekend in the Thunderbirds dress. Speaking after the weekend, Dwan was confident the Thunderbirds were on the rise.
"It's just so exciting that we're such a young group and we're all developing together and I think we really try and play to our strengths when we're out there," Dwan said.
"We're trying to get the ball rolling a little bit faster which is good, and I think when the season comes we will be ready to go.
"I'm just ready to get out there. We're all just really excited about the season, it's coming up really fast, so I can't wait for it and hopefully, it's a seamless season and we can go everywhere and travel around Australia which would be nice."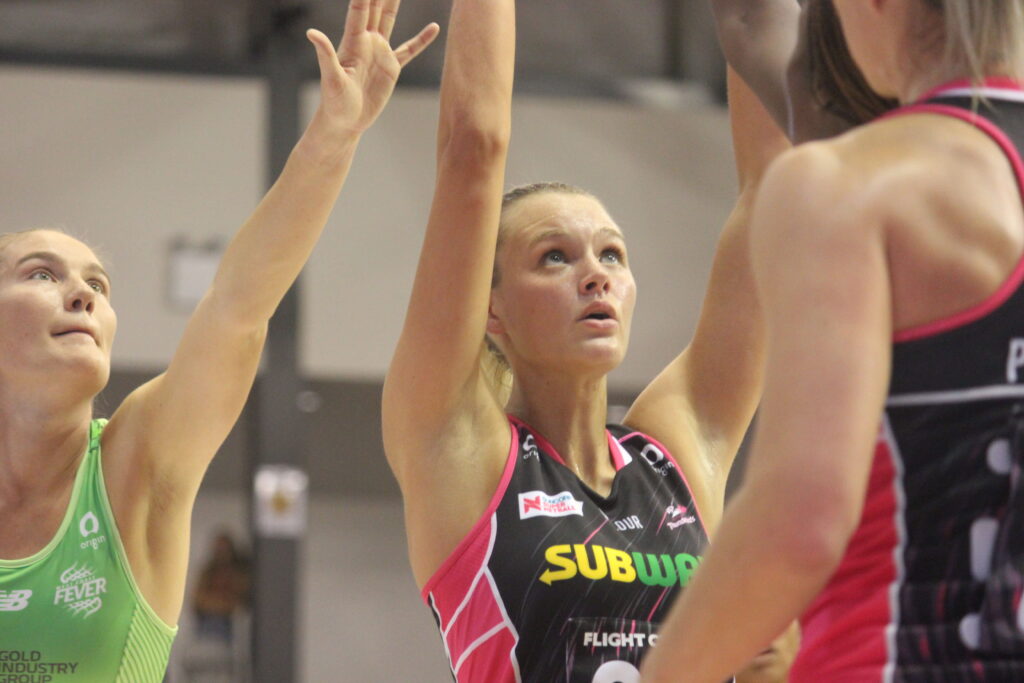 Dwan was thrilled with her growing chemistry with Lenize Potgieter and Georgie Horjus in the goal circle.
"We just try and play to our strengths. Georgie is a little bit smaller in there, and so am I, so it's really fun to work together and start that moving circle. Lenize is just so strong that we can give her the ball anyway, so it's pretty easy to feed it to her.
"Tania just gave us a lot of freedom, she said if you get the opportunity just take it, so I think that's really important in a coach to have faith in us young guns and shooters. Even Lenize, she has the freedom to have a go at those too, which is really nice."
West Coast Fever - Dan Ryan
The West Coast Fever lost the final of the 2022 Team Girls Cup to the Melbourne Vixens, but Dan Ryan was upbeat, as the Fever had managed more court time together on court in the competition than in training together beforehand.
"Obviously this weekend has been the first time we've been able to see any other SSN teams in our preparation," Ryan said.
"Coming into it we've had 4 training sessions with the full squad, so this whole purpose across the weekend was to gather as much information and get as much exposure as possible and we walk away in a pretty good place with a month left ahead of us in preparation and learning so much about the group and each other.
"That's what it's all about for us, we don't get to see another SSN team now until Round 1, all other teams have their programs booked and with our border closures we haven't been able to access anything, so hugely beneficial for us, and it's about demonstrating those learnings next time we get out there."
Ryan was optimistic that the depth in his squad would help this season, as he expects to rely on the whole squad through the course of this season.
"It's a really agile team with great depth and versatility and you're not going to win this competition with just seven players, you're going to need Player nine and ten, and the reality is this year players 11, 12, 13, 14, so all the combinations will take time, but we want to keep nurturing our depth as best we can.
"We've got to put in the work to make sure we get there and our ability to perform under pressure is just as important as our ability to perform when we're in control. All of those areas are critically important and they'll be highly focussed on over the next couple of weeks."
Melbourne Vixens - Liz Watson and Rahni Samason
The Melbourne Vixens were crowned the winners of the 2022 Team Girls Cup, as they beat the Fever in the final. They did it without stars like Mwai Kumwenda and Kiera Austin, who are set to return from Covid-19 and an ACL tear in the near future.
Melbourne Vixens co-captain Liz Watson was thrilled with the team's performance over the weekend.
"The trophy we really want to win is at the end of the season, but we do take a lot of confidence from that," Watson said.
"I think it's more than that win, it's the combinations, the things that we've been working on out there, we just want to show the other teams we mean business this season. We've got a really strong lineup and obviously MJ [Kumwenda] still not here, Kippa [Austin] is to come in too, so we've still got some more combinations and players as well, so I think overall we did all the things we wanted to do.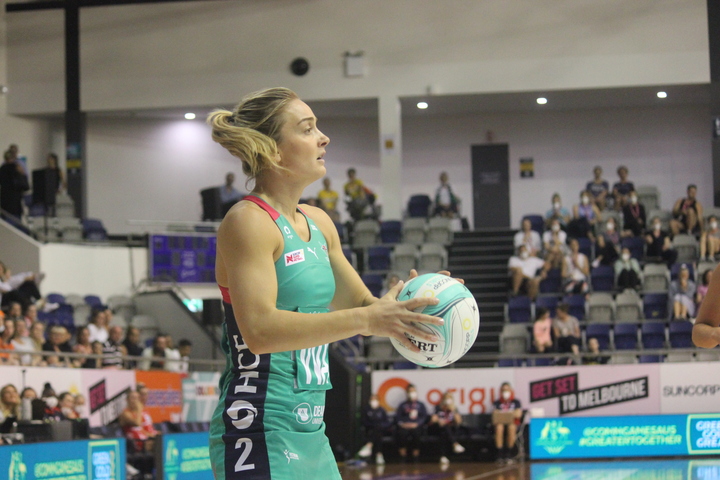 Watson was glad to be back out on the Super Netball court with long-time teammate Kate Moloney.
"I missed playing with [Hannah and Kate], especially Kate, we've been buddies out there for such a long time, it's nice, to have the combination with our new shooters too."
Watson was also full of praise for Rahni Samason and Ruby Barkmeyer who stepped in to dominate as a shooting duo for the competition.
"I think for Rahni to shoot those two-points, even when it wasn't on, was really good. Ruby probably impressed me the most.
She's been training really hard and had opportunities and this weekend she really stepped up and took that. And as much MJ not being here really forced the young shooters to stay on court and actually work it out and make it happen and I think they did that."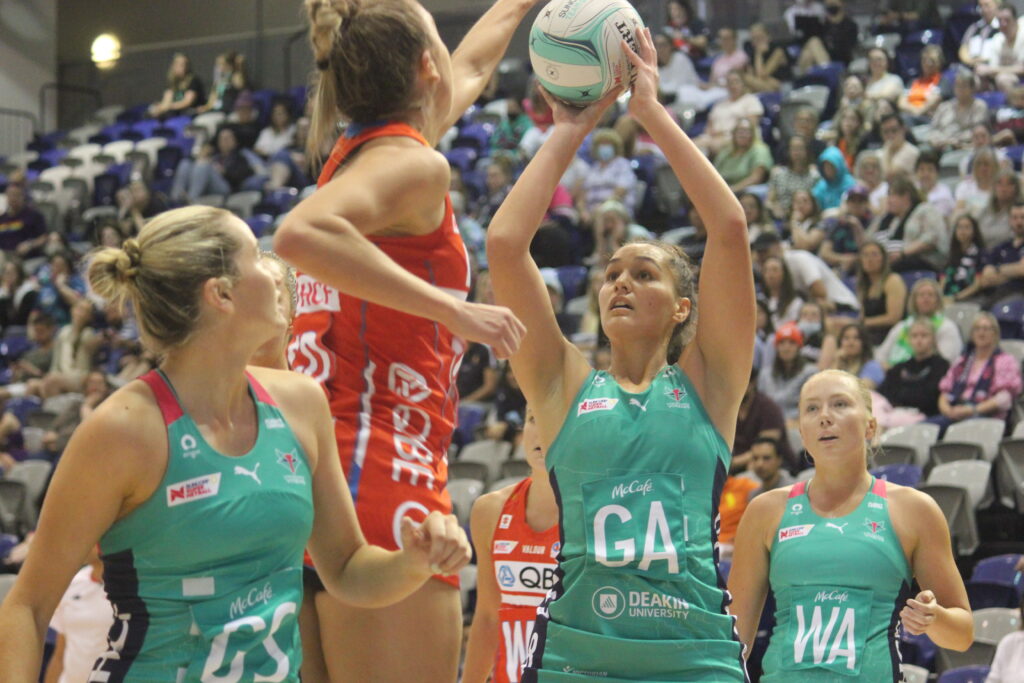 Rahni Samason was one of the stars of the weekend, and she also spoke after winning the grand final.
"It's been a very very hard preseason," Samason explained.
"I thought the step up from ANL to training partner was hard, but from training partner to an actual team member has been even harder, and the work that we've done as a team together has been on show this weekend and I think that's been fabulous.
"I think it's been good just to get experience from every team that we've played. We've even played the Thunderbirds, so we've almost played every single team now. Of course, I haven't come up against most of these defenders so I think it's just really good for me and my own game, just to see what I can do to be better."
With just a few weeks left until the season proper kicks off, there is plenty of excitement. How each team takes the learnings from Team Girls Cup will play a big part in how the season unfolds. Who rises, and who falls, it all remains to be seen.
The Suncorp Super Netball season commences on March 26 2022.