Team Australia has become the Oceania representative for the WBSC U23 Baseball World Cup, qualifying for the event following a three-game sweep against Trans-Tasman rivals New Zealand across the weekend.
In the nation's capital of Canberra, at MIT Ballpark in Narrabundah, World Number 10 Team Australia, managed by David Nilsson, secured its ticket to the WBSC U23 Baseball World Cup, confirming its placing in October's event with a Game Two win on Saturday night, after prevailing the night before, and performing a sweep of World Number 46 New Zealand as the series ended on Sunday.
GAME ONE - TEAM AUSTRALIA 13 NEW ZEALAND 3
Team Australia jumped out to an early 7-0 lead after two complete innings in Game One of the WBSC U23 Baseball World Cup qualifier against New Zealand, leading by nine runs before its opponents got on the board in the fifth innings.
The home side's first run came via a Mitch Edwards sacrifice fly, following an Aidan Willis single and Dermot Frisch reaching first base on an error, with Willis crossing the plate for the game's first score. Back-to-back bases loaded walks to John Lemm and Bradley Griffin allowed Frisch and Edwards to score, and a wild pitch scored Lemm, putting the lead at four runs to Team Australia.
Fritsch opened the scoring in the bottom of the second innings for Team Australia with an RBI single before Lemm drove in another two runs with a single, to extend the lead to seven runs.
Leading off the fourth inning, Edwards connected on a pitch that got sent over the fence for a solo home run, then Griffin hit a triple that scored Rory Spletter who had got on base via a single earlier in the inning.
New Zealand got on the board at the top of the fifth inning, putting three runs on the board as Anthony-Oraeroa Moanaroa-Taylor recorded three of his side's seven hits for the game.
Fritsch collected three hits for Team Australia, along with two RBIs, however, it was Lemm who lead the game in RBIs with three.
Coen Wynne got the start on the mound for Team Australia, allowing one hit and striking out four opposition hitters, while Maddux Stivey (two innings) and Max Milner (one inning) pitched relief innings for the team.
Matthew Fegan pitched 1.1 innings as New Zealand's most prominent pitcher on the mound, striking out two Team Australia batters.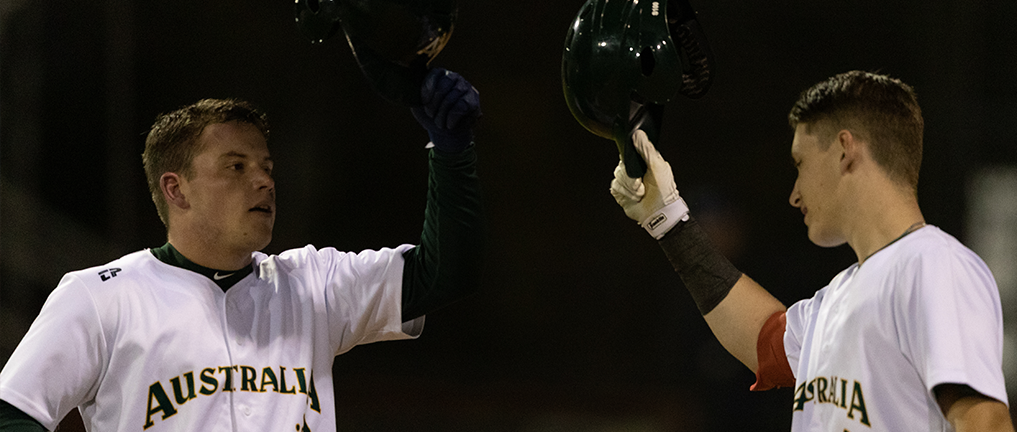 GAME TWO - TEAM AUSTRALIA 12 NEW ZEALAND 1
Team Australia got out to an early one-run lead at the top of the first inning in Game Two of the WBSC U23 Baseball World Cup Qualifier against New Zealand which was extended to 10 runs in the fifth inning, due to a seven-run third dig which broke the game open.
Rory Spletter's sacrifice fly allowed Dermot Fritsch, who'd hit a single to get on base, to score the first run of the game, before going 8-0 up after the third inning.
John Lemm hit a bases-loaded two-RBI single, before Bradley Griffin hit a two-RBI single immediately after also.
Nicholas Hawkins hit an RBI single as Spletter was again involved in the inning's scoring, collecting a two-RBI double.
In the fourth inning, Darcy Barry hit a single that scored Team Australia's ninth run of the game, and in the fifth, the lead hit double-digits with a Brent Iredale RBI double.
New Zealand scored its only run of the game at the bottom of the fifth inning, but that didn't stop Team Australia from piling on more runs as Spletter hit a two-RBI single in the sixth inning.
For Team Australia, Spletter went three for four at the plate, collecting five RBIs, meanwhile, Lemm and Griffin had two RBIs each.
Anthony-Oraeroa Moanaroa-Taylor had three hits for New Zealand who recorded eight in total for the game.
Zak Elvy got the start for Team Australia, lasting three innings on the mound, and striking out three of New Zealand's batters. Bailey Jay-Cooke threw a scoreless inning in relief before Miller Bell finished the final two defensive innings, striking out four batters.
Taylor Irwin pitched three innings for New Zealand, striking out three batters as Todd Hatcher also went to the mound for the team.
GAME THREE - TEAM AUSTRALIA 12 NEW ZEALAND 0
Team Australia needed five innings to complete a shutout of New Zealand in the WBSC U23 Baseball World Cup Qualifier series finale, adding at least two runs in each innings from the second, including a five-run stand in the fifth inning.
Brent Iredale received a base on balls and John Lemm hit a single to each get on base, as Bradley Griffin hit a two-RBI single for Team Australia to take the lead in the bottom of the second innings.
Team Australia's lead was extended to five at the conclusion of the third innings as New Zealand's pitcher committed a couple of errors, as a passed ball and a balk scored two more runs, before Lemm hit an RBI single.
A Bailey-Jay Cooke single and Rory Spletter double each drove in a run each during the fourth inning, before a five-run fifth inning closed out the game, and series.
Cain McClelland's sacrifice fly, and an RBI single from Nicolas Hawkins scored two runs for Team Australia before Aidan Willis launched a three-run home run over the fence in left field to elicit the mercy-rule win for the side.
Joel Hogan got the start on the mound for Team Australia and threw three innings, allowing one hit, and despite issuing three walks, struck out three batters. Maddux Stivey threw two innings in relief, striking out four batters.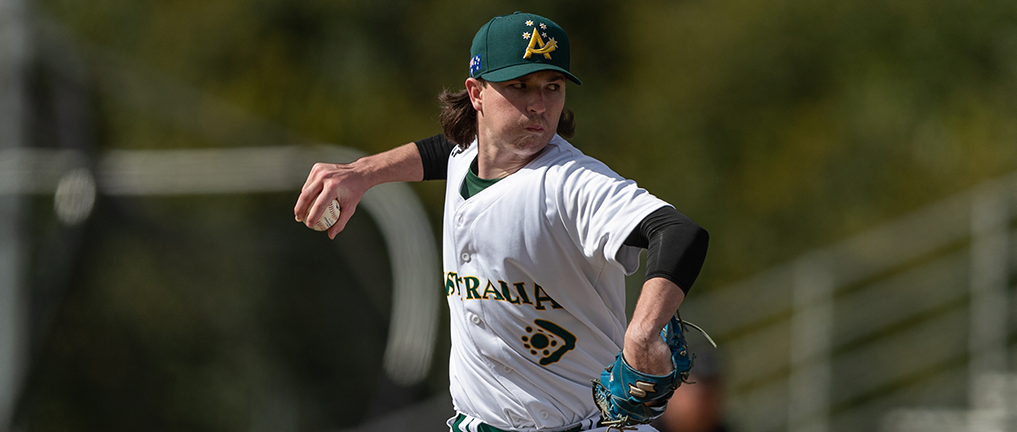 Australia becomes the third national team behind European representatives Germany and the Netherlands to qualify for the 12-team WBSC U23 Baseball World Cup which begins on October 14 to October 23 in Taipei City, Taiwan.