Despite the torrential rain and cold weather, Sydney's Town Hall was a sea of umbrellas decorated with powerful signs as people showed their support for the pro-choice population in the US whilst pleading for better, safer abortions in Australia.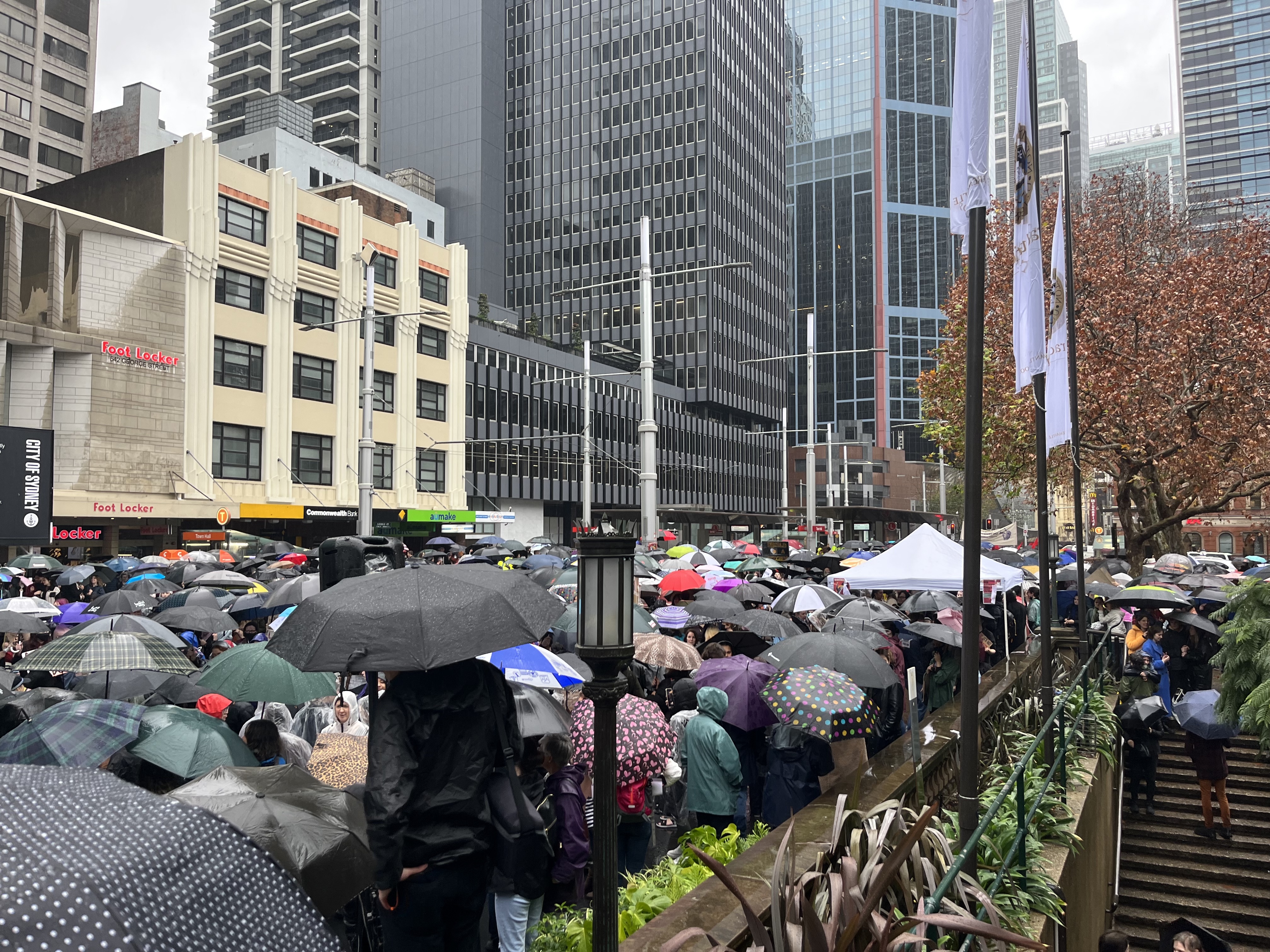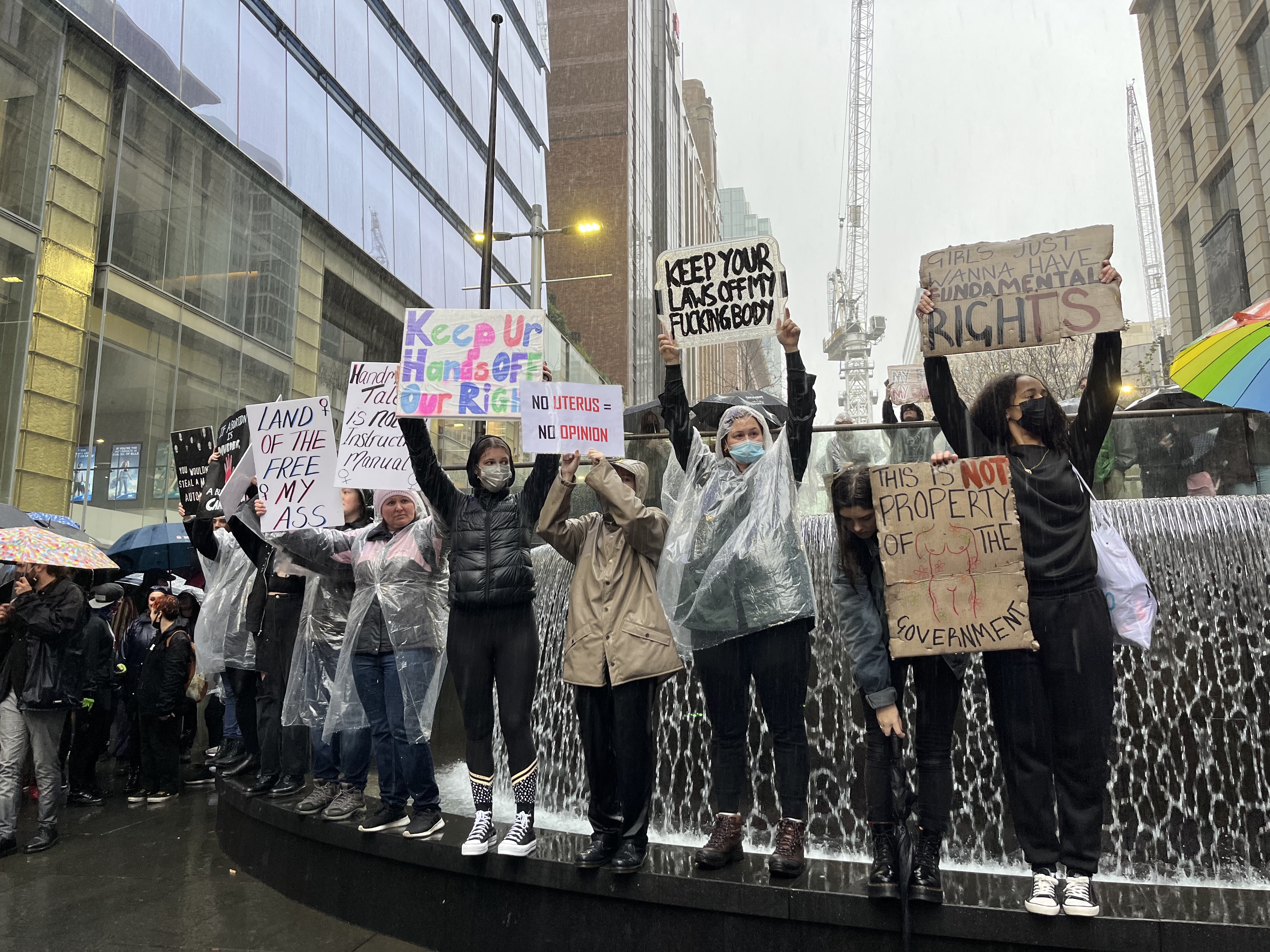 Rally organisers Hersha Kadkol and Dani Villafaña began the event with chants, passionate speeches and factual information outlining how much more work needs to be done in NSW to improve access to abortion.
A number of individuals spoke to the crowd, including Newtown MP Jenny Leong. Saying some strong, powerful words, Leong, a Greens member, gave thanks to the feminist movement in NSW, who worked incredibly hard to get abortion decriminalised in 2019. Finishing off her speech, Leong said.
"We are here to support our friends in the US…And to those who think they can control us…F**k you!"
April Holcombe, a transgender woman and co-convener of Community Action for Rainbow Rights, cried out about the injustices in the US, denouncing 'the right'.
"These Republicans, they are on a path of destruction now…Justice Clarence Thomas has made that clear as he wants to now challenge legislation that protects contraception, same-sex marriage and same-sex relationships," Holcombe said.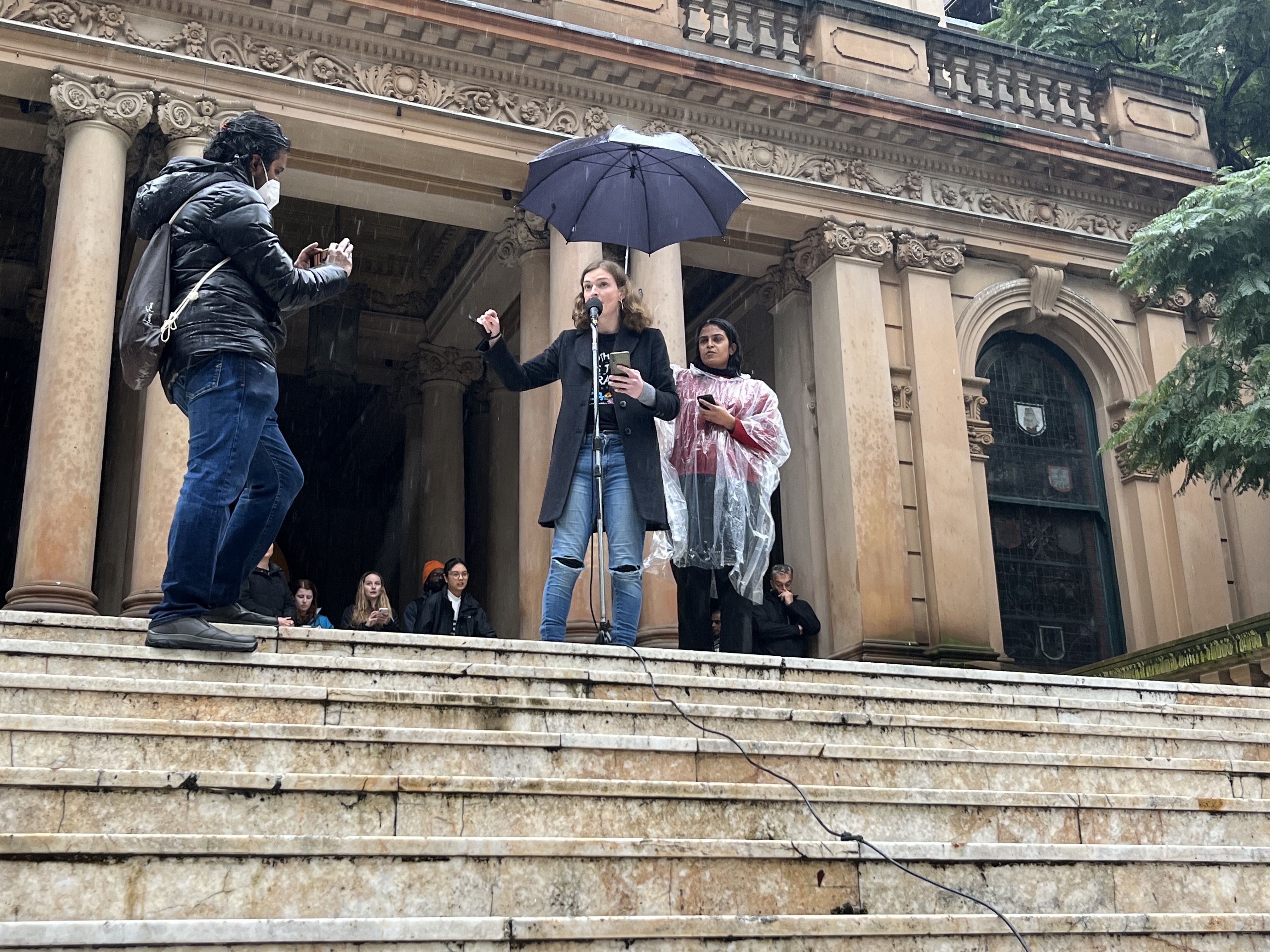 There was so much passion in the air, as protesters cheered, chanted and sang. 20-year-old Lucia, who lives in New York, spoke about how grateful she was to be able to speak up on the other side of the world.
"I live in the US, so this is a very, very personal issue to me. Because I'm not there right now, this is the best way I can support my friends and everybody there. Luckily, New York is very progressive, but not being there right now is very hard so it's nice to be able to do something from across the world."
Lucia's friend, 21-year-old Evey also took the chance to affirm how important it was to be an ally in these moments.
"These are global issues and it's so important to show support and allyship across the whole world."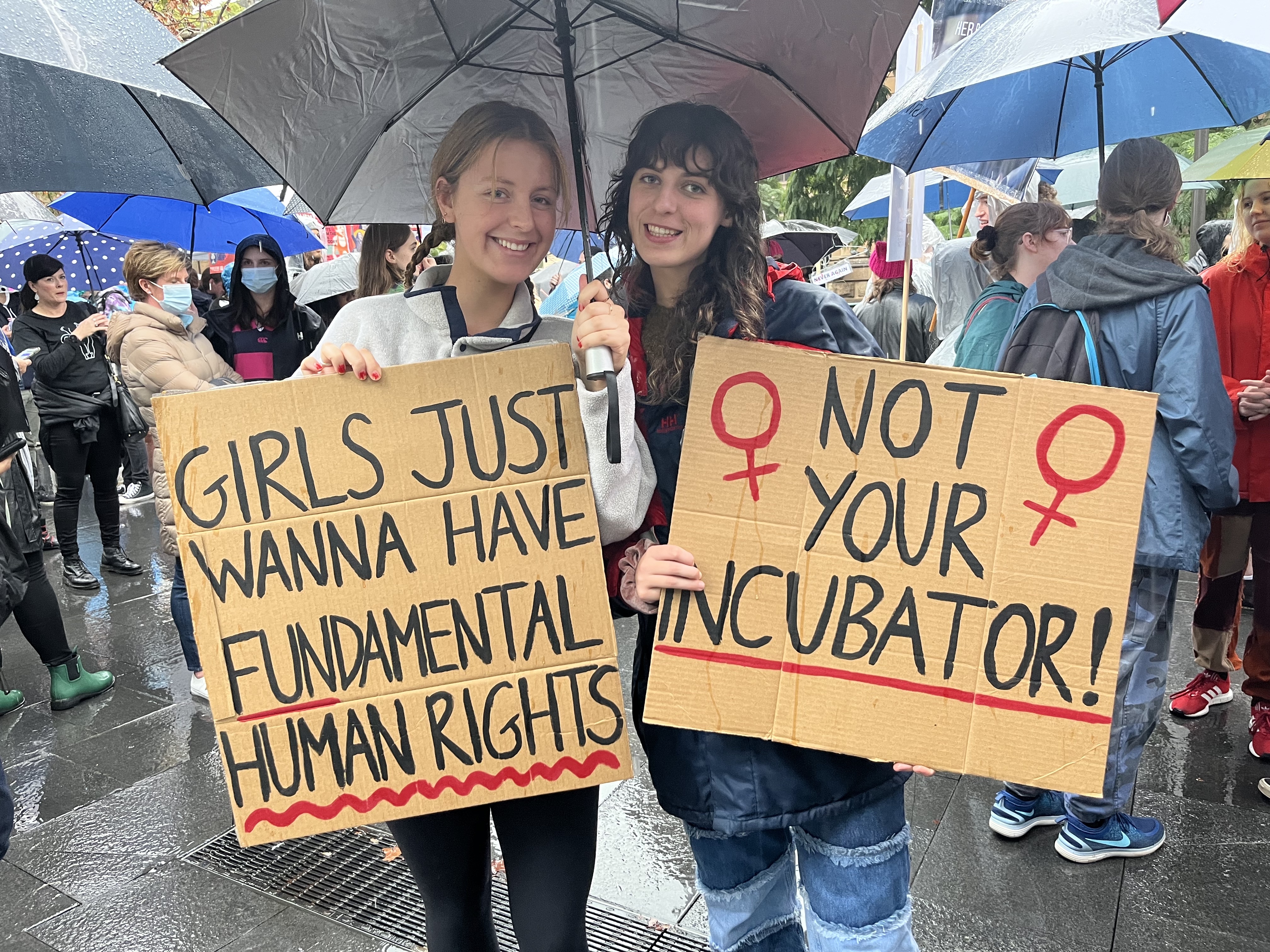 Maeve, 19 years old, shared why she was marching and the need for people to be educated.
"I'm marching because I believe women should have the right to make choices over their own bodies, and it's important to stay safe. We need to make sure people are informed of their choices in Australia, as well as their sexual health."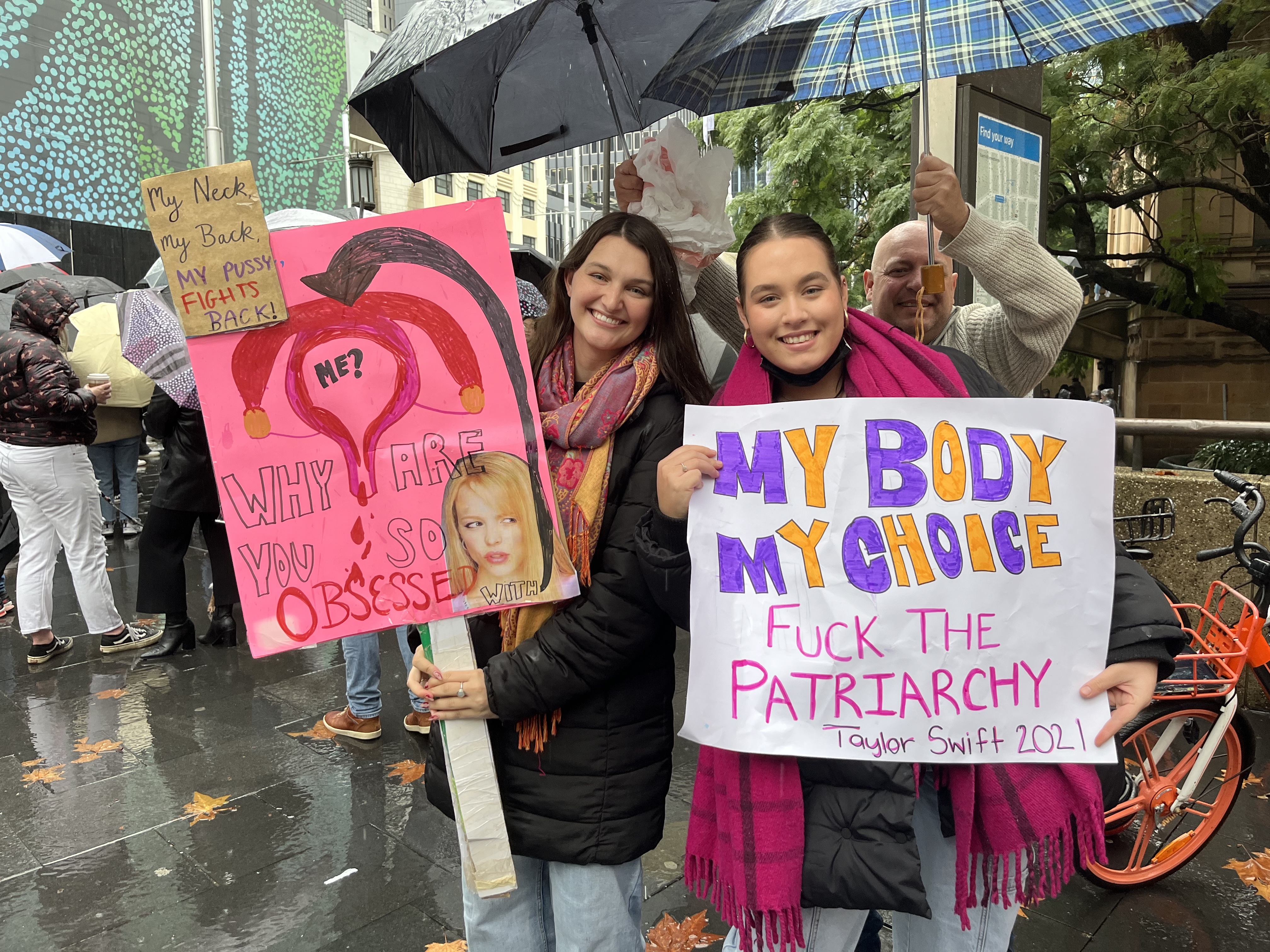 As the march began, protesters could be heard chanting 'not the church, not the state, we will decide our own fate' and 'they say no choice, we say pro-choice' down the streets of Sydney as they made their way to the US Consulate in Martin Place.
Dozens of powerful signs caught the eyes of onlookers, with some referring to Margaret Atwood's The Handmaid's Tale, and others making light-hearted jokes.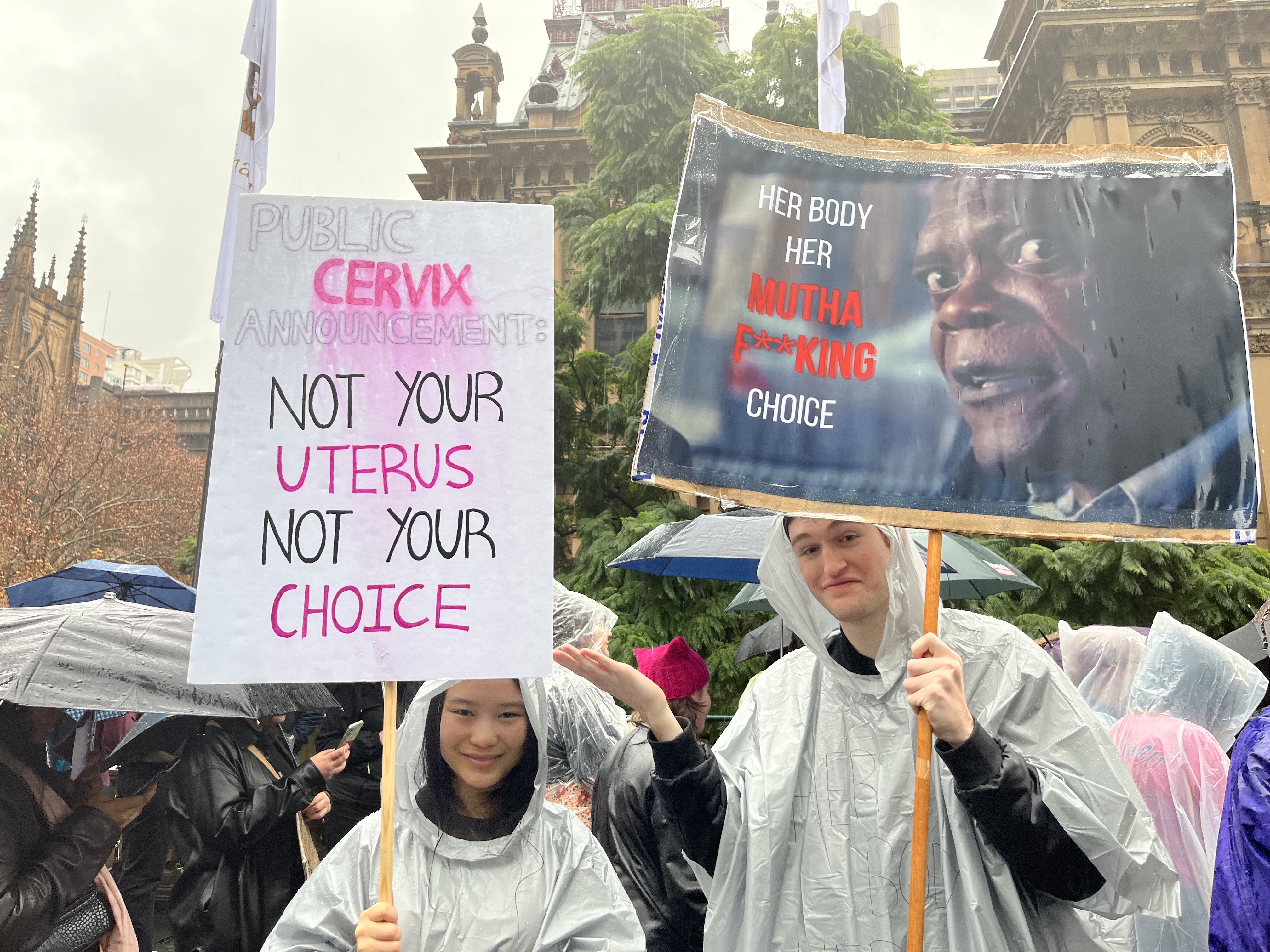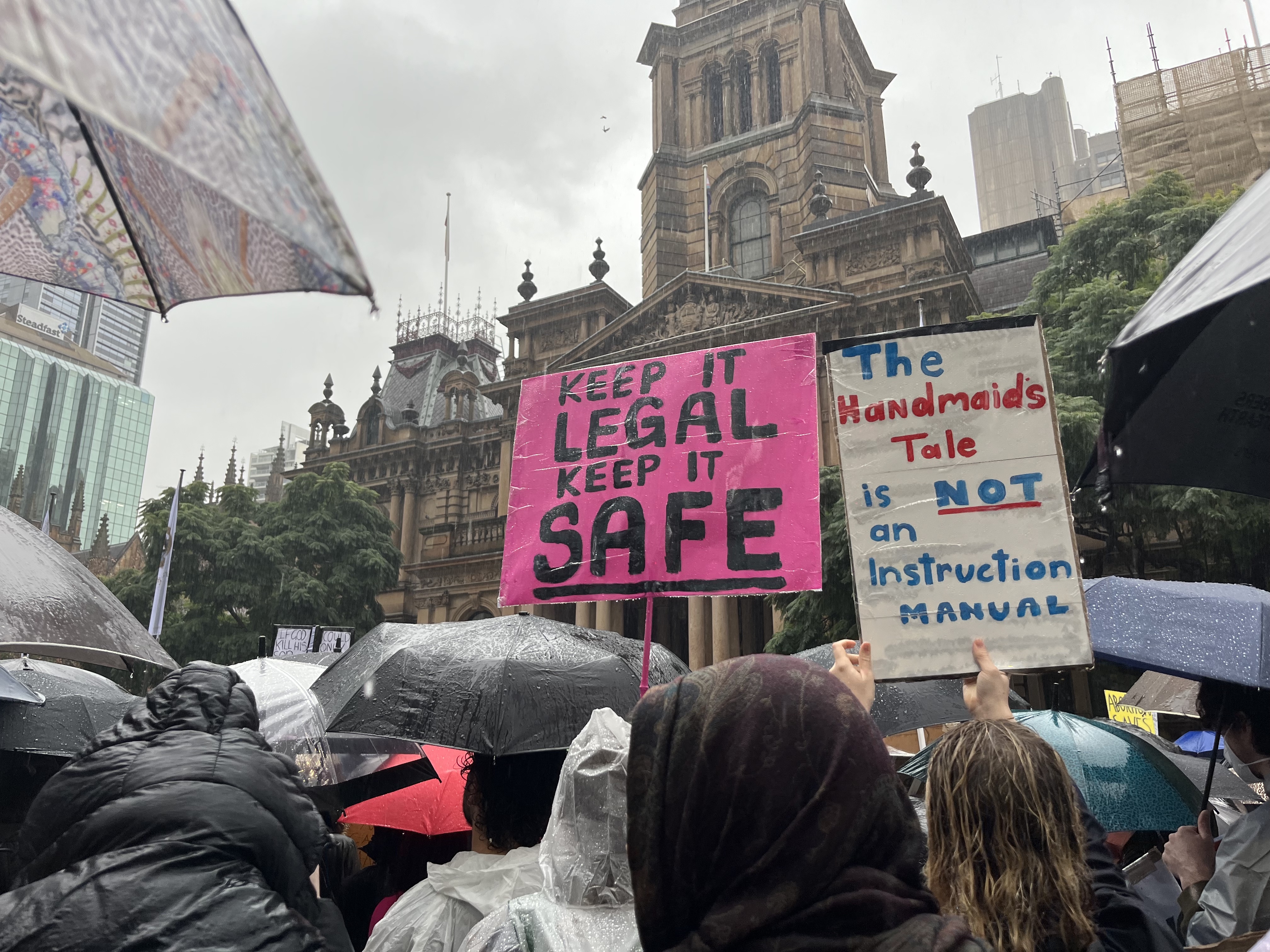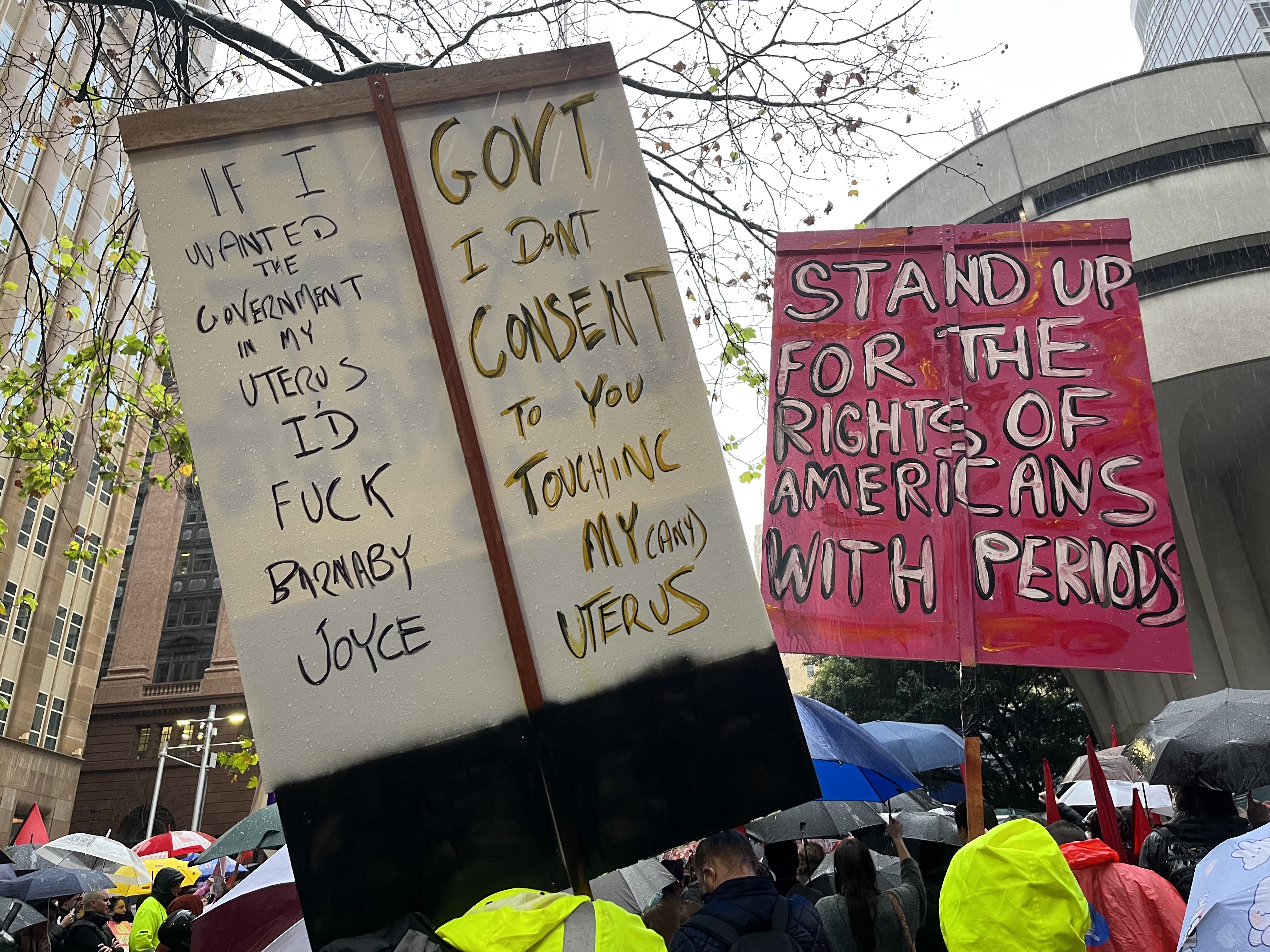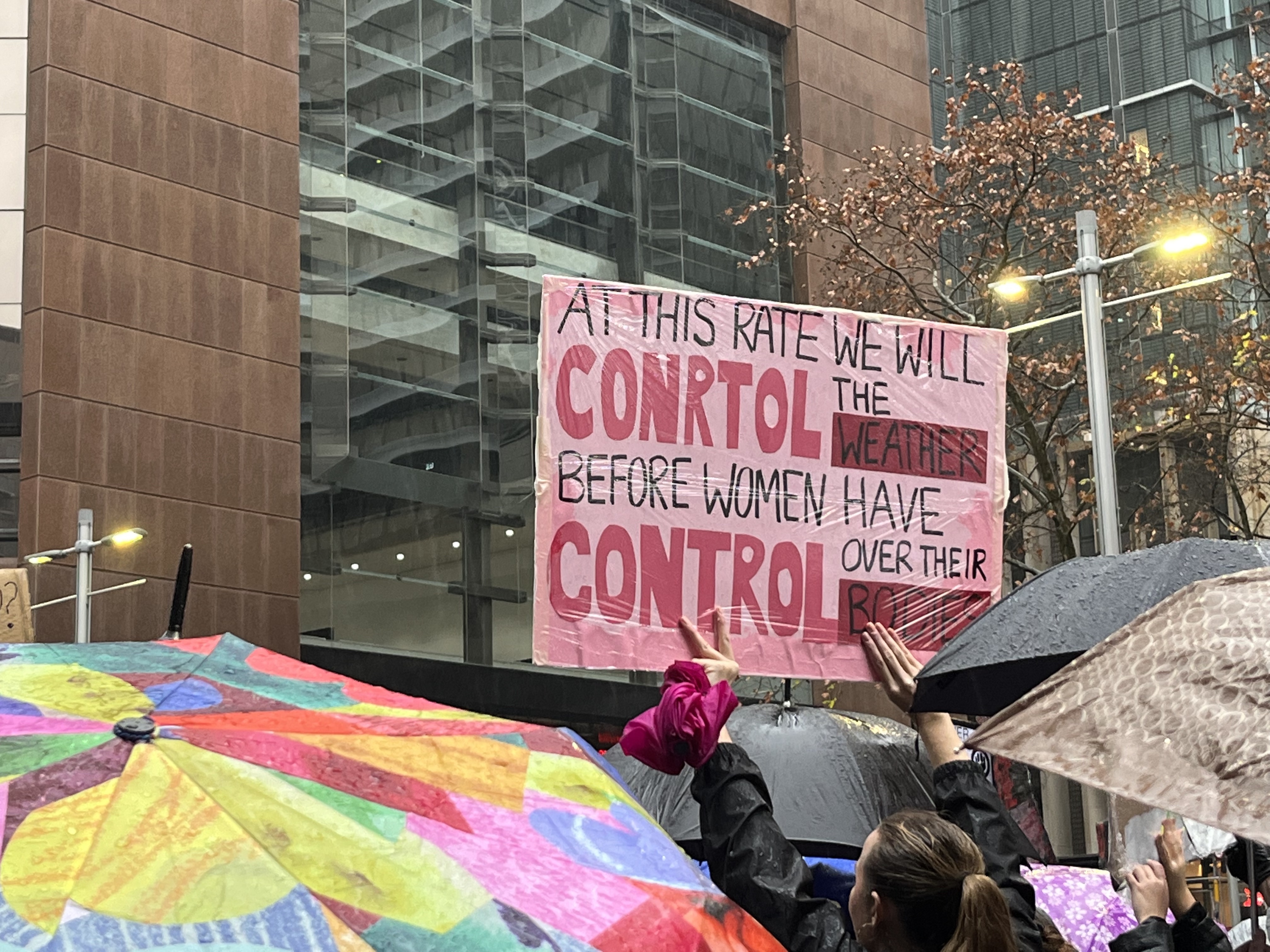 When they reached the US Consulate, rally organisers once again began chanting, with clear anger and upset in their voices.
22-year-old Liam discussed how the recent news has created a dialogue in Australia on the issue of abortion access.
"I think we've gotten the message across. I think that Roe v Wade being overturned has restarted this conversation here in Australia, and we know our state governments can do more to make abortion more accessible."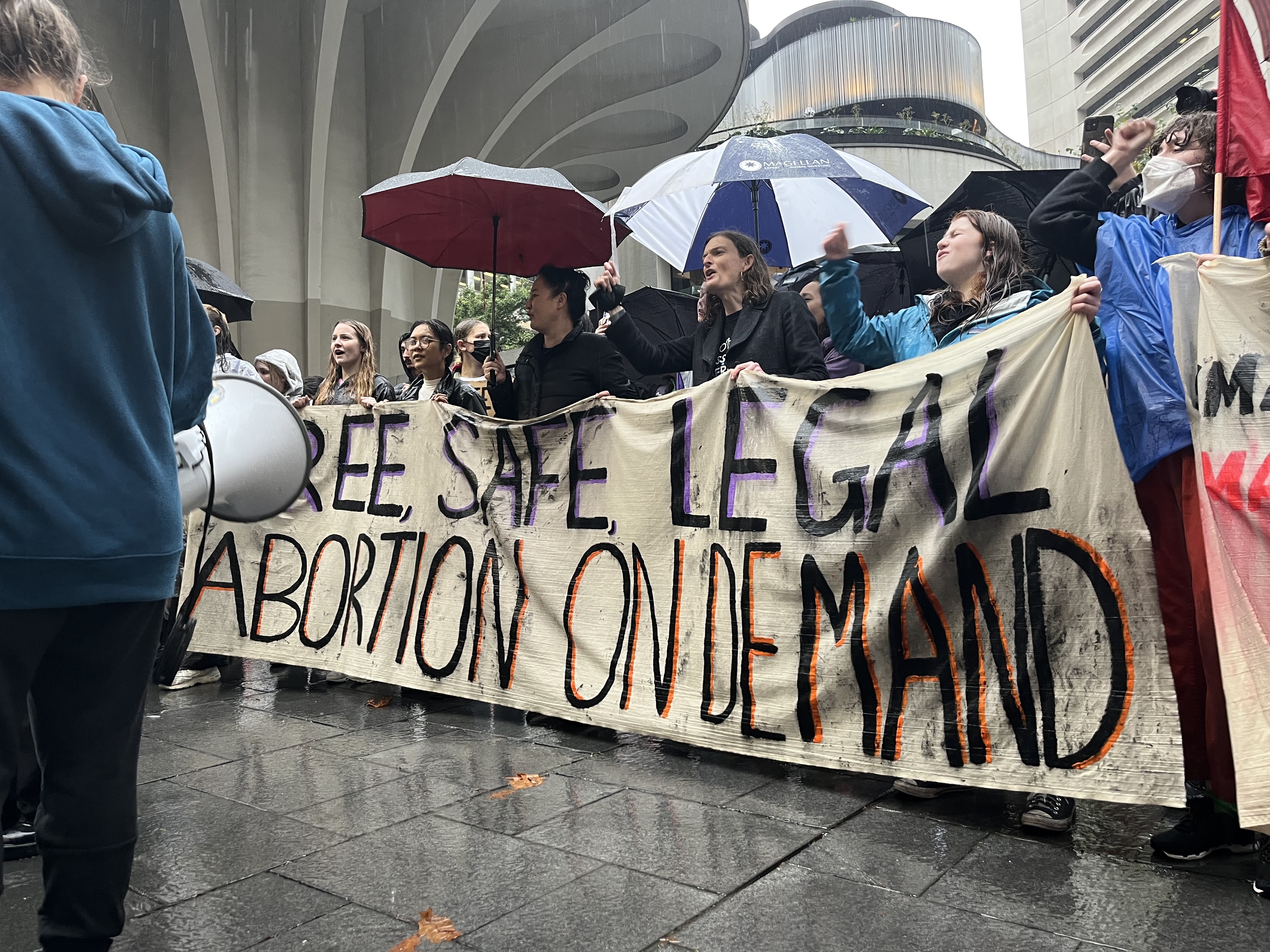 Rally organisers thanked everyone for attending with one final note.
"This is just the beginning...We need to keep on fighting, keep our voices heard. It's time to make abortion access stronger in Australia, and now is the perfect chance."