The Swans kicked off their AFLW journey with their first game at North Sydney Oval, in front of a packed house. In a day celebrating the firsts, families, friends and fans formed a guard of honour for the Sydney Swans as they arrived at the ground, and the big home crowd was clear throughout the day.
Packed into the picturesque ground were 8264 fans, and they were well behind the Swans, with cheers for goals, and plenty of loud feedback for the umpires.
As the Swans entered the ground for the first time, there was a guard of honour with the Swans Academy and the men's team flanking the expansion side.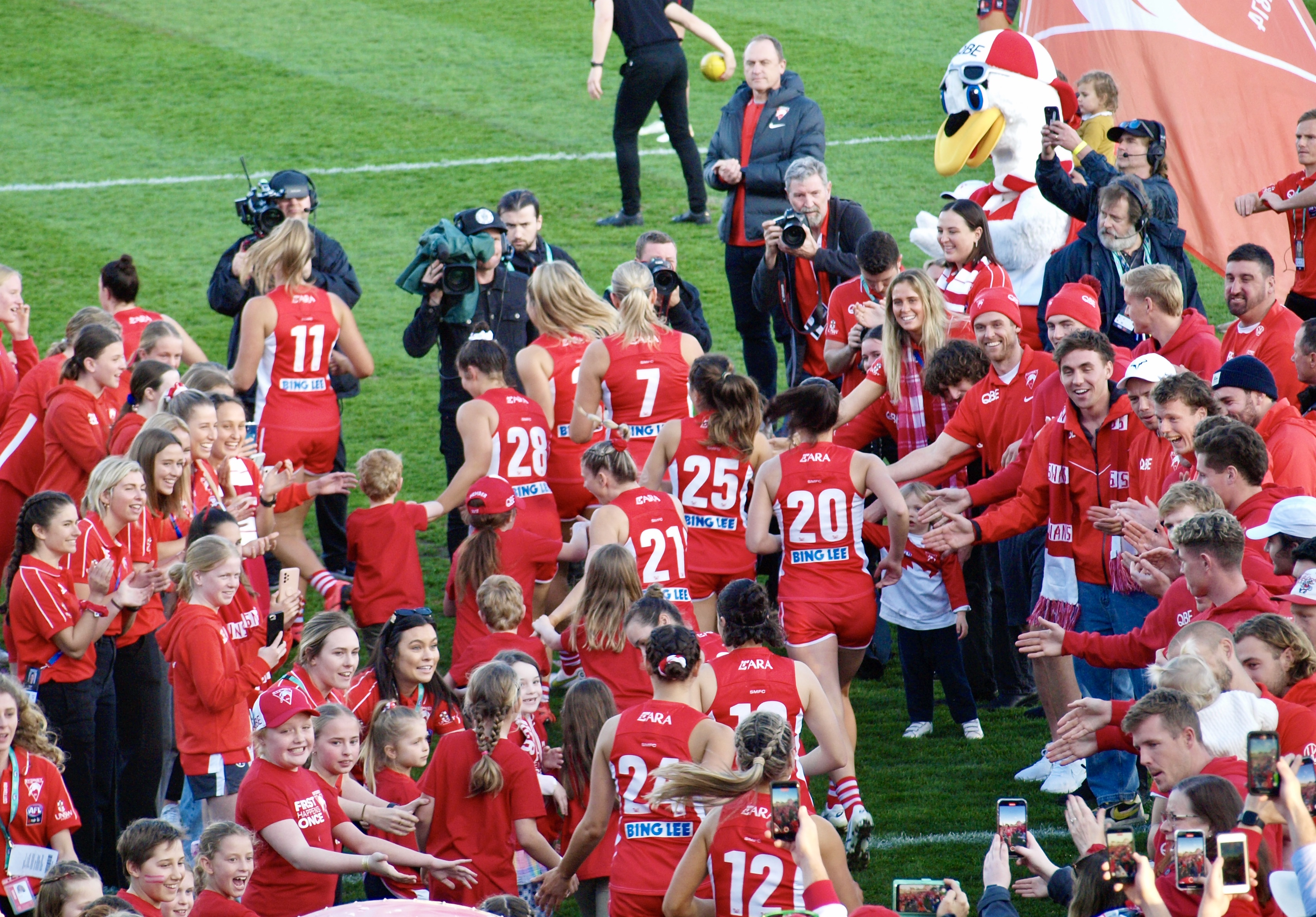 The Swans were celebrating plenty of firsts, including a first AFLW appearance for 11 players, and they attacked the ball and the game with the enthusiasm that comes with that excitement.
After the game, Swans coach Scott Gowans talked about how the day, and the crowd had played a part in the Swans' mindset.
"The crowd definitely helped," Gowans said.
"I think the problem was from a coaching perspective was that it also put a perceived pressure on the players so a lot of them said in the rooms just said that they felt it was almost like a cauldron and the noise and they couldn't hear each other.
"So that's what they got to get used to. And that's what they all want. But a lot of them hadn't experienced that in the day. I think it's fair to say pressure probably beat us."
Gowans felt that the occasion was blown up, and while a big milestone day, had made it feel like the footy almost played second fiddle.
"If I reflect back... there's probably so much pageantry. Stuff that went on it probably took away a little bit from the focus.
"You've got to balance that with the game and want an amazing experience at a great venue. And yeah, that's you just got to roll with those ones. So, you know, the guard of honour was very, very special."
Bec Privitelli wrote her name into the annals of history, kicking the first goal for the Swans in the first term, after Nicola Stevens opened the scoring for the Saints.
Stevens, one of several new recruits for the Saints was one of the strong early starters, along with Georgia Patrikios, who would have felt like a new recruit after missing last season.
Patrikios has long been hailed as one of the stars of the future of the AFLW, and in her first match time back in 18 months, she was faced with a matchup against the latest to be in that position, Montana Ham.
Ham, the first draft pick in the 2022 AFLW draft, and the Swans' first ever draft pick, showed early why she has been described as a star of the future, with a sublime running and tackling performance (11 disposals, eight tackles).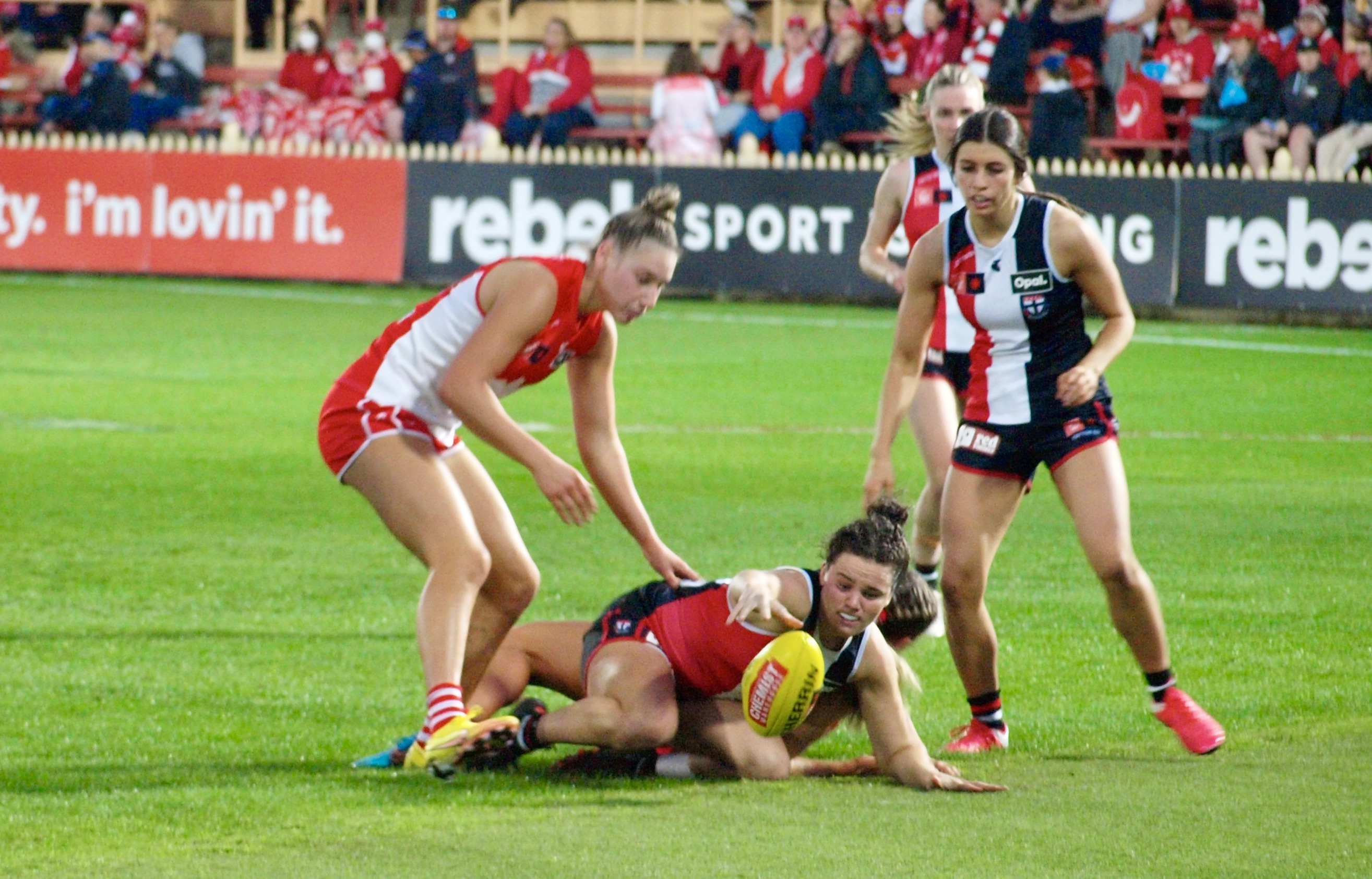 Ham's stellar evening was ended midway through the fourth quarter after an ugly collision left her clutching her knee, and she was helped from the ground.
"We really focused on being defensively minded to create offense, but I thought that she probably was a little bit too safe at times," Gowans said after the game.
"There were a couple of opportunities to fend off which is actually her go-to and take the grass and she didn't do it that will come with the learning and look, she's going to be a very good player."
As for her injury, Gowans had few details after the match.
"We know it's a knee - she's in good spirits at the moment but we will get a scan and have a look at it. It's a hard one to tell the way that it happened with the way that St Kilda player fell across [Ham].
"I usually like to get an indication, [the physios] couldn't even give me the indication.
Despite their best efforts, the Swans showed the pitfalls of expansion at times, as they were outmuscled at either end of the ground, despite Lexi Hamilton's best efforts.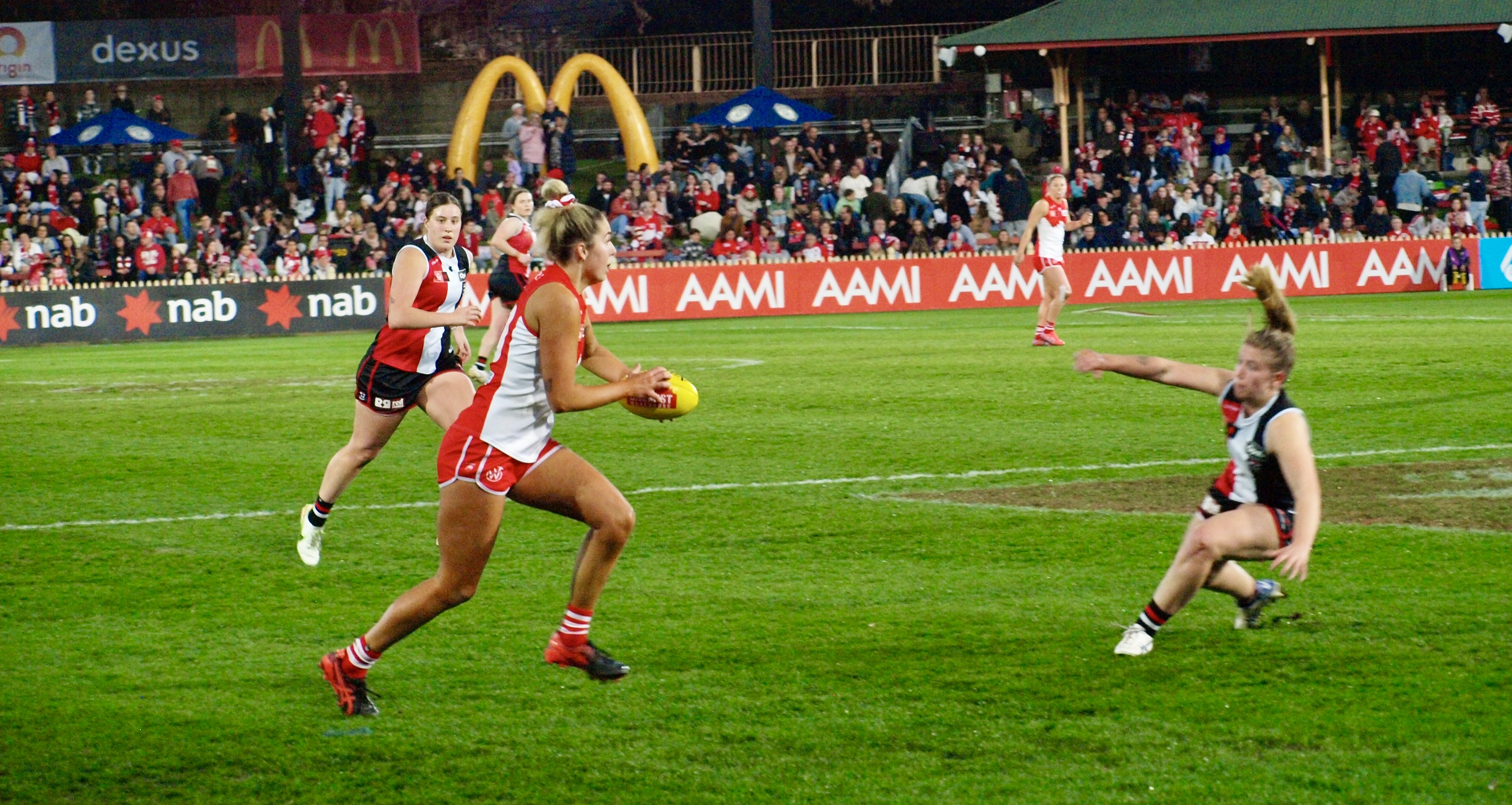 Kate Shierlaw proved too strong in defence, with four goals, and Saints coach Nick Dal Santo was full of praise for his key forward.
"Kate's an interesting player because her work rate never drops off and there'll be days and I'm sure she'll have one this year or maybe multiple where it just doesn't go her way," Dal Santo said.
"She's a key forward - it's difficult position. The opposition often have at least one on her, obviously, but then maybe an extra drop in behind the ball.
"One thing that she did last year in my time with her, she competes really hard. Her work rate is enormous. So she puts herself constantly in positions to have an opportunity. And tonight she got that reward for effort."
In the end, the Saints ran out 56-27, to kick off their campaign with a win, and start to develop the momentum. Dal Santo talked about the fact that playing an expansion club gave his side an opportunity to focus on their game plan, because the Swans had no history for the Saints to plan for.
"We wanted to be really aggressive ball in hand," he said.
"We wanted to be proactive when we were defending and within, you know, a certain degree it was about us to know and that's no disrespect to Sydney at all, but we weren't quite sure exactly what to get from them.
"We expected them to be really competitive. We know they've got some really high end talent and it's certainly Montana but a handful of the other girls.
"Alana Woodward was in our team last year and we know what sort of person she is. She's an absolute star, and a great human so we knew what sort of football club that they were, but we probably focus a little bit more on ourselves to make sure we got what we wanted to do right. And then we'd accommodate for the opposition along the way.
For the Swans, they got the first one out of the way, and Gowans is ready to build next week.
"There were a few things with our ball movement," Gowans said.
"We just didn't take the game on enough. And that'll be a big focus next week. At the end of the day if you if we lose by 40 points versus 20 points then although the results worse, but our ball movement was better. If we took the game on to lose by a little bit more to take that risk, so be it so I think that'll be our focus.
"I thought we were a bit safe tonight at times and as I said the cauldron of playing their first game, they hesitated a little little bit too much which allowed St Kilda to get numbers behind."
The Swans play the Magpies next week, while the Saints will face another expansion side in Hawthorn.