Each week, the Over a Third podcast will mix fan voting (on Twitter and Instagram) with analysis from experts and put together the Suncorp Super Netball team of the week.
This week was hotly contested on the defensive end, with multiple defensive players polling votes and missing out. It was a down week for midcourters, with few standouts.
To catch up on the major talking points of the weekend, check out Edge of the Crowd's weekly recap Unwrapped.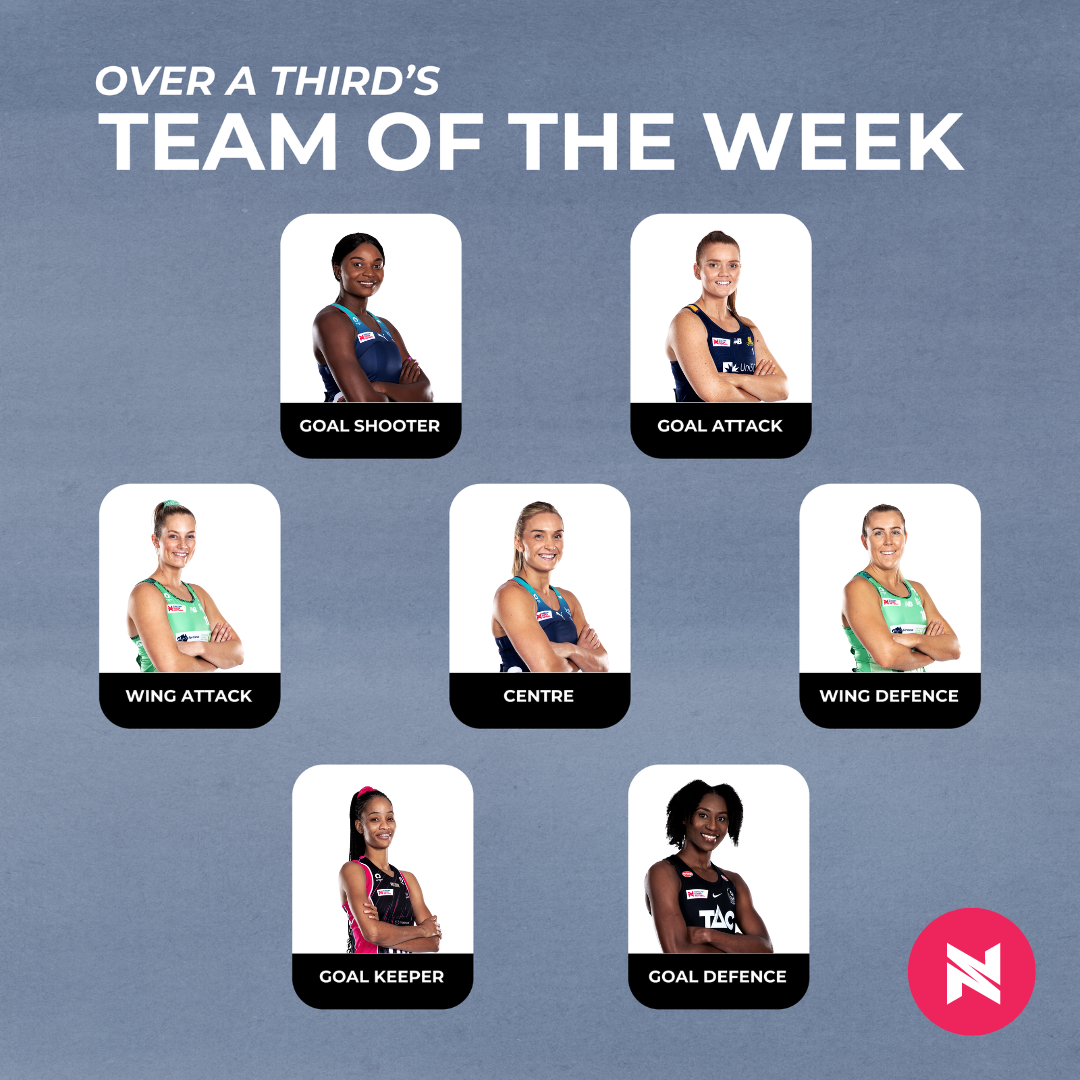 Goal Keeper: Shamera Sterling
Sterling may have only had 30 minutes to press her case, but that didn't stop her from making an impact for the second week in a row.
In her short time on court, she gave Romelda Aiken-George trouble and managed to amass two gains and five deflections. It was the kind of performance that we have come to expect from Sterling, almost every time she steps out on court.
As long as Sterling keeps putting out performances as she did over the weekend, the Thunderbirds will stay competitive in 2023.
Goal Defence: Jodi-Ann Ward
Jodi-Ann Ward was another player who backed up a fine start to the year, with another stunning performance. Ward matched up against Kiera Austin all day and restricted her to just 23 shots.
At the same time, Ward accumulated three gains and three deflections and was also involved in the attacking movement, with five centre pass receives.
Ward's ability to challenge her direct opponent to defend when the Magpies have the ball helps her defensive play as well, as it doesn't let her attacker sit and wait in a position to catch her out. Her continued attacking play will be a confidence boost for the Magpies and the Jamaican Sunshine Girls.
Wing Defence: Jess Anstiss
Anstiss continued her work flying under the radar this week and had an outstanding performance that helped the Fever to a clutch win. Anstiss contributed in attack, with six goal assists and seven feeds while running through centre, and chalked up three gains as well.
She spent most of the afternoon running against Jamie-Lee Price and handled the physicality well. Anstiss also combined well with Verity Simmons, Sunday Aryang and Alice Teague-Neeld across the afternoon, giving the Fever plenty of drive through the midcourt.
Centre: Liz Watson
Watson spent much of Sunday's Melbourne Derby playing out of centre, as the Vixens looked to find balance in their midcourt. Watson was magnificent in the fourth quarter, when the Vixens desperately needed a comeback, with 10 goal assists on 11 feeds, and four second phase receives as a key link-up player.
After the game, Watson told Edge of the Crowd that the Vixens focussed on late-game situations during training.
"We do practice those scenarios at training," Watson said. "Simone puts us under a lot of pressure for 40 seconds or a minute, for the time to handle it a bit better, and it paid off.
Wing Attack: Alice Teague-Neeld
Alice Teague-Neeld is another player who has started the year flying, with a second nomination in the Team of the Week in two weeks.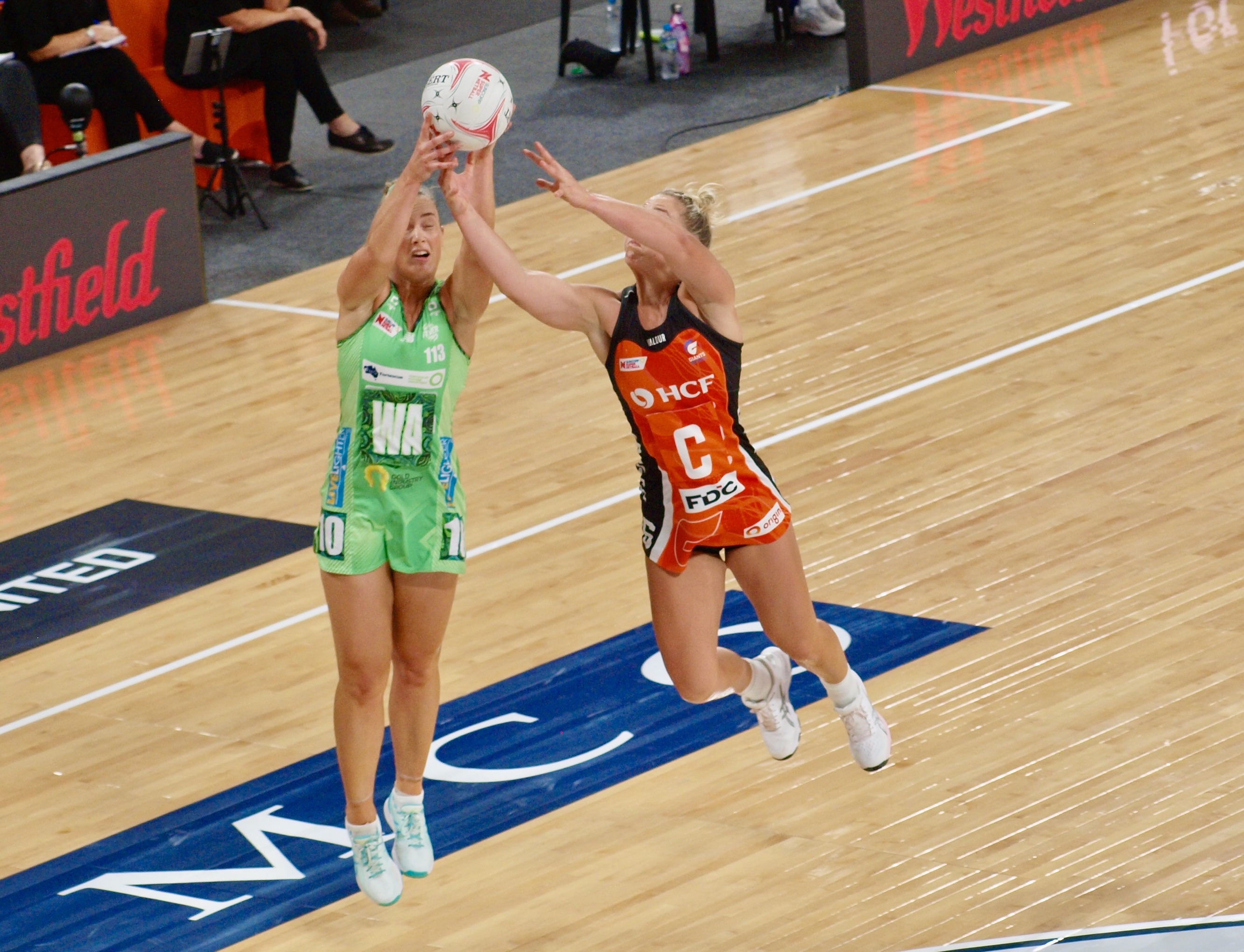 Teague-Neeld had the tough assignment of working against Diamond Amy Parmenter for much of the afternoon but kept up a frenetic pace to continue to supply the Fever goal circle with quality balls from circle edge.
She had 26 goal assists, with just three turnovers, and 28 centre pass receives as the linchpin of the Fever attack, moving the ball with speed and precision all match.
Goal Attack: Steph Wood
Wood was part of a devastating Lightning attack over the weekend, as the shooters were almost flawless in front of goal. She led the way for the Lightning with 25 goal assists and 19 centre pass receives while tacking on 10 goals and a super shot.
It was an all-around complete performance that forced Bec Bulley to change the Firebirds' defensive end to try and slow Wood down. After the match, Bulley explained that Wood's performance had made it hard for her team to keep up on the scoreboard.
"Defensively we really needed to pick it up a little bit," Bulley said.
"But I guess that's credit to the Lightning, their attack is very good. Both Cara and Steph were shooting at 100% in that whole first half, so we weren't getting enough ball."
Goal Shooter: Mwai Kumwenda
Kumwenda finished the match with the same moment as the last Melbourne Derby. A super shot, after the siren. This time, she delivered the goal, and the win for the Vixens, to cap a thrilling comeback.
The Malawian international was deadeye from the super shot range (four of four) and accurate in front of the post all afternoon (89 per cent). She added on three rebounds and six centre pass receives, as she drove out of the circle to stretch the Magpies' defence throughout the game.
It was the kind of game Kumwenda will need to keep delivering while Rahni Samason is out, as the pressure of being the lone goal shooter in the squad will weigh heavy until Samason returns, but Kumwenda showed no signs of it affecting her.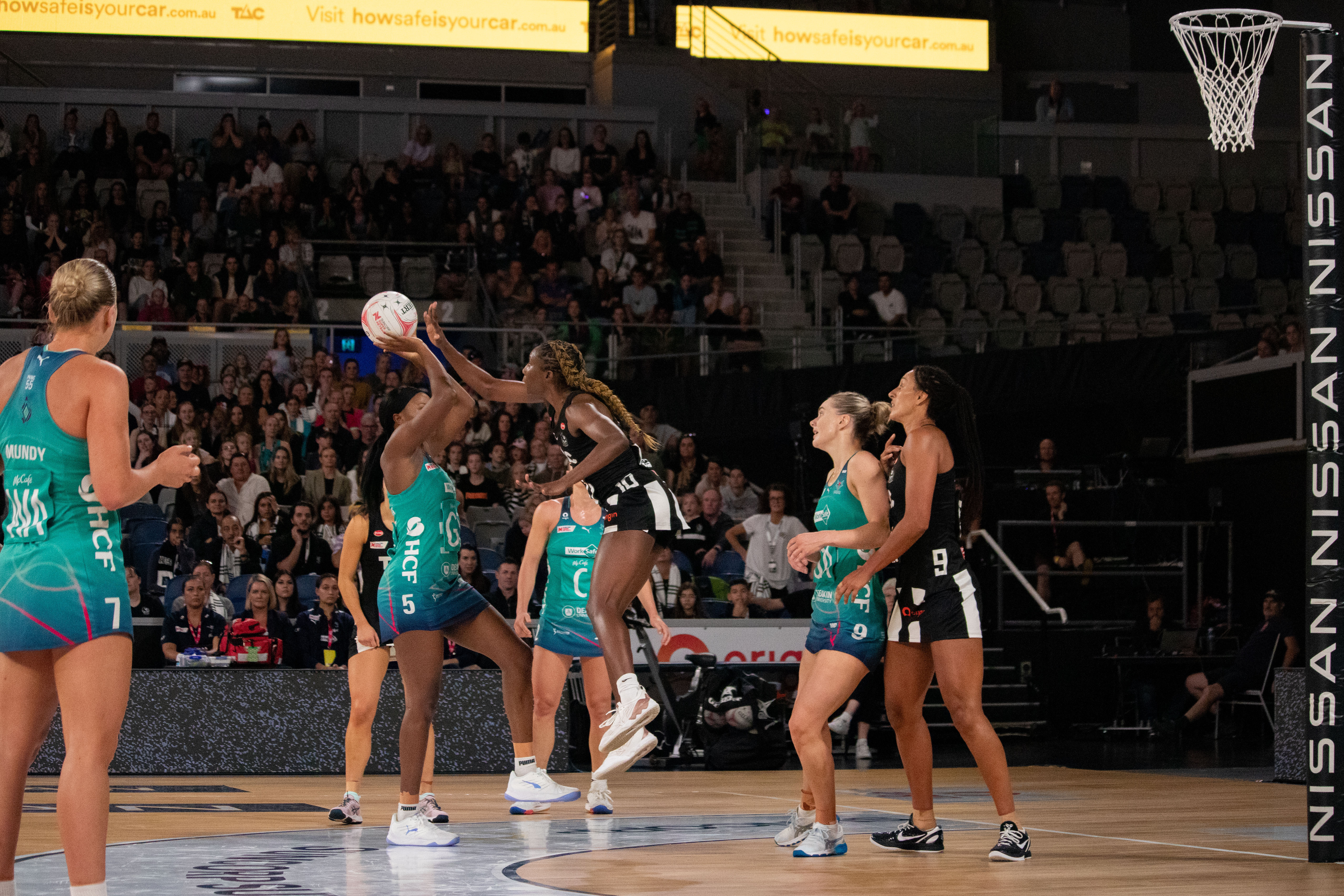 Bench
Jo Harten
Harten made her return for the Giants, after missing Round One, and made an immediate impact. She closed with three super shots in a row as the Giants roared home to almost steal the win, but her leadership on court was as much a key for the Giants.
The confidence that Harten gave the Giants to feed deep into the circle was on show, as she challenged Courtney Bruce to keep with her, and even forced Dan Ryan to bring on Rudi Ellis in an attempt to slow her impact as the Giants charged home.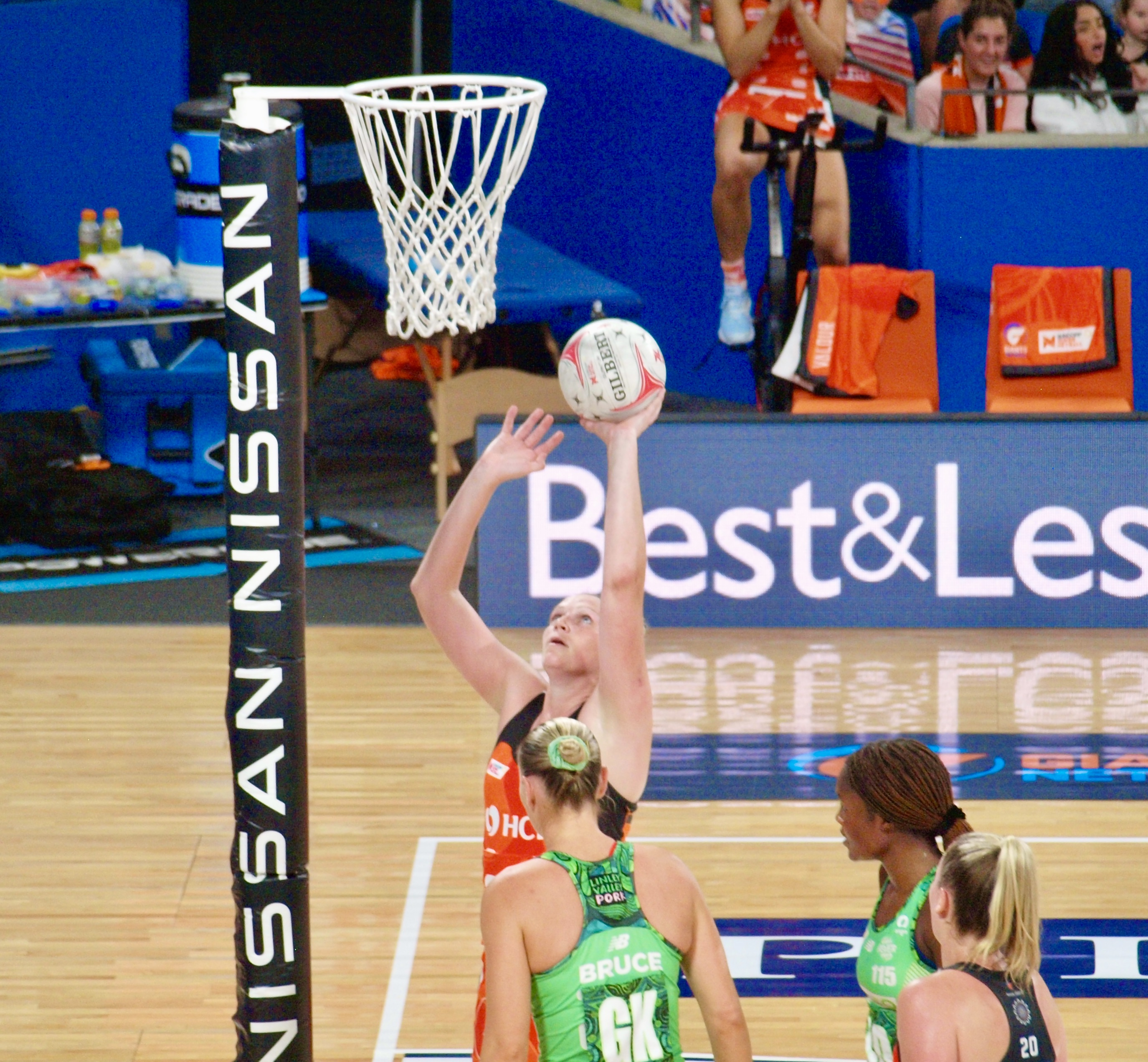 Maddy Proud
Proud was another player who had a flier, with a little bit of everything in her 30 minutes on court. Goal assists, gains, deflections, you name it, Proud tallied stats in it.
Her well-rounded box score reflects her impact as an energiser for the Swifts, as she challenged the Thunderbirds midcourt offensively and defensively across the match.
Ruby Bakewell-Doran
Bakewell-Doran was shifted around on the weekend, to try and slow the Lightning shooters. She played an outstanding three quarters in goalkeeper, with seven gains and just five penalties, as she tried admirably to slow down Wood, Cara Koenen and Charlie Bell.
Honourable mentions: Sarah Klau, Maddie Hay, Cara Koenen
Klau played an outstanding half in her 100th game, going toe to toe with Eleanor Cardwell and keeping the Thunderbirds' defensive end under control.
Hay was strong in her return to the court, showing the difference that she makes to the Giants at the circle edge, and with defensive pressure on the transverse line to turn the ball over.
Koenen was almost flawless, shooting well and combining well with Wood to trouble the Firebirds' defensive end for the full 60 minutes, as the Lightning dominated.
Before you move on, why not give our Facebook page a like here? Or give our Twitter account a follow to keep up with our work here.