Each week, the Over a Third podcast will mix fan voting (on Twitter and Instagram) with analysis from experts and put together the Suncorp Super Netball team of the week.
This week was hotly contested on the defensive end, with multiple defensive players polling votes and missing out. It was a down week for midcourters, with few standouts.
To catch up on the major talking points of the weekend, check out Edge of the Crowd's weekly recap Unwrapped.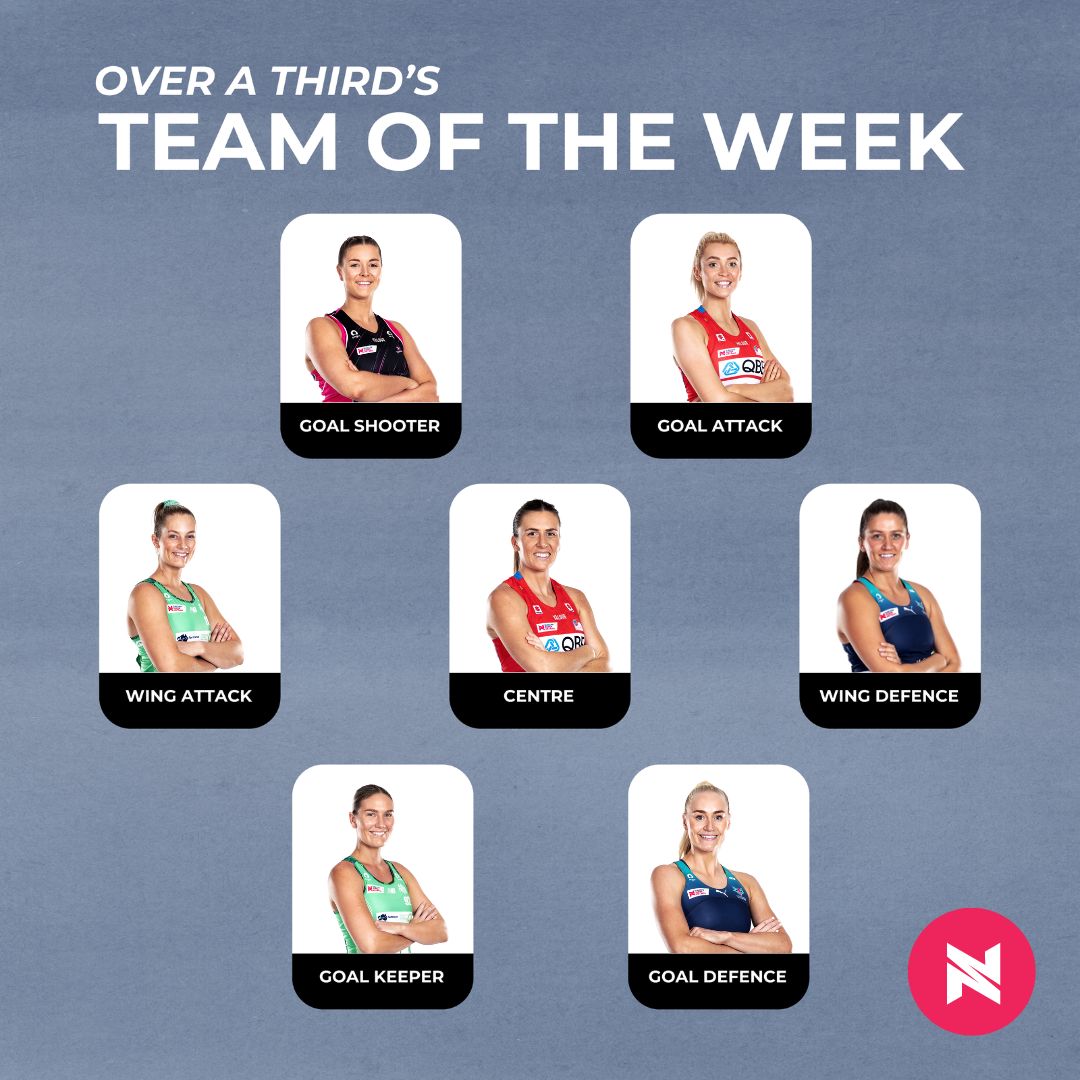 Goal Keeper: Courtney Bruce
Bruce was outstanding on the weekend, drawing comment from Magpies coach Nicole Richardson for her efforts.
"As soon as you allow Courtney Bruce into the game, and I thought she was allowed to get into the game very early, and then [the Fever] were up and about," Richardson said. "We got away from feeding [Nelson] under the post, because of that. That's disappointing, so it's one we have got to learn from and got to move on pretty quickly.
"I think that was a key thing early. [Bruce] was able to contest from behind and knock ball out of hands, and if you can get away with it great, but then we got away from feeding that ball."
Bruce finished with 10 gains, seven deflections and four rebounds, in a dominant performance that sent her opponent, Shimona Nelson to the bench, searching for answers.
Goal Defence: Jo Weston
Weston was part of a Vixens' defence that flew under the radar for much of the match against the Giants, but when it mattered, she helped turn it on.
When the Giants were charging in the final five minutes of the match, Weston was part of a defensive end that held Sophie Dwyer without a score, from just two Super Shot attempts, as the Vixens held on.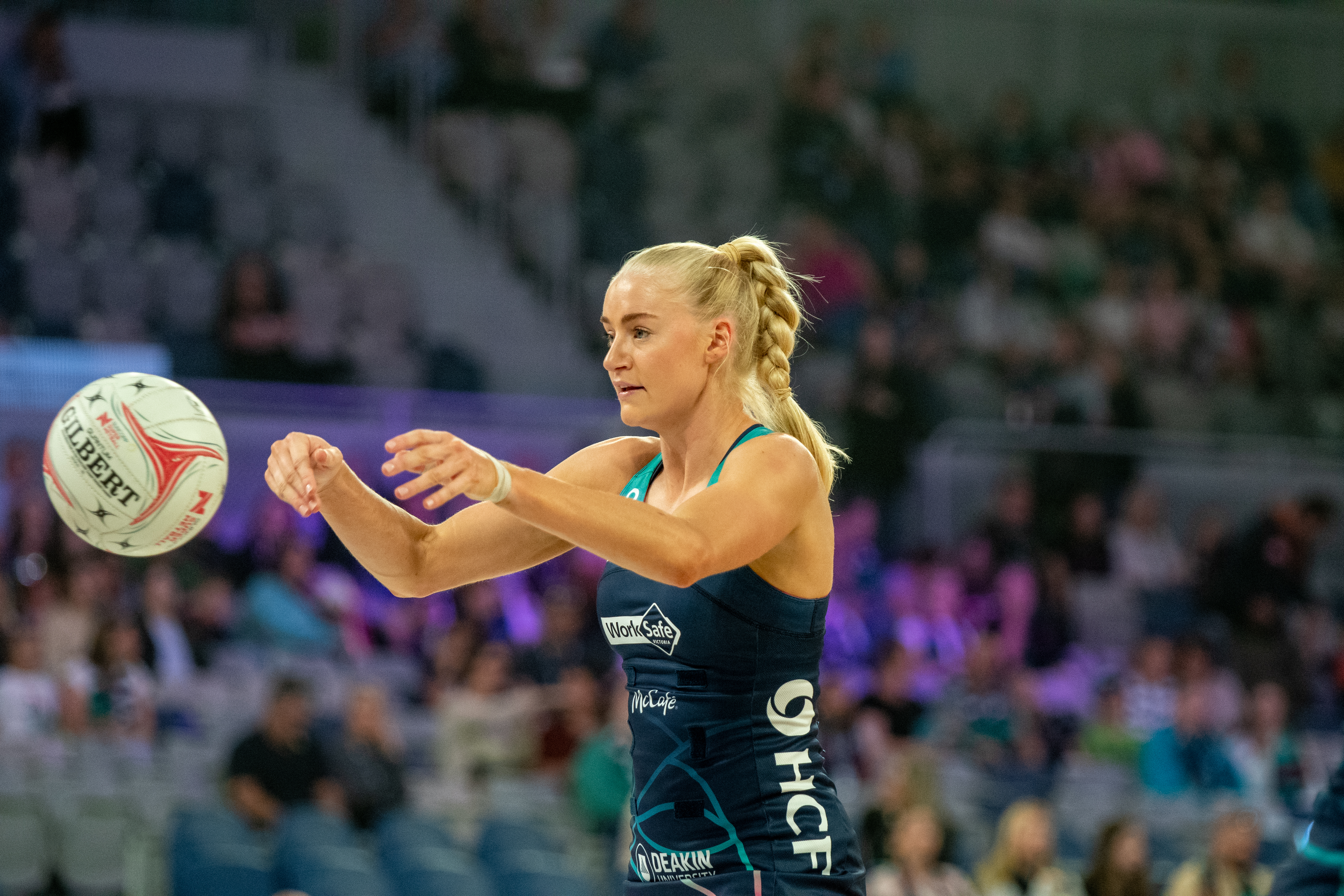 Wing Defence: Kate Eddy
Eddy, alongside Weston, was part of a Vixens defence that put the clamps on in the final minutes of the match. Eddy played a key role across the game though, limiting Maddie Hay to just 12 goal assists.
Eddy's focus, keeping Hay away from circle edge showed, as she led the Giants on centre pass receives, but struggled to get to circle edge and rack up the goal assist numbers that we are used to seeing.
It was a typical wing defence performance that flies under the radar of the stats, but the impact cannot be overstated.
Centre: Maddy Proud
Maddy Proud had a monster game, with 39 feeds, 23 goal assists and 17 second phase receives (all most for the Swifts). Proud used her relentless engine to work up and down the court, pushing hard into the pockets in attack, and keeping track on defence, with two gains.
Performances like that are what the Swifts will depend on as they look to rise through the competition and return to finals. Her link up with Helen Housby was key in keeping Ruby Bakewell-Doran away from the play, as the Swifts built a game plan around isolating Romelda Aiken-George under the post.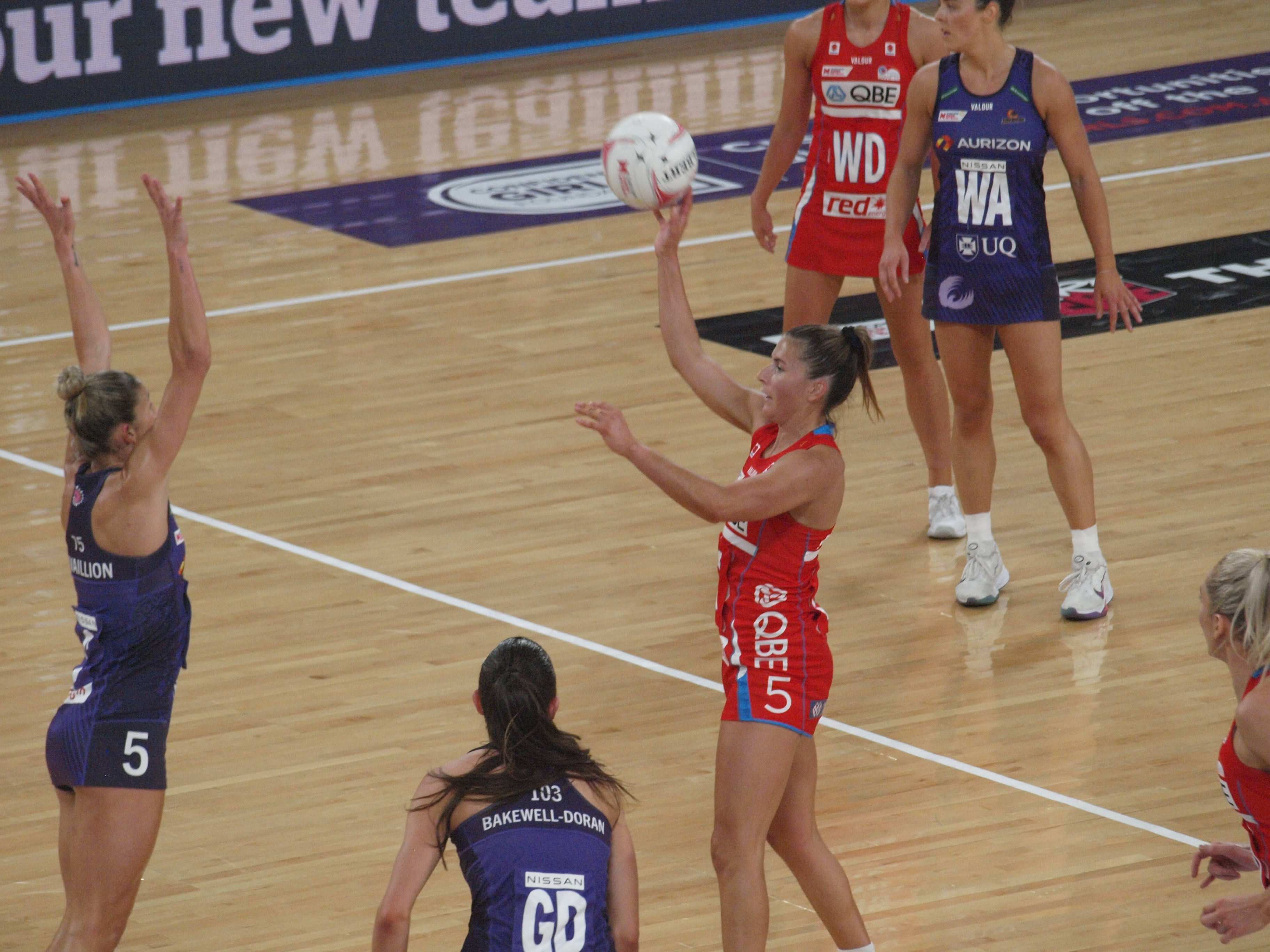 Wing Attack: Alice Teague-Neeld
Alice Teague-Neeld has a mortgage on this bib at this point. After a breakout season last year, she has shown no signs of slowing down, racking up the stats and playing a key role for the rampaging Fever.
Teague-Neeld had 33 feeds and 20 goal assists on the weekend, working with pinpoint accuracy, regardless of who was in the circle. Her chemistry with Verity Simmons was also on show, as the two combined to rip through the Collingwood midcourt.
Goal Attack: Helen Housby
Housby's numbers on the weekend against the Firebirds were strong, as she made a huge contribution to the team, with 28 goals, including six Super Shots and 27 feeds for 13 goal assists.
But her biggest contribution was, like Kate Eddy, reflected in her opponent's numbers. Ruby Bakewell-Doran hardly registered a stat, and didn't register a gain in the match, despite averaging more than five per game coming into the match.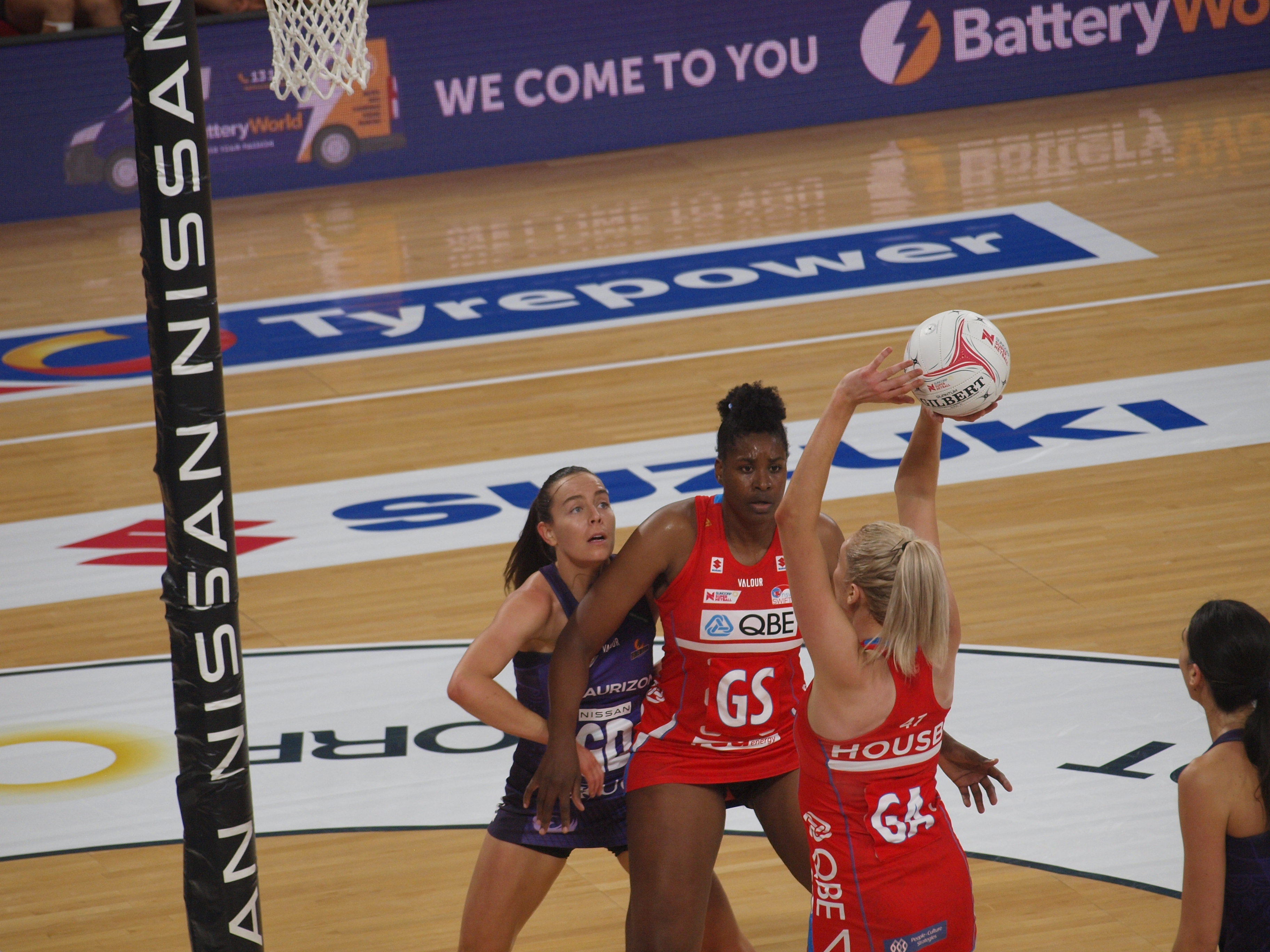 It was a solid performance, locking away the ball and keeping the Swifts' circle working according to the game plan, to help the Swifts to a key win.
Goal Shooter: Eleanor Cardwell
Cardwell has been threatening to get on this team in goal shooter for a few weeks, but it finally all came together over the weekend. The Thunderbirds stuck with the same seven players for the entire match, including the combination of Cardwell with Tippah Dwan.
Cardwell had 51 goals, including four Super Shots, and was a key pillar for the Thunderbirds. The Thunderbirds scored off 75 per cent of their centre passes and 88 per cent of their gains, and a big part of that was that Cardwell was at the end of those chains of possessions to help put the emphasis on the scoreboard.
Bench
Shamera Sterling
In most weeks, seven gains, forcing the goal shooter into goal attack and a 24 goal win gets you a starting spot in the Team of the Week. Shamera is just unlucky to be dethroned from the starting bib for the week by Bruce, but it is no reflection on another outstanding performance by her.
Jamie-Lee Price
Price is the glue that is holding the winless Giants together. With Hay being kept quiet, Price stepped up with 41 feeds, 17 goal assists, 11 second pahse receives and two gains. It was a strong all around performance in a tough matchup.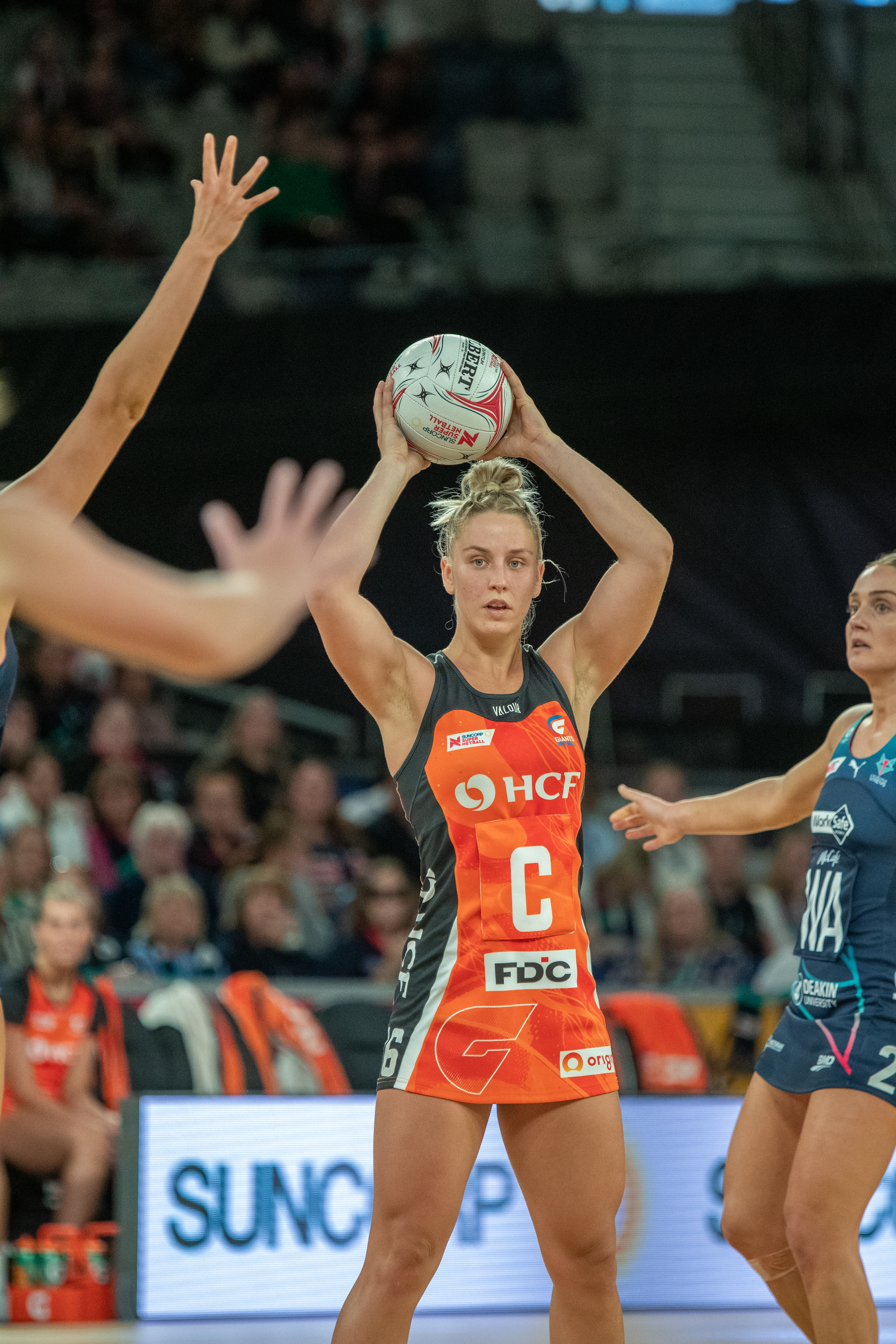 Jhaniele Fowler
51 goals from 52 attempts, a new consecutive goals record and a 27 goal win is a handy return for Jhaniele Fowler. Like Sterling, her replacement in the starting lineup is no reflection of a diminshed performance, as she continues to push for her sixth consecutive Player of the Year.
Honourable Mentions: Jodi-Ann Ward, Tayla Williams, Donnell Wallam, Verity Simmons
Ward played a lone hand for Collingwood, turning the ball over in defence, but to no avail. Williams had a strong performance, playing 60 minutes and forcing the Lightning into turnstile changes in the midcourt to slow her down.
Wallam was close to the individual scoring record, including one of the goals of the year. Simmons was outstanding for the Fever, with her speed being incredibly effective through the middle of the court.
Before you move on, why not give our Facebook page a like here? Or give our Twitter account a follow to keep up with our work here.