This week was hotly contested on the defensive end, with multiple defensive players polling votes and missing out. It was a down week for midcourters, with few standouts.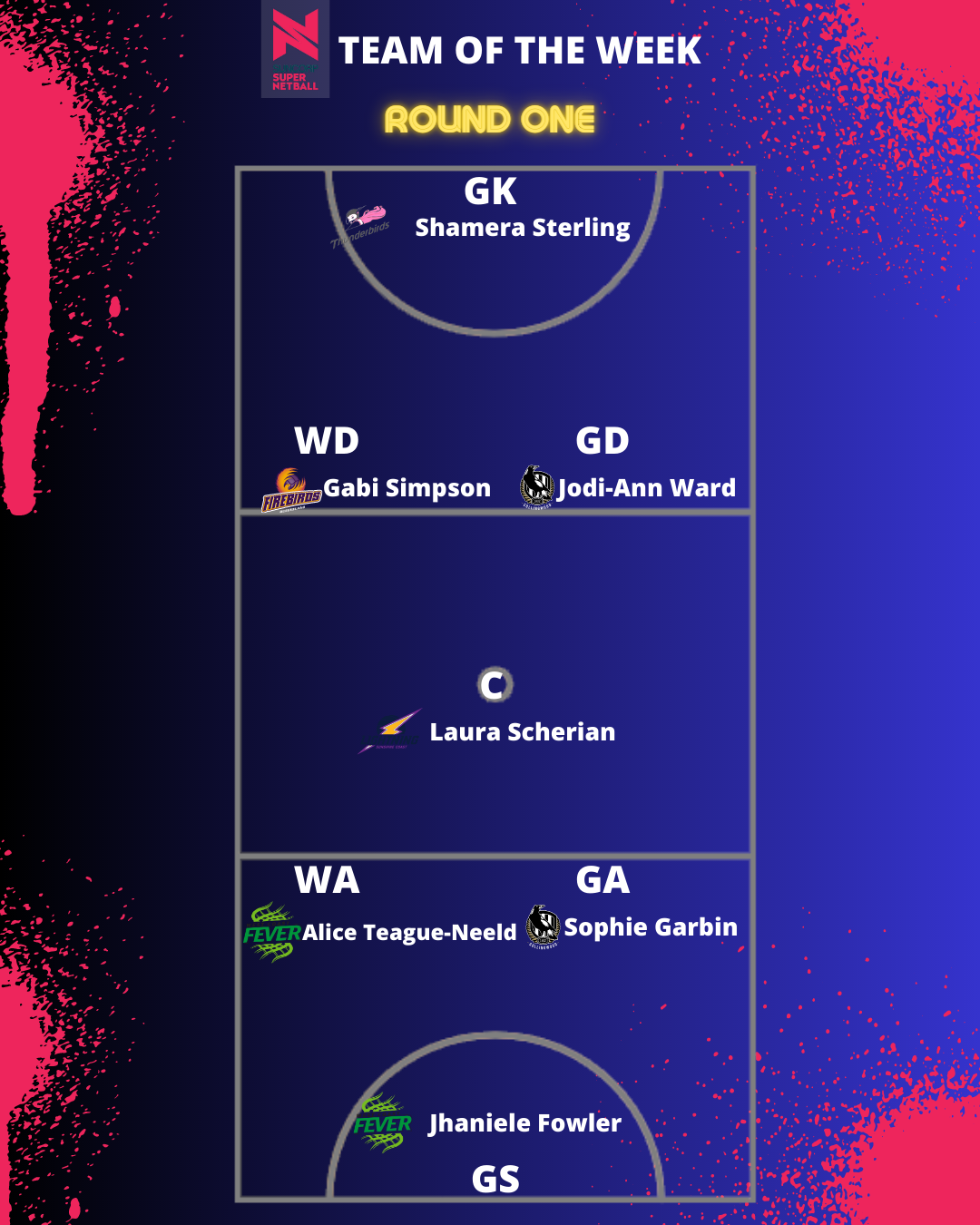 Goal Keeper: Shamera Sterling
Shamera Sterling has developed a reputation as the best defender in netball. Performances like the weekend against the Queensland Firebirds are exactly why. Sterling tallied 11 gains, 10 deflections that didn't result in a gain and four rebounds while giving away just seven penalties across the match.
Her performance, up against Donnell Wallam was powerful, as she kept last year's breakout star to just 24 goals. So dominant was the performance that she pushed Wallam to start to drive out of the circle to get the ball, something Firebirds' coach Bec Bulley rued after the match.
"In attack, we probably got a pushed high, and we had [Donnell] coming out of the circle, and she's most dangerous close to the post," Bulley said.
Sterling's first appearance of 2023 showed that she hasn't slowed down at all, and is ready for another big year of netball.
Goal Defence: Jodi-Ann Ward
Sterling's Jamaican Sunshine Girls teammate Jodi-Ann Ward also jumped out to a strong start, with a dominant performance for the Magpies. Ward tallied nine gains, seven deflections and three rebounds while giving up just seven penalties.
The clean game she played was telling, as she battled Helen Housby and Sophie Fawns at different times.
Coach Nicole Richardson had nothing but praise for her star defender after the game.
"Jodi-Ann Ward was outstanding for us. She had a good preseason, so that didn't surprise me with her performance. The good thing about it is that she won the ball, she was disciplined, she was clean and she stayed in play. If we can stay in play and build pressure, that's the type of netball we can play."
Wing Defence: Gabi Simpson
Gabi Simpson may not have got the win, but she had an outstanding performance for the Firebirds. Simpson was a calm hand playing ahead of an inexperienced defensive end, with Ruby Bakewell-Doran (second season) and Remi Kamo (debut) behind her.
Simpson frustrated Georgie Horjus throughout the match, as she made life difficult for the Thunderbirds midcourt. Simpson finished with one gain and one intercept, as well as eight centre pass receives to launch the attacking momentum for the Firebirds.
Simpson will play a key leadership role across the year, with such an inexperienced team around her, but her start to the season is exactly what the Firebirds need.
Laura Scherian wasn't the most visible player out on court for the Lightning on the weekend, but her interlinking play, connecting the rampaging defensive end with the shooting circle was vital to the Lightning.
Scherian used her speed to great effect, challenging Jamie-Lee Price, Amy Sligar and Lauren Moore through the midcourt, and going toe to toe with Amy Parmenter at times. Scherian had 30 feeds and was part of a Lightning midcourt that converted 81 per cent of their centre passes into goals, and 75 per cent of their turnovers.
Conversion rates like that will stand the Lightning in good stead all season and will allow them to be competitive all the way through the year.
Wing Attack: Alice Teague-Neeld
Alice Teague-Neeld had a breakout season in wing attack last season, but she showed no signs of slowing down this year. Teague-Neeld led the Fever with 39 feeds and 20 goal assists, as well as 24 centre pass receives.
Teague-Neeld didn't start the game at a rapid pace, but after the Vixens reshuffled their defence to slow Sasha Glasgow and Verity Simmons, Teague-Neeld stepped up to ensure that the Fever kept their scoring up, and took care of the ball in attack.
The wing attack had just one turnover across the entire match, as she marshalled the Fever attack with devastating effect, feeding Glasgow and Jhaniele Fowler with top service from the edge of the circle.
Goal Attack: Sophie Garbin
Sophie Garbin was much maligned last year, as she struggled to settle into playing goal attack full time, adjusting to a new system and the fitness requirements of a full game in the position.
The offseason looks to have worked wonders, as Garbin put out an outstanding performance on the weekend, helping Collingwood to a big upset win over the Swifts. Garbin had 12 goals, including six of seven Super Shots to keep the Swifts at bay, and linked up well with Kelsey Browne.
After the game, coach Nicole Richardson was full of praise for Garbin. "Soph was good. Soph is great for us at goal attack," she said.
"I think there's a lot of external noise about playing Sophie at goal shooter, but when you've got someone like Shimona Nelson putting in the game she put in today, and the work that Sophie is doing out in front with that bigger-size body.
"I think Sophie has come a long way from round 1 last year, and she's really starting to take a stranglehold on that goal attack position, and it's great to see her shoot at range."
Goal Shooter: Jhaniele Fowler
Jhaniele Fowler is the reigning five-time Super Netball Player of the Year, and her performance on the weekend was the best way to start if she wants to make it six in a row.
Fowler had 55 goals without a miss but was difficult to contend with both holding and getting out on the move.
After the match, coach Dan Ryan lauded Fowler's ability to do different things in the circle.
"I think she just moves when she feels like she needs to," Ryan explained.
"There's no instruction to stay there for 60 minutes and hold. She's got more tools in her toolkit than just that and I think she uses them instinctively really well. She's getting better and better with her ball disposal and assessing all her options when she does come out of the circle."
Dehaney was hard done by to be on the bench, but behind two of her Jamaican Sunshine Girls teammates, she will know that her dominant performance was the perfect start to the year.
Dehaney had eight gains, and nine more deflections, as she and Karla Pretorius dominated Matisse Letherbarrow and Sophie Dwyer to start the year off strongly for the Lightning.
Browne's electric speed helped get the Magpies going in their win against the Swifts. Her ability to take the ball up the court and move in transition at speed made it hard for the Swifts to stay in the match.
Tallying 28 centre pass receives and 23 goal assists (both most in the team), Browne showed sparkling form to start the season as she pushes in hope for a spot in the Diamonds for the Netball World Cup.
Dwan's move to the Thunderbirds last year had looked as if it wasn't working out, and the recruitment of Lucy Austin and Eleanor Cardwell only clouded the picture.
In one match on the weekend, Dwan made clear that she has plenty to offer the Thunderbirds, as a traditional goal attack with speed to burn. Dwan's partnership with Cardwell bore the fruit that started the momentum to get the THunderbirds back in the match and eventually helped them run away with it.
Honourable Mentions: Liv Lewis, Karla Pretorius, Remi Kamo, Jamie-Lee Price
Defenders Lewis, Pretorius and Kamo all starred for their teams on the weekend, playing key roles in slowing opposition players (Lewis, Kamo) or shutting down attacking ends (Pretorius).
Price was a standout for the Giants in a losing effort, with a makeshift midcourt for long periods, operating under her leadership.