Another week of Super Netball is done, and one eye has started to turn to finals, as the end of the season is just over a month away now.
This week was not one for thrilling netball, with just one match decided by single figures. It was another week for the top four to separate themselves, with a different level of netball on show by (some of) the best teams in the competition.
Giants Netball def Sunshine Coast Lightning 70-64
The Giants were fast starters, with a five goal lead within five minutes against the Lightning, but the game was far from over. The Lightning came back, fighting hard and drawing level at quarter time.
But something unstoppable was standing in their way, and grew more effective as the game went on. Amy Parmenter, Wing Defence. Parmenter's stat line was impressive with five gains and seven deflections, but it was her defensive impact on the Lightning that stood out.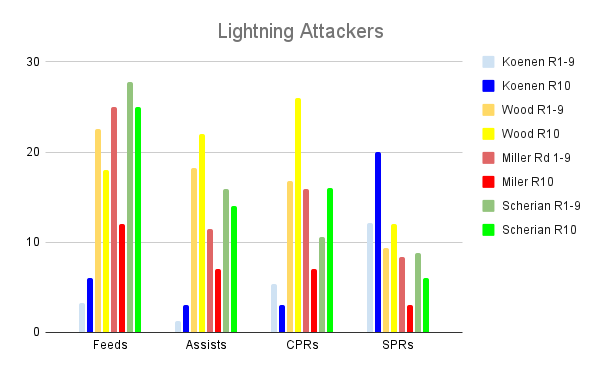 What the graph shows is that the Lightning were forced away from Annie Miller and Laura Scherian through the midcourt. Miller's centre pass receives (CPRs) and second phase receives (SPRs) were well down on her usual output, as she dealt with Parmenter on the transverse line.
Instead, the Lightning played through Steph Wood on first phase, and direct to Cara Koenen in second phase, slowing any chance of the Lightning getting a hold and easy goals up at the post.
Parmenter's impact was also on show at circle edge, as Koenen was forced to do more feeding, and Miller and Scherian were less effective feeders. The numbers also show that the Lightning used shooter-to-shooter passes in the circle more, with Wood having more assists than usual, even though she had less feeds.
All up, it paints a picture that Amy Parmenter was a one-woman wrecking crew for the Lightning's attack, with Jamie-Lee Price and April Brandley playing strong supporting roles.
After the match, Giants coach Julie Fitzgerald agreed, praising her wing defence.
"She had an awesome game today. She won ball for us and she won it at crucial times and that's what we needed", Fitzgerald said.
Her opposition number, Belinda Reynolds also pointed out Parmenter's effort.
"I don't think we saw the Giants' [defence]. I thought Amy Parmenter did a great job of taking up space and our own errors, that let us down", Reynolds said.
It was also a coming-of-age performance for Matisse Letherbarrow. Starting in back-to-back games for the first time, Letherbarrow took centre stage with 46 goals, including five super shots, as she showed what the future looks like for the Giants, alongside childhood friend Sophie Dwyer.
The young star spoke exclusively to Edge of the Crowd after the game about her range, and her form.
"I think that's how I have always gone about things ever since I was a little girl. I've always been loved the long range shot so I've kind of carried into my game as I've grown up," Letherbarrow said.
"I went into the game wanting to be strong under the post to have a quick option to give, so by me focusing on that aspect of my game obviously helped. Soph [Dwyer] obviously is always up close and she's such an accurate shooter. So yeah, I guess that's just how it panned out."
For Letherbarrow, having the injured Jo Harten on the sideline to provide advice and coaching was invaluable.
"Jo is incredible. She sees so much more stuff than I do and see, so having her constantly in my ear and giving me so much advice is so vital to my game. I owe her a lot, and she's a great player, a great human, but also got a great brain for the game", she said.
Fitzgerald agreed, lauding her injured captain's contributions from the sidelines.
"She's got so much passion so much to impart the girls respect her so much. I really like her there", Fitzgerald said.
Melbourne Vixens def Adelaide Thunderbirds 60-39
The first blowout of the weekend came as something of a shock, with the Melbourne Vixens blowing the Adelaide Thunderbirds out of the water. The Thunderbirds, missing Hannah Petty and Tippah Dwan were out of sorts after quarter-time, as the game slipped away from them rapidly.
As the second quarter played out, the Thunderbirds missing Dwan became more and more obvious, and more and more problematic. Emily Mannix finished the second quarter with five gains, more than her teammates combined, and more than the Thunderbirds combined.
Five times during the quarter, she was off the body of Cardwell and was able to disrupt the feed. The pain for the Thunderbirds only continued in the second half, as Mannix added four more gains in the third quarter.
Dwan's absence, with Georgie Horjus back in goal attack for an extended period for the first time this year, was not well replaced, and the Thunderbirds struggled to find a solution to the issue at circle edge.
By the end of the game, Horjus (three), Tayla Williams (five), Eleanor Cardwell (three) and Maisie Nankivell (seven) had 18 turnovers between them, as they fumbled the ball in and around the circle.
It was the inability to get the ball to post that was so damaging for the Thunderbirds, with two quarters with less than ten goals, and the fourth quarter only just scraping into double figures.
As for the Vixens, while the defensive end was on fire, the midcourt started to find its form again. With Kate Moloney, Liz Watson and Hannah Mundy playing 60 minutes as a combination, the Vixens settled into the pace of the game more effectively and were able to thwart Latanya Wilson, Matilda Garrett, and to an extent, Shamera Sterling.
Last time these two sides met, Wilson dominated Watson, understanding her movement patterns and meeting them, turning the Diamonds' captain into a virtual non-factor. This time, Mundy was unpredictable, energetic and forced Wilson to trail her for the full game, leaving Watson more free to work her magic from the centre bib, and orchestrate with Kiera Austin.
Kiera Austin's defensive work as a goal attack was also superb, with four gains for the match, as she nullified the best efforts of Sterling and Garrett to get the Thunderbirds back in the match with their defensive pressure.
NSW Swifts def Collingwood Magpies 85-56
The Swifts recorded what was, at the time, the second highest score of all time in Super Netball, one goal short of the record, as part of a 29-point defeat of the Collingwood Magpies. The Swifts dominated the Magpies after quarter time, including a 17-4 run during the second quarter as they took the game away.
Paige Hadley had more than 150 Nissan Net Points in her 150th National League match, what was almost a Super Netball record at the time. Sarah Klau, in her 100th game for the Swifts, was outstanding in defence, and Helen Housby was devastating in attack.
Superlatives are almost all that can be used to describe this game, as the Swifts showed a ruthless streak that has been missing for much of this year.
After the game, Maddy Proud was full of praise for her side, as they turned on the performance they had been looking for.
"I think it was unreal. I think that's sort of the style of netball that we can play," Proud said.
"We know we sort of had it in us for the last few weeks. I thought, our shooters were just phenomenal. I thought the decisions to when to take the twos, when to not, and I think when you're on your own and they just kept doing it, and full credit to the defenders. I thought they got us so much ball back that that is what made the shooters feel like they could just shoot it because they had no sort of pressure on them in that sense.
"Its a really good time to kind of peak like that and we knew how fierce the Magpies will be coming out and obviously with losing to them in Round One, we really had a point to prove and we're really proud of the girls."
For Proud, Hadley and Tayla Fraser in particular, who played the majority of the game in the midcourt as a trio, it was a win after a slower start to the year in Round One, where the Magpies came out on top in the midfield battle.
"I think last time they gave us a little bit of a bath and I thought that their speed really caused us some trouble in Round One and we knew that if we can just block up and congest their attack, then that would be the key," she said.
"From an attacking perspective, we know how good a lot of their players are in the air. So it was just about keeping it short and sharp."
Proud was escorted from the court late in the first quarter to undergo a head assessment, after a collision with Sophie Garbin. A little under seven minutes later, she returned to the Swifts bench, and less than 15 minutes after the initial incident, returned to court.
After the match, Proud confirmed that all protocols had been completed before she returned to the court, and that she had initially tried to stay on court, because she had felt fine.
On the other side, Magpies coach Nicole Richardson was blunt in her assessment of the match.
"There's a lot going on in the background that we've got no control about. What we can control is the performance that we put out on court. And it's making sure that with everything that's going on, that as a group, we stay connected and we stay united. And I think we did a really good job of doing that today," Richardson said.
"Obviously just didn't get the result on the scoreboard that we would have liked. We started well, we were competitive to start with, and Helen goes nuts on the two-point shots.
"Credit to the Swifts, we don't use the circumstances and, and what's going on in the background as an excuse for our performance today, we were just unable to play 60 minutes of netball."
The Magpies were playing on an emotional tightrope, after finding out last week that Collingwood is in the process of conducting a review into the Super Netball program to determine whether to retain its licence and continue to play a Super Netball team in 2024 and beyond.
One Magpie who put out a strong performance was Kelly Singleton, who in limited minutes, made an impact on the scoreboard. Late in the third quarter, Singleton reeled off four super shots in a row to close the gap slightly, and her efforts probably prevented this match being a 35-goal blowout.
Richardson was full of praise for Singleton, who was playing in front of friends and family against her former team.
"It's good to see players get out grab opportunity and run with it, with all contracts up for grabs. It's really difficult out there for playing without playing group," Richardson said.
"As far as we all know, we don't even know if we've got a team moving forward. The girls don't know if they've got current contract, staff, the whole lot of us, so we're under a fair bit of pressure but we've got to stay connected, stay united and continue to play a brand of netball that we know that we can play.
"It's not going to get any easier. In fact, it's probably going to get harder. But we've still got a job to do. It's still our responsibility to get out there and perform.
"We need to make sure we execute our base skills. We'll review this game like we do any other game. And we'll continue to put our best foot forward and that's all that we can do and what will be will be."
West Coast Fever def Queensland Firebirds 97-63
When the NSW Swifts recorded the second-highest score of Super Netball history, and had a 29-goal win, few would have predicted that the West Coast Fever wouldn't just shade the NSW Swifts' achievements, but thoroughly brush them aside.
The West Coast Fever's score was 12 goals better than any other score in history. The 34-goal margin was the largest in Super Netball history. The Fever won three quarters by double digits, a historical achievement.
Sasha Glasgow had 14 super shots - a Super Netball record. Glasgow had 165 Nissan Net Points - a Super Netball record.
Superlatives are the only way to describe this game. The West Coast Fever showed that they have found their ruthless streak, and they were happy to put the Queensland Firebirds to the sword.
The Fever jumped out of the blocks, with 27 goals in the first quarter in a warning of what was to come. It wasn't like the Firebirds did a lot wrong either, aside from a couple of turnovers from Donnell Wallam.
But the initial quarter put the Firebirds into chase mode, and the Firebirds would miss all five super shot attempts in the second quarter, as the game slipped away rapidly, the Fever enjoying a 20-goal cushion at half time.
The second half was more of the same. Last time these two sides met, the Fever put the cue in the rack at half time, but this time, they put the foot on the accelerator.
There was no let up all the way to the final siren, as Courtney Bruce ratcheted up the pressure, with 12 gains all up - four of which in the last quarter (both more than the Firebirds mustered as a team).
Jess Anstiss, alongside Glasgow, made a successful comeback from COVID-19 last week, with a 60-minute performance, mostly in wing defence.