With half of the 2022 Suncorp Super Netball season in the rear-view mirror, now seemed a good time to take stock of the year, so theEdge of the Crowdteam put together their Team of the Year - so far.
The team from the Over a Third podcast put their heads together and each selected three teams. A first team, scoring three votes, a second team, scoring two votes, and a third team, scoring one vote.
Then, the team was selected from the highest-scoring player at each position.
Goal Shooter
This was an uncontroversial selection.Jhaniele Fowlerwas the unanimous selection. The West Coast Fever powerhouse has the most Nissan Net Points (672) in the competition, the most offensive rebounds (23), the most goals (394), and the most shots (412), at the best accuracy of the volume shooter (95 per cent).
Fowler is the reigning Player of the Year, and has been since 2018. She is well on her way to making it a fifth season in a row.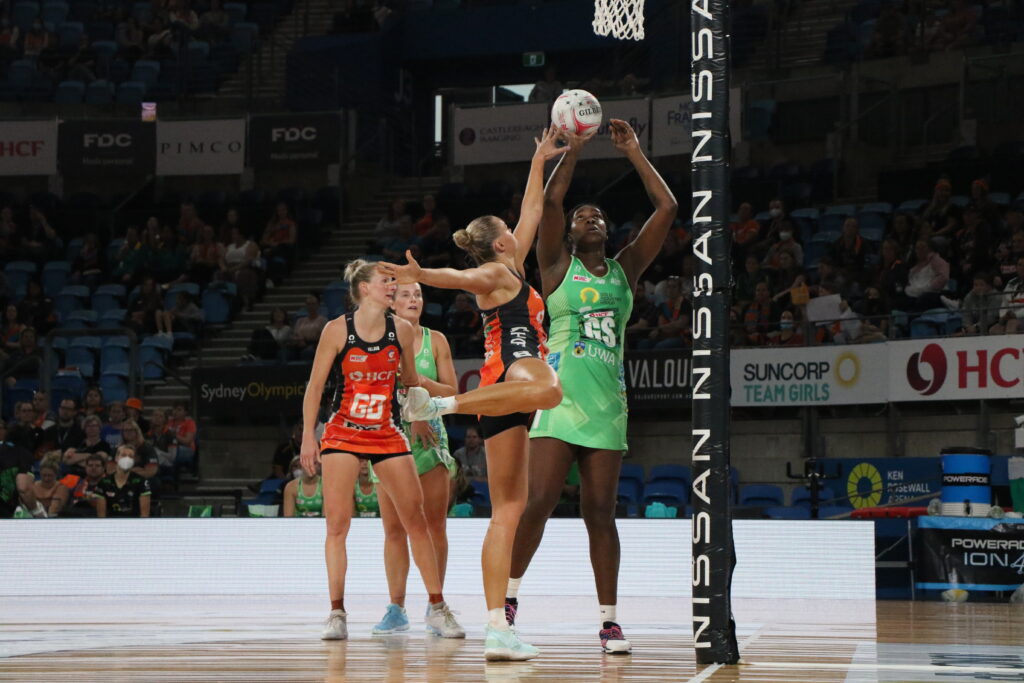 Jhaniele Fowler is still in fine form this season. Image: Emma Dayan
The second team goal shooter wasDonnell Wallam. The Firebirds' late addition has taken the league by storm, including a place in the Diamonds' squad for 2022/23.
Wallam has scored 297 goals (3rd best), and is second for attempts (350) in her barnstorming start, as she set the league on fire early.
Other players receiving votes: Jo Harten (4 votes), Mwai Kumwenda (1 vote)
Goal Attack
Gretel Buetawas a popular choice, as the Diamonds' goaler is putting together the season of her life. Bueta leads the competition in centre pass receives (173), and is fourth in Nissan Net Points (548.5)
As the resurgent Firebirds have played well, a huge part has been on the success, and immediate chemistry, of their shooting pairing, as Bueta and Wallam thrive together.
Another player who has breathed new life into her form isSasha Glasgow. Rejuvenated under Dan Ryan, and turned into a fulltime goal attack, Glasgow is thriving.
Ryan has been full of praise for the difference that Glasgow has made to the Fever's attacking end, and has allowed Fowler to be more effective.
Other players receiving votes: Steph Wood (3 votes), Sophie Dwyer (3 votes), Helen Housby (1 vote)
Wing Attack
In a move that doesn't appear to meet the view of the Diamonds' selectors,Kelsey Browneis the first choice. Browne has been flying to start the season, second for goal assists, third for Nissan Net Points, and fifth for centre pass receives.
Browne's pace has been vital for the Magpies, who have found a speed of play that suits them and flummoxed opponents in recent weeks, with Shimona Nelson the biggest beneficiary.
Diamonds' captainLiz Watsonwas the definitive second choice, as she makes her return from a foot injury that kept her out of last season. Watson's resurgence has driven the Vixens up the ladder in a strong start to the year, as she is third for both centre pass receives and goal assists.
Other players receiving votes: Georgie Horjus (2 votes), Alice Teague-Neeld (1 vote), Lara Dunkley (1 vote), Maddy Proud (1 vote), Laura Scherian (1 vote)
Centre
Kim Ravaillionis another player who appears to have been seen differently by the Diamonds' selectors. Ravaillion has had an outstanding start to the season, as she has played every minute of the Firebirds' season, in the centre bib, directing traffic.
As a resurgent team, part of the speed and strength of the Firebirds is purely on the fitness, pace and skill of Ravaillion, who has powered the spine of the team all year. Linking up with an outstanding shooting end and a strong defensive end has helped, but Ravaillion has been the glue for the team.
Another centre in fine form isKate Moloney, who has put together a complete first half of the season, despite missing a game through the health and safety protocols. Moloney, and Watson, have driven the Vixens up the ladder, as they look a more complete team than last year.
Moloney has also been a key part of the Vixens improvement on last year and, working with her midcourt partner in Watson, the pair have been one of the most electrifying duos in the competition.
Other players receiving votes: Paige Hadley (2 votes), Molly Jovic (2 votes), Jamie-Lee Price (1 vote)
Related Stories
MAGPIES TAKE BRAGGING RIGHTS IN STRONG WIN OVER VIXENS
GIANTS CRUSH LIGHTNING AT USC STADIUM
NETBALL'S INJURY TRANSPARENCY, OR LACK OF, HOLDS IT BACK
Wing Defence
Gabi Simpsonwas a unanimous pick, as she has returned to top form after relinquishing the captaincy before the season. Simpson has been back to the form that saw her picked as a regular in the Diamonds early in her career.
Her speed and precision has helped the Firebirds turn defence into attack, as their aggressive defensive end has helped produce a high number of turnovers (more on that later).
Another standout this season, who has continued strong for from last year, isAmy Parmenter, who has earned herself a Diamonds' callup. Despite a slow start to the season due to COVID-19, Parmenter is back in full flight, and playing a key role for the Giants.
Parmenter narrowly held offKate Eddyfor the second spot, as both wing defences put in a strong season slowing down opposing wing attacks.
Other players receiving votes: Ash Brazill (1 vote)
Goal Defence
In another meteoric rise,Ruby Bakewell-Doranhas gone from a training partner 12 months ago, to being in the midseason team of the year. Bakewell-Doran's aggressive attack on the ball has her in fourth for both intercepts and deflections.
Her chemistry with Eboni Usoro-Brown has been quick and easy, and Bakewell-Doran has quickly elevated herself into the game's elite.
Jo Westonhas continued her strong form as part of a rebounding Vixens' defence. Her combination with Emily Mannix, and her flexibility to transition to wing defence at times as been on show this year. Weston got the nod for second team on tiebreak ahead of another strong goal defence.
April Brandleyhas also been in strong form for the Giants, as she has taken a leadership role in the defensive circle alongside Tilly McDonell since her return from an Achilles' issue over the offseason.
Other players receiving votes: Sunday Aryang (1 vote), Kate Walsh (1 vote), Latanya Wilson (1 vote)
Goal Keeper
Shamera Sterlinghas enhanced her reputation this year as netball's best goal keeper. The Thunderbirds stalwart has been dominant this year, leading the way in intercepts, and in the upper echelons of the competition for defensive rebounds, deflections and Nissan Net Points (second).
Sterling's partnership with countrywoman Latanya Wilson, and with local Matilda Garrett has blossomed, as the Thunderbirds' defensive trio shows off their athleticism every week. At the heart of it, and the spine of it, is Sterling's pure athleticism, timing and instincts that make her one of the hardest matchups in all of netball.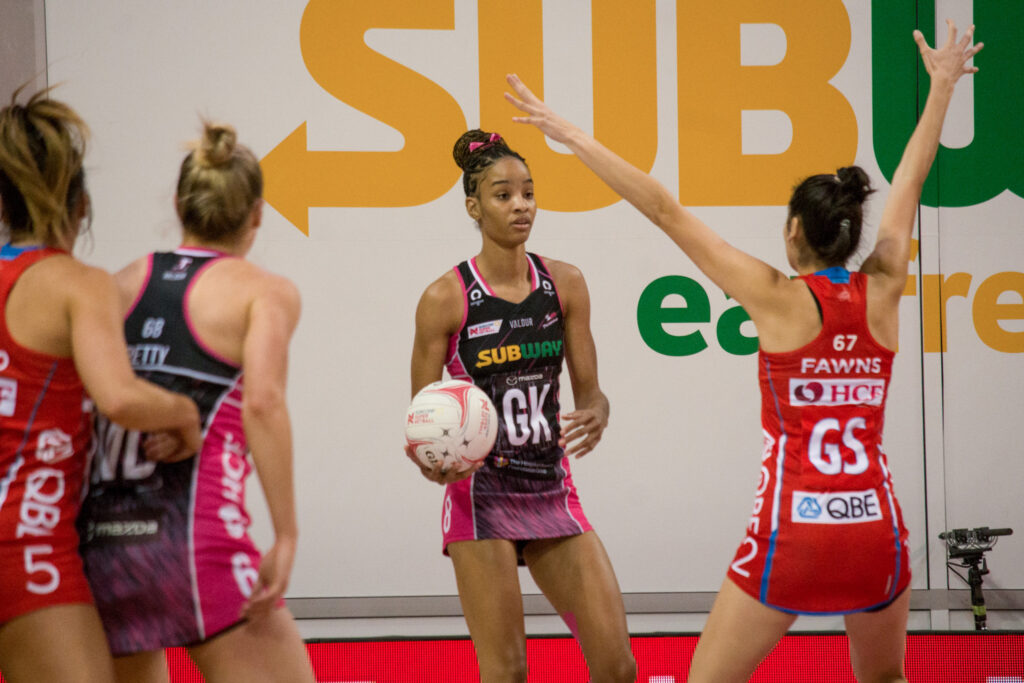 Shamera Sterling in action earlier this season. Image: Dani Brown
Another goal keeper who has had a strong season isCourtney Bruce. The linchpin of the Fever defence, Bruce has taken her game to a new level this year, as she spends more time at goal defence and supports Sunday Aryang from the back end.
Bruce leads the competition in defensive rebounds and deflections, and has produced matchwinning performances on multiple occasions already, including against the Firebirds and the Thunderbirds in recent weeks.
Other players receiving votes: Eboni Usoro-Brown (3 votes), Sarah Klau (1 vote)
Midseason team of the year
| | | |
| --- | --- | --- |
| Position | First Team | Second Team |
| Goal Shooter | Jhaniele Fowler (Fever) | Donnell Wallam (Firebirds) |
| Goal Attack | Gretel Bueta (Firebirds) | Sasha Glasgow (Fever) |
| Wing Attack | Kelsey Browne (Magpies) | Liz Watson (Vixens) |
| Centre | Kim Ravaillion (Firebirds) | Kate Moloney (Vixens) |
| Wing Defence | Gabi Simpson (Firebirds) | Amy Parmenter (Giants) |
| Goal Defence | Ruby Bakewell-Doran (Firebirds) | Jo Weston (Vixens) |
| Goal Keeper | Shamera Sterling (Thunderbirds) | Courtney Bruce (Fever) |