The Suncorp Super Netball title has eluded the Lightning since 2018, despite making finals every season of the competition. Will 2022 be their year again?
Recap
The Sunshine Coast Lightning have lost several fan favourites since the end of 2021, losing foundation player Maddy McAuliffe along with Phumza Maweni and Peace Proscovia. Despite this, the team is still looking strong, signing on some sensational players whilst holding onto the Cara Koenen- Steph Wood dream duo.
New signings include Kadie-Ann Dehaney (previously of the Vixens) and Tara Hinchliffe (Firebirds), both valuable players that will be missed by their previous teams. Reilley Batcheldor, Annie Miller and Maddy Hinchliffe also gained their first permanent positions at the Lightning.
This week the team announced their replacement for Karla Pretorius, Maddy Hinchcliffe. Due to her absence, Pretorius will not be captain, instead, becoming part of the leadership group. Steph Wood has been promoted to captain, alongside vice-captains Laura Scherian and Tara Hinchcliffe.
How can they improve?
The Lightning's connections looked unsteady in the Team Girls Cup, understandable given the number of new players in the team. Although the cohort are looking as close as ever on social media, this love needs to cross over to the game.
Despite having two long-range shooters, in 2021 the Lightning attempted the least amount of super shots in the tournament, an average of 4.9 per game. Utilising the skills they have to capitalise on shots may be the difference between a win and a loss for the Lightning.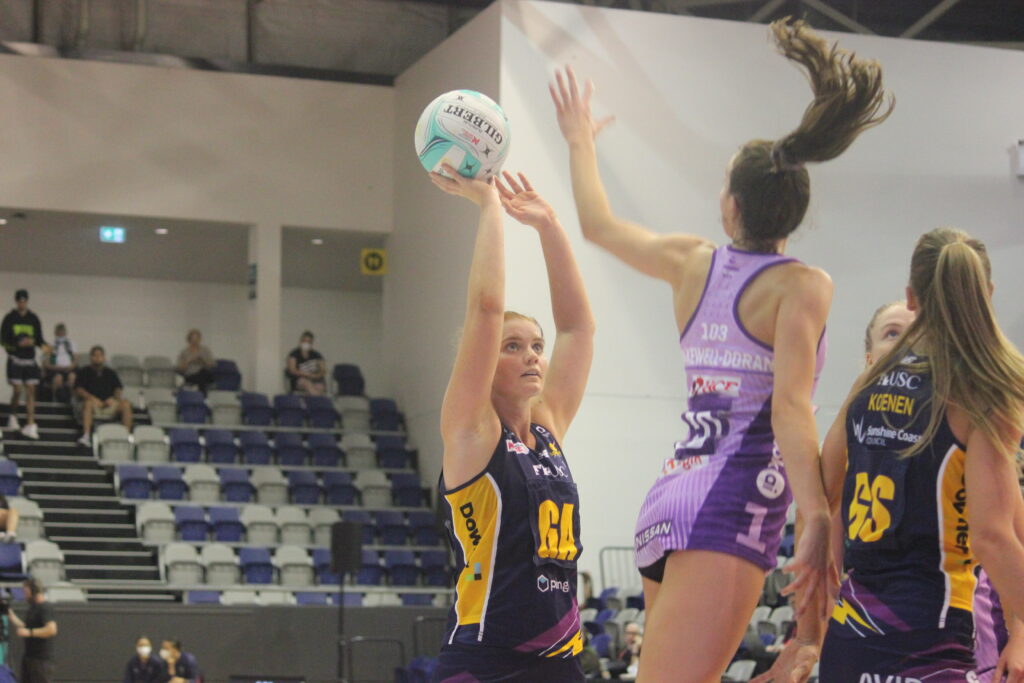 Steph Wood in the Team Girls Cup. Image: Elly McNerney
How did they do last year?
4th - eight wins, six losses
Throughout the season Cara Koenen and Steph Wood showed why they were vital players for the Australian Diamonds. Koenen ranked sixth in the competition for goals (517) and accuracy (89.6 per cent). Wood shot with 70.5 per cent accuracy.
Last season saw the team play without star player Laura Langman, who had been the team's captain since 2019. Langman was a hard player to replace, but the team did well to fill the void she left. Scherian and Cassidy have stayed on with the Lightning for 2022, with Annie Miller joining as an additional wing attack/centre player.
Squad
In: Tara Hinchliffe (Queensland Firebirds), Reilley Batcheldor (Queensland Firebirds 2021 training partner), Kadie-Ann Dehaney (Melbourne Vixens), Annie Miller (Giants 2021 training partner) and Maddy Hinchliffe (Elevated Training Partner to replace Karla Pretorius)
Out: Maddy McAuliffe (Retired), Phumza Maweni (Team Bath, VNSL) and Peace Proscovia (Surrey Storm, VNSL).
Squad: Cara Koenen, Steph Wood, Reilley Batcheldor, Mahalia Cassidy, Annie Miller, Laura Scherian, Kadie-Ann Dehaney, Tara Hinchliffe, Karla Pretorious, Kate Walsh (nee Shimmin) and Maddy Hinchliffe.
Training Partners: Annabelle Lawrie, Ashlee Unie, Jada Gafa, Ava Black and Bridey Condren.
RELATED STORIES
ADELAIDE THUNDERBIRDS SEASON PREVIEW: BRINGING THE SPARK INTO 2022
QUEENSLAND FIREBIRDS SEASON PREVIEW: TURNING THE EMBER INTO A FLAME
POLITICS AND SPORT WILL ALWAYS BE LINKED WHILE POLITICIANS USE IT AS A PROP
Biggest Strength
A duo that will be hard to ignore this season is Cara Koenen and Steph Wood. This partnership is one that keeps getting better, something beneficial not only for the Lightning but the country as a whole in the lead up to Commonwealth Games. With the addition of Reilley Batcheldor, the Lightning shooting circle should be dominant within the SSN.
Batcheldor performed well for the team in the Team Girls Cup, proving herself as a worthy pick. If the team can get the ball to any of the shooting double threats, the Lightning will go far this year.
Biggest Weakness
In December 2021, Karla Pretorius and her husband Werner announced that they were expecting their first child. Baby Pretorius is due in June, meaning Pretorious will be out for the season.
At the time of writing, Pretorius was still in South Africa, although there had been talk about her returning to Australia during the season. Even though Pretorious intends to remain involved with the team, her on-court leadership and skills will be sorely missed.
Rising Star
With Pretorius' pregnancy putting her on the sidelines for the 2022 season, Tara Hinchliffe has room to prove herself alongside the more experienced Dehaney and Shimmin. After spending much of 2021 on the bench due to a ruptured ACL, Hinchliffe was back to health earlier than expected, ready for the start of the season. Coach Kylee Byrne credited this to Hinchcliffe's work ethic, "doing extras" and leaving no stone unturned.
Prior to her injury, she was one to watch, captaining the Queensland under 19 team in 2017 and representing Australia in the Fast5 World series. If she can return to the fitness she had a year ago, Hinchliffe is sure to be a force to be reckoned with.
Prediction for the Season
With several key players from previous seasons leaving the team in 2022, the Lightning have lost their well-established connections. Under pressure, their new connections may crumble, costing them the game.
Whilst 2022 may not be their year, 2023 is looking optimistic. With another season together, the Lightning will certainly be a force to be reckoned with.
Position:Fifth