Sunday Aryang has been picked for the Australian Diamonds squad for the Commonwealth Games. She made her name as a goal defence for the West Coast Fever, but this year, she's had an expanded role.
The West Coast Fever have been a strong team for the last few years of the Super Netball competition, but this year look different, with the addition of Rudi Ellis, and most significantly, the changing of coach from Stacey Marinkovich to Dan Ryan.
In the first half of the year, and over the pre-season, Ryan has unveiled a new style of play for the Fever, with a high pace, and a new-look midcourt.
Ryan has consistently used Alice Teague-Neeld at wing attack when fit, after she previously played a role at goal attack.
At the other end of the court, when Ryan has used new recruit Rudi Ellis, he has had the dilemma of managing how to use his specialist goal keeper in Ellis, and his Diamonds defensive end, in captain Courtney Bruce and Sunday Aryang.
Ryan's solution has been to push Bruce into goal defence, as she often plays for the Diamonds, and to push Aryang out into wing defence.
For Aryang, the change has been a big one, and early in the season, her form suffered as a result.
"I think the start of my season was a bit shaky," Aryang said.
"I was a little bit harsh on myself at the start, and I think I started to overthink it a little bit, but definitely, this position in the Diamonds squad has definitely given me a different look at it.
"The selectors obviously saw something in me they were happy with, but I think that it's been very different within the SSN. A lot of the teams have changed and have had different starting sevens, but with our reviews and previews, it's definitely helped us be able to get on top of that."
Aryang explained that when she was overthinking her performance, her head was lost in the game, rather than outside of it.
"I wasn't thinking about Comm Games or minutes or anything like that, I was just not happy with my performance at that time, and that's all I was thinking about, how I can improve and hopefully come back the next game and do better."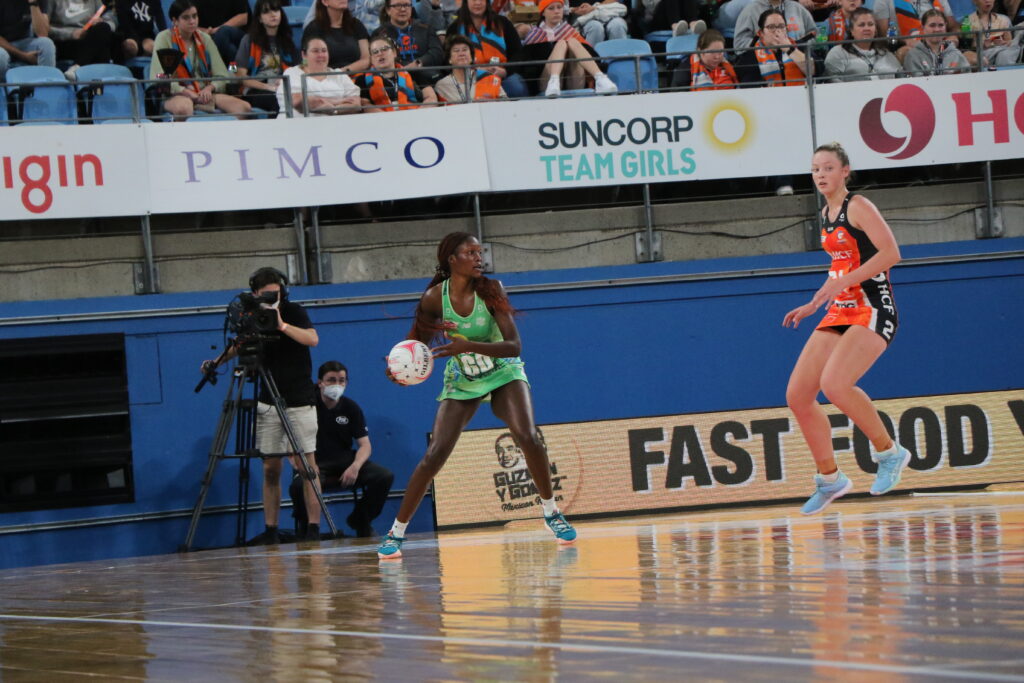 For the rising Diamond, the change has been more than just a bib. There is a whole mindset and skillset that is different, depending on whether she's inside or outside the goal circle.
"It's a big change, going from goal defence to wing defence. At wing defence, you've got a lot more quicker, speedier, shorter attackers, which is definitely different to in the circle.
"With wing defence, you just have to have that footwork to stop them from hitting the circle edge, but it's definitely been a big change and I'm enjoying it."
As far as doubling up goes, Aryang has a brilliant mentor, in Fever teammate Stacey Francis-Bayman.
Francis-Bayman has 73 caps for the England Roses, and untold national-level appearances across her 17 year career. Francis-Bayman has made her name for the Roses and for Team Bath (where she first played national-level netball) in both the goal defence and wing defence positions - a path that Aryang is following.
Francis-Bayman has taken Aryang under her wing in that regard, as the young Fever star explained.
"Stacey has been a big help. She's definitely given me advice about playing that position, and she's been a big support when I'm on, and she always gives me tips to combat that wing attack."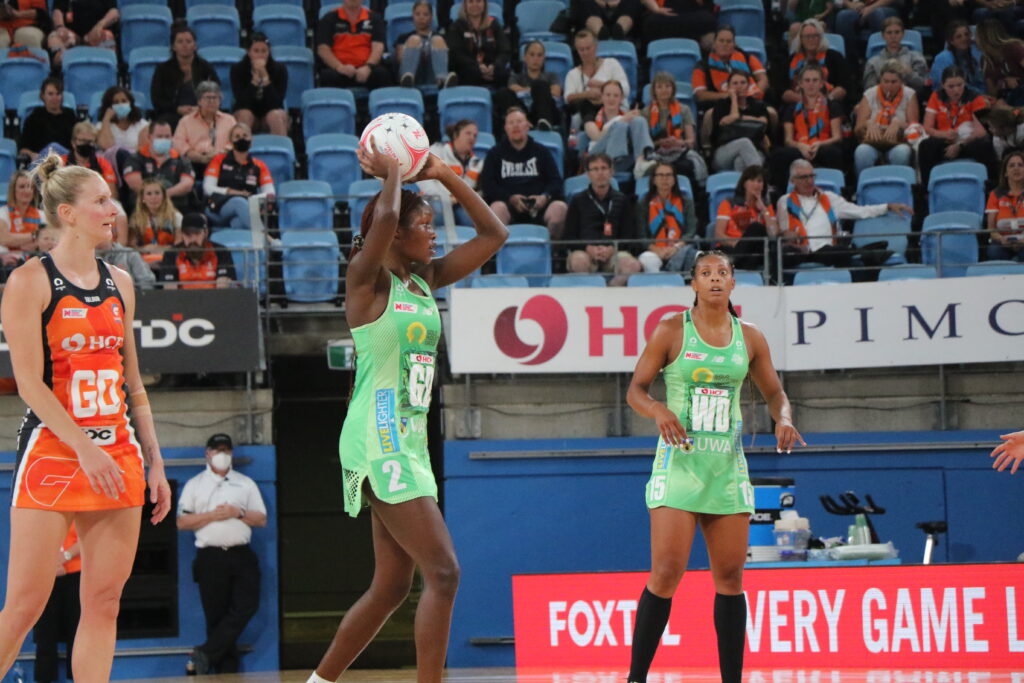 Last week, that wing attack was Maddie Hay, and Aryang was able to slow down the tearaway Giant.
At different times this season, the wing attacks that Aryang has matched up against have included Lara Dunkley, and most notably, during preseason - Diamonds captain Liz Watson.
At Team Girls Cup, when Ryan first unveiled the shifted defensive circle, Aryang was able to slow down and disrupt Watson while out of the circle.
She credits her offseason work for helping her prepare for the new role.
"Our strength and conditioning coach has a program for us all to do. I think a lot of the program that we do is with power and strength, and that helps with our footwork in the circle, and that change of direction and change of pace to go for those intercepts and try to get those tips."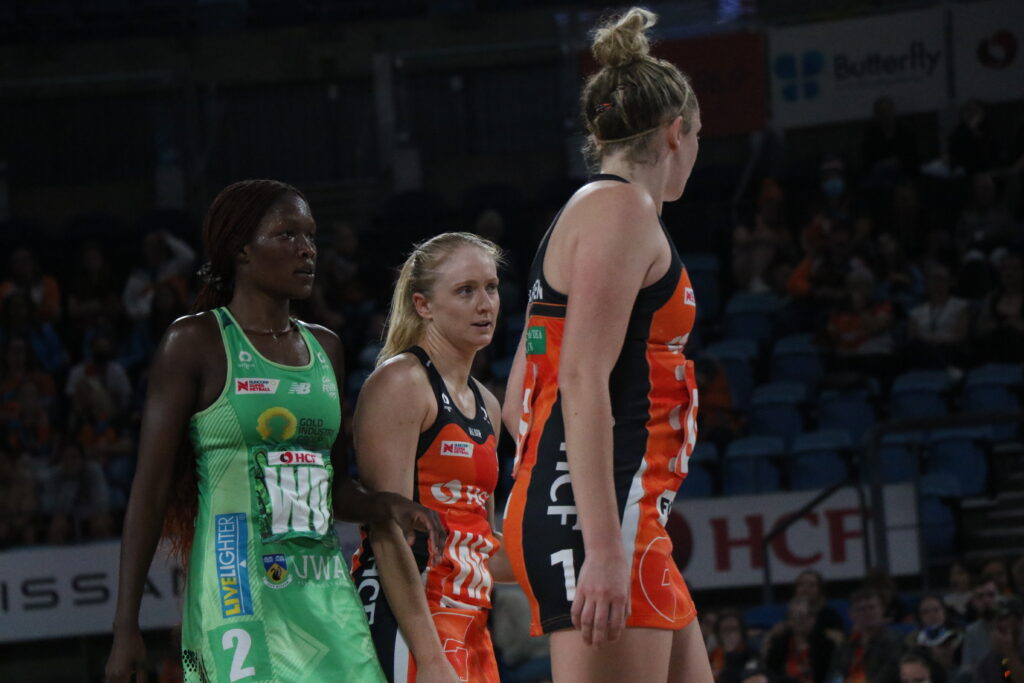 And that program has led to improvements that Aryang can identify in her own game.
"I think it's my footwork, within the circle. My attacking from the circle has improved over the years. I think I've got that slightly different style of defence that (the Diamonds selectors) interested in.
So when Aryang lines up against Georgie Horjus this evening, it may be one of the most interesting assignments for the year. Horjus, like Aryang, has played both in and out of the circle throughout this season, depending on the Thunderbirds' lineup.
So stay tuned, and watch as the newly-minted wing defence / goal defence, and rising pride of Perth goes head to head with her Adelaide opposition.
The West Coast Fever take on the Adelaide Thunderbirds at Netball SA Stadium at 6:30pm ACST / 5:00pm WASTtoday.