Stewart McSweyn showed the world at the Tokyo Olympics that he can bring Australian middle-distance running back to world prominence. A seventh place in an Olympic final was the best Australian result in more than six decades.
But it wasn't just the result that made the impact for McSweyn. He and fellow Australian Ollie Hoare made an impression in the way that they raced.
McSweyn, in what is now almost a characteristic tactic, went to the front and kept the pace high in the race, burning up the competition. It didn't come off in the Olympic final, but it hasn't stopped McSweyn from sticking with the plan.
Coming off that world prominence, McSweyn was looking like the athletics world was at his feet. Until he was struck down.
In 2022, McSweyn was diagnosed with pericarditis (inflammation around the heart) which was linked to an adverse reaction to a COVID-19 booster shot.
Speaking exclusively to Edge of the Crowd, McSweyn confirmed that the effects of that diagnosis are behind him, and he is back to his best.
"I was able to turn around pretty well the second half of last year obviously the first was quite challenging, but yeah, I'm at a good fitness level now," McSweyn explained.
"I'm excited going into Bathurst with how I'm tracking."
And the home World Cross Country Championships at home is very much on his radar. Hailing from King Island, just off the coast of Tasmania, McSweyn has rarely had the chance to race so close to home against international competition.
While his focus is on Bathurst, his head has already started to turn towards a chance at Olympic redemption.
"Paris is for us 18 months away. So this is a great stepping stone towards that.
"So hopefully we can bounce off this and kind of keep lifting towards Paris."
McSweyn has become a leader in the Australian athletics team, in just a few short years on the global stage. Given its only been a few years on the international stage, the 27-year-old is very excited to race in the national team again.
"Anytime you get to put on the green and gold is a huge privilege for us but to do it on a home course is something different and something really special.
"I can't wait to get out in Bathurst. It's going to be amazing cross-country course and hopefully, we can put in some big performances out there."
One big performance that Australia will be keeping an eye on is the 4x2km mixed relay. Mixed competitions are increasingly common in sports like swimming and athletics, but they are usually reserved for sprint events.
For McSweyn, the opportunity to compete in the event is a novelty.
"You don't get to do it often," he explained.
"This will be actually my first time doing it. So I'm excited. Obviously. We've got four great athletes running for Australia.
"So hopefully we can do pretty well and kind of set up for the next generation coming through as well."
One of those athletes is Ollie Hoare, who raced that Olympic final with McSweyn, and has since gone on to become Commonwealth champion over 1500m.
McSweyn downplayed any rivalry, explaining that he and Hoare push each other to be better - and this time, they get to do it as teammates.
"He is a good mate off the track and is amazing athlete on it. So to have him as a teammate is awesome, as well as the other two girls [Jess Hull and Abbey Caldwell] are amazing athletes.
"I'm excited. I think we've put the best for athletes' weekend together. So hopefully we can deliver on the day."
It's not often that Australia goes into an international athletics event as the favourite, but this 4x2km mixed relay will be that special occasion. Given the home course, and four of the premier runners in the event, there will be high hopes for a home gold medal.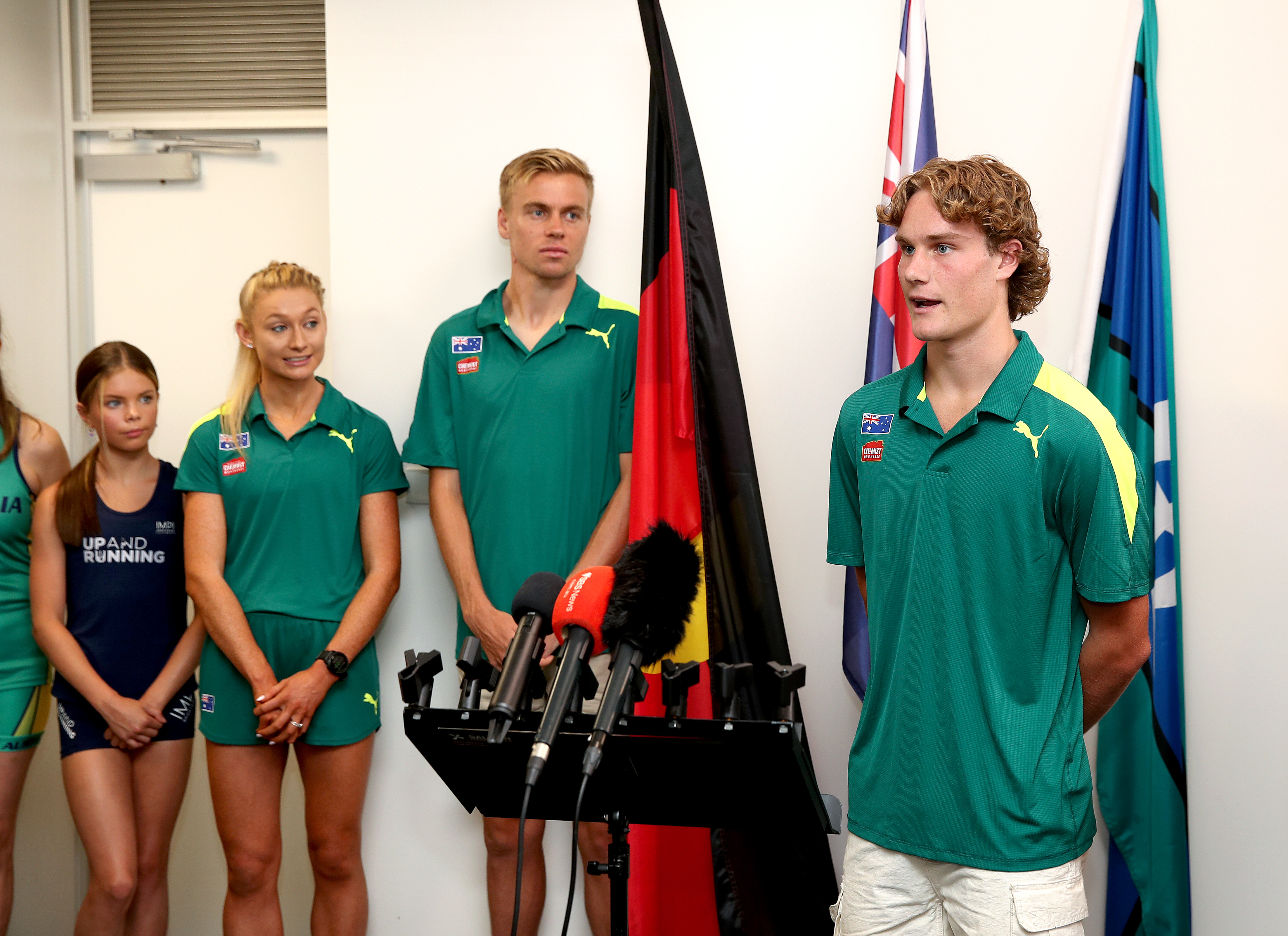 McSweyn isn't just representing Australia at Bathurst though, as he provides a mentoring role for some of the younger athletes on the team.
Bailey Habler, who will make his debut in the Australian colours this weekend had no hesitation in naming McSweyn as the runner he looked up to in the Australian team.
For McSweyn, being a role model is an important part of his national team duties.
"I remember I was a junior on the team, you look up to the open athletes they kind of help you how you're going to build a relationship with them.
"I'm excited to get to know the guys, for them to make the team. They're amazing athletes, and hopefully, they're the next future stars once we're long gone.
"I had Ryan Gregson growing up so I was lucky enough to train with him and still train with him now so yeah, it's a huge honour to meet your idols - especially when they're good guys so it makes it a little bit easier.
"I'm hoping maybe Bailey will be my guy on the team. So I'll look after him. He's amazing talent coming through. So I'm excited to see him on the international stage. And hopefully, it's one of many Australian teams."
Habler has had his chance to pair up with McSweyn in the Australian camp leading up to this event and will get the chance to make his debut this weekend alongside McSweyn.
The Australian team will race at the Bathurst World Cross Country Championships this weekend. The full Australian team is:
Men's 10km – Jack Rayner, Matthew Ramsden, Brett Robinson, Rorey Hunter, Andy Buchanan, Ky Robinson.
Women's 10km – Rose Davies, Leanne Pompeani, Caitlin Adams, Isobel Batt-Doyle, Holly Campbell, Ellie Pashley.
Mixed 4x2km Relay – Stewart McSweyn, Abbey Caldwell, Oliver Hoare, Jessica Hull.
Under 20 Men's 8km – Logan Janetzki, Archie Noakes, Jack Coomber, Cael Mulholland, Ciaran Rushton, Bailey Habler.
Under 20 Women's 6km – Amy Bunnage, Gabrielle Schmidt, Gabrielle Vincent, Aspen Anderson, Claudia Meaker, Fieke Van Der Kamp.