Over the last few seasons, with the rolling substitution rule introduced to Super Netball, there has been an increased focus on how coaches use the substitutes and their whole playing squad to maximise their chances of winning.
Many fans will have long noticed that Briony Akle and Tania Obst are two coaches who are most happy to use the full length of their benches, and get all ten players out on court as often as possible.
At the other end of the spectrum, Julie Fitzgerald and Nicole Richardson tend to be more careful about using their bench, making less substitutions and trusting the starting seven group to work out any on court issues.
So four weeks into the season, Edge of the Crowd takes a look at which coaches are using their benches best, and which players are having the biggest impact when used as a substitute in 2023.
To be included in the stats, players had to:
have started the match on the bench

played more than 10 minutes off the bench across the season

played more than two matches when coming off the bench.
This left 17 "impact" players to look at, as how they are used most effectively. Some of the notable absences who otherwise may have fit the list include Hannah Mundy, Lucy Austin and Tayla Williams.
It is worth noting that Mundy and Williams are among a number of players who are pushing hard for a starting position, and their coaches are showing a willingness to test combinations to get them out on court for long stretches.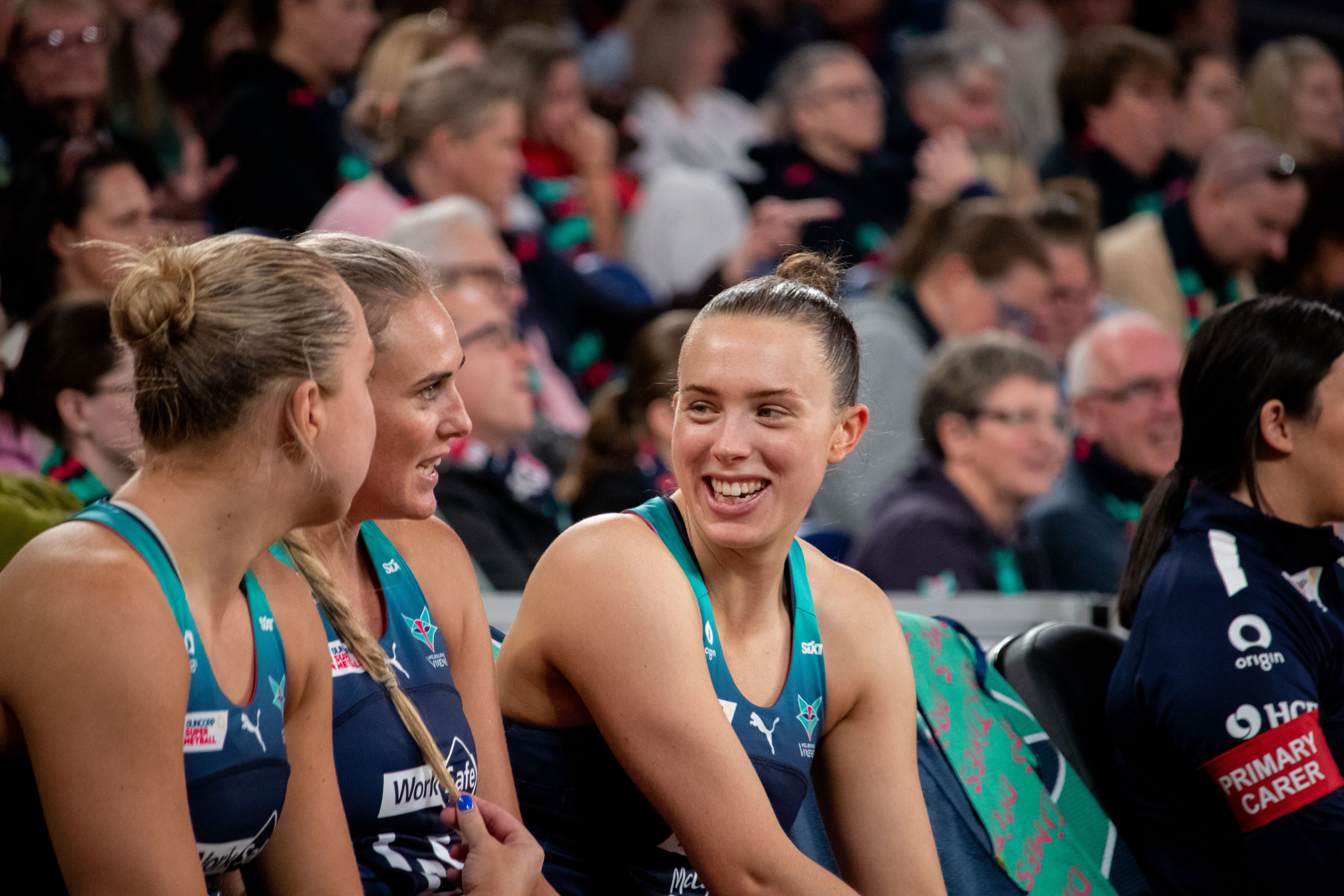 But back to the numbers. Judging by how much better a team is with certain players on the court, we can understand who is using their bench best.
To understand how effective substitutions are, we used "Plus/Minus" (+/-) ratings, which show how much better a team is than their opposition when a player is on court.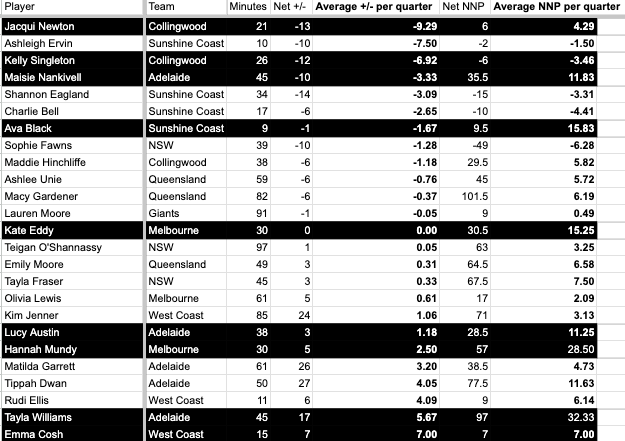 In what would probably be a shock to most fans, the best coach at using their impact players in 2023 is Tania Obst.
While her impact players (Matilda Garrett and Tippah Dwan) are getting extended minutes, and her team is playing well, the impact players are naturally going to play well. But Garrett and Dwan are combining for a "+/-" of 7.3 goals per quarter. This means that the Thunderbirds are 7.3 goals per quarter better than the opposition with them on the court.
The Thunderbirds are running at a percentage of 120% after four rounds, while with 50 goals more than their opposition, the team is running a "+/-" of 3.125 goals per quarter.
Dan Ryan is up there too, with his team in the best form in the competition, his substitutes will have the best "+/-" for their time on court.
The West Coast Fever impact players (Rudi Ellis and Kim Jenner) have a "+/-" of 5.2 goals per quarter. The Fever's total "+/-"is 2.5 goals per quarter, so his substitutes are making a big difference, but in smaller doses than the Thunderbirds.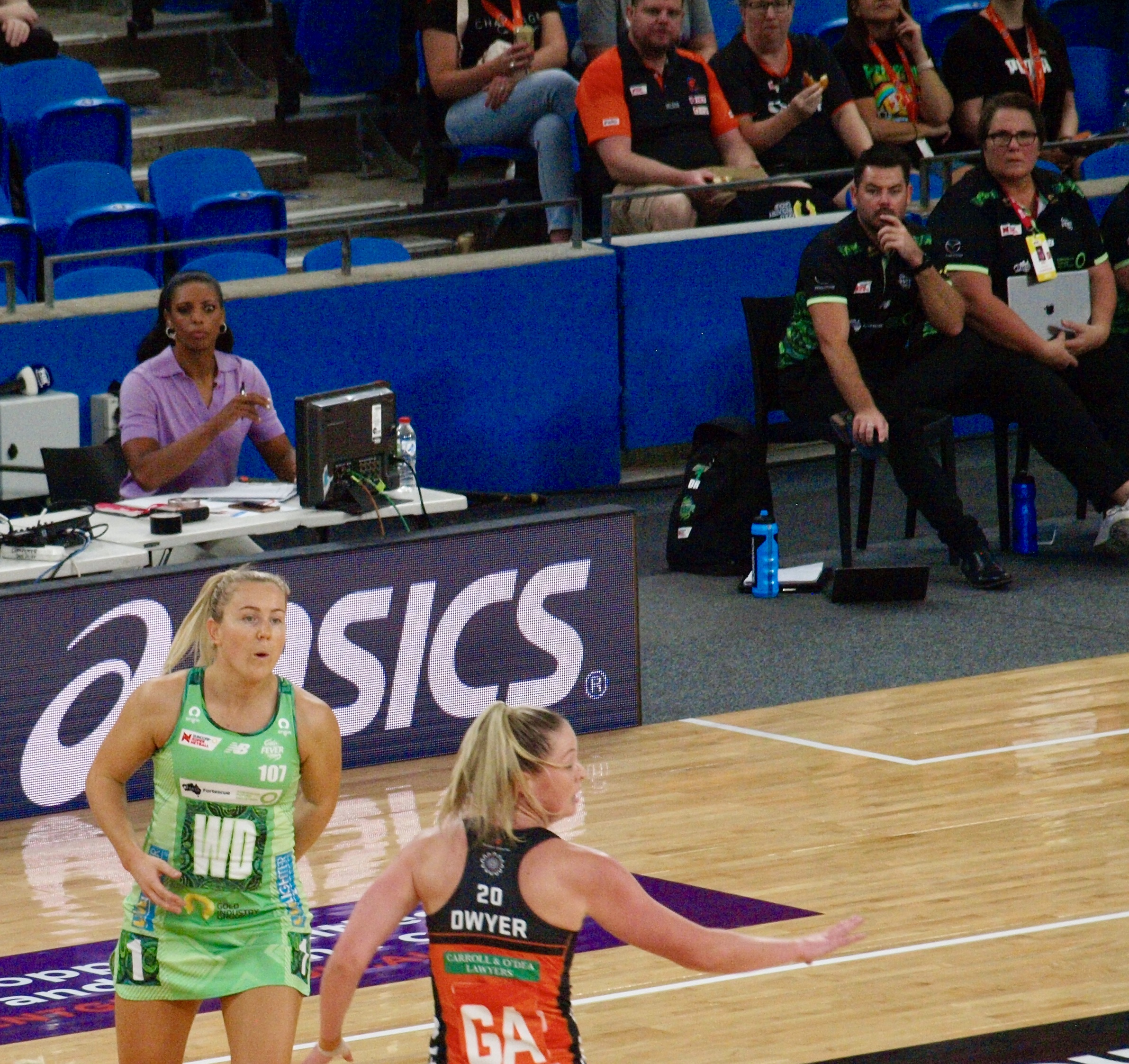 What makes Ryan's use of his substitutes interesting, is that it involves shuffling one of his two best players, in Courtney Bruce, in order to fit one of those substitutes on court.
It is a testament to Bruce's performance that she shows no drop-off when moved around to make it work.
Briony Akle may be on to something too, because two of her impact players (Tayla Fraser and Teigan O'Shannassy) have a positive "+/-" rating, but the team as a whole has a negative rating.
Fraser makes the Swifts 0.3 goals better than their opposition per quarter, while O'Shannassy makes a 0.1 goal difference. The Swifts as a whole are giving away a goal per quarter on their collective "+/-".
So Fraser and O'Shannassy are making a massive positive impact, given that the rest of the team is slightly in the negative as a total group.
Right at the other end of the list, the coach that has been least effective in using their impact players is Belinda Reynolds of the Sunshine Coast Lightning.
All three of her impact players (Ashleigh Ervin, Charlie Bell and Shannon Eagland) are net negatives for the team. They have a net "+/-" of -7.5 (Ervin), -3.1 (Eagland) and -2.6 (Bell) goals per quarter. The team as a whole is -0.125 goals per quarter, while the bench is proving to be a weakness.
This should have alarm bells ringing in the Sunshine Coast, where Reynolds would have surely worked out that going to her bench is a risk, despite the fact that the starting seven has not always looked as fluid as she would have liked.
In terms of the impact players who are most effective, there's an element of subjectivity required to work it out. Pure "+/-" ratings hurt a player if the team is doing poorly, but they are making well.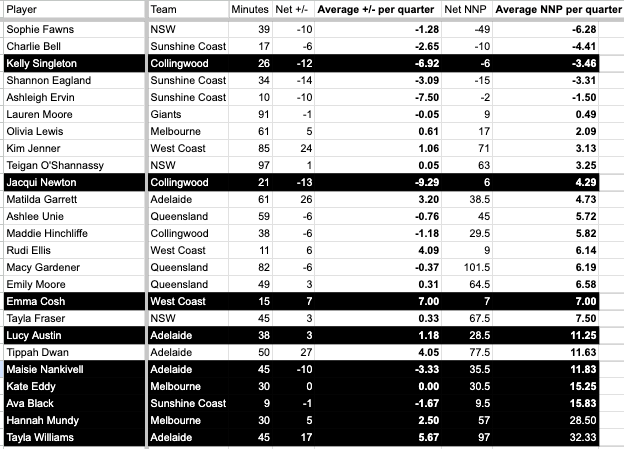 Nissan Net Points (NNP) are a flawed rating system, but they are what the league uses to rate players, and combining that with watching the games, and considering the impact over the replacement player, there are a few players that stand out as having an impact.
Tippah Dwan is way out in front, averaging 11.625 NNP per quarter while playing off the bench. Fans will know that NNP skew towards shooters, who are rewarded for goals, and Dwan has been shooting well this season. But not to take that away, her play passes the eye test as well.
Dwan has been instrumental in helping the Thunderbirds' shooting circle move well, showing chemistry with Eleanor Cardwell and Georgie Horjus in her time on court.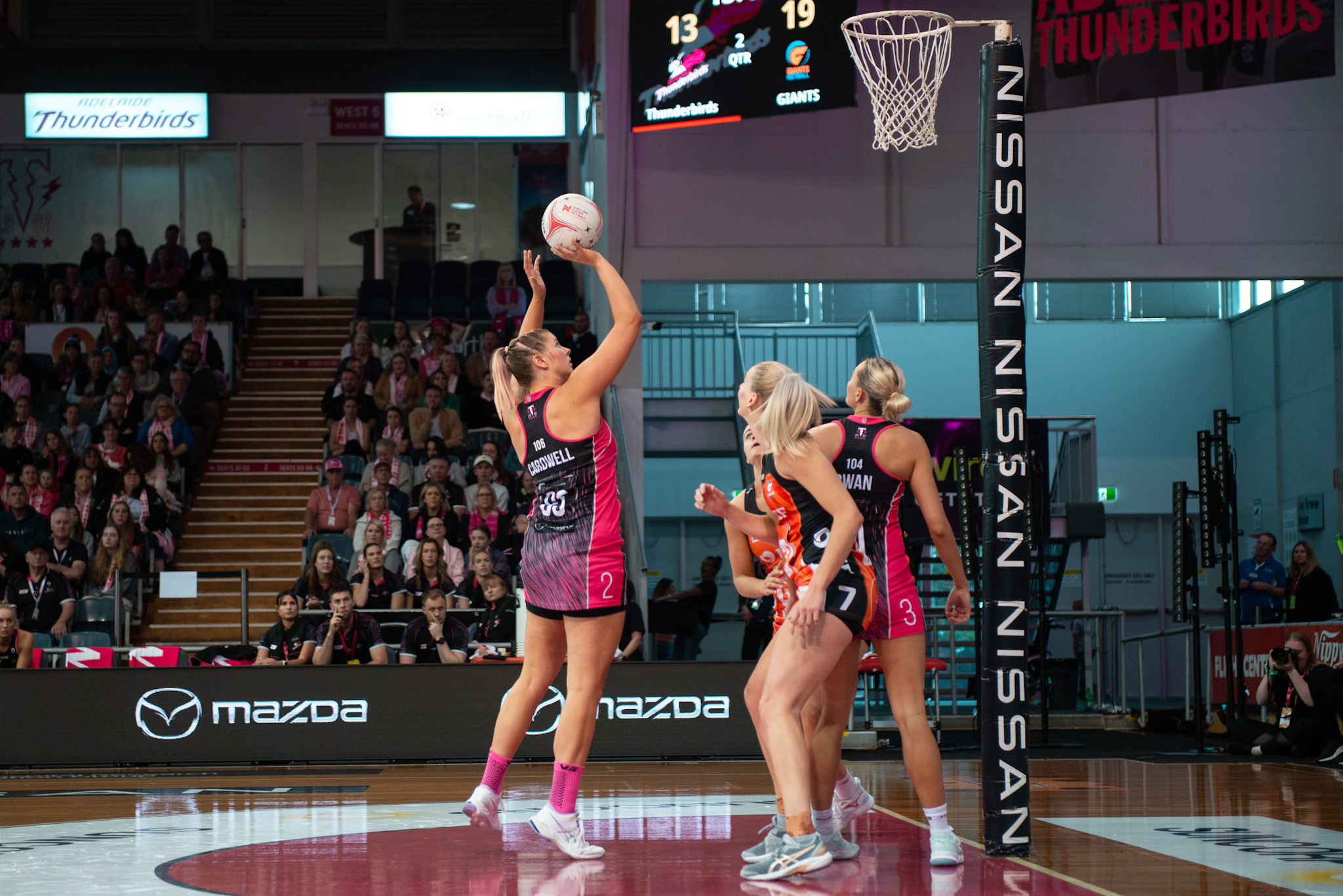 The next best impact player is Tayla Fraser. Fraser, who has had limited minutes behind Paige Hadley and Maddy Proud has made the most of her opportunities, averaging 7.5 NNP per quarter.
The quick midcourter has also shown positional versatility, as she and Macy Gardener are the only notable impact players with positive NNP who are spending time in multiple positions.
While this does reflect the nature of midcourt play, Fraser also noticeably brings speed to the Swifts' midcourt, flashing around defenders towards circle edge.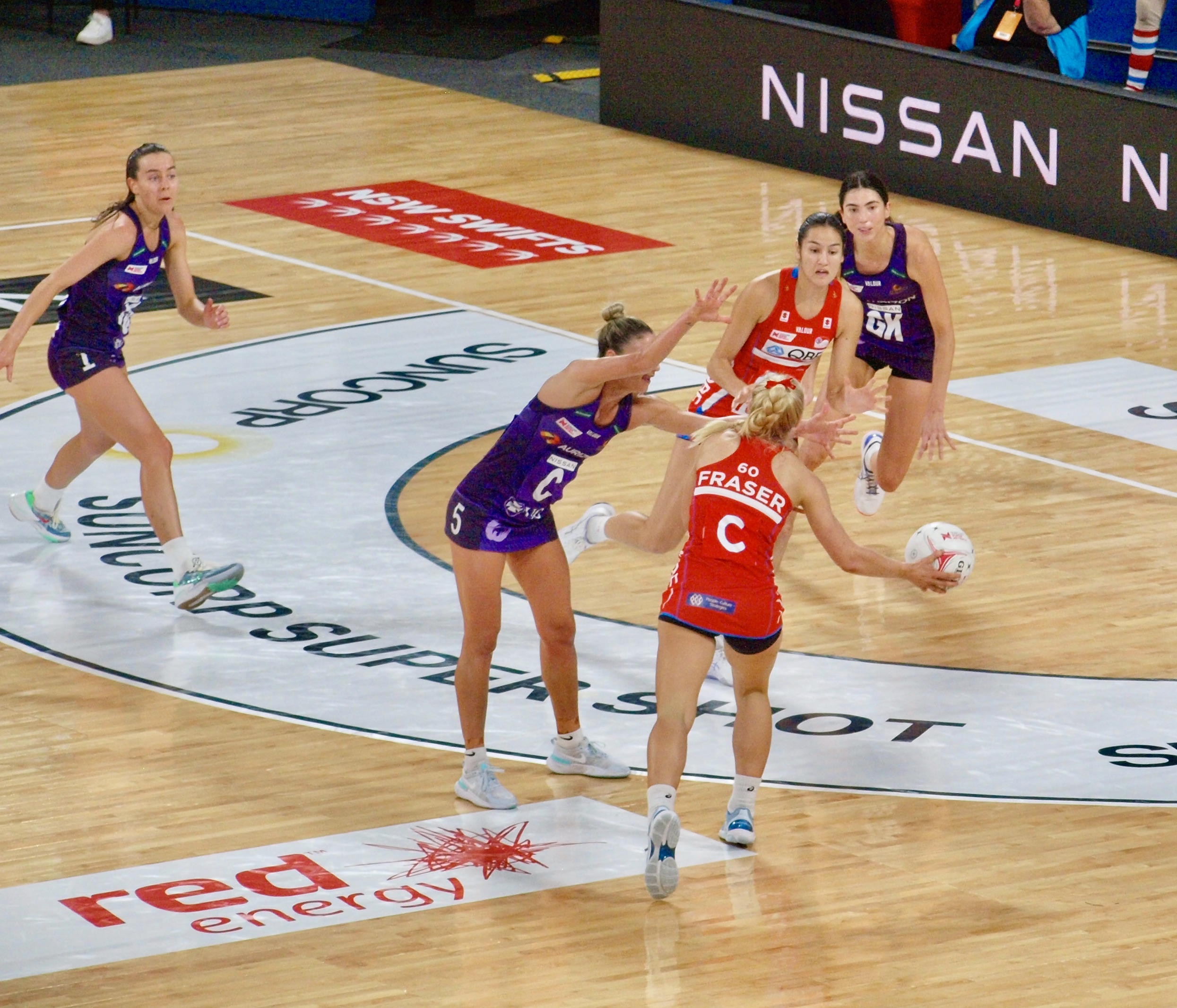 As much as NNP can give to shooters, it can also take away, as shooters who miss shots are penalised heavily on the rating system. This shows, as Charlie Bell and Sophie Fawns are the two lowest rated impact players, as a result of their shooting inaccuracy.
But as long as you aren't a defender, if you are making an impact, your NNP will reflect this.
Kim Jenner, who has been arguably the best impact player to the eye, is well down the ratings, and even behind teammate Rudi Ellis. Jenner has been Dan Ryan's go-to option as an impact player, and the eye test would support this, but sometimes the numbers don't.
What will be interesting going forward, is working out who will be able to transform from an impact player to a starting player? There aren't many spots up for grabs, but more outstanding performances could eventually force the hands of the coaches.
So going into Round Five, make sure to watch and look at how the coach of your favourite team uses their impact players. And see if they make an impact.