The Socceroos' first match of the 2022 World Cup in Qatar is now just days away with the Aussies looking forward to taking on an understrength French side in the search for a top-two finish in the group.
Before looking forward to the tournament though, we must look back at some of the soccer legends of the past that have put the Aussies in the position they are today. The following is the Socceroos' all-time XI.
Mark Schwarzer GK
Mark Schwarzer is a no-brainer in goals, being the nation's most capped keeper as well as playing a key part of the golden generation that saw Australia through to the 2006 World Cup. At a club level, his long stretch in the English Premier League (EPL) proves he was highly rated across the world as well as in Australia.
Lucas Neill RB
He may go down in infamy over the 2006 sliding tackle against Italy which saw Australia bow out of the World Cup but there is no doubting the skill of Lucas Neill. Having played for a variety of teams in the UK and showing plenty of leadership skills, Neill is the perfect man to partner with Schwarzer.
Joe Marston CB
He may have played more than half a century ago but the legacy of Joe Marston can not be disputed. Having been the first Australian to play in an FA Cup final, he made 37 appearances for the national side during a period when games were not as common for the Aussies. Cementing his legacy on Australian football, the Joe Marston Medal is given to the player of the A-League Men's Grand Final.
Craig Moore CB
Craig Moore is one of the most experienced Australian players to make this squad, having represented his nation at every under-age level including two World Cups. After playing many years in Europe he made his way back to Australia to play for the Queensland/Brisbane Roar as their captain and marquee player across three seasons.
Stan Lazaridis LB
One of the only West Australian players to make the list, Stan Lazaridis played for almost 20 years at the professional level, suiting up for huge sides such as West Ham and Birmingham City as well as Perth Glory later in his career. With plenty of other options defensively including Tony Vidmar or Kevin Muscat, there is no doubt that Lazaridis' 72 matches for the Socceroos secure his spot in the defensive line.
Brett Emerton RM
It would be impossible to leave out Brett Emerton after making 95 appearances for Australia across 14 years between 1998 and 2012, including being a key member of the 2006 World Cup squad. His pace on the wings allowed him to play 247 times for Blackburn after ending his career in the A-League Men's competition for Sydney FC.
Mile Jedinak CM
It's hard to go past Australia's own "Jesus" in the midfield. Having captained the Socceroos through a difficult time leading them to the 2018 World Cup as well as the 2015 Asian Cup, Mile Jedinak will go down as one of Australia's most important players. If the 2022 side is to have any success, a lot of the credit will need to go to Jedinak for the culture he built during his time.
Johnny Warren CM
Without players like Johnny Warren in the past, there is no doubt that Australian football would not be in the place it is today. Between 1959 and 1974 he made countless appearances in Australia as well as playing for the Socceroos, captaining his country in 24 of those appearances. The Player of the Season award in the A-League Men's competition is also named after Jonny Warren.
Harry Kewell LM
The next three men in this lineup will be very predictable. Harry Kewell is probably Australia's most talented player having represented the Socceroos 58 times including being a key part of getting the side into the 2006 World Cup. Playing at Leeds for the peak of his career, he went on to play for Liverpool before moving around to finish in his career in Australia.
Tim Cahill ST
He may have finished up now but for a long time, Tim Cahill was the key behind Australia's limited World Cup success as well as success in Asia Cups. He represented Australia 108 times over 14 years setting the scoring record with 50 goals. He moved around the world towards the end of his career but played almost 450 matches in the UK with Millwall and Everton scoring 108 times including being one of the 50 nominees for the Ballon d'Or in 2006.
Mark Viduka ST (c)
It would have been easy to put John Aloisi up front thanks to his amazing penalty to get Australia into the 2006 World Cup. However, it's impossible to go past Mark Viduka who captained Australia to that tournament. Across 491 professional club appearances, he scored 251 goals including almost a goal a game when playing at the Melbourne Knights between 1993 and 1995.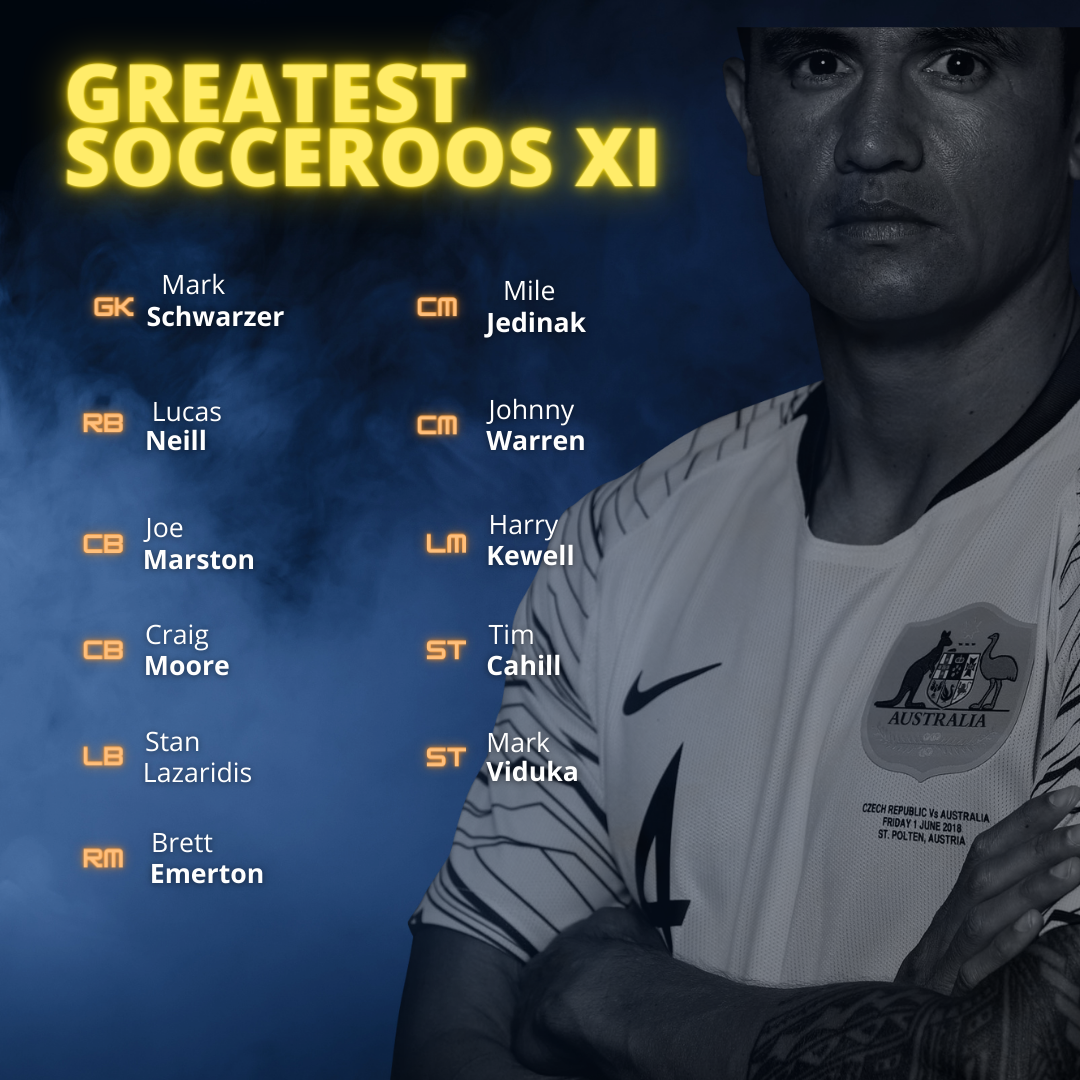 Before you move on, why not give our Facebook page a like here. Or give our Twitter account a follow to keep up with our work here.