Karl Fairburne is back and better than he ever was with his rifle in tow. The fifth instalment ofSniper Eliteis much of the same as last time around albeit the setting is different. Overall, it's a quality game, but not a lot has changed.
The action has shifted from Italy in the previous instalment to Nazi-controlled France in 1944. France might sound nice but it's far from the Arc de Triomphe and Eiffel Tower that we all know and love. You'll spend most of your time running around the French Countryside trying to climb buildings to find that perfect sniper's nest.
There are a few new features. Firstly, new weapons, which, according to the development team Rebellion, allows for over one million customisations. Multiplayer has also gone to a whole new level in this edition with players able to jump into your campaign to help you out or to make your day much much worse.
Unfortunately, as usual, theSniper Eliteteam have decided to spend much more of their time on x-ray kill cam shots and the trajectory of bullets rather than building a story. After five iterations of this story, it's becoming a little stale. Perhaps it's time to learn a little more about our elite sniper Karl Fairburne.
The story is extremely simple. Essentially, there is a kill list of high-ranking Nazi officers in France that you will have to find in each of the campaign missions. Add in a couple of missions to blow up different anti-aircraft weapons and you pretty much have the whole story summed up.
The bad guys are just as cartoonish as ever with most of them having no idea what's going on around them. Some late dramatic turns make it slightly more interesting than it otherwise could be but, in reality, the storytelling hasn't changed since the first iteration of this title.
What is different this time around is the sheer volume of options you have as Fairburne. He seems stronger, more agile, and stealthier than ever before. Each environment gives you plenty of different options whether it be finding a door, digging around the trenches, or climbing up the side of buildings. You will have plenty of ways to execute your missions and your opponents.
Related Stories
THE 2022 FIFA E-LEAGUE GRAND FINAL IS SET TO BE THE BIGGEST YET
BEAT A LANDO NORRIS HOT LAP WITH ALIENWARE'S RACING RIG
All of the good stuff fromSniper Eliteis still there. The kill cam is if anything more descriptive and more disgusting than ever. Of course, disgusting is said in the most affectionate way possible. If you enjoy this series there is no doubt you will love the new x-ray and the fact you can control the speed and angle of those camera shots.
Through the first half of the game there were no bugs whatsoever. That being said, once I got about sx hours through the 12-hour campaign, things changed. Hopefully, these will be fixed in the days and weeks to come but it did make me put the controller down and laugh. After all, who has ever seen a tank on top of a building as you can see below?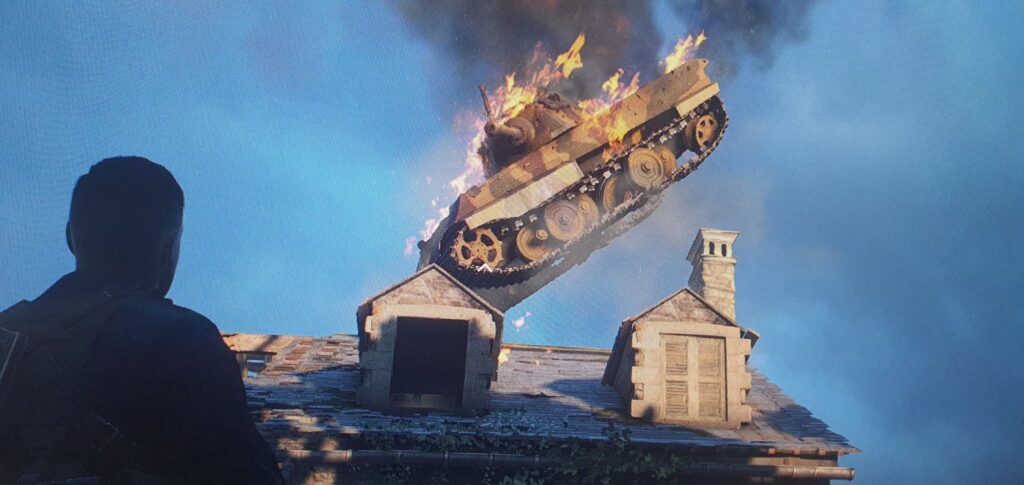 Another new aspect of this game that was absolutely thrilling was the alarm system. As soon as you fire a shot and are heard, the Nazis will run towards the closest alarm point to set off the alarms and bring in reinforcements. What it does make you do is quickly try to take down those running towards the alarm. It certainly brings some adrenaline that can be quite slow if you are trying to pick off opponents one by one.
There is plenty to like in this new release which will certainly excite fans of the previous games. It's not at the point of competing withCall of DutyorBattlefield, but in some ways that is a good thing. What this game will do is remind the older gamers of theMedal of Honourgames of the early to mid-2000s.
Going forward the team at Rebellion should be aiming their sights higher and shooting for the stars. They have a solid foundation here with enough differences from the mainstream shooters to build an audience but next time we should be hoping to see a revolution rather than building on the original game. Perhaps the answer may be to move away from Fairburne and create an entirely new world.
The best part of Sniper Elite 5 may be the fact it's on XBOX game pass meaning if you have the subscription it's essentially free. It's well worth the 85GB download.