A shocking result from Leichhardt oval, as the Sydney Roosters upset the Brisbane Broncos 22-16 in the NRL Women's finals. This will be the first time in the history of the NRLW that the Broncos will miss the grand final, having won all three of the previous editions.
The game opened, looking like the expected dominant performance from the Broncos. Amber Hall, Julia Robinson and Millie Boyle all scored, giving them a 16-0 lead at the 15-minute mark.
From here, there was a huge swing in momentum.
Isabelle Kelly started the comeback, with a linebreak to reduce the deficit to only 16-4. She was followed up by Raecene McGregor, and they trailed by just 6 at halftime.
A controversial try that was potentially short from Keilee Joseph was ruled to be good, and with a Zahara Temara conversion, the scores were even.
Jocelyn Kelleher provided the final score for the Roosters, to complete a comeback, and hold the Broncos scoreless for 55 minutes.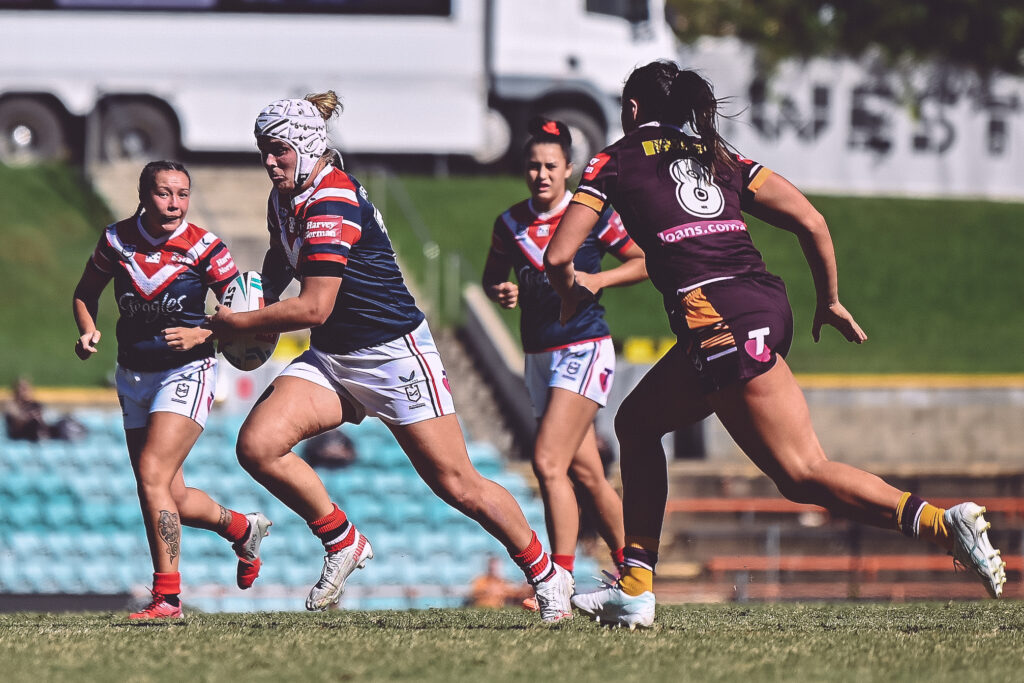 Hannah Southwell evades a Broncos defender. Image: Amy Halpin
Broncos coach Kelvin Wright, was disappointed to not be competing for their fourth straight premiership.
"It's obviously extremely disappointing. I know we haven't been quite at our best, but I feel we have been a really good team," Wright said.
"Once that momentum changed in the first half, we failed to get any back."
Roosters coach John Strange was also very impressed with his team's performance, and the comeback.
"No one gave us a chance, and it was about us in those four walls of the sheds that believed and that's all that matters.
"To come back from that, that's the belief that these girls have got.
"I've been involved in a lot of games as a player and coach, and I've never been as proud of a group of players than today."
Related Stories
A Thrilling Final day in the NRL Womens Premiership
Mates of Origin: NRLW Finals Time
Dragons too fierce for the Titans in NRLW semi
The Dragons and Roosters previously met in the final round of the regular season, where the Dragons took a 16-10 final score. Strange does not believe the Grand Final will be a repeat of this.
Roosters captain Corban Baxter also shared her thoughts about next week's matchup.
"I think we are just going to have to do what we did today, which was man up in the middle and be really physical and use our outside backs."
Jocelyn Kelleher dives in for a Game Winning Try. Image: Amy Halpin
Roosters forward Hannah Southwell was also pleased with how her team rallied together to make that comeback.
"Obviously we didn't get off to a great start, but we knew if we pushed back a little bit then they'd start to fatigue."
The Roosters' finals chances were dealt a huge blow last week after their loss to the Dragons meant they had to hope other results went their way.
"To be honest with you I thought we were not going to make it," admitted Southwell.
The Roosters have also spent a lot of their games this season playing with a weakened side, with players such as Corban Baxter and Jess Sergis missing numerous weeks with injuries.
"It's just been crazy for us you know with covid and injuries" commented Zahara Temara, the Roosters five-eighth.
"Now we get to play full strength and hopefully everything goes well next week in our prep."