After winning its third AFLW premiership on the weekend, the Adelaide Crows players and staff have been celebrating hard, understanding what the club has achieved, while also realising the focus on next season is fast approaching.
Since the competition started in 2017, the Adelaide Crows has appeared in four Grand Finals and after defeating the Melbourne Demons by 13 points in front of home fans at Adelaide Oval, has now won three premierships following wins in 2017 and 2019.
What has now been confirmed as a dynasty with this third AFLW flag for the club, certain players have also etched their names into folklore with seven Crows able to drape three premiership medallions around their necks; Anne Hatchard, Ebony Marinoff, Justine Mules, Erin Phillips, Chelsea Randall, Sarah Allan and Stevie-Lee Thompson.
Two of the aforementioned players, Marinoff and Randall, amongst the continuing celebrations, reflected on the game and the meaning behind the historic third premiership for the club.
"I think we all looked around and everyone just [a] had double-fist moment," Marinoff told media on Monday afternoon in regards to the elation after the final siren had sounded.
"It was a great game and we've been in Grand Final scenarios before, Carlton (in 2019) [we] were kinda up by lots so you felt the rhythm on your end but on the weekend, with Melbourne's scoring ability, to do [it] very quickly, it wasn't over.
"Hearing that siren, [there was] a bit of relief as well that the game was over cause it was just such a hot contest and it was just a grind cause Melbourne were coming and coming and coming."
"It is pinch-yourself stuff and [I'm] incredibly grateful to be part of such a great club and now we can talk about it as being a sustained, successful club with the three premierships. It's just [an] amazing achievement I think. Y'know, when we won two, that's pretty incredible but three is something special for us.
"You pinch yourself and, probably [on reflection], you don't really realise what an achievement it is and I think when we keep spending some time together, you really cherish these moments and memories over the last couple of days."
"The word I've got is unbelievable. I could never even imagine this as an 11-year-old girl playing her first game of footy that this is where my journey would lead to, and I'm so incredibly proud of our girls," Randall commented.
"They were phenomenal. Our mids, Anne Hatchard and Ebony Marinoff, they were exceptional, and we tried to put the pressure on and I'm just so immensely proud, I just can't believe it, three premierships is very surreal.
"I still can't string a sentence together at this stage, it's just surreal. It's bloody hard work to get to a Grand Final, and to win one, so you've just got to enjoy it, run out the door and enjoy it.
"I think I had a moment where I just stopped and looked at everyone in the room and in the change rooms, and it really was just the highlight of the night, just seeing all our friends and families...to have everyone in the room and smiling, that's what it's about, We sung the song with the players in the middle, and all the support staff and coaches around us in another ring, and then we had all our families in a larger circle and we all just sung the song together, and that was pretty special."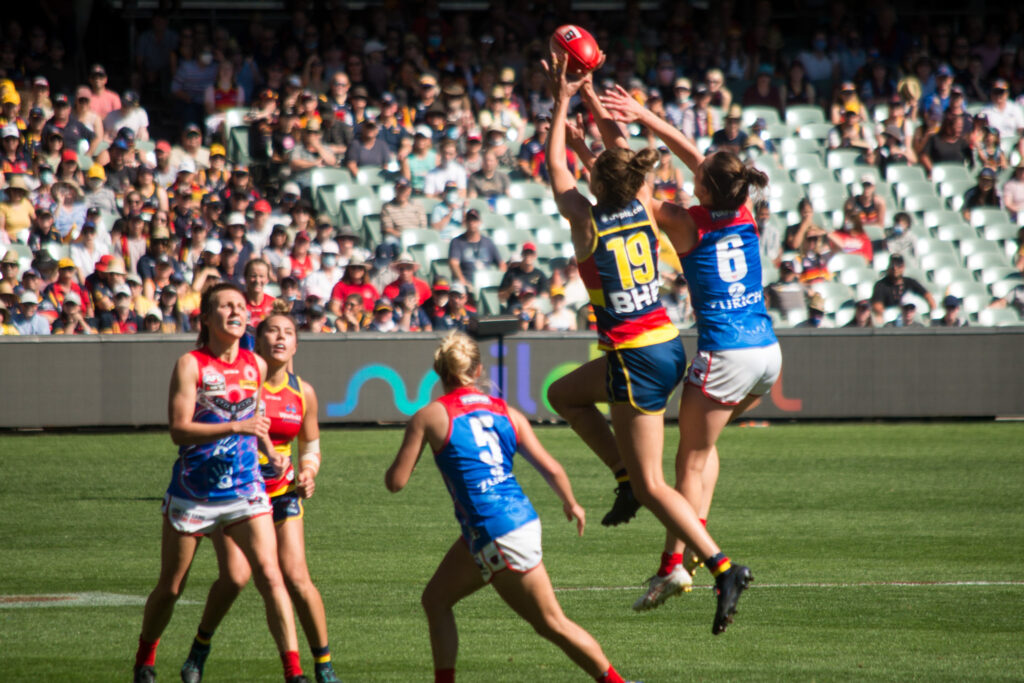 Both Marinoff and Randall, after last season's disappointment at finishing runners-up to the Brisbane Lions, commented on the approach the team took to the pre-season and understanding what needed to be worked on, to bounce back to being the top team once again.
"You speak about Chelsea Randall and Erin Phillips and they're the ones who have been there for the three [premierships] and when we're having these conversations the past couple of days, it's just like 'we did it'. They speak about the dynasty, like, it is, it's an incredible achievement. There's only been five AFLW Grand Finals, we've been a part of four and we've won three," Marinoff reflected.
"And you do speak about it in terms of pinch-yourself moments because we work so incredibly hard, we push each other to the limits, especially this season with everything with COVID and that, you were isolated away from your lives, it was just coming into work at the footy club and training hard and wanting to grind away to be able to hold up the cup.
"We were incredibly disappointed last year with how it finished and we've just been so driven and it's the leaders that have driven that but it's been the younger ones that have stepped up and paved the way for that next generation of girls just really coming into our team and impacting [the game] on gameday."
Randall echoed similar sentiments speaking on the sacrifices of the entire team over the past 12 months.
"I went into this season just wanting our teammates to feel that success because some of our girls have never felt that, and obviously after the loss to Brisbane last year, we saw how much that meant to each individual and we just went to work," Randall said.
"From the first day of pre-season until now, everyone has sacrificed so much, family dinners, work, all these types of things in this COVID bubble, as has our whole community, but these girls have been rewarded with the ultimate prize and I couldn't be happier for them.
"Everyone just played their role, and that's what we do for each other. I was truly happy for each individual.
"It's important for our non-playing players, it would be hard to do, I wouldn't like Doc's (coach Matthew Clarke) role, but there's nine players that didn't get to pull on the guernsey and they were the reason we actually got to a Grand Final so we can't forget them.
"They'll be forever remembered as premiership players, whether you play in one or not, they've helped us to where we are, and a very crucial component of our team."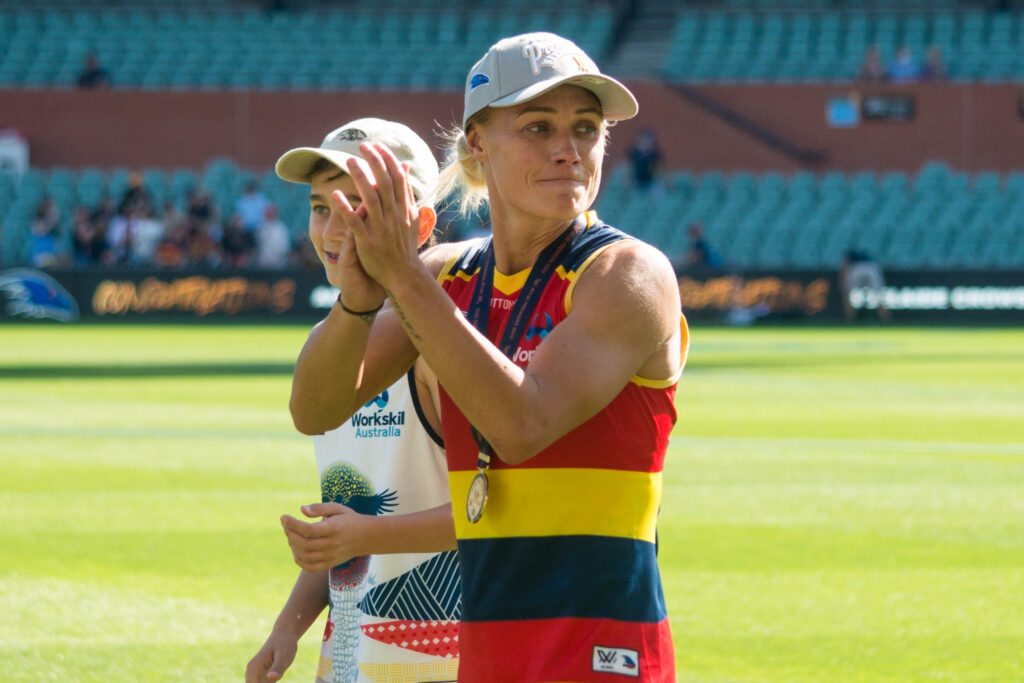 The level of support garnered by the Crows fans throughout the season, and especially at Adelaide Oval for the Grand Final was never lost on the side, with the amount of noise generated making it hard to hear at times, as well as the travelling support that stuck by the club all year long.
"We couldn't really hear ourselves in the [Grand Final] warm-up, we actually said 'girls, we're gonna have to be loud today because we can't hear each other' and I think you saw Caitlin Gould kick across goal and then Alyssa Bannan [kick a goal], but y'know, she couldn't hear anything, we're like 'go down the line'," Marinoff mentioned.
"Just those little things, when you're in a hostile environment of a packed-out Adelaide Oval, it's incredible that we just had so many fans there. They've been a bit hesitant to come out and about cause of COVID but yeah, we're pretty happy with the amount of support we had."
Above all, to the fans, Marinoff had one simple message - "Keep coming with us"!
"We can't be here today without the support and the support means a lot. We have so many people behind us," she continued.
"We're constantly getting messages on social media and constantly just getting our Rainbow Crows [to] fly around the countryside to come watch us play and it means so much to us. We're a tight-knit group as a collective and so are our staff with us but you can never fault their support behind us and they continue to come to games.
"I mean, we do win so it's a little bit easier but even when we don't, they're behind us. We've had, back in 2020, not the best season, they stuck with us and then now we've been able to hold up another cup and share those moments with them. There's a couple of great photos from the weekend with us girls with the supporters behind us, just incredible."
Wanting to leave a legacy on the competition, Marinoff made sure to acknowledge that the club wants a continued level of success, and aims to get themselves into a good position year-on-year, especially with the possibility of the next AFLW season starting in August, and with four new teams, Essendon, Hawthorn, Port Adelaide and Sydney entering and making it a full 18-team competition.
"We didn't want to just talk about, people were saying 'oh, this is the last hurrah', no way!" she said.
"In our trademark, it's about leaving a legacy and we want to have sustained success and that's not just one year, two years, three years, and because that's so indented in our culture, that's why we've got three premierships, it's not because 'oh, this year, let's give it a crack girls, we want to win a cup this year', it's not, it's every season.
"We don't hide away from the fact that we're playing for a premiership, we want to hold up the cup, we want the ultimate success which is the premiership and that's what we'll do when we head into pre-season in what will probably be two months!"