Ferocious midfielder Maddy Prespakis continues to make history, being named Essendon's Best and Fairest in the club's inaugural AFL Women's season.
Prespakis practically led the count from start to finish, topping the leaderboard after 10 rounds with a convincing 98 votes.
Co-captains Bonnie Toogood and Steph Cain finished second and third in the count, with 71 and 57 votes respectively.
Head coach Natalie Wood and 2022 Crichton Medal (AFL men's best and fairest) winner Peter Wright presented Prespakis with her medal at the club's awards night on Monday, November 28.
The 22-year-old shone at her childhood club, averaging 24 disposals, 12 kicks and five tackles per match, and having a 37-disposal effort that topped her career stats.
Further proof of this was being named in the All-Australian team and finishing fourth in the league Best and Fairest count last week.
Winning the top club award obviously meant a lot to her; before she even started her acceptance speech, tears were streaming down her face.
She said she felt "very humbled and pretty proud" before the frog in her throat leapt up, leaving her almost speechless.
A rousing round of applause pushed her forward and allowed her to share what it meant to her.
"It's something I don't really play footy for, you play because you want to play with 33 other girls and that's something I'll always forever do throughout my career. But to be wearing this around my neck is something I'm pretty proud of," she said.
"It's been mentioned that obviously, Essendon was my childhood club, so to tick the box to be an AFLW player at the club you barrack for is pretty special."
The first award for the night was the Staff and Trainers Award, which was presented to Federica Frew for the respect and genuine care she has for everyone in the program before Stephanie Wales was named the Rising Star for Season Seven.
Daria Bannister, who ended up fourth in the best and fairest count, took home both the Most Courageous Player and Leading Goalkicker awards, having snagged eight majors.
Along with her Runner-Up Best and Fairest, Toogood won the Best Club Person and Player Values awards.
For Prespakis, it is the fourth club best and fairest she has won, having picked up the award at former club Carlton in 2019, 2020, and 2022 (Season Six), alongside the league best and fairest in 2020.
Her jump from the Blues to the Bombers was one of the most lucrative moves between 2022's two seasons, and Prespakis said while it was initially tough, she could not have been happier to have done it.
"It was something that I had to wear a bit of criticism on my back for a little while, but I look at it now and it's probably the best decision I've had to make," she said.
"To leave Carlton was a big move and it was something that took a lot of time to wrap my head around and I loved playing with the girls there and I loved playing for Carlton, but sometimes you've got to do things for yourself.
"Every time I rock up to Essendon I just drive down the driveway with a smile on my face and I think it's made me a better person on and especially off the field."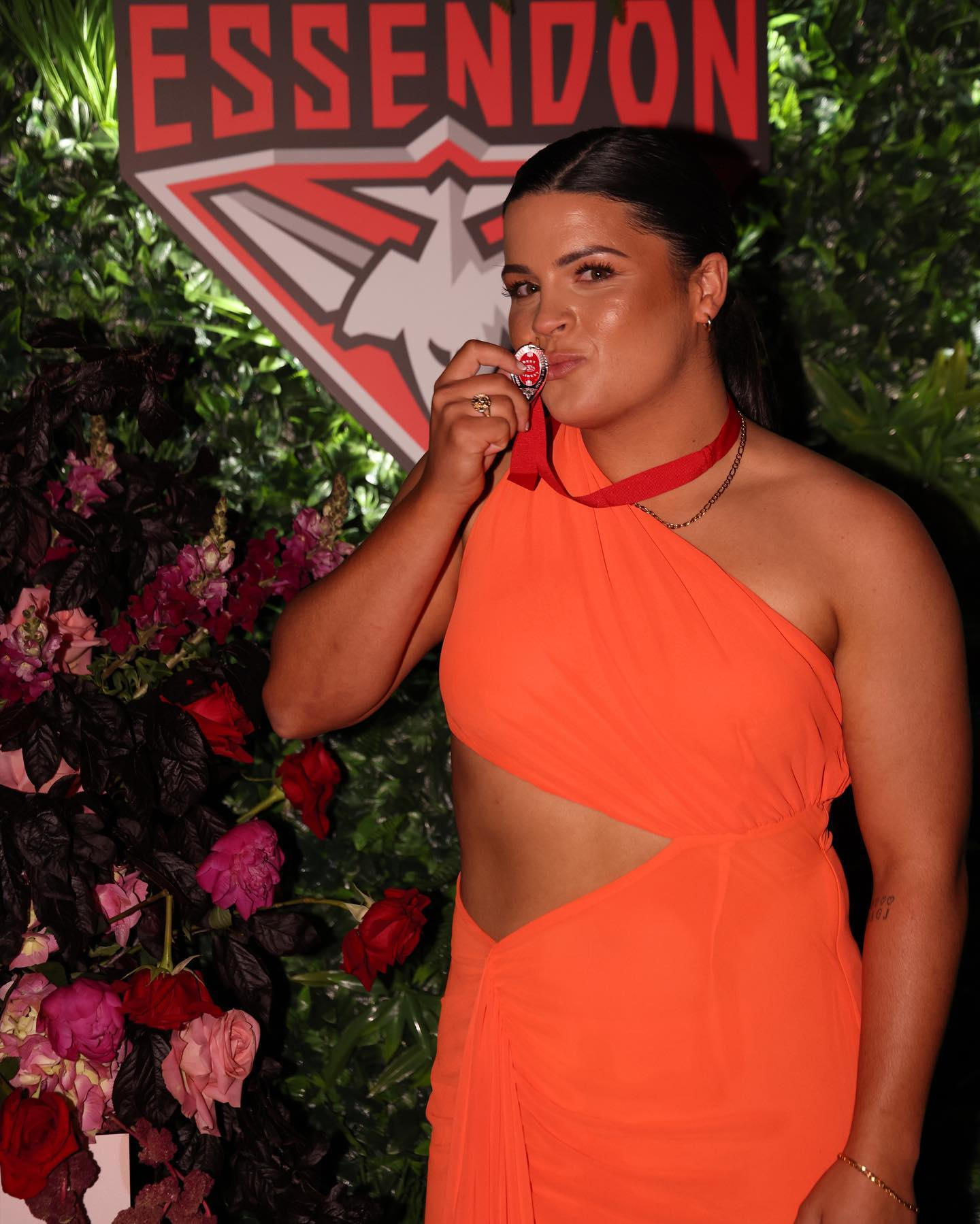 In accepting her award, she thanked the club sponsors, the club itself, her teammates, her family, her individual sponsors, and her management team.
When speaking about the family she cares so deeply about - including sister Georgie, who plays for Geelong - it took about five words for her to get choked up again.
"Yous are probably watching on the live stream so I know yous are probably crying, but... I love you guys very much," she said.
"There's a lot of times when you see me upset and you see me happy and footy's not always smiles, there's definitely a lot of tears, and you guys have seen it all and yous are with me through every single part of that. You're up on the ups and you laugh with me when times are good, but you definitely wrap your arms around me when I need.
"You've kept me a very humble person and something that I'll always be for the rest of my life."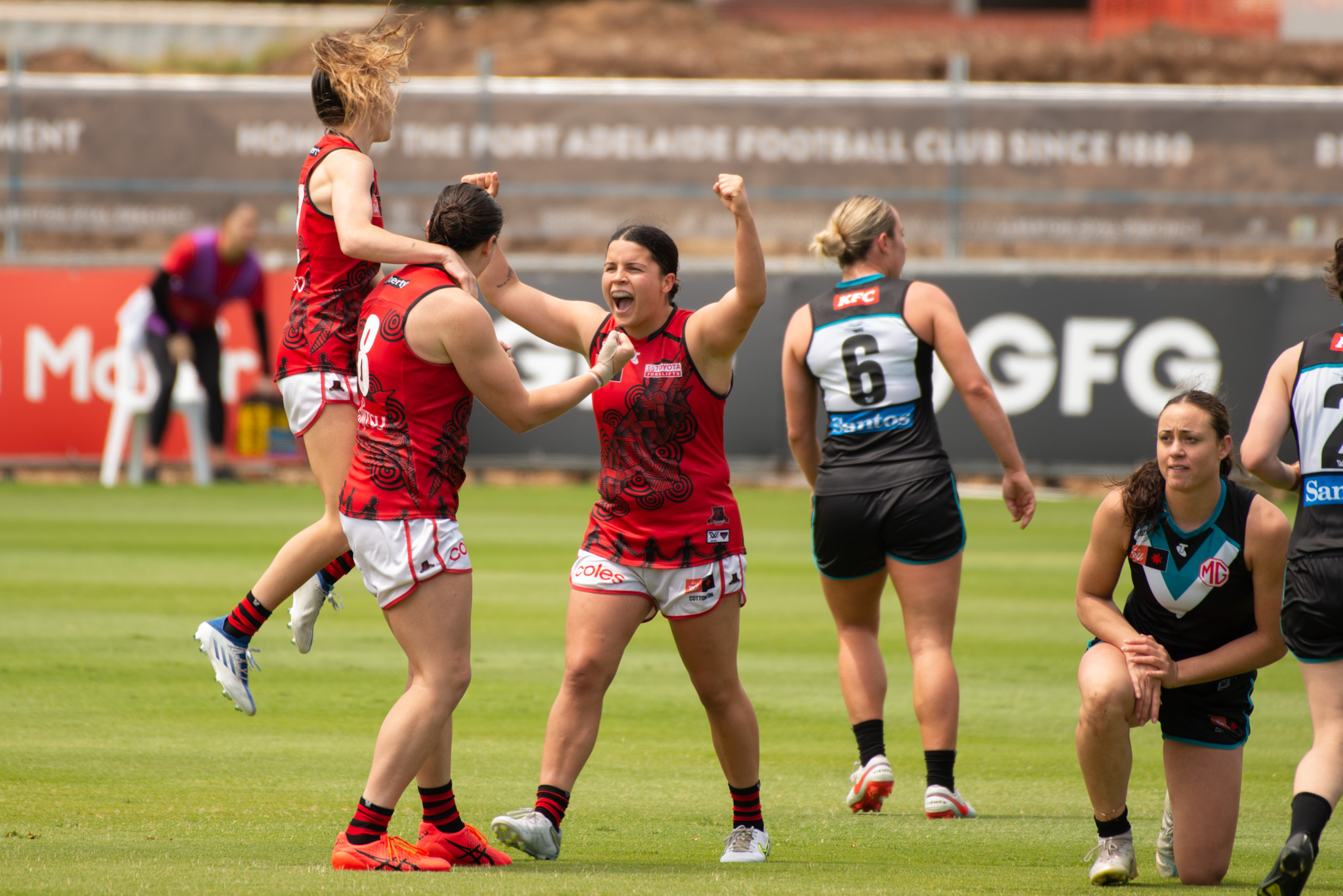 Her favourite moment of the season was the first game, played against Hawthorn at Marvel Stadium in Melbourne in front of more than 12,000 people.
In that match, Prespakis racked up 26 disposals, six clearances and a season-high 406m gained, despite playing through a severe corky she sustained in a practice match two weeks prior.
"I remember just running out, the fireworks and all that stuff, and I think just wearing the jumper for the first time was something that I couldn't wait to do," she said.
"I love being here and I'm very grateful to be playing at Essendon - thank you for bringing me here."
Very well-spoken for someone who didn't write a speech.
Essendon's Best and Fairest top 10
Madison Prespakis (98 votes)

Bonnie Toogood (71 votes)

Steph Cain (57 votes)

Daria Bannister (49 votes)

Jacqui Vogt (37 votes)

Catherine Phillips (34 votes)

Stephanie Wales (33 votes)

Georgia Gee (29 votes)

Sophie Van De Heuvel (25 votes)

Paige Scott (24 votes)
Before you move on, why not give our Facebook page a like here. Or give our Twitter account a follow to keep up with our work here.