A one-of-a-kind education pathway is set to be launched by Port Adelaide and Flinders University as the two organisations look to expand the education of students looking to enter the AFL via a Sports Management pathway.
Those students studying Flinders University's Diploma of Sports Management will now be based at the new Port Adelaide Institute of Sport. With access to elite performance facilities and industry-leading on-the-job training, students will get to learn what it's like to work inside and at an elite sporting organisation.
Port Adelaide Football Club CEO, Matthew Richardson, is excited about what this innovative partnership with Flinders University will mean for students interested in pursuing a career within the sports industry.
"I am excited by the education and employment opportunities and pathways this partnership with Flinders University will provide for not only students who are currently completing their secondary education, but also for cohorts in years to come," Mr Richardson said.
"The Diploma provides a brand-new pathway for students who want to explore a career in sport, and also gives them the chance to unlock unparalleled, hands-on work experience across various departments at the club, and importantly opens doors for further undergraduate education at Flinders.
"The AFL is a significant industry in its own right with genuine career pathways. Not all of us can be AFL players, but we can all build exciting career options across a wide range of professions in the AFL and this course provides a unique entry point to that.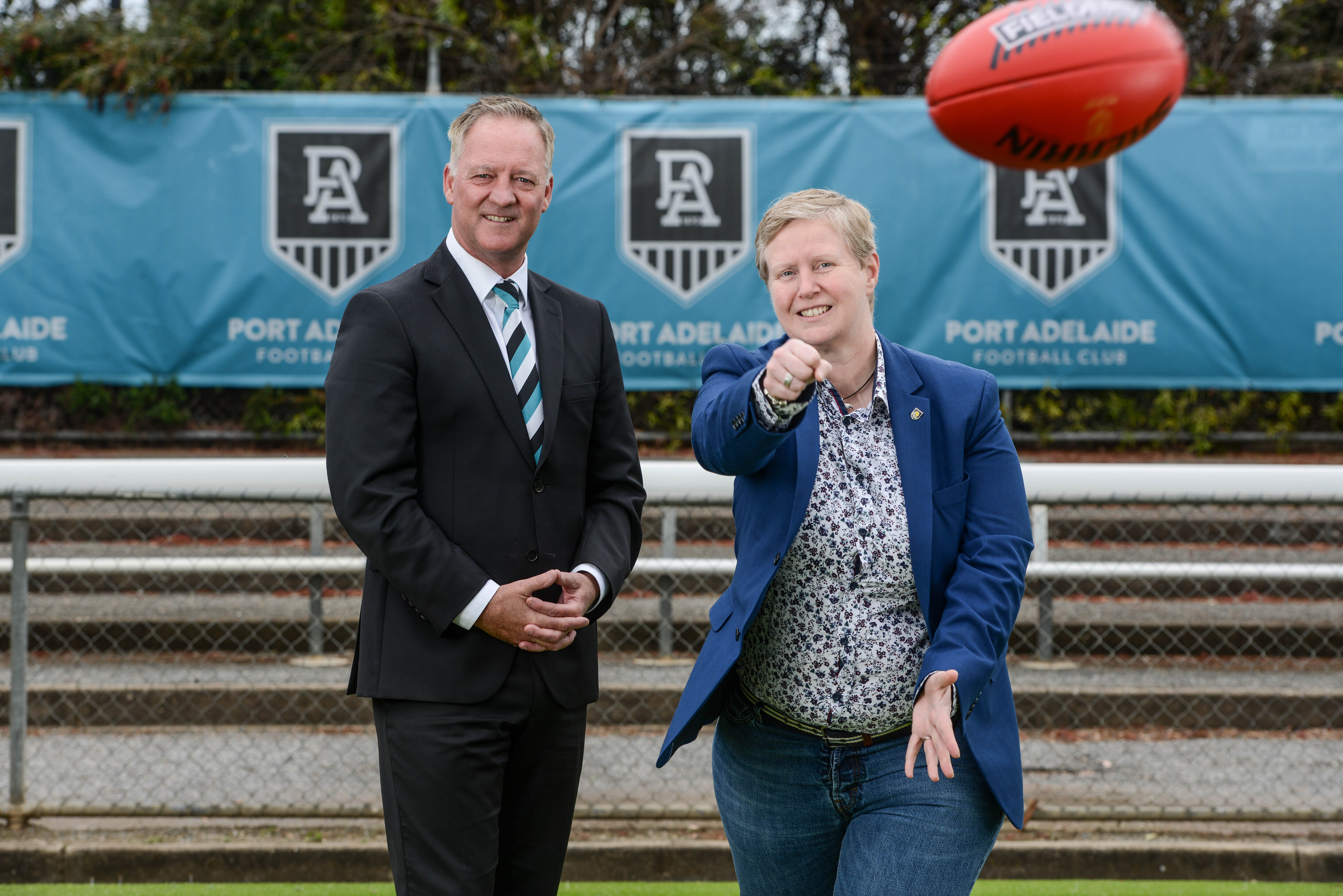 Students will be given the opportunity to work hands-on across all the different departments of the football club as part of the course's 100 hours of practical training.
Students will also have the opportunity to move forward quicker, going directly into the second year of an undergraduate degree in an approved relevant field.
Flinders University Deputy Vice-Chancellor (Students), Professor Romy Lawson, says the collaboration offers a unique pathway for students with a passion for AFL and sports in general seeking to develop business and management skills applicable for careers in Australia's growing sporting industries.
"Many South Australian students would dream of the unparalleled opportunity of gaining hands-on learning opportunities at an AFL club, and this program with Port Adelaide is providing the industry experience by embedding them in the club's operations at Alberton," he said.
"Flinders University is establishing a curriculum and providing our teaching expertise to create unparalleled opportunities for our students in the AFL industry, so they can develop the skills and knowledge to manage professional players and community sports programs at the highest level."
The course is set to begin next year and will bring world-class teaching methods in world-class facilities for all accepted students.