Perth Glory midfielder Susan Phonsongkham is positive that the Western Australians are in good shape ahead of their meeting with unbeaten A-League Women leaders Sydney FC this Saturday.
"Sydney will be a tough game, but we'll bring hardness and toughness to them too. It's a good challenge for us to see where we are at," Phonsongkham said ahead of the clash against Sydney FC.
Phonsongkham has returned to A-League Women action having suffered from a serious knee injury, an experience that she admits has changed her for the better.
"Injuries are never good, but it builds your character and your mental side of things. Having the injury is not something I regret."
The 20-year-old arrived in Western Australia in the pre-season period and admits that the prospect of playing for head coach Alex Epakis was a major factor in her making the move from New South Wales.
"He is an amazing coach and really understands everyone and their ability and we really thrive off of that. I'm grateful that he's given me this opportunity.
"I had also been to Perth before and I loved it there. It's so easy (going) and everyone is so chilled there. It's a good place for me in terms of soccer.
"The players moulded together as a group in Perth and with time, we will just keep building stronger and stronger."
Perth's former Western Sydney Wanderers midfielder has been in good form all season, but she has particularly caught the eye in her team's last two games against Adelaide United and Canberra United. The former Young Matilda gave some insight into her on-field partnership with fellow offensive players Gemma Craine and Cyera Hintzen.
"I think Gemma and Cyera bring a lot to the squad. The three of us are very creative upfront. We have a lot of skills and speed.
"Cyera is pretty quick, she can score with both feet and Gemma is also quick - she likes to get in behind and also take players on one to one. With time and lots of games, it will come together well.
"I feel that I add to this with my work ethic. Having been injured before, I really understand the importance of a work ethic. My dribbling and game awareness on top of this as well helps.
In terms of her own particular role in the front third of the pitch, Phonsongkham explained: "Alex is encouraging me to play with freedom up front, but with my game, I feel that just comes naturally."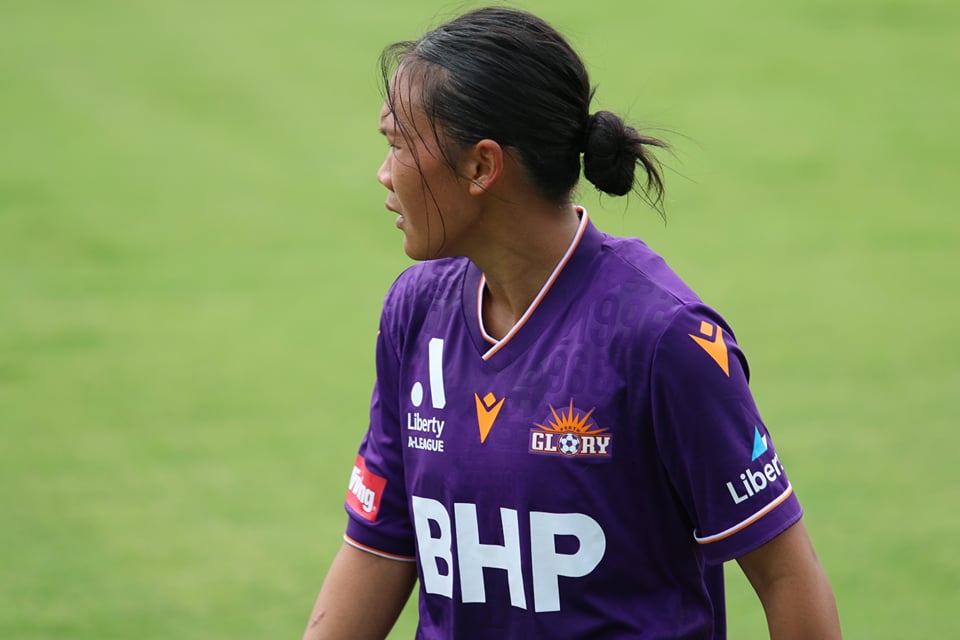 Epakis: Leadership group a key part of our success
Perth Glory head coach Alex Epakis joined his midfielder at the media conference and highlighted preparations for the game against Sydney - his team's third game in seven days.
"We've been tight and want players to focus on recovery, having had three games in the week. We need to maintain well-being whilst we are here amongst staff and players," the coach said.
"I have told the playing group very openly that we have 23 good players here, and here is the opportunity for players to step up, but we also need to make sure we have a balanced team."
Epakis feels that his core leadership group is playing an integral part in the development of the team both on and off the pitch this season.
"Kim [Carroll], Tash [Rigby], Sarah [Carroll], and Lisa [de Vanna] work very well together, they have their own personality and character. They've allowed me to grow further in this role and are very well respected and valued from my end. I couldn't have asked for a more well-rounded leadership group.
"Kim has been immense on and off the field. I couldn't have asked for more. I hadn't coached her before she returned for this season, but since she's been back to Perth, she's been a big part of the momentum shift that we've been able to create.
"The younger players respond well to them and we have great characters among that group too. In terms of a profile of our players, it's perfect and I'm really happy with that."
With such positivity about his playing group, it is no surprise that the Western Australian side's head coach feels that the Glory can provide a stern challenge to Sydney FC on Saturday.
"Sydney are in really good form at the moment. They have had great consistency in their squad over the past few seasons. They are sitting top because they have been the most consistent team in the competition so far.
"I certainly feel we have the players to get something against Sydney. Whilst it might not be the same team that played Canberra and Adelaide, they know what they need to do. I'll back these players to the mountains to put on a good show against Sydney.
"Having some different players starting tomorrow can have a bit of an x-factor, energy, and enthusiasm which can make us go up another level.
"I think we have a lot that we can offer and we are improving in each game. We know that we've had two games to shake the cobwebs off after going three weeks without a game, so there's no reason that we can't go in believing that we can't take something off of Sydney."
Perth Glory faces Sydney FC in the Liberty A-League Women at Netstrata Jubilee Stadium, Kogarah with kick-off at 5:05pm AEST.