Perth Glory's preparations for Sunday's Liberty A-League Women game at Newcastle Jets have been hit by injuries and a COVID outbreak that earlier today also claimed head coach Alex Epakis. Despite this, the club and players are focussed on their jobs in tomorrow's game.
Epakis is currently self-isolating in accordance with directives from NSW Health and will not travel with the group to Sunday's game at No.2 Sportsground.
Assistant Coach Stef Busso will take temporary charge of coaching duties.
The announcement came 24 hours after Glory's head coach had spoken about his team's aims for the game against the Jets.
In that media conference, Epakis emphasized the importance of cutting down on set-piece concessions and how he is trying to manage a squad that is down to just 18 players.
With his team having taken just one point from their last three games, he sought to emphasize the background to those results.
"We had to sit out for three weeks. Opposition teams were able to continue building momentum in that time. We then had to play 20% of the season in three days, which was always going to be a challenge.
"I think that if we were able to play those three games [Adelaide United, Canberra United, and Sydney FC] over separate weeks, the performances would have been different. That isn't getting away from the fact that we didn't play well against Sydney.
"Sydney FC are top of the table because they are the most consistent team in the competition. You have to give credit where credit is due for that performance.
Perth has been forced to build largely new squads for both of the past two seasons due to COVID-related issues. With the majority of this season's new arrivals coming in on two-year deals, the club is aiming to put together some consistency in their squad, something which Epakis emphasizes the importance of.
"A lot of Sydney's team have been together for the last four years or longer if you look at local state teams. You can't get away from the benefits of having a team together for a long period of time."
In terms of focuses in training this week, the Western Australian side's head coach pointed out the need to avoid self-inflicted pressure.
"Conceding goals from set pieces is a big thing. We've conceded 45 corners over our games this season.
"We've only conceded two goals from them which is not so bad from a numbers perspective, but we're not happy that we are conceding so many corners to start with.
"That comes down to decision making under pressure and is not just on the defence, it's on the whole team. If we don't give the opposition these opportunities with set-pieces then we're not under pressure.
Epakis' mind has turned to this weekend's clash with the Newcastle Jets, despite the Covid-19 challenges.
"Newcastle is a really aggressive, strong team. They have been together for a number of years which helps to build that cohesion. We acknowledge that and know we need to match them from a physical side. We know we can match it from a footballing side.
"We have to be aggressive for the whole 90 minutes."
Perth Glory's preparations for Sunday have been impacted by injuries as well as COVID.
"We've been managing hamstring tightness that Lisa [De Vanna] has had. She wants to play with explosive pace so we need to time her return, minutes, and load as best as possible to be effective not just this week but in the coming weeks too.
"Unfortunately we have picked up some injuries and the loading with those three games in a week was a factor. We've lost Cyera Hintzen and Susan Phonsongkham for the next couple of weeks.
"We'll do everything we can to get them back sooner rather than later. It gives others an opportunity now to do the job as best as possible.
"We have a skinny squad at the moment, but we're looking into making some adaptions soon."
Leemis comes in to boost "skinny squad"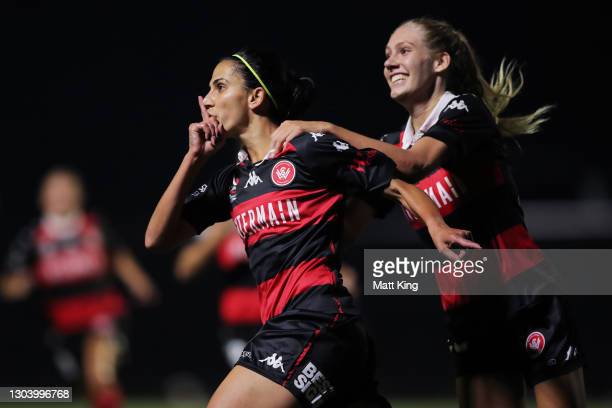 Those adaptions have included the signing of forward Leena Khamis on a short-term injury replacement contract.
Khamis has made more than 120 Liberty A-League appearances during spells with Sydney FC, Canberra United, and most recently, Western Sydney Wanderers, for whom she scored two goals in ten games last season.
Her domestic honours include two Premierships and one Championship title, plus a Golden Boot in 2009, while at international level, the 35-year-old has 25 Matildas caps to her name and was part of the squad which won the AFC Women's Asian Cup in 2010.
"I still had the drive and passion to go on and play the 2022 season, but unfortunately wasn't given the opportunity," she said.
"Alex got in contact with me and we had a really good chat regarding the team and how I could possibly help out.
"I think these ladies are a special group. They have a really good chance to push for Finals this season and I hope to achieve it with them. We aim to play Semi-Finals football because based on history, anything can happen once you're there."
Perth Glory's head coach highlighted the qualities that Khamis can bring to Glory's squad in the short term: "I am really pleased and excited to have Leena on board over the next few weeks.
"She has already had an instant impact on the team and training environment. Leena brings a priceless amount of experience and a competitive attitude and that will certainly add to our competitiveness and goals over the coming weeks.
"It's very unfortunate to be without some players who have done well for us so far this season, but I know Leena is relishing the opportunity to provide a big impact for us."
Rigby: We Know What We Need To Do To Improve
Perth Glory captain Tash Rigby spoke yesterday about putting right the wrongs from last week's performance against Sydney FC.
Addressing this week's COVID outbreak in their North Sydney hub, Rigby, with typical tongue-in-cheek humour observed: "Yeah, obviously it's not like a fairytale at the moment, but the players and staff that we have lost [with COVID] are not too ill. It's disappointing, but it was always going to happen in this environment.
"The situation is not too detrimental to us in terms of personnel. We've got an amazing depth to our squad this year, which is a help.
"We've been coming even closer together to support each other through this time. We are taking it day by day at the moment."
Going into Sunday's game, Perth has conceded eight goals in their last three games, four of which came last weekend against league leaders Sydney FC. The skipper highlighted the difficulties experienced against the Sky Blues and the work that has been done this week in trying to right those wrongs.
"The Sydney game was a super tough one. Without trying to make excuses, it was our third game in a week, so it was taxing on the body. Sydney played an amazing game and they had an amazing team.
We have reviewed the game and we're ready to move on. We need to support each other off the ball more and focus on playing out from the back carefully.
"We were exposed from our goal kicks against Sydney and have to be positioned well in wide areas. [Additionally] we need to shorten our [defensive] lines.
"There have been some individual mistakes and we've worked on that and we are looking at improving that mindset. We have adapted well, acknowledged what went wrong, and move now to take the next game head-on."
Pignata confirms homecoming plans
Meanwhile, Perth Glory CEO Tony Pignata emphasized yesterday that, as far as he is concerned, his club's A-League Women and Men's teams will be returning to Western Australia at the start of February.
"We're coming back. The state borders are open on February 5th. There are a lot of rumours and innuendo in Perth, but the state police have told me that all leave is cancelled for then to allow people in. The State Premier has said that our border opens on 5th February and we have home games for that month."
Perth Glory's next Liberty A-League fixture is scheduled to be away to Newcastle Jets on Sunday at Number Two Sportsground, kick-off 6:45pm (AEST)/3:45pm (AWST).