#1: Fullback - James Tedesco (Sydney Roosters)
The veteran NSW fullback showed off his class in the Roosters' thrashing of the Tigers. With a massive 261 run metres, Tedesco was running around the field almost untouched by Tigers defenders.
Tedesco led his side by example this week, and will be hoping to keep up this momentum into finals in a few weeks time.
#2: Winger – Daniel Tupou (Sydney Roosters)
The Roosters moved a step closer towards playing in the finals with their 72-6 win over the Tigers. Daniel Tupou's two second-half tries contributed to the scoreline blow-out.
Daniel Tupou went back-to-back with tries in the 55th and 63rd minutes. Luke Keary picked up a bouncing offload from Angus Crichton and made a break up the left wing. Keary then passed to Tupou who scored. Quick hands led to Tupou's second try in the exact same position.
Tupou finished the game with two line breaks, five tackle breaks and three offloads. He also racked up 140 running metres and 57 post contact metres.
#3: Centre – Valentine Holmes (North Queensland Cowboys)
In the first thrashing of the round, the Cowboys beat the Warriors 48-4. Although he didn't score any tries, Valentine Holmes performed well.
Holmes racked up one line break, two line break assists, one tackle break and two offloads. He ran for 162 metres with 54 post contact metres. It was a good night off the boot for Holmes, who kicked seven goals from eight attempts for the Cowboys.
#4: Centre – Joseph Manu (Sydney Roosters)
To celebrate their last game at the SCG, the Roosters secured a historic 72-6 win over the Tigers in the biggest thrashing of the round. Joseph Manu was denied the first try of the match and was unable to score any of the Roosters' 12 tries, though he was strong in attack.
Manu racked up 102 post contact metres and 11 tackle breaks, both of which were the most of anyone in the game. He also ran for 226 metres from 20 runs.
#5: Winger – David Nofoaluma (Melbourne Storm)
The Storm beat the Broncos 60-12, which is their biggest ever win over Brisbane. David Nofoaluma, who is on loan from the Tigers for the remainder of the season, contributed eight of these points on the wing.
His first try came in the 24th minute thanks to a mid-tackle offload on the ground from Justin Olam. Adam Reynolds kicked a bomb and Nofoaluma picked it up and ran it 80 metres to score his second try in the 77th minute.
Nofoaluma racked up 188 running metres from 14 runs, 10 tackle breaks a one line break. He also diffused two kicks in a strong defensive effort.
6: Five-Eighth - Tom Dearden (North Queensland Cowboys)
After showing signs of what he can contribute for the Cowboys after his 2021 midseason transfer, Dearden has made the Cowboys' number six spot his own this season.
This week, as the Cowboys demolished the Warriors, Dearden scored two tries, as well as making big plays with his kicking. He did all this while suffering a ruptured testicle, that will cause him to miss next week's match.
#7: Halfback - Nicho Hynes (Cronulla Sharks)
The Cronulla Sharks continue to show that they made one of the best moves this past offseason. As a playmaker, or a scoring threat himself, Hynes was constantly contributing to their scoring.
With 20 points himself, including two tries and two try assists, Hynes almost single-handedly ended Manly's finals hopes.
#8: Prop - Coen Hess (North Queensland Cowboys)
Despite only having a 49-minute stint on the field, the Cowboys prop made all the difference in his sides 48-4 demolition of the Warriors.
Hess, who bagged the opening try of the game, ran 131 metres in 11 runs, as well as making three tackle breaks, two line breaks and 19 tackles.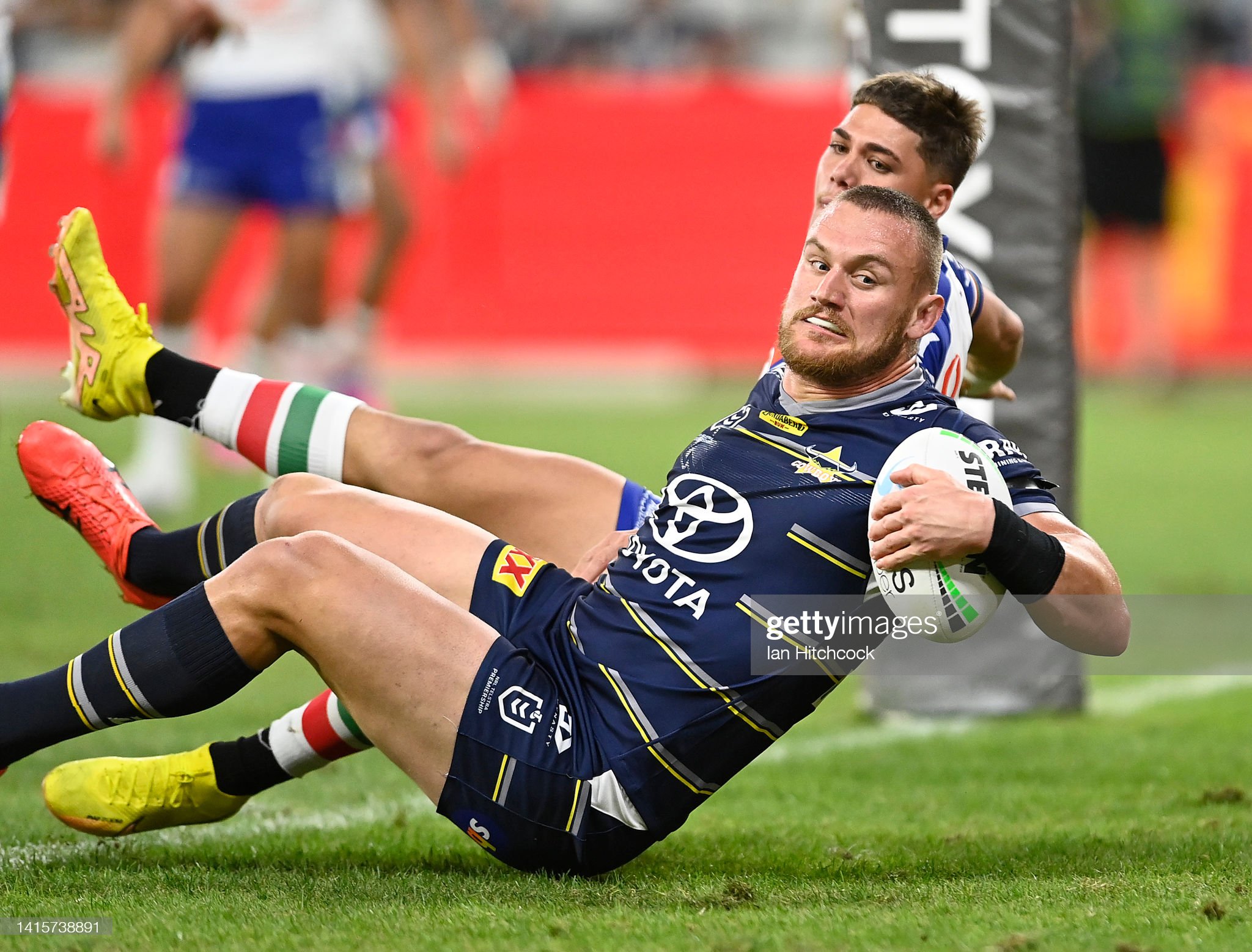 #9: Hooker - Harry Grant (Melbourne Storm)
In his sides monstrous win over the Brisbane Broncos, the Maroons Representative put on a classy performance showcasing why he is one of the best.
Grant, who scored a try of his own during his 50th NRL game, made a whopping 31 tackles, as well as setting up another two tries for his teammates, and running 120 metres in 10 runs. The star hooker also made four tackle breaks and one line break as his combination with his spine was flawless.
#10: Prop - Nelson Asofa-Solomona (Melbourne Storm)
In an outstanding performance for his side, Nelson put on a dominant 70-minute performance, even picking up a try for himself along the way.
The powerful prop made 17 runs for 193 metres, and made a massive 12 tackle breaks as his strength up the middle and outstanding defensive efforts helped keep Brisbane scoreless for most of the game.
#11: Second Rower - Luciano Leilua (North Queensland Cowboys)
Adding salt to the wounds of Wests Tigers fans, the mid-season Cowboy transfer had a massive game against the Warriors in his team's 48-4 win.
Playing the full 80 minutes, Leilua picked himself up a try, made 23 tackles and ran 137 metres for 13 runs, showcasing his freakish strength and speed combination.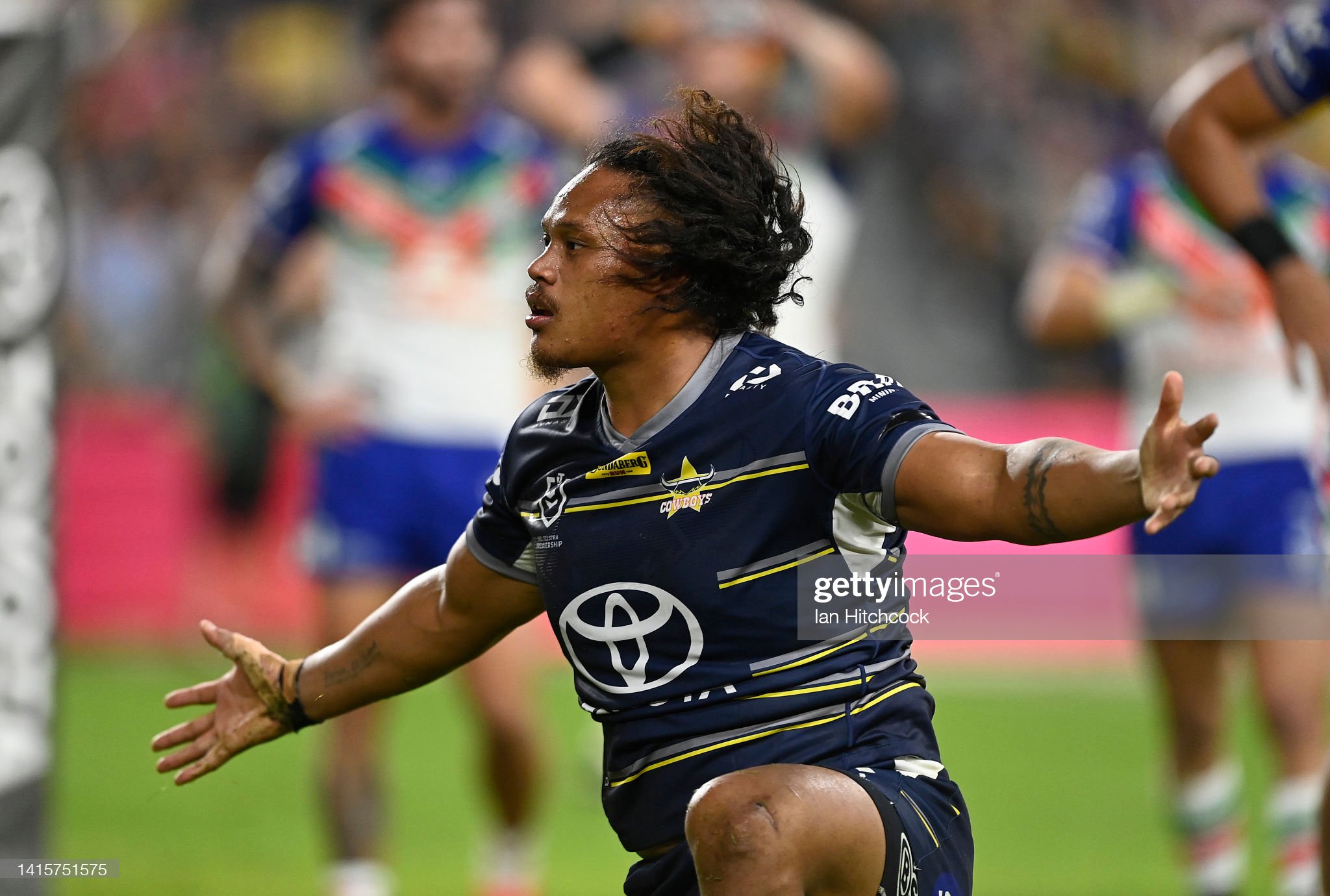 #12: Second Rower - Nat Butcher (Sydney Roosters)
In arguably the performance of his career, the Roosters' second rower claimed four tries this round as he showcased an impressive partnership with halfback Sam Walker.
A stand-out player in his team's dominant performance against the Wests Tigers, the second rower also ran 136 metres for 11 runs, made three tackle breaks and two line breaks, all while making the most tackles (31) of any player in his team.
#13: Lock Forward - Jack Bird (St George Illawarra Dragons)
In a tough contest against the Gold Coast Titans, veteran lock Jack Bird put on an extremely strong performance to secure his side the win.
With two tries in the 41st and 78th minute, Bird's attacking efforts made all the difference for this Dragons side, with a massive 10 tackle breaks and 151 running metre, whilst also setting up a try.