Tokyo 2020 Olympic Silver Medalist Nicola McDermott has successfully defended her Australian title at the Australian Athletics Championships last week, but has her eyes on bigger goals.
McDermott's first jump in the competition secured her the national title. Emily Whelan, who finished second, failed to clear 1.84m on three occasions.
That height was McDermott's first jump, and she cleared it successfully, and also cleared 1.90m on the first attempt.
It took two attempts to clear 1.94m, the eventual winning height, before McDermott unsuccessfully jumped at 1.98m three times, ending the competition.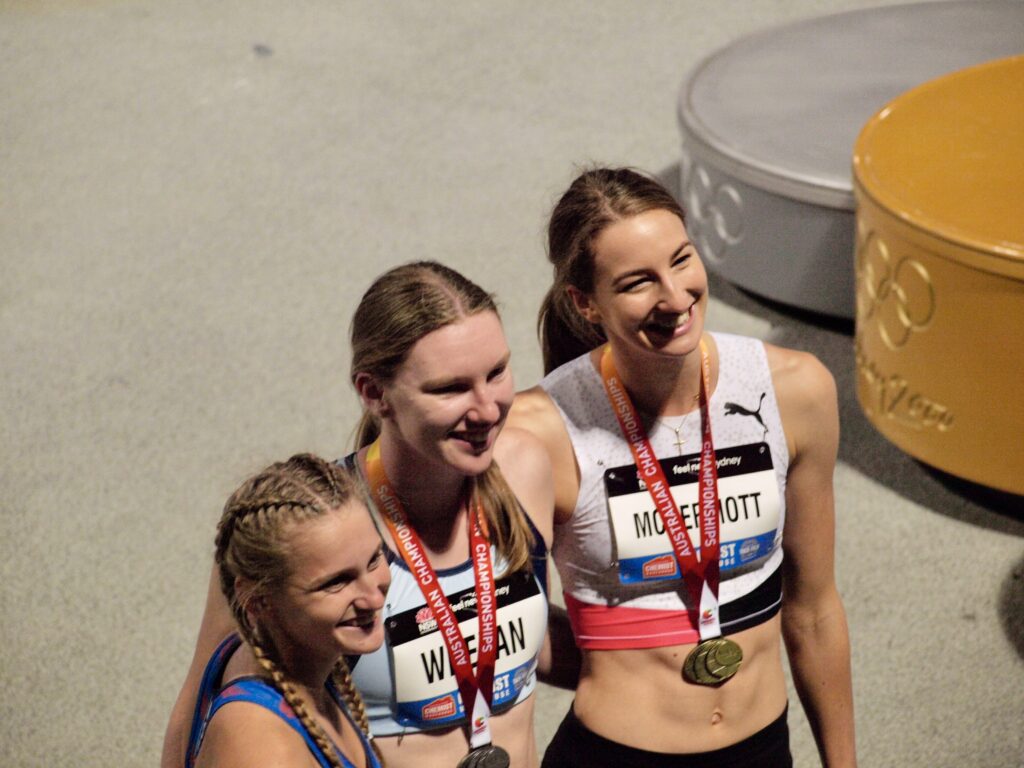 McDermott's winning jump was not as high as her national title 12 months ago, when she became the first Australian woman, and the first Oceanian woman to clear 2.00m.
McDermott spoke after the competition, about the challenge that comes with pumping without any other athletes left.
"It's not the nerves but I think the intensity, when I don't have a competitor there," McDermott explained.
"Sometimes I like to have a few competitions to get used to it, but the joy of jumping is still so present. It hasn't been lost over the offseason. Now that I've got a title I'm hungry for more."
For McDermott, it was a pleasure to be back jumping at home, after not having a competition at home since before the Olympics in July last year.
"It's just a joy, this is a privilege I get to jump. I had no idea how many supporters I'd have here tonight, so I'm so thankful just to be back here, and I don't take it for granted at all", she said.
McDermott is not alone in having taken Australian women's high jump to new heights (pardon the pun) over the past 12 months.
Eleanor Patterson was also in the Olympic final, finishing just outside the Olympic medals.
Patterson recently competed at the World Indoor Championships in Belgrade, where she became the Australian Indoor Record holder, and a silver medalist.
Patterson, who held the record from 2020 until McDermott in 2021, also cleared the two metre bar at Belgrade, becoming the second Australian woman to do so.
She wasn't at the National Championships, and McDermott acknowledged that she missed her friend and rival.
"I miss Eleanor. The best in the world is with you, and you don't have to have as much internal drive with someone else there," she told.
"I know on the outdoor circuit, overseas in Europe and America, the two of us will be there and its like a slice of home. It's a shame we couldn't jump together tonight, but I'm hoping we're both going to be fully healthy and in great shape when it counts in the middle of the year."
McDermott believes that there is a chance, now that Patterson has broken through for a major medal, and McDermott has one of her own, that two Australians could find themselves on the same podium at either the World Championships in Oregon or the Commonwealth Games in Birmingham, later in the year.
"I think it is a realistic hope. I think now that Eleanor has broken that two-metre barrier, something that was impossible for Australian women and within a year we've seen two of us go over it, is incredible for our sport and for Australian athletics," she hoped.
"Commonwealth Games definitely, World Championships would be amazing, but I think not only this year, but in the following years, Eleanor and I might be starting to reach those higher heights as well, closing in on the world record which would be phenomenal for Australia."
McDermott was also honoured at Athletics Australia's Awards night, being awarded the Marjorie Jackson Award for the Able-bodied Female Athlete of the Year.
McDermott will be getting married later in April, before returning to competition following that. Patterson is recovering from injury and will return to competition soon.