For up-and-coming Melbourne pop-punkers Paperweight, performing their third-ever gig at a New Year's Eve music festival was a pretty surreal achievement, but it was an experience the band enjoyed as they prepare to launch upwards and reach new heights.
The four-piece, lead by vocalist Haris Dillinger, guitarists Luana Tosti-Guerra and Tom Ballinger, and drummer Basil February, were born in the fire of the COVID-19 pandemic, but have made the most of their opportunities throughout the last two years.
The band's debut singleWasterwas released in May 2020, and since then, they've put out another five tracks, their latest, ironically, titledTracks, in December 2021.
While the band continued to churn out single after single and film and release a few music videos along the way, they played their first-ever show just over a year ago, supporting local pop-rockers Terra at Wrangler Studios in Footscray.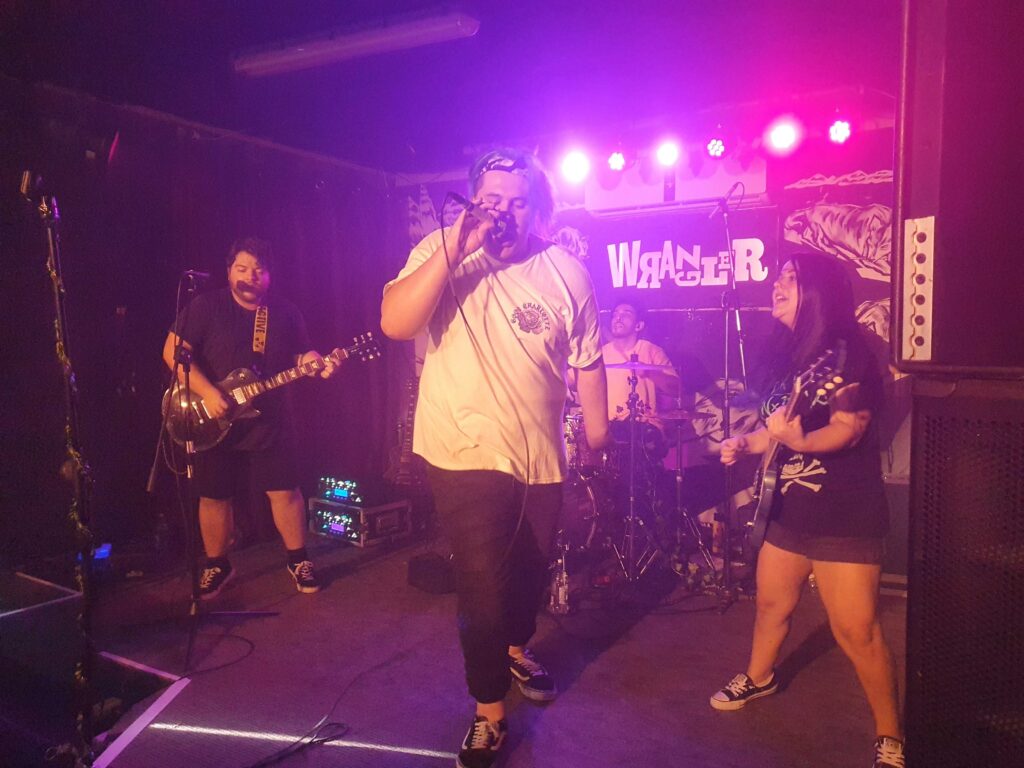 One month later, Paperweight signed a deal with Open Door Management, a company that boasts the likes of Australian heavy-hitters Northlane, Make Them Suffer and Void of Vision.
A month after that, the band headlined their very own show at Stay Gold in Brunswick following the release ofWhisper Games. To make the occasion even more special, while it was only the second time they'd played on stage together, the venue was at capacity as the gig was a sell-out.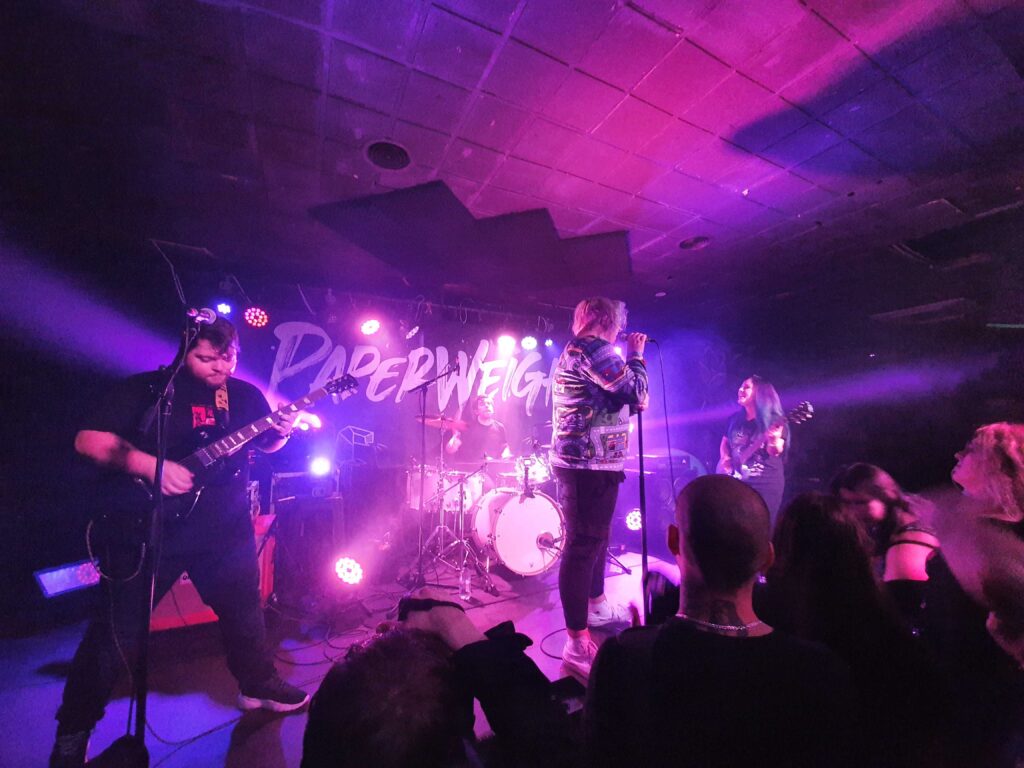 Flashforward to September 2021 (and after an east coast tour with Wolf and Chain and Isotopes was cancelled), it was announced that Paperweight was on the lineup for Knight and Day, a new music festival organised by Destroy All Lines to be held at Kryal Castle in Ballarat, to round out the year.
The festival itself featured some of the biggest names in Australian music including Parkway Drive and Polaris, as well as a chance to showcase the amount of local talent from around the country, including Paperweight, forming the basis of the band's third show, this time on an even bigger stage, to a crowd like none other.
Speaking toEdge of the Crowd,the members of Paperweight recounted their experiences of playing a festival such as Knight and Day, including all the highs and lows, as well as, now, heading into 2022, what's in store for a band that has the world at their fingertips.
The gravity of performing at Knight and Day was not lost on either member of the band as they were kept in the dark about just how big the lineup was until the night before the festival's announcement, signifying a collective surprise and eagerness to be a part of the event even more so.
"Oh man! The conversation was literally 'Hey, do you guys wanna play a festival at Kryal Castle on New Year's Eve?' and we were like yeah count us in," Tosti-Guerra firstly mentioned.
"We found out the lineup only the night before announcement day. We had no idea the magnitude of the festival! When we saw the flyer it was a collective "Holy shit! We're playing with Parkway Drive!?"
"I was gobsmacked when I saw Polaris and Parkway Drive on the bill," February echoed.
"I was quite nervous leading up to the show because we hadn't performed in over nine months but as soon as the first song kicked in, the adrenaline rush hit and I was having the time of my life."
The fact that it had been nine months since that sold-out headline show and they were commemorating being back on stage at a festival was not lost on the band as they explained it was a moment to be proud of, to see the progress they've made to that point especially.
"It was far the best gig we have been involved in! The fact that we had the opportunity to perform and that it was our first show back in nine months made it extra special", Ballinger said.
"It made me feel super proud of everyone in the band in how far we'd come and reaffirmed our hard work had paid off. Playing local gigs is always heaps of fun but to be put on a festival lineup was something to cherish for years to come", February mentioned.
"I've been going to shows and festivals for over 15 years so it was seriously surreal to see our name on a festival flyer next to those incredible bands. I felt like one of the big guns!," Tosti-Guerra told.
"I personally feel like all four of us really deserve this. I feel like we've jumped from strength to strength in our 18 months of existence and it felt good to be recognised for that."
Paperweight was the third act to grace the main stage on Day Two of the festival, kicking off just before 3 pm and for different members of the band, their positive experiences of playing at Knight and Day varied.
"[I was most blown away with] how welcoming and friendly the entire crew was and how many new friends we made!", Tosti-Guerra said.
"The professionalism and friendliness of the bands and the crew involved in the festival [was a positive takeaway]", Ballinger stated.
"I was super impressed with the backline set up for all the drum kits - everything was set up and good to go on a drum riser and was just rolled out onto the stage", February exclaimed.
However, despite how much enjoyment they found with the whole festival experience, that's not to say that there weren't any overwhelming factors that contributed to some hardships along the way, namely technical issues which resulted in having to cut the setlist down by one song due to time restraints.
"Well... we're not too sure if anyone noticed but basically all of our equipment malfunctioned right before we went on! I mean, it was crazy," Dillinger recalled.
"Luana's guitar input on her amplifier broke, our always trustworthy bass player - Mr Laptop - decided he didn't feel like playing for the first time ever, our in-ear monitor system thought it would be funny to only feed us audio into one ear, and all of our guitar effects which change automatically throughout the performance just weren't feeling it that day I guess."
Despite the technical difficulties that hampered the band's preparations at an unfortunate time, the band overcame the obstacles and put on a killer performance - that included two new, unreleased songs -, to a crowd of eager ears, which, for some, was the most overwhelming thing that happened.
"The most overwhelming aspect for me was playing to such a large open crowd. The butterflies were definitely on overdrive right before the show", February remembered.
"I managed to convince myself that nobody would show up and watch us - imposter syndrome what up! So the fact that we had people at the stage singing along on the barrier was crazy for me", Tosti-Guerra looked back upon.
The reaction the band was able to generate on the day, being up so early when the crowd might've still been rolling in, especially after a post-11pm finish from Day One of the festival, the quartet were pleased with the turnout, even for a small, pop-punk act such as Paperweight.
"Considering how hot it was on Day Two, the crowd reactions were positive and upbeat. [It was] nice to see people dancing and jumping around and singing along when it would have been understandable given the circumstances where they would limit that", Ballinger tells.
"Awesome is the only word that comes to mind. Like Tom said, bopping around in 38-degree heat is no easy feat. Not to mention we were probably the poppiest band on the lineup, so it was freaking awesome to see heavy music fans actually enjoying it", Tosti-Guerra said.
"It was just a whole lot of fun! The crowd were clapping along, jumping around and just having a good time which made playing our set that much more enjoyable", February chimed in.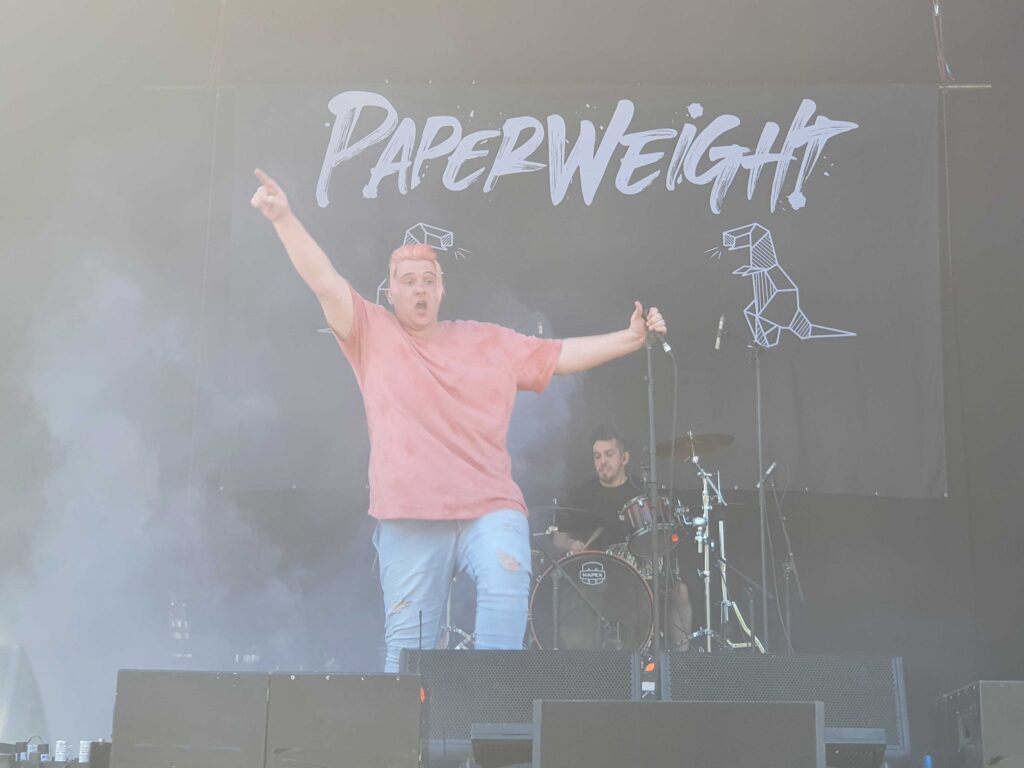 As the band had just a 30-minute slot on Day Two of Knight and Day, it allowed them to soak in the music festival a lot, and, as it was the first sense of coming back to live music, let alone a music festival for many of the attendees, simply enjoying everything that the two days encapsulated was just as much a highlight.
"[There were] so many highlights!," Tosti-Guerra pointed out.
"Finally meeting a bunch of mates after years of only seeing them in Instagram pictures, watching our friends absolutely crush their sets [which is] always a beautiful feeling and also just the plain fact that we went to a music festival! It had been so long. I definitely cried a few times - and blamed it on the dust!"
"Simply having live music back and seeing the professionals do their thing [was the best]", Ballinger said.
"Seeing [Parkway Drive drummer] Ben Gordon's drum kit up close backstage was amazing. Then seeing him upside down surrounded by fire. Brilliant!", February reminisced about the headliner's fiery moment during the closing set of the festival.
The emotion of the entire festival experience will not fade away easily for Paperweight, instead, the band will be using this exhilarating moment to go forward knowing they're now capable of anything, and everything and using 2022 as a way to make up for lost time.
"Let me put it this way - at the beginning of last year, we more or less had 2021 & 2022 planned out. However, due to the absolute circus of uncertainty over the last 12 months, many of our 2021 plans fell through," Dillinger stated.
"So basically, this year you will be getting two years worth of Paperweight for the price of one - and it's going to be incredible!"