After another season without playing in New Zealand, the Breakers return in front of home fans for NBL23 with a new coach at the helm, in the hopes of lifting the team to greater heights than a final-placed finish last season.
Recap
The New Zealand Breakers have been going downhill for the past three seasons, with last season's standings producing their worst-ever finish in franchise history - last place. The past couple of years hasn't been easy for the Breakers; however, in NBL23, the team returns home to Spark Arena for their 20th season in the league, and is set to play in front of home fans for the first time since the end of the NBL21 season.
During the off-season, New Zealand lost some players but made some additions to its roster as well, including finding a new head coach, Mody Maor, after the resignation of Dan Shamir, who spent three years in the role.
New Zealand won their lone pre-season game against Illawarra in overtime, 71-68, with new addition Izayah Le'Afa top-scoring with 16 points. The NBL Blitz in Darwin saw the Breakers lose all three games to the Bullets, Hawks, and the Kings, in another chance for new additions to the roster to make their cases ahead of Round One.
How they did last year
10th (five wins, 23 losses, 90.15%)
New Zealand went through the first month of NBL22 - six games - without a win, tasting victory for the first time with a 88-83 win against Brisbane in Round Six. The Breakers would then go on to win three of their next six games before ending the season with a 1-13 record to finish 10th at the end of the home and away fixtures.
The Breakers struggled to get the same players on the court consistently, with injury plaguing the side early on, with Jeremiah Martin and Peyton Siva - both import signings - missing games at the beginning of the season, while the likes of Tom Abercrombie, Ousmane Dieng and Will McDowell-White were all missing at various points.
There were some positives from the New Zealand-based franchise, with NBL Next Star Dieng and import Hugo Besson firing on the floor. First-year Breaker Yanni Wetzell, who moved from the Phoenix, won the club's MVP award after averaging 17.7 points, 8.2 rebounds, and 1.5 steals per game.
How can they improve
During NBL22, on the floor, the Breakers' attempts from beyond the arc resulted in a 30.7 per cent efficiency - coming in ninth-worst across the league, just .1 per cent behind the Taipans. When able to get to the stripe, New Zealand converted well and saw plenty of points come via free throws.
The main area the Breakers will need to improve on is their defence. The team ranked last for rebounds (31.0 per game), including not taking advantage of the opportunity for offensive boards (7.5 per game). The man-to-man defence will need to be tightened by the Breakers this coming season to not allow opposition players much space to run, shoot, and score.
List changes
Returning: Will McDowell-White, Tom Abercrombie, Rob Loe, Sam Timmins
Ins: Dan Fotu (Saint Mary's Gaels), Tom Vodanovich (Sydney Kings), Cam Gliddon (South East Melbourne Phoenix), Rayan Rupert (Centre Fédéral de Basket-ball - Next Star), Izayah Le'Afa (South East Melbourne Phoenix), Dererk Pardon (Hapoel Be'er Sheva B.C. - Import), Jarrell Brantley (Leones de Ponce - Import), Alex McNaught (Nelson Giants - Development Player), Barry Brown (Beijing Ducks - Import), Jamaal Brantley (Shreveport Mavericks)
Outs: Peyton Siva (Panathinaikos B.C.), Hugo Besson (Milwaukee Bucks), Ousmane Dieng (Oklahoma City Thunder), Yanni Wetzell (Saski Baskonia), Geremy Mackay, Kyrin Galloway (Adelaide 36ers), Finn Delany (Telekom Baskets Bonn), Rasmus Bach (Brisbane Bullets), Chasson Randle, Hugo Besson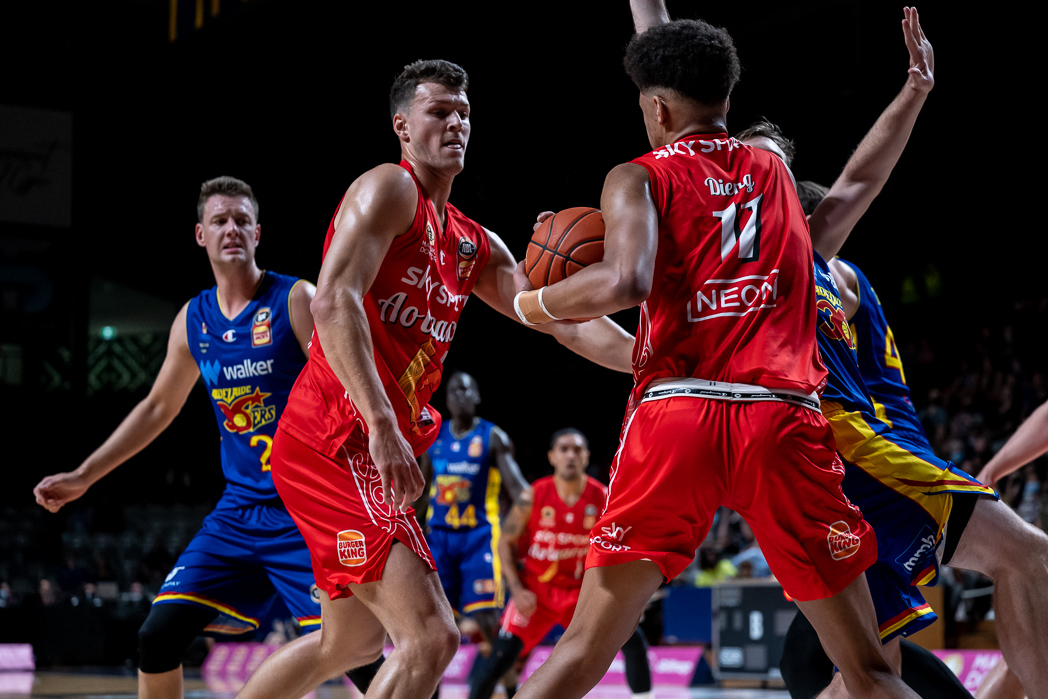 By position:

Point guard: Will McDowell-White | Izayah Le'afa | Alex McNaught
Shooting guard: Barry Brown Jr | Rayan Rupert | Cam Gliddon
Small forward: Tom Abercrombie| Dan Fotu | Jamaall Brantley
Power forward: Jarrell Brantley | Tom Vodanovich
Centre: Dererk Pardon | Rob Lowe | Sam Timmins
Biggest strength
Playing back in front of home fans at Spark Arena should see the Breakers improve with that support behind them and give them strength to compete well, which would help as the season progresses. In the final month and a half of the NBL21 season - the last time the club played in their home country -the Breakers recorded three of their 12 total wins for the season when playing across New Zealand.
Captain Tom Abercrombie and veteran Robert Lowe will be required to lead a team, and the addition of Boomers Cam Gliddon and Will McDowell-White should also provide some experience to a Breakers outfit that is very much still in a rebuilding stage with many players learning the ropes of the NBL, though getting more games under their belt.
Biggest weakness
The defensive end of the floor is the Breakers' worst area of their game, and without Tom Abercrombie to participate in the early stages of the NBL23 season due to an eye injury, the situation becomes more dire. In NBL22, the Breakers conceded 88.5 points per game - the second-worst of the league behind the Bullets, who gave up 89.2 points per game.
No player at the Breakers recorded over 0.9 blocks per game, and even so, that was the departed Yanni Wetzell, with Kyrin Galloway not far behind with 0.7 per game. Will McDowell-White was the best of the lot (0.4 per game) that remains at the Breakers in NBL23, while import Dererk Pardon could help fill the void (1.5 blocks in 22 games with Hapoel Be'er Sheva B.C. last season).
Rising star
Daniel Fotu became Mody Maor's first signing, identifying top New Zealand talent to add to his roster for NBL23. Fotu hasn't played in the NBL since NBL18, where he played four games throughout that season, averaging 0.55 minutes.
In the four years since his first stint with the Breakers, Fotu has been playing college basketball in California with Saint Mary's Gaels. As a senior in the most recent season for Saint Mary's Gaels, Fotu played 13.9 minutes off the bench, averaged 6.3 points and 3.0 rebounds, and played over 125 NCAA Division One games.
Strong both offensively and defensively, Fotu can become a big player for the Breakers, even if he might be behind the likes of Tom Abercrombie and Jarrell Brantley in the small forward or power forward positions. But, with injury, Fotu may get a chance to showcase how college set him up to compete in Australia's top-tier competition.
Prediction for NBL23
The Breakers may struggle early on with a mostly-fresh playing group and new head coach with his style, despite Mody Maor being an assistant to Dan Shamir. The additions to the roster haven't wholly addressed some of the issues at the Breakers, but as long as each player works with and for each other, the side should be competitive. Being back in front of home fans will be a welcome sight for many. At the same time, it may also be a detriment feeling the sense of travelling across the Tasman every so often and getting back into that routine of going back and forth after being based in Australia for so long in previous seasons.
Predicted Round One Starting Five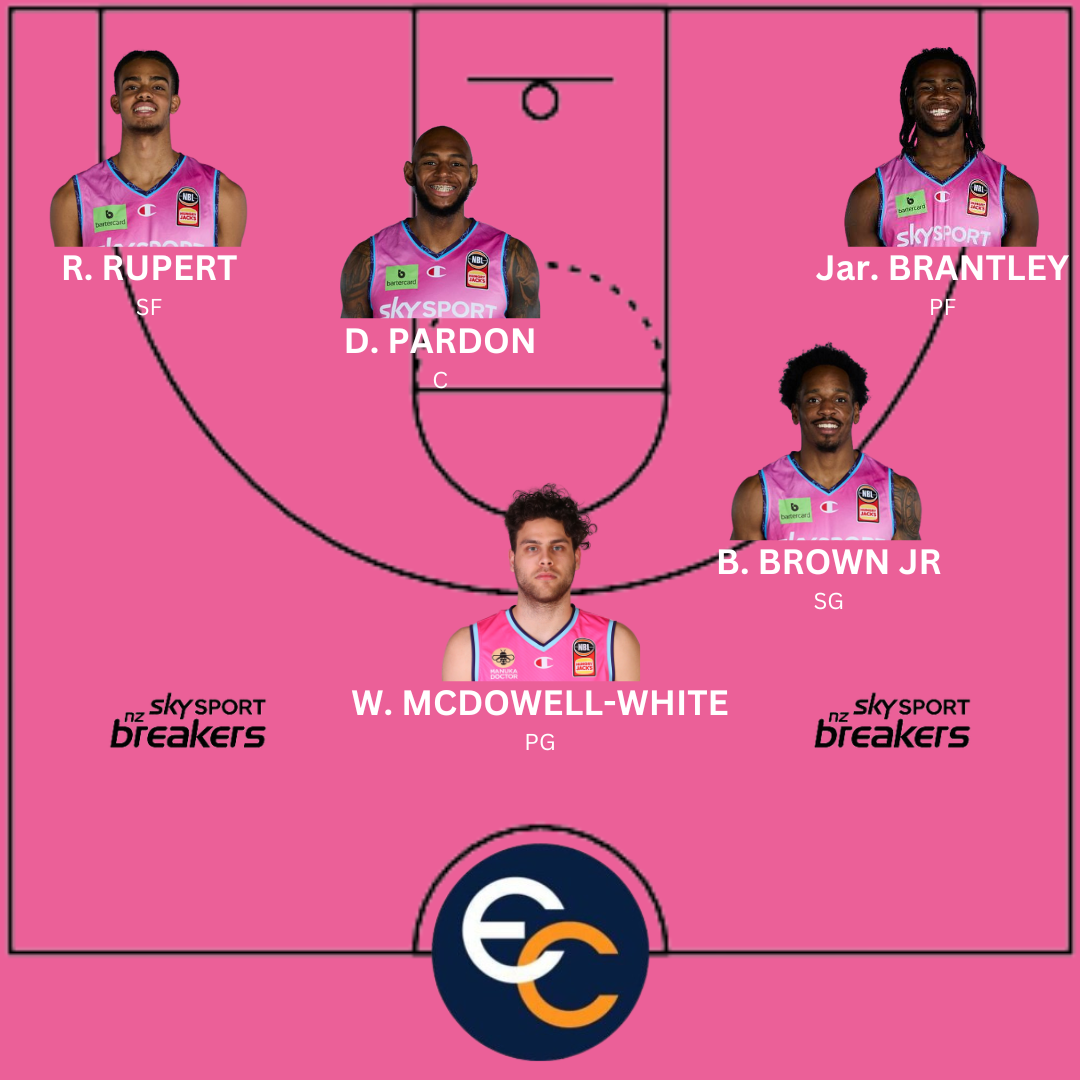 Prediction: 10th
The New Zealand Breakers begin their NBL23 campaign away against Melbourne United at John Cain Arena on Sunday, October 2 at 2 pm AEST.
Before you move on, why not give our Facebook page a like here. Or give our Twitter account a follow to keep up with our work here.