An epic Throwdown, a Tasmania JackJumpers streak and seven straight for the Sydney Kings highlighted a busy weekend of action for Round 15 of the NBL.
But it was the Perth Wildcats weekend, as the side won all three of the three games it played in just five days. They continued their winning ways on the road, before they finally get a stint at home.
It all ended with an exciting overtime thriller in Tasmania, where the New Zealand Breakers took it up to the Wildcats but were disappointed by a Bryce Cotton game-winning three.
Wildcats snap United's streak
Ladder-leading Melbourne United's five game winning streak was ended by the Perth Wildcats, 97-87, to open Round 15 on Thursday night.
It was a tight tussle between last year's Grand Finalists, but the Wildcats were more poised in the final term for a 17-9 run that secured the win.
Bryce Cotton was again important to the victory, standing up and hitting a three in the final two minutes, sealing the win, but it was Mitch Norton who had a career high 26 points and really stepped up for the Wildcats on the night.
Vic Law had another impressive double-double - 20 points and a career high 18 rebounds - and was a key contributor to Perth jumping into second place on the ladder.
When asked post-match whether the win was his side's best this season, Wildcats' head coach Scott Morrison believed it was their "most solid performance.
"The thing you have to do in this league is not beat yourself, and I think it was our best performance in that sense.
"There were some flashier performances, some better shooting performances, we were four for 24 from three, so it wasn't pretty all the time but it was our best performance in terms of not beating ourselves and giving ourselves and chance to win."
Jo Lual-Acuil Jr (16 points), Matthew Dellavedova (15 points) and NBL Next Star Ariel Hukporti (14 points) were among Melbourne's best.
Tasmania (Jack)Jump Taipans
The Tasmania JackJumpers recorded their ninth win of the season with a massive 85-69 victory over the Cairns Taipans on Friday night.
A huge second quarter (24-9) set up the JackJumpers with a monstrous lead that was too much for the Taipans to claw back.
It was their strong first half defence that restricted the Taipans to equal their lowest half time score of just 28 that put the JackJumpers in the box seat.
Josh Adams led the way for the JackJumpers, scoring 20 points along with five rebounds. Fabijan Krslovic (13 points, four rebounds) and Josh Magette (10 points, five rebounds, three assists) also contributed to the win.
Stephen Zimmerman was Cairns' best with 19 points, seven rebounds and four assists, but it was an otherwise disappointing night at Cairns' home court.
Wildcats continue winning run
A brilliant third quarter from the Perth Wildcats has helped the side to come from behind and defeat the Brisbane Bullets, 95-83 at Nissan Arena on Saturday.
The impressive period saw the Wildcats outscore the Bullets 26-8, giving them an advantage they would retain until the final buzzer.
Now a Perth star, Vic Law put on a strong performance in his first game in front of his old home crowd, recording 24 points and eight rebounds. He was supported by Bryce Cotton's 22 points and five rebounds, and Todd Blanchfield's 13 points and four rebounds.
Star Bullets' import Robert Franks made it four straight games scoring at least 20 points, with a 21-point and eight-rebound effort, despite the side's 12 point loss.
New Zealand Break(ers) losing streak in Adelaide
Hosting a 'home game' against the Adelaide 36ers in Adelaide, the New Zealand Breakers have snapped their four-game losing streak with an impassioned 84-75 victory.
In the first game this season with their full line-up available, the Breakers showcased their talent and led for the majority of the contest.
Hugo Besson (17 points, four assists) and Peyton Siva (16 points, five assists) were huge in the win for New Zealand, while NBL Next Star Ousmane Dieng continued his good form with 13 points and four rebounds.
Speaking after the match, Dan Shamir was pleased with his side's performance and result.
"It feels like, and I think it looked like, a good game for the beginning of the season," Shamir said.
"Today was the first time that we had a whole team which is incredible that this is the first time and I hope we haven't lost Tom (Abercrombie) again.
"It didn't look perfect, some players are recovering from whatever they are recovering from, and aren't in total rhythm and not everybody played together.
"But we put in the effort, we had fresher legs, we were a little bit more intense at the defensive end for more minutes of the game. We had our lapses obviously, but overall shot the ball well, defended pretty good and I hope we can build from this."
They will be sweating on the fitness of Tom Abercrombie, who copped a head knock in the third period and did not return to the court with concussion.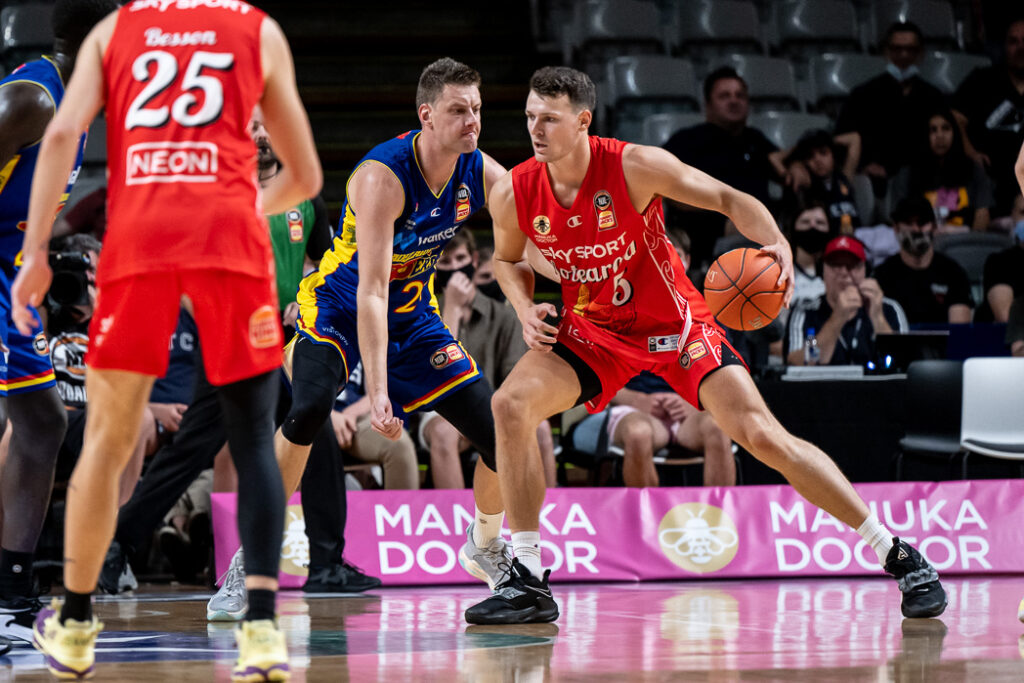 On their old home floor, and current training venue, the Sixers lost Todd Withers on game-day to a positive Covid-19 result and just couldn't keep their second quarter momentum going in the back half.
A couple of times, the Sixers were able to swing the momentum back in their favour, though it rarely lasted long before the Breakers cut the run and pulled out to another lead.
Filipino import Kai Sotto scored a career high 14 points for Adelaide and, at 218cm, became the tallest player in NBL history to score a three-pointer.
But it was a disappointing end to Adelaide's celebration of the 20th anniversary of its fourth championship.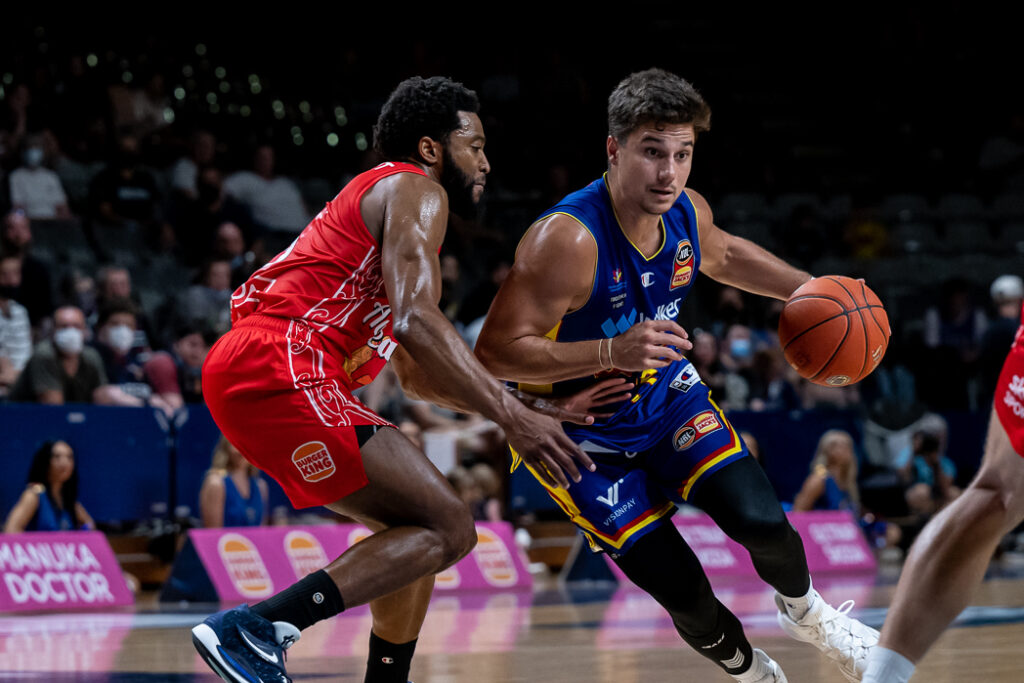 JackJumpers roll on at home to keep finals dream alive
The Tasmania JackJumpers have recorded a third consecutive win, and one of their best for the season, defeating the Illawarra Hawks, 81-77 to keep their finals dream alive.
Brian Goorjian's Hawks side didn't give up and continued to grind in the final period. Two quick steals helped bring the game to within five with 1:10 to play, however, they were unable to make up the ground.
Tasmanian skipper Clint Steindl had one of his best games, scoring 20 points and equalling a career-high six three-pointers, in the win.
Jack McVeigh (19 points, six rebounds) and Josh Magette (11 points, seven assists, six rebounds) were also key contributors for the JackJumpers.
Justinian Jessup had 15 points and five rebounds for the Hawks, though the result could be a costly blow to his side's hopes of playing finals.
United take Throwdown with epic comeback
Melbourne United have made an incredible comeback to take another Throwdown win over the South East Melbourne Phoenix, 98-90.
Led by Chris Goulding, United went on a 28-8 run in the final seven minutes of the fourth period to complete the epic comeback from 12-points down.
Goulding, who was scoreless in the first quarter, went on to score 16 points, including 13 in the final quarter.
Matthew Dellavedova (22 points) and Shea Ili (19 points, five assists) supported the United victory.
Despite the loss, Mitch Creek (27 points, six rebounds, five assists) and Xavier Munford (24 points, five rebounds) both had great games for the Phoenix, who sit fourth on the ladder, while United are on top.
Sydney scores seven straight
The Sydney Kings made it seven straight wins, defeating the Cairns Taipans 86-77 at the Cairns Convention Centre to round out NBL action on Sunday.
Jaylen Adams was once again star of the show, recording 24 points and seven assists, while Jarell Martin (15 points) and Dejan Vasiljevic (13 points) also contributed to the win.
Sydney has now climbed to third on the ladder, overtaking the South East Melbourne Phoenix, who dropped the Throwdown earlier in the day.
Tahjere McCall was in form for Cairns with a season high 21 points, alongside six rebounds and six assists, but his side dropped to a fourth loss in a row and sixth home loss for the season.
Bryce Cold - Wildcats winners in overtime
The Perth Wildcats have escaped against the New Zealand Breakers, completing an overtime victory, sadly in front of no fans, 104-102.
Perth took the lead early, but a strong third quarter by New Zealand got the "home" side back in it.
With the game in the balance, in their third game in five days, the Wildcats worked hard to stay in it and it was Vic Law who levelled the game in the dying seconds to send it to overtime.
The Breakers jumped them to start overtime, however, a spirited Wildcats team fought to the front with Bryce Cotton sealing the game winning three pointer.
It was another Cotton and Law show, with the former putting up 32 points, nine rebounds and eight assists, while the latter finished with 39 points.
The Breakers started with their 12th different combination this season, Tom Abercrombie coming in for Chasson Randle; despite Abercrombie suffering a head knock against the Adelaide 36ers, he was fit to take the place in the team.
Hugo Bessen (23 points), Peyton Siva (19 points) and Yanni Wetzell (17 points, 19 rebounds) were best on court for the Breakers.