2013 was the first time Nathan Lyon came up against the English; at that point, he had just 76 Test wickets at an average of more than 33. Now 400 wickets later, a 35-year-old Lyon enters another away Ashes wanting revenge after a difficult 2019 series.
Over the last decade, no player has been more important or more consistent than Nathan Lyon. When fellow veterans Steve Smith and David Warner were out, Lyon remained. He's seen the rise and fall and rise again of Pat Cummins while being the first consistently selected spinner Australia has had since Shane Warne.
But in 2023, there is a sense of uncertainty, perhaps for the first time since Ashton Agar famously came into the Aussie side during the 2013 Ashes. That uncertainty isn't about his spot in the team but how England will act and react to him. BazBall has completely changed England cricket, and how they go after Lyon could determine the result of cricket's most exciting series.
Since the duo of Ben Stokes as captain and Brendon McCullum as a coach have taken over the English side England has lost just two Tests from 13 attempts, a record any side would take. The most eye-catching during that time, though, has been the way England have attacked every bowler, taken every risk and backed every one of their batters. How they play Lyon on flat tracks and short boundaries could leave Lyon's career in trouble or cement his legacy as he closes in on 500 Test wickets.
2019 was not a bad away Ashes for Nathan Lyon; he took 20 wickets at just over 30 in that series. But two aspects still stick in mind, the first being that dropped run out at Headingly, and the second is how Ben Stokes took him down. 155 runs came off Lyon from the bat of Stokes during that series at a strike rate of almost 80, and now, with England built in Stokes' image, it is virtually certain that every other batter will come at him just as hard.
Nathan Lyon By The Numbers
Clearly, Lyon's numbers in England and against England are pretty good; those are inflated mainly by wickets against the tail or bowlers who weren't cut out for Test cricket.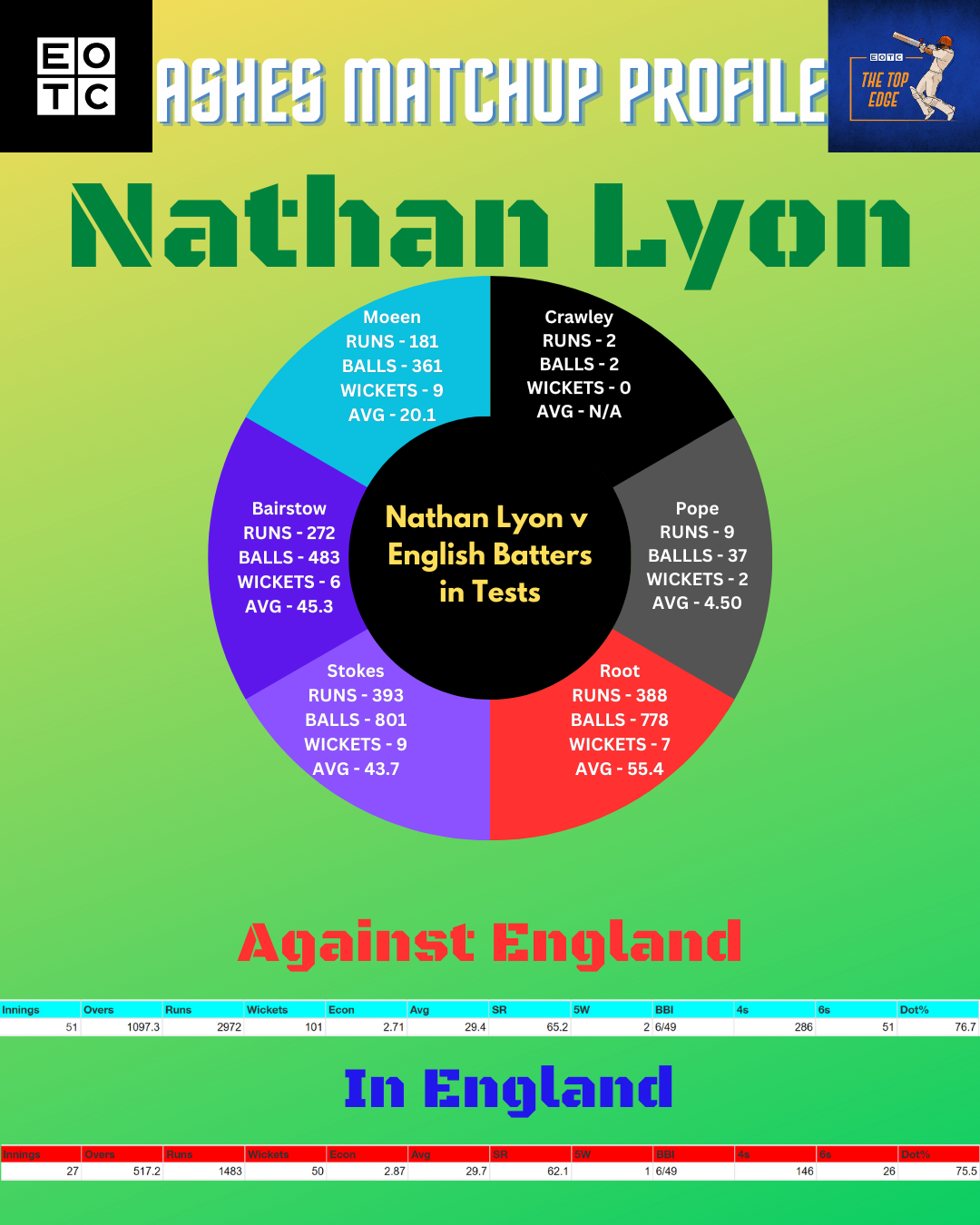 His record against England's three best in Root, Stokes and Bairstow are all pretty average, and with two of those three being the instigators of BazBall, there is certainly something to be worried about.
A massive part of the success of BazBall has been the ability of England's batters to go hard against spin. While none of the bowlers they've come up against have been of the quality of Nathan Lyon, it should still send shivers up the spine of Australia's number-one spinner.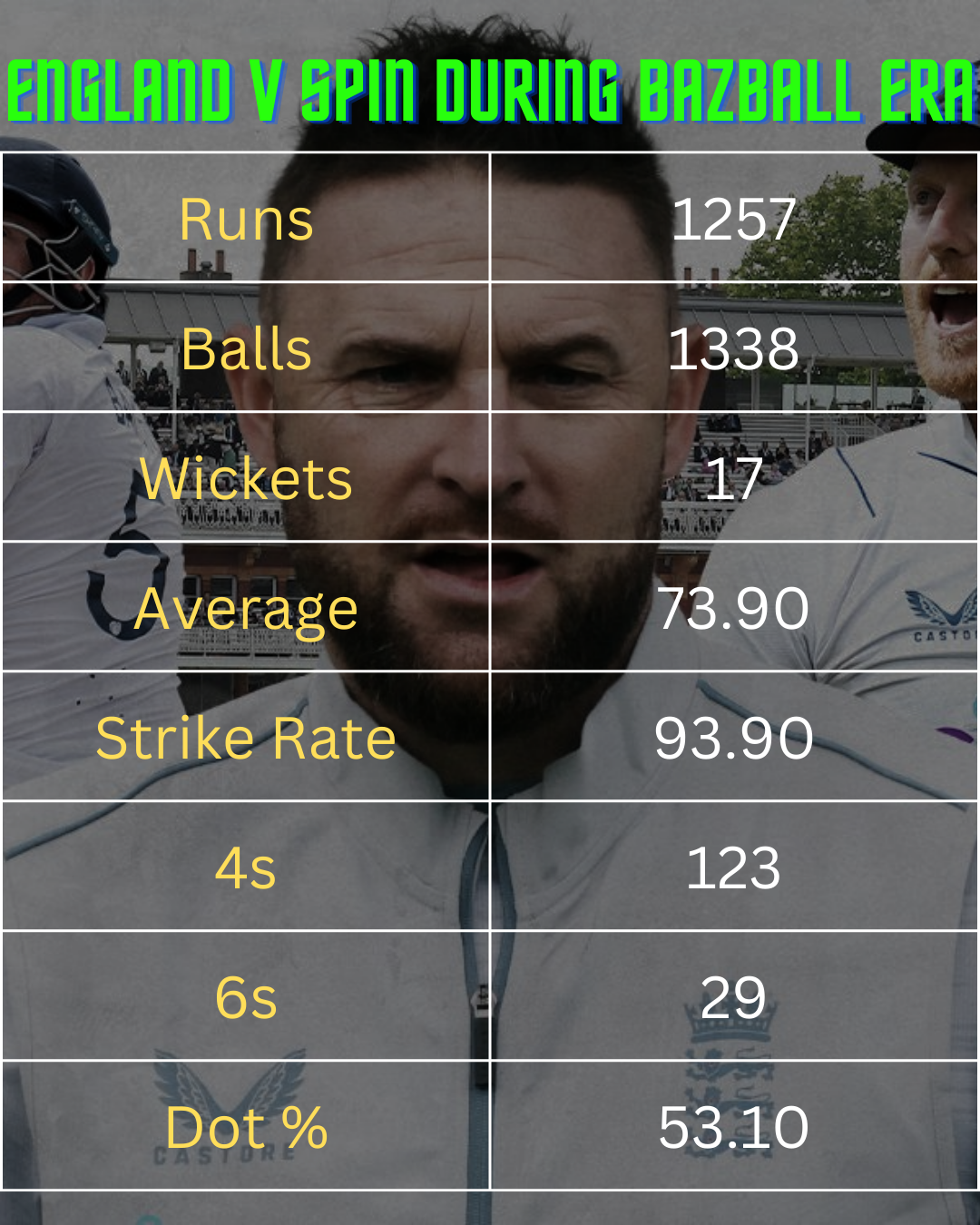 There are two stand-out numbers, the first being an average of over 70, and while a lot of this was helped by playing on flat pitches in Pakistan, it's still imposing. Perhaps the more important number for how England now play is a strike rate of almost 100.
With Lyon expected to largely hold up one end while the quick men rotate from the other end, his being hit out of the attack would wreck many of Australia's plans, especially if they have a few difficult days in the dirt.
The more things change, the more they stay the same. The spin battle of Moeen and Lyon is one that has been going on for several years. 2015 was the first time they came up against each other in England, and since then, the pair have battled in every series - except the most recent in 2021/22.
Despite several options playing county cricket, the BazBall approach of Stokes and McCullum means that Moeen Ali is back in the England side, despite being retired for more than two years. While Moeen is the obviously better batter, Lyon is now streets ahead with the ball and has the advantage of playing red-ball cricket, while Moeen has been off-plying his trade on the T20 circuit.
At 35 years old, there is almost no doubt that this series will be the last time we see Lyon in England, outside of a World Test Championship Final, of course. While the pressure from Australia's up-and-coming spinners is firmly being applied, the recent tour of India showed that Lyon is still clearly the best spinner Australia has to offer.
With 487 Test wickets, Nathan Lyon will have the magic 500 number firmly in sight. That number puts him in exclusive company; just eight other men have reached that mark, two of them playing in this series, Stuart Broad and James Anderson.
There is no doubt that Nathan Lyon is one of the best bowlers Australia has ever produced and will go down in the history books as such. However, on flat pitches, short boundaries and against a team with more confidence than it seems any other on the planet, it will be his biggest Test. An away Ashes win would add another accolade to the large Nathan Lyon trophy cabinet.