Last year, Melbourne United proved that they're a force to be reckoned with as they made the finals but came up short against eventual runners-up, the Tasmania JackJumpers. With a couple of key players moving along, United will be looking to consolidate their efforts and with some of the exciting acquisitions they've made, there's every chance that they could be a serious title contender in NBL23.
Unfortunately for United, they have some very high profile departures this season with two of their players making NBA rosters. United had a few very talented players last year including Jo Lual-Acuil Jr who lead the team in scoring and won the club's NBL22 MVP award. Lual-Acuil Jr was a defensive stalwart, averaging over nine rebounds and two blocks per game to lead the team on both ends.
United were also supplemented by two NBA-calibre talents in veteran Matthew Dellavedova (who's been signed by the Sacramento Kings this season) and Jack White (who's been signed on a two-way contract with the Denver Nuggets). Dellavedova and White averaged over 20 points per game between them and showed that on-ball defence can be extremely disruptive even if it does not result in a block or a steal.
However, United will have one of Australia's greatest players in recent memory, the ageless leader, Chris Goulding, who has averaged over 15 points per game in five of his last seven seasons with United. Goulding has been a Melbourne mainstay and his continued presence on the offensive end was evident last year and will be another key to their performances this year.
United managed two wins and one loss in their NBL Bitz campaign and won the most quarters throughout the pre-season. United still look to be operating with their hard-working culture and will be hoping to produce another great result this season.
1st - Semi-Finals (20 wins, eight losses, 109.40%)
The talent of United was evident throughout the season. They were a dreaded fixture on the season as they had the second-best defence in the NBL and a potent offence to go along with it. United were a particularly potent road team, only losing three times outside of their home building.
One particularly exciting development for United was their Next Star Ariel Hukporti, who looks to be a very talented prospect. Hukporti averaged around seven points per game and chipped in with over a block per game as well. The German big man showed his poise on both ends and would've been looking to step it up a notch this season if not for an unfortunate injury that rules him out for the rest of the season.
United have lost a lot of scorers over the off-season but have replaced them with talented imports in Rayjon Tucker and Jordan Caroline. The point of improvement for United and Tucker will not be so much about volume scoring but efficient scoring.
Last year, Goulding only shot 40 per cent from the field but Rayjon Tucker has been known for being an efficient scorer throughout his college and NBA G-League career. The acquisitions of Isaac Humphries and Caroline sure up their front line scoring with Lual-Acuil Jr departing and they've acquired a very talented playmaker in Xavier Rathan-Mayes.
With their talented imports, developing young players and veteran leadership, United will be hoping to keep their momentum going into NBL23 and to prove that they're a team that goes beyond just a few talented players.
Returning: Chris Goulding, Shea Ili, Mason Peatling, Ariel Hukporti (Next Star), Brad Newley, David Okwera, David Barlow, Zac Triplett (Development Player), Callum Dalton (Development Player)
Ins: Rayjon Tucker (Wisconsin Herd), Jordan Caroline (Aquila Basket Trento), Xavier Rathan-Mayes (Illawarra Hawks), Isaac Humphries (Adelaide 36ers), Makuach Maluach (Kouvot), Joshua Duach (University of Iona- Development Player), Malith Machar (Forestville - Development Player), Lachlan Barker (South East Melbourne Phoenix - Nominated Replacement Player)

Outs: Jack White (Denver Nuggets), Jo Lual Acuil Jr, Caleb Agada (Prometey), William Hickey (Illawarra Hawks), Yudai Baba, Dion Prewster
Point Guard : Xavier Rathan-Mayes | Shea Ili | Joshua Duach | Lachlan Barker
Shooting Guard: Chris Goulding | Zac Triplett

Small Forward: Rayjon Tucker | Brad Newley | Makuach Maluach | Malith Machar

Power Forward: Jordan Caroline | Mason Peatling | David Barlow

Centre: Isaac Humphries | David Okwera
On-ball defence has always been a point of emphasis for Melbourne United and every player last season looked like they made progress on that front. What United do particularly well is stay in front of their player on defence and defend the pick and roll.
The pick and roll has always been an offensive staple in basketball as it is the most popular way to create space on offence. Being able to defend it effectively is crucial if a team is to have extended success and that means being a versatile defender. Defenders with length and agility are able to close the gaps much quicker by switching on the pick and role and not compromising inside position on the 'roll' man.
United defend this aspect of the game probably just as well as any team in the NBL and will be looking to show that determined defensive attitude again with their new look team.
United fell in the semi-finals to the Tasmania JackJumpers and a big part of that their lack of offensive efficiency. While all the games in that series were close, United shot just 40 per cent and 41 per cent in Game 2 and Game 3 of the semi-final series respectively, which proved costly. Goulding's offensive efficiency was called into question earlier but his scoring and versatility is still critical to the United offence.
Returning players Shea Ili and Mason Peatling shot 42 per cent and 39 per cent from the field respectively and will be hoping to take more efficient shots and create a more fluid offence. This is something Melbourne are certainly able to accomplish, it'll be a matter of how the team execute it on the floor from game to game.
Despite his well documented contests with the NBL's referees, Isaac Humphries looks determined to produce a breakout season in NBL23. Humphries is one of Australia's more exciting centre prospects with the ability to score and rebound efficiently.
While last year was a down year for Humphries, plagued by injuries and only able to suit up for six games, he showed in his first season with the Adelaide 36ers what a talented young big man he is. In NBL21, Humphries averaged over 13 points per game and seven rebounds.
Humphries has the size, physicality and timing to be a productive player on both sides of the court. The key with him will be his health and making sure he focuses on his production on the court.
United are a tough team that have the ability to perform against any team in the NBL. It's yet to be seen if they'll be able to consistently do so but they will certainly be hoping to qualify for finals again.
Predicted Round One Starting Lineup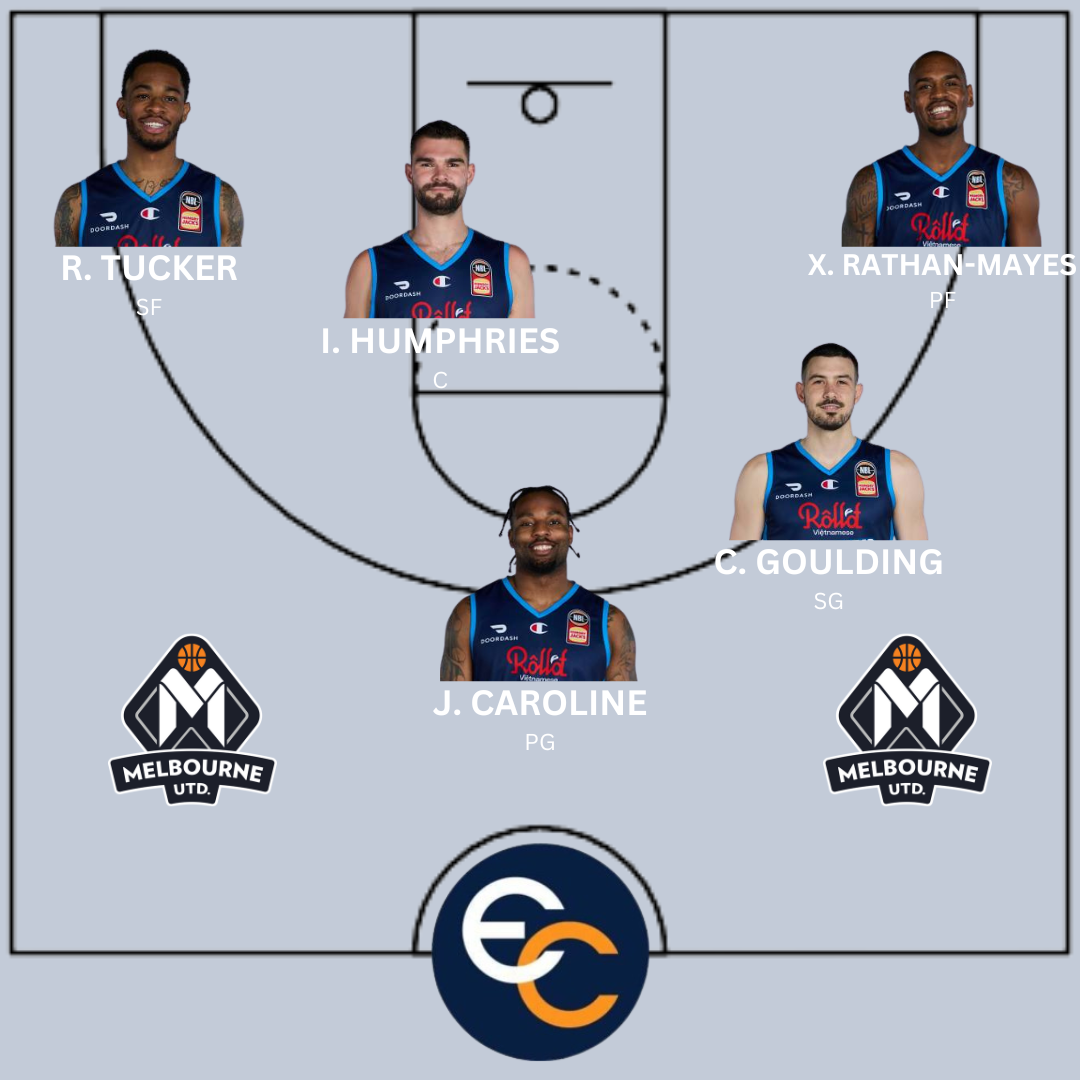 Melbourne United begin their NBL23 campaign at home against the New Zealand Breakers at John Cain Arena on Sunday, October 2 from 2pm AEST.