For the first time, the Australian Olympic Committee has named dual Flag Bearers for the Winter Olympics, naming figure skater Brendan Kerry to carry the flagalongside Aerial skier Laura Peelat the Opening Ceremony for the Beijing 2022 Winter Olympics.
It isn't the only remarkable 'first' to be added to the Australian Olympic Flag Bearer history books. Kerry will also become the first Australian figure skater Flag Bearer for an Opening Ceremony, almost 30 years after figure skater Cameron Medhurst was Australia's Closing Ceremony Flag Bearer at the 1992 Albertville Winter Olympics.
Additionally, Kerry is the first Flag Bearer from an ice sport for Australia since Steven Bradbury at the Closing Ceremony in Salt Lake City in 2002, and the first at an Opening Ceremony since speed skater Richard Nizielski at the 1998 Nagano Olympics.
Competing in his third Olympics 27-year-old Kerryjoins an elite club of Australian figure skaters, being just the fourth Australian figure skater to attend three Olympics after Medhurst and sibling pairs team Danielle and Stephen Carr.
Already a leader in Australian figure skating for the better part of a decade, winning eight National Championships and competing at six World Championships, finishing as high as 15th in 2017, it cements Kerry's legacy within the Australian Olympic team.
Hailing from a family of figure skaters, Kerry's the second member of his family to compete at the Winter Olympics, after his mother Monica McDonald competed in Ice Dance in 1988. Meanwhile, his younger sister Chantelle continues to compete internationally after switching from singles to Ice Dance with partner Andrew Dodds.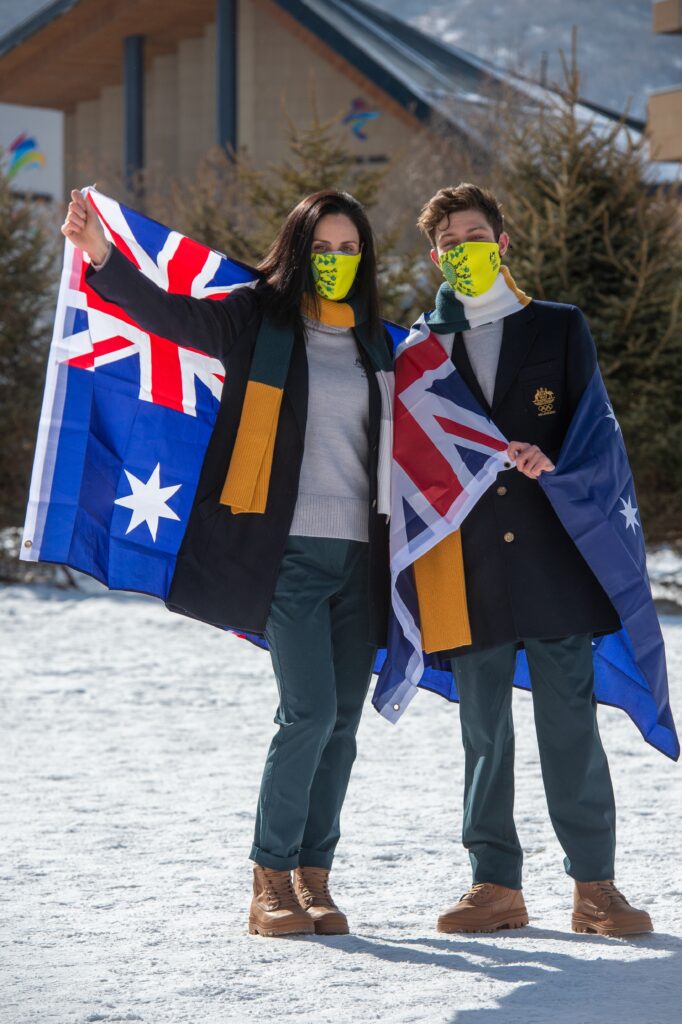 Laura Peel and Brendan Kerry Photo: Chris Hosking/Australian Olympic Committee
Kerry described the selection as an honour but admitted that when he first got the call he thought there might be trouble.
"I was absolutely speechless when Geoff told me I was going to be a Flag Bearer. It was the biggest shock and I couldn't wipe the smile off my face. I am honoured. I honestly thought he was calling me because there was a big problem.
"Being an Olympian is special. For me, being a Winter Olympian is another level in a finite group. To be a Flag Bearer, now cast with that select group of winter athletes before me, is amazing.
"I look at it as reflecting all the work, all the struggles – I see it as the acknowledgement of my peers and my country."
Related Stories
BEIJING WINTER OLYMPICS WILL HAVE MORE OUT LGBT+ ATHLETES THAN ANY OTHER WINTER GAMES
BEIJING 2022 DAY -2 RECAP: AUSTRALIA DEBUTS IN CURLING AND FERLAZZO TRAINS ON LUGE TRACK
WHAT ARE THE NEW EVENTS AT BEIJING 2022
The 27-year-old followed up by saying that he hopes to share the knowledge and experience with the next generation of figure skaters.
"I have been so fortunate in my sport, competing against the best in the world overseas. I now get to share that knowledge and experience with the up and coming athletes back home. I'd like to think that I am paving the way for a new generation."
Australian Olympic Team Chef de Mission Geoff Lipshut acknowledged Kerry's family history and shared how happy he was for the pair.
"Brendan is an eight-time Australian men's figure skating champion and an absolute exemplar for his sport. He becomes a three-time Olympian at these Games and I am absolutely delighted for him.
"He has been involved in his sport from a very young age with a family heritage steeped in figure skating history. What a proud moment for Brendan and all his family, particularly his mother Monica, an Olympian from our 1988 Team competing in Calgary.
"These two young Australians lead an exceptional group of young Australians in our Team – a real balance of youth and experience."