After a second consecutive top-eight finish in the Women's Ski Cross three-time Olympian Sami Kennedy-Sim has been selected as Australia's Closing Ceremony flag bearer for tonight.
The most senior member of the Australian Olympic team still in Beijing, Kennedy-Sim has had an incredible journey to reach one Olympics let alone three.
Suffering a stroke in 2013, nine months out from the Sochi Games, Kennedy-Sim's career could have been over, but she put in the work and reached her first Olympics in 2014.
In 2018 she returned reaching the small final at her second Games and finishing eighth overall.
In Beijing the 33-year-old was back with a vengeance, finishing in 11th in seeding and dominating the early finals, winning both her 1/8th and quarter-finals. However, by the semi-final, she couldn't keep up with the pace and was sent into the small final for a second consecutive Olympics guaranteed to match or better her finish from 2018.
The Canadian trio got well in front of Kennedy-Sim early in the race and were too fast for the Australian to catch, so she had to settle for eighth place at her third Olympics.
One of the few Australians remaining in Beijing, Kennedy-Sim's leadership within the Australian team and history at the games earned the honour to carry the Australian flag into the Closing Ceremony after Australia's most successful Winter Olympics by total medals won with four medals.
The 33-year-old said she was proud of her performance at her third Olympics.
"What an honour. When Geoff told me I was a bit stunned. But what a way to wrap up my third Games. While I did come here to better my last performance, it's another top ten performance at an Olympic Games and I am very proud of that.
"When you think about the history that this Team has created, it adds to the magic of these Games to be asked to lead our Team.
Related Stories
MEET AUSTRALIA'S FLAG BEARERS FOR BEIJING 2022: LAURA PEEL
MEET AUSTRALIA'S FLAG BEARERS FOR BEIJING 2022: BRENDAN KERRY
SAMI KENNEDY-SIM CROSSES INTO HER THIRD OLYMPICS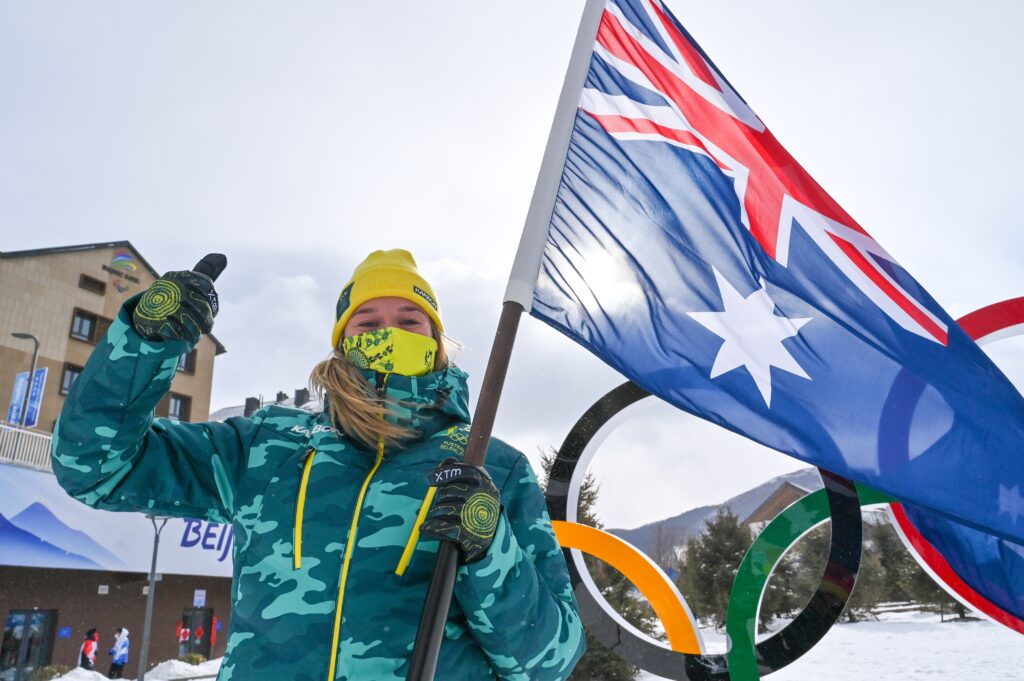 Sami Kennedy-Sim in the Olympic Village. Photo: Chris Hosking/Australian Olympic Committee
Australian Olympic Team Chef de Mission Geoff Lipshut believes that Kennedy-Sim was the best choice because she embodies what the Australian team is all about.
"Sami really deserves this honour. Her commitment and professionalism goes to the heart of what this Team has been about," Mr Lipshut explained.
"She's had a wonderful career, reaching top five on World Cup tour events since making her debut in 2008 with a highest world ranking of 11th in 2011-12.
"In choosing Sami, I thought about her whole career. She struggled in her first Games in Sochi – she was extremely nervous, but then having two eighth placings in her next two Olympic Games.
"She has been the standard bearer for her sport – and keeping her sport going in our country. She has been putting herself out there and training really hard, travelling to all the events and being credible in what is a very tough sport.
"Sami has really made her career the most of what it could be. And tonight, she will proudly lead Australia as these very successful Games draw to a close."