On June 21 2005, Victorian catcher-turned-infielder Justin Huber became the 20th Australian to make their Major League Baseball debut when he was called up by the Kansas City Royals, a moment which began a five-year stint in the Big Leagues.
"It's all a distant memory now but still pretty vivid", Huber toldEdge of the Crowd.
Huber was toiling away in the organisation's Double-A affiliate, the Wichita Wranglers and Triple-A affiliate, the Omaha Storm Chasers, before his promotion to the main team's squad. Huber felt like he was having a great Minor League season in 2005 and when Royal's first baseman Mike Sweeney went down with an injury, it provided an opening for the Australian.
Across the 2005 season with Wichita, Huber played 88 games, had 335 at-bats, recorded 115 hits for 68 runs and 74 RBIs, for a .343 batting average. For Omaha, he played 32 games, had 113 at-bats, recorded 31 hits for 19 runs and 23 RBIs, for a .274 batting average.
Huber fondly recalls a meeting that took place between him and his Double-A manager Frank White where he learnt of his promotion to the main team's roster.
"He (Frank White) said, 'Justin, your hard work has paid off and they're gonna call you up to the Big Leagues'," Huber remembers.
"And then he asked 'Are you a beer drinker?' and I said 'Well yeah, I'm Australian', then he was like 'Well I'd like to have a beer with you'. So he opened his bar fridge and cracked a beer with me and we [raised a toast] and we sat there and he just told me stories about his first call up and his Big League career and it was really cool."
That night, Huber was unable to sleep, such was the excitement he was feeling but also because his phone was constantly going off with messages of support, none more special than from his parents.
"My phone literally melted, rung off the hook with a lot of teammates, folks I had grown up with, people back home, amazing conversations of congratulations," Huber said.
"As well as being able to tell my parents, being able to validate the whole journey for them, there was a lot of sacrifices they made as well."
Huber mentioned the overwhelming sense of excitement that enveloped him the night before he was to hop on a plane immediately, unable to sleep but needing to prepare to join the team in Chicago the following day.
"After that night, that's the way baseball is, when they call you up, you're on a plane the next day, the next morning. There's no mucking around, the game is played the next day so there's not like a week to sorta think about it and digest and work your way in" Huber said.
"The team was in Chicago playing the White Sox so I was on a plane to Chicago and landed and I made my way to the fields and navigated my way through all the security and all the things you need to to get into the stadium on game day, I had to explain myself, 'yes, I am Australian, we do play baseball, please let me in!'.
"Eventually having got my way into the stadium, I got into the locker room and met my new teammates who I'd just been to Spring Training with so I knew the guys and they were pumped up, they were really excited or me, they were overwhelmed, they were just supportive, I was pretty overwhelmed by that reception, the care, they were pretty happy for me.
"But then it was pretty short-lived cause you're out on the fields and you take a batting practice and it's legit, like, you're there, you're in the Big Leagues, you're in the uniform, you're in the dugout, you're part of it."
While Huber was called up to the main team and arrived in Chicago on June 20, he wasn't listed on the starting lineup, nor was he brought into the game. Though, despite not getting any game time in this instance, it became a moment where he could soak in the grandeur of being a part of an MLB game, even if it was from the dugout.
"The first night I was there I didn't get in the game, there wasn't a situation where [they could] put me in. So, first night, I really, simply just sat in the dugout and watched the game and looked up in the grandstand and was generally soaking it all in," Huber told.
"It was all still baseball. It all looked and felt like everything that was normal, just on a way, way bigger scale with all the fanfare and Big League profile."
The following night however, was where Huber got his chance to shine on the biggest stage of all. Huber was brought into the game at US Cellular Field (now Guaranteed Rate Field) in Chicago at the top of the ninth inning with the Royals looking to eradicate a four-run deficit.
"It was the next night that I actually got into the game. I got a pinch-hit situation", Huber recalls.
"The manager at the time Buddy Bell indicated to Billy Thoren the bench coach that I was going in, and said 'Right, Justin you're in the hole' meaning I'm not the next batter, I'm not on-deck but I'm the one after the batter that's on-deck so I'm going to bat in the inning, I know that.
"So I've got my helmet on, got my gloves on. We record an out in the innings... now the pressure's starting to build, it's like, okay, this is really actually going to happen, I'm going to get into this game. I'm hyper focusing, trying to really just fight for some kind of normality, cause emotions are pretty high, the adrenaline is furiously pumping. I was just biding to not get too worked up and out of my routine."
Lead-off hitter Terrence Long hit a home run into right field to get the innings going, however, Emil Brown was the first out for the Royals, grounding out to short stop.
"So then, the next batter goes out, grounds out and now it's going to be my turn, I'm going to be announced," Huber said.
"So I start walking towards home plate and on the jumbotron in centerfield, massive scoreboard... my head goes up there and the announcer, 'Making his Major League debut from Emerald, Victoria, Australia, number 16, Justin Huber' and he announces me and talk about hairs on the back of your neck.
"I'm looking at my head on the screen as I'm walking out, all the things that totally take your focus away from the things you should be thinking about but I remember when walking out, just [the] emotions [were] high, adrenaline [was] high. [I] just remember fighting the normality and just trying to really hone in on what my job was and that was to compete with the guy that was on the mound and do the best job that I could and get a result."
Huber replaced Matt Stairs at the plate and in his first MLB-career at-bat, he looked at the first two pitches, each called strikes by home plate umpire Mike Winters. Two consecutive calls of 'ball' followed and the count returned to an even 2-2 before Huber flew out to centrefield for the second out.
"The rest of the at bat was, just due to all those circumstances, just a massive blur," he admits.
"I remember watching the reply of it several times over the days that followed and it all looked like normal behaviour, it all looked like I knew what I was doing but in my head, the adrenaline was just so pumping.
"I ended up having quite a long at bat, I saw four or five pitches, and I ended up hitting a flyball out to the outfield but I remember feeling like it was over in seconds, like the whole thing just happened instantly."
In the aftermath of the situation in making his MLB debut, Huber felt humbled by the amount of praise he received from teammates and coaches, but it was a conversation with his manager, Keith Miller that confirmed his standing on the big stage.
"I remember walking back to my hotel room and my agent calls me. He said 'Don't worry, the game slows down', he said 'The more you get used to it, the more it slows down'," Huber said.
"It couldn't have been more spot-on. He just knew cause he had been in that situation, [knowing] just how full-on that was and he couldn't have said anything better cause it was so true and that's exactly how it went from that point.
"The next day I was out there, I was the designated hitter and after getting over the initial adrenaline rush, it was just normal. It was just normal baseball again and it was just playing on a bigger scale.
"But certainly, it was moments of out-of-body experiences, it was super cool. [I'll] never forget it. It was that validating moment that only happens once so yeah, it was really good."
Huber would record his first MLB hit on June 24 2005 in a game at Coors Field in Denver against the Colorado Rockies, a situation where he again entered the game in a pinch-hit scenario at the top of the sixth inning. He hit an RBI double off Korean-born pitcher Byung-hyun Kim to improve the scoreline to 3-8 - though, the way of the Rockies.
Huber would have to wait until his seventh game of his MLB career to record his first run, which came at Kauffman Stadium on September 2 2005 against the Texas Rangers in a game where he recorded his first multiple-hit game - two singles. At the bottom of the ninth innings, Huber advanced to second on the hit, and error to be in a scoring position, ending up at third on an Aaron Guiel single before coming home on a Terrence Long groundout which helped cut the game's deficit to 4-7.
In all, during his debut season in the MLB, Huber appeared in 25 games for the Kansas City Royals for 17 hits, six runs, six RBIs and an overall batting average of .218.
While he had success and his first taste of Major League action at Kansas City, Huber was originally signed as an international free agent by the New York Mets in 2001 and spent four seasons with the organisation, biding his time in rookie ball, and what was then called Class A - both Short Season, and Advanced. Across that time, he played 369 games, had 187 runs from 357 hits, with 240 RBIs and a batting average of .279.
Though, despite being touted as one of the top prospects within the Mets organisation, Huber was traded after four years, to the Kansas City Royals in a three-way trade also involving the Pittsburgh Pirates.
"That was an interesting part of my journey as well. I was traded so that wasn't my doing, that was a front office decision," Huber recalls.
"And so what that meant for me was I went to Kansas City and I went as a catcher cause that was my original position."
However, disaster struck shortly after the details of the trade with news that Huber had torn a cartilage in his knee and was required to undergo surgery to repair the damage, thus ending his career as a catcher, and more devastating, his chance to represent Australia at the upcoming Athens 2004 Olympic Games.
"What happened in that week, that was a week before the 2004 Olympic Games, so I was the starting catcher for Australia that year on the Olympic team so I was destined, set to go to Athens and play in the 2004 Games," Huber said.
"The night before I got traded and a week before I was scheduled to go to Athens, I got into a collision at home plate. A base runner ran into me, quite a big collision and I ended up rupturing my posterior cruciate ligament in the collision.
"So overnight, little did I know, I was done for the season and the next day, timing-wise and you never time these things, but the next day I was traded. So I went over to Kansas City injured and spent the next three or four weeks figuring out what they needed to do to repair my injury and missed the Olympic Games.
"So overnight, I went from Triple-A with the Mets, sort of a phone call away from the Big Leagues as a catcher to season-ending injury, traded to the Royals and essentially that ended my catching career.
"I needed to learn how to play a different position so I started the 2005 season as a first baseman and had never played first base before. It was a career-altering moment and certainly one that set my career but then also redefined it at the same time. Started on a new journey of sorts."
Although the news of Huber's injury could've deterred the Royals from going through with the trade, it didn't, prompting Huber to be thankful for the organisation in not giving up, and being willing to work through the issue, such was the promise and potential it saw in him.
"It was just, you're fighting against a whole lot of factors. From 2005, I had to learn how to lpay a new position," he said.
"It was a totally different position. Still in the same sport but it's just a totally different position with a totally different use of skillsets.
"In the infield, you're dealing with a bouncing, batted ball at you that for me, I'd never done ever before - that came with its challenges. It was really tough, it was tough to learn how to do all that in a really short period of time and on the biggest platform, on the biggest scale in the sport.
"It was challenging, it was unnerving and really, I didn't have a great amount of time to figure it cause I was on the 40-man roster at the time and I needed to, basically, those are the years where it needs to work for you or you're out."
In the end, the challenges became too much for the relationship between Huber and the Royals, the in-and-out nature of playing in the Majors effectively ruling him all out of options and therefore, couldn't keep him.
"With Kansas City, unfortunately, I'd just ran out of time. I'd spent my three years in and out of the Big Leagues, I'd run out of what's called options. And ultimately, they couldn't keep me," he says.
"Ended up trading me cause that was going to be the best overall outcome for them and so that's what landed me in San Diego. They needed a right-handed bat off the bench, I'd had a great Spring Training and... there was a need for me in San Diego so there I went."
His move to San Diego, Huber says was a beneficial one, for both his former team and his new one, but more so for himself, as he was allowed to play a proper role and could solely focus on that part of his game.
"It was actually a great move for me cause I got a chance to have a role on a team for the first time. Even though it was pretty refined, it was a right-hand bat-off-the-bench role, I played left field against left-handed pitching mostly", he said.
During the 2008 season with San Diego, Huber made 33 appearances in the Big Leagues and had 61 at-bats for 15 hits, five runs, eight RBIs and a then-MLB career-best batting average of .246.
"So I played the 2008 season, most of which was in the Big Leagues and finished the year off in Triple-A and then got released at the end of the year and became a free agent at which point Minnesota picked me up in 2009," he continued.
"I made the Triple-A team out of Spring Training and wound up in the Big Leagues that year and they ended up selling my contract to a team in Japan, the Hiroshima Carp and I played there a season in 2010."
With the move to Japan bringing an end to his time in the MLB, Huber wouldn't have traded any of those moments in his professional career for anything else, celebrating what he was able to achieve as an Australian baseballer in America.
"I suppose all of those moves lend themselves to another chapter in your book so to speak but each of them had their own set of challenges, its own set of circumstances. At the end of the day, my career was as good as I could have made it and I'm proud to be able to say that, not many people can" he told.
"It was as good as I could've made it and it could've derailed a million different times and it did for periods of time but I'm proud that I was able to keep it on track and keep playing and keep doing the best that I possibly could.
"Could I have done a whole lot better? Yeah, I probably could but that certainly wasn't the result of me giving it absolutely everything that I could. And could it have been a lot worse? Absolutely could have - a lot less gumption would've ended my career many, many years earlier so I'm really proud, really proud of that."
Despite his elation at being one of36 Australians to play in the MLB, it's not something that Huber goes around and voices openly, instead claiming that he, and the group who have made it that far, with the right support around them, understand how big the achievement is and reflect upon it in that way.
"Look, it means a lot to me personally cause I knew what I went through to be able to say that. So it means a lot," he said.
"Having said that, I don't go around spending my time talking about it, telling people about it. But it's an elite group. It's a unique group. All 35 others can probably tell you some similar stories and that's probably what we share which is one of the cooler things.
"It's like a pretty tight-knit fraternity that can say they've been to the top level of the sport. It's incredibly unique for an Australian in that era when there just wasn't much baseball happening in Australia and there wasn't much profile.
"You just didn't grow up with Major League Baseball, being exposed [to] anything to do with that level. It was just backyard, grassroots, raw, old-school baseball that was happening here and that system produced those 35 players that can say they've made it. And that's probably what's the most unique part."
After that aforementioned stint in Japan, Huber came back to Australia and participated in the newly-reinstated Australian Baseball League (after the old league was disbanded in 1999), for the Melbourne Aces.
"That offseason, we relaunched the Australian Baseball League which was 10 years in the making," he said.
"Most of my pro career, the old league had folded and the new league hadn't been reinstated and we were just in this dark hiatus of Australian baseball and so the new league added all that excitement and we were back playing ABL baseball, state versus state, city versus city.
"It was great to sit back and awesome to be part of it, still part of it, can't get away from it."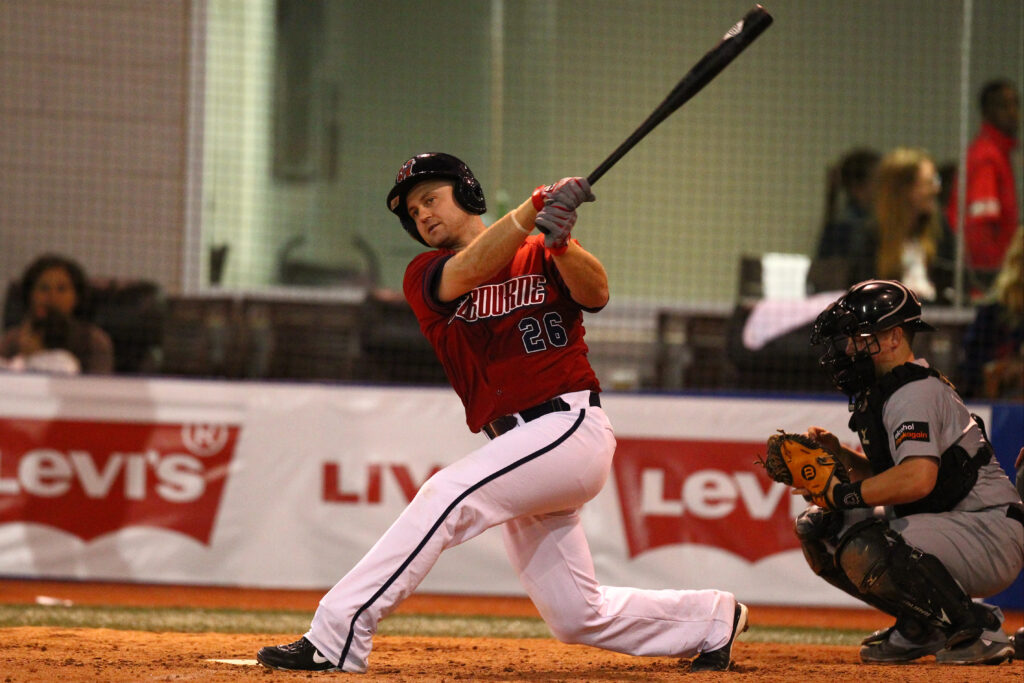 After a few seasons as a player, Huber now lends his services to the organisation as its General Manager and helped the team claim back-to-back Claxton Shield titles.
"I don't begrudge people for moving on past their pro careers and going their separate ways from the sport. I don't begrudge that at all because it is full emersion and it's hard and then when it's over, different people react in different ways," Huber said.
"But I do say I ilive my life trying to encourage different people to give back to the sport because it is so important for the next generation and to be able to have a local league that we can all play in and young players can aspire to, there's a quantum leap between he sports that have pro leagues and the ports that don't.
"So I like to give back, I like to encourage others to give back and I just want to see a time where we have this great, sustainable league where you can just pump great players out of and encourage newcomers and new families and new kids... right the way through to come and be a part of it.
"And you don't have to be a player to love baseball. You can be a spectator, you can be an official, you can be a casual consumer, an observer from afar, you can consume a sport in a multitude of ways, you don't just have to play. And I think that's what is great about the league, it provides something for everybody."
And for those people who might want to make inroads into becoming a Major League Baseball player, and add to the numbers of Australians who have earned the feat, Huber has some advice; "never get discouraged".
"Never let yourself get discouraged. If you love it, that's the one thing that you can't not have. You have to love what you're doing because you're just going to have to do it too many times to get good and even more to get great," he points out.
"You need to love the sport, you need to love training and working hard. You need to love what's involved in being a pro and if you've got that, you've got a chance. Just don't let yourself get discouraged. If you love it, just keep on doing it and keep trying to get better every day."