Top 10 athlete Mac Fox talks about his experience on the Mornington half marathon, and his plans for future events.
On May 1, more than 2000 runners, volunteers, and officials took part in this year's Mornington Running Festival. The events included the 1, 5, 10, and 21 kilometres, where all participants started the race from Mornington Park.
Weather was amazing for everyone who took part in the event. Additionally, what more could participants ask for than to finish the event with a medal and a doughnut.
The half marathon course saw more than a 200-metre incline for participants, as they battled through the tough climbs. This was up to the Mount Martha village, before the participants turned around and ran back to the start.
Participants once again had this year's event start in May instead of the traditional September. Participants ran south along Esplanade, with the beauty of the ocean as their view.
First place was taken out in a rapid 1:11:43 by David Reynolds. Not far behind him was Mac Fox who placed sixth with a time of 1:18:05. Fox spoke toEdge of the Crowdabout his performance in the race.
"Went in with high hopes, how bad can it be. I found out pretty quickly that there are some good hills in there, so made it pretty tough", Fox said.
"I probably wasn't in all-time half marathon shape. I did a half marathon in Port Fairy but apart from that I wouldn't have run any further than 18kms in a long run since Feb."
Fox who only started competitive running last year, slowly chipped away by completing time trials and virtual marathons for the fun of running. Since then he has completed 10 events and looks to continue even more.
"I started really getting into running over Covid. Just cause we had so much time. It's addictive, it's like a full time job", he said.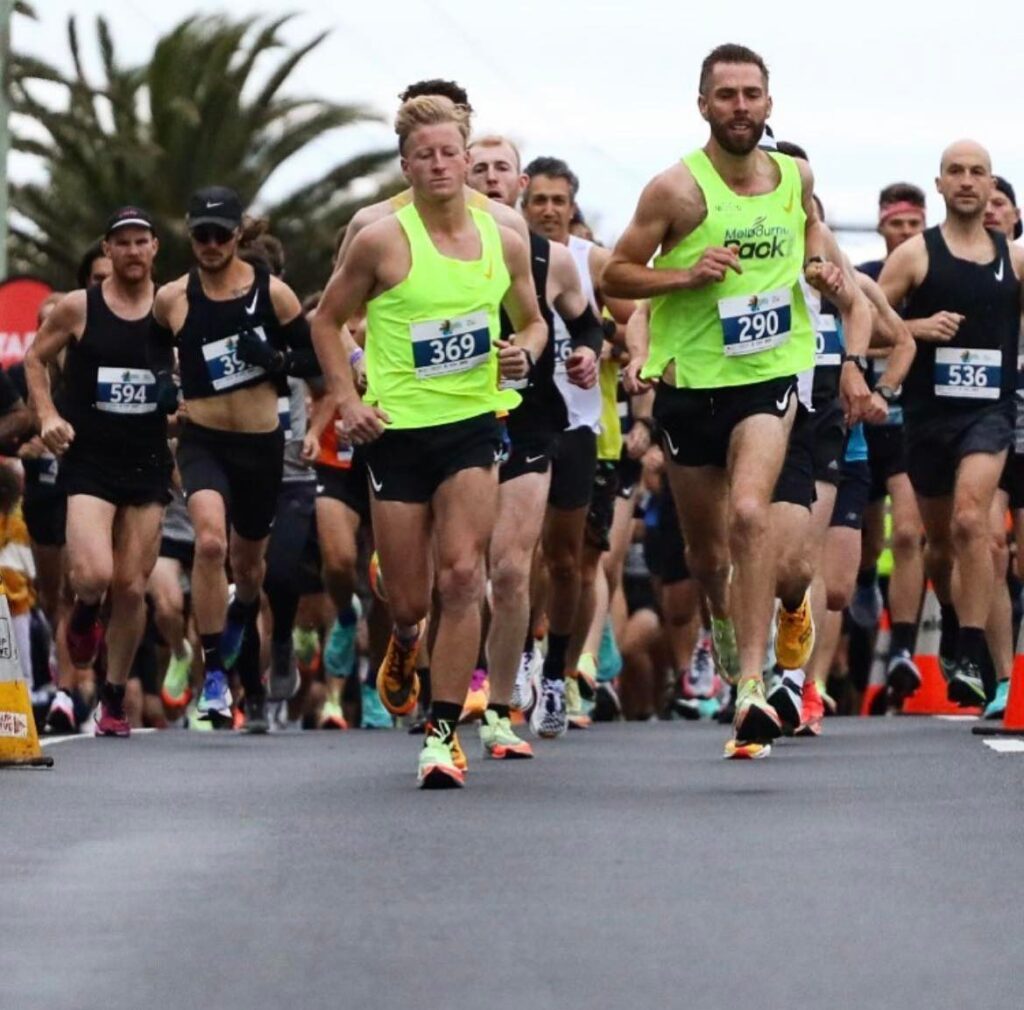 Fox looks only to improve his goals within running. With his next big event being the Sydney marathon later this year, Fox is currently working on his form for his first full marathon.
"Obviously Sydney marathon that's the next big one, yeah look I don't have an exact time I wanna go under at the moment just cause I've never done one.
"Going off I guess half (marathon) times, thinking maybe going around 2:40:00 pretty reasonable I guess, pretty achievable. So that'll probably be it, so probably around that 2:40:00 mark would be awesome."
Fox now runs with coach Pat O'Connell, to further improve his own running. He too also runs with a local club in Geelong called the 'River Runners' to build his endurance base.
"I used to run really loosely, run just like never had set days for set sessions, just ran off and probably just ran way too quick all the time. Long runs weren't long enough, and my speed sessions weren't quick enough.
"I'd be knackered cause I'd run too quick too often so to have him (O'Connell) come on board has been really really helpful, it takes the stress off me, it's just all there."
Fox is in no rush however still being young and very new to running. He wants to prioritise his fitness, and is optimistic that he will not get injured.
"It sounds cliché, taking event by event really. I'd love to go travel and do some of those major marathons, over the next couple of years now we can go travel again, so that'll obviously be good. For the moment just enjoying running and competing."
Fox is so dedicated and involved around running that it is now his job. Fox helps other people achieve their goals and improve their ability in their running.
"I started up my own business in the last 6-8 months, which if I wasn't running and all that, I probably wouldn't be as invested with that industry. Trying to balance having a few different jobs at the moment, but they all sorta line up with each other which is good."
Fox runs a Strength and Conditioning Coaching Business, where he writes running programs for runners, strength and conditioning based.
"I've got about 10 or so people in running programs at the moment and they're just all abilities. Some of them are just literally starting off running, then some are pushing some serious solid half marathon times, so yeah good variety of runners."
Fox looks forward to taking on the Mornington Running Festival again next year, improving what already was a strong result. After running the course, he is prepared for a much stronger approach.