A rising star in Netball in South Australia, Lucy Austin is taking her game to new levels as a training partner at the Adelaide Thunderbirds. But her busy year in 2021, which included a Premier League season where she won MVP and a trip to the Super Netball hub in Queensland, required expert time management and a whole lot of dedication.
A team of 10 netballers cannot train effectively through the week, especially out on the court. The Super Netball clubs have always relied on the support of up-and-coming talents, players who could earn Super Netball or other domestic competition contracts, to fill positions, challenge players and trial set plays.
Each club in the Super Netball can offer training partner contracts to five players, they can elevate these players and other local league players to cover injuries as temporary or permanent replacements in their matchday squads. However, through the week, they are normally just as their title describes - training partners.
It's a big commitment when you consider the small financial remuneration. However, without the Australian National League (ANL) and with the past two Australian National Championships (ANC) cancelled due to Covid-19, it's the best Australian pathway to the Super Netball.
Austin was named as an Adelaide Thunderbirds' training partner in January 2021. Throughout the last 12 months, she has had access to the high-performance environment, trained with international and local players, learned from them - and challenged them - in her position.
Before Christmas, Austin spoke toEdge of the Crowdabout the Thunderbirds' preseason and how she has found her first year in the program.
"[Preseason has] been really fun, I think because we've been doing heaps of different stuff compared to the preseason last year.
"We've been doing some more team stuff and having more fun with it."
Some of those "teamy" activities have included the Thunderbirds' girls trying their hand at different sports, from boxing to track cycling.
"It (cycling) was very scary, especially because there are no brakes on the bike - it was a good little adrenaline rush.
Austin laughed as she admitted, "I'd do it once, I won't do it again."
They've also been working hard at the local Strength and Conditioning centre, BUILT, where Austin has been pushing herself as she aims for more time at goal attack in 2022.
There were just two changes made at the Thunderbirds in the off-season, Shadine van der Merwe left for the Vitality Superleague in England and Sammy Gooden was not offered a new contract. They brought in ex-Firebird Tippah Dwan and elevated training partner Tayla Williams.
"It's good that lots of us are around the same age... and we've all played together before," Austin said when speaking about the group that has returned.
"So it's been really easy to come back in and I think most of us were training a bit together during the offseason as well.
"It's been really easy to just come back into the environment."
There's just one new face around the group this year, which is continuity Adelaide hasn't had in more than eight years and the side is already reaping the rewards, says Austin.
"I think it (continuity) helps so much when you're on court. I've even just noticed how much easier it's been on court this preseason because everyone gets around each other and you can trust each other so much more easily because you know each other.
"And you can have honest conversations as well, with the players as well as coaches, so it just makes everything a lot easier."
Developing her game Austin's focus
Looking at the group of Thunderbirds' girls, you can tell Austin belongs at one end of the court. She's tall.
However, Austin doesn't want to be stuck holding under the post - she's looking at ways to become more agile and improve her movement, even going beyond the transverse line and playing goal attack.
"I've been doing a bit of goal attack work because I'll be playing a bit more next year... Get a bit more movement around, which has been good - hard work, but it's good...
"I played a little bit last year, but not as much as I would have liked to, I guess.
"Even though I'm really tall, I love moving around and doing stuff outside the circle as well as standing in the circle as an option."
Learning and growing as a goal attack isn't just for the purpose of playing at that position, the understanding and court awareness Austin develops in that position will be key to changing up her movement under the post.
"The movement outside in goal attack makes it so much easier in goal shooter when I come back, just my movement and sort of knowing where to go, knowing where space is and just getting used to working with my other goalie and where they are.
"Just having a real sense of where to go and direction, especially [in the] second phase."
One of the biggest benefits of being a training partner is that all of that learning and development comes from working alongside some of the best netball players in the world. At the Thunderbirds, Austin is grateful to have two international players in the goal circle to learn from matching up against intercept Queen Shamera Sterling and watching the shooting craft of Lenize Potgieter.
"Getting to learn off the best in the world almost - someone like Shamera - getting to play against her each training, like it's so hard but rewarding when, actually if, I ever beat her.
"She helps me a lot as well, tells me what's going to make me successful, what she finds hard [to defend] and even off Lenize (Potgieter) as well, who's an amazing shooter, I guess just that strength that she's got in the circle - I can take lots from that.
"They're all super supportive and helpful."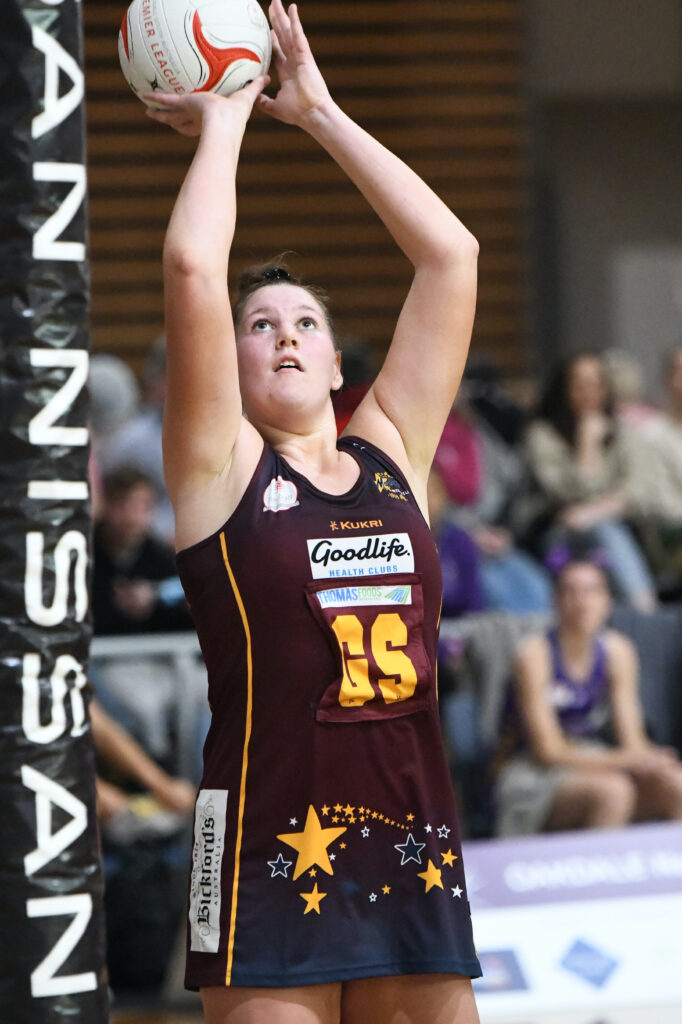 Austin at home in Matrics League team
Matrics Netball Club is where Austin plays week in, week out. While she trains in both programs, on a Friday night at Netball SA Stadium you'll see her in the maroon and yellow at the attacking end of the court.
It's a successful club, especially over the last decade, with five Premier League premierships since 2011. Only one other club has shared in this triumph, the Contax Netball Club have won the other six years.
Things were no different in 2021, the Matrics made finals once again and had two players - Austin and Sophie Croft (GD) - feature in the Team of the Year. They also had Casey Bernhardt in the side as the reserve midcourter.
Austin played in the Premier League division consistently in 2021, which was a step up from Reserves and meant she was playing against women with much more experience in the league than herself.
Thinking back to the year, although the ending still hurts, Austin is proud of her season and what her club achieved.
"I think we had a pretty good season, well we had a really good season up until finals.
"But I was really happy to get some consistent court time in League, which was nice. So that definitely helped me develop my goal shooter game.
"Obviously so devastating for the Grand Final... it still hurts a bit, but makes us go even harder for next year."
While they had a fairly successful season and made the Grand Final, it was an incredibly tough year for the Matrics, as the club was rocked by the death of a key member of the Premier League squad in early 2021. Reflecting on the season, Austin praises the strength of her club in the face of such adversity.
"I guess the way that our club - we lost one of our players at the start of the year - so I was just so proud of the whole team to be even able to play each week, and go out there and put out our best performance.
"I think just the resilience of the club was so strong.
"I guess that was one big thing that I'm really proud of, that we actually made it to the finals, because I think without that team culture and being there for each other, we wouldn't have made it to the finals."
While this last year has been challenging, balancing her time with Matrics, the Thunderbirds and working as well, Austin has seen improvements in her game and her leadership, which makes it all worth it.