This was the first time the team's vice-captain had missed a game since her 2017 debut. Although she wasn't on court, Anstiss was just as committed to the game.
In a press conference, Anstiss commented on how the bench treated her during her injury, saying, "It did help me see a different side of things and how frustrating it can be as a coach, when the athletes don't listen to you."
"I just tried to look at the positives in that and be able to see it from a different perspective from the side of the court and exactly what the coaches mean, when they're saying things out there in training."
Although Anstiss admitted she thought she would return to court earlier than Round 14, she was pleased with how she felt after the game. She shared, "It's actually pulled up better than expected, to be honest. And yeah, even during the game as well, I didn't really feel it."
Anstiss also spoke about the Fever's upcoming match against minor premiers Melbourne Vixens. The winner of the game will go straight to the grand final, hosted in Perth at RAC Arena.
"The team's definitely very up and about, and especially heading over to Melbourne and coming up against the Vixens. We haven't been able to beat them this year. So yeah, we've got the confidence and belief within ourselves that we can get over there and then get the job done."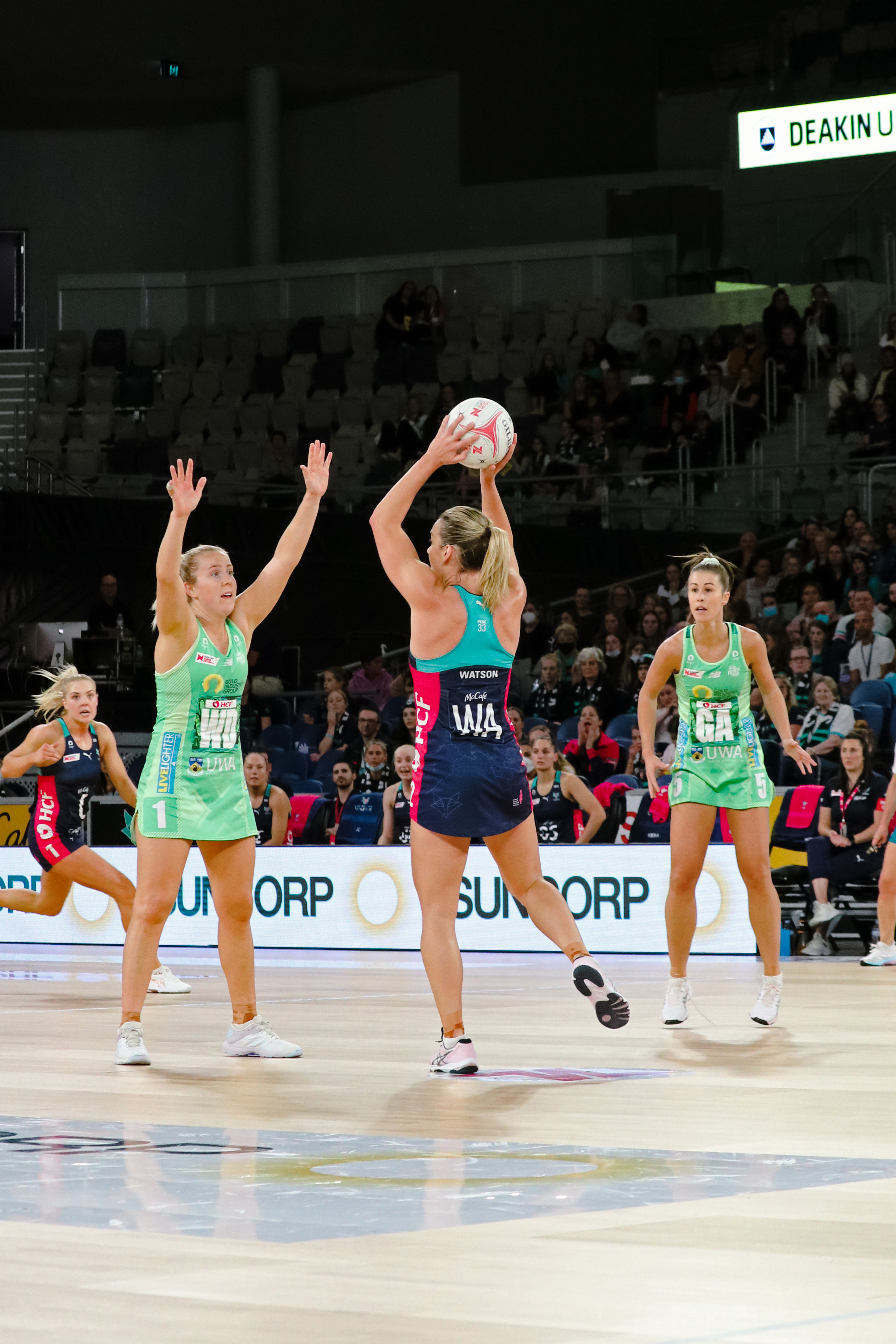 It was the team's slow start that Anstiss believed let the Fever down in their two previous meetings with the Vixens this season. In the first quarters of both games, the Vixens were able to get ahead by at least six points, keeping that lead throughout.
Anstiss commented, "We've had pretty slow starts. And then we've basically been goal for goal throughout the game."
"So we know that yeah, we definitely need to start strong, we can't give them an inch at all, at the start or even throughout the game. We know that we can definitely go goal for goal with them for a whole game."
One advantage Anstiss believes the Fever has is experience, with most players having previous involvements in finals. She shared a conversation she had with Rudi Ellis, saying, "Rudi actually asked me the other day, 'Oh, you've played in like most finals, haven't you?'"
"And it made me realise that yeah, like, as being a part of this club since 2017, I've only missed two seasons of finals. And then, as a group, everyone in the team has actually played in finals other than Rudy.
So yeah, I think that's huge. Knowing that we have that experience amongst the group, that will definitely help us across the line."
The West Coast Fever will travel to Melbourne to battle the Vixens for a guaranteed grand final spot on Saturday night.