It was a whirlwind experience for young pup Jemima Woods to get to the AFLW, especially after not getting drafted in the 2021 AFLW Draft, to getting the call up to the top level just before the season started.
For Woods, her journey to the AFLW was similar to many of the young players coming through the AFLW.
Woods started off playing with the boys before playing in the youth girls competition, to which she then began playing for the Western Jets in the NAB League.
Although, the one part that was a bit different for Woods was missing out on being selected via the AFLW draft, which forced her to go back to square one.
"I had to just go back to square one a bit, go back to nab League and do it all over again," Woods toldEdge of The Crowd.
"[It was] pretty disappointing... but I got told pretty quickly I'd get to train at least with the AFLW girls and I kind of knew that would send me up to the next level so I'd be able to put my best foot forward for the following year."
Woods got the call up to join the Western Bulldogs as a train-on player, which gave her the confidence that she could play at AFLW level.
"I think it brought my confidence up a lot just knowing that I could match it a little bit with that level and I was really appreciative that they kind of came to me with that" she told.
"Obviously I was really disappointed not to get picked up in the draft but it was a good opportunity."
After impressing during her time as a train-on player, including kicking three goals in the clubs intra-club match, Woods was offered a spot on the Bulldogs' AFLW list, after Kirsten McLeod was moved to the inactive list.
"It was pretty crazy, it was all a bit of a whirlwind in those first few weeks on the list" she mentioned.
"They told me and they had kind of told me that there was some things going on but I didn't really think too much of it because I [had] just kind of not got drafted, I didn't want to get my hopes up again.
"[I was] very happy and relieved when they kind of let me know that I would be joining the list."
Woods made her AFLW debut in Round 10 against the Fremantle Dockers in what was a thrilling clash on a Tuesday night at Whitten Oval. Her reaction to being told the news of her debut caught the eyes of her teammates.
"I think my reaction was pretty funny, all the girls were kind of laughing at me. I don't really know why, maybe I was still a bit shocked or something," she recalled.
"I think I was just super stoked to get picked up for that [upcoming match] and be able to make my debut and at home on Whitten Oval, it's just so cool."
Running out in the red, white and blue for the first time was quite surreal, after spending years watching AFLW on her TV at home, it was finally her time to soak up the experience.
"It was crazy, so fun because obviously I've been watching on TV and seeing all that and it just felt so like surreal actually, kind of being there," she said.
"I don't really remember the actual game so much because there was just so much stuff going on. It was definitely a lot of fun."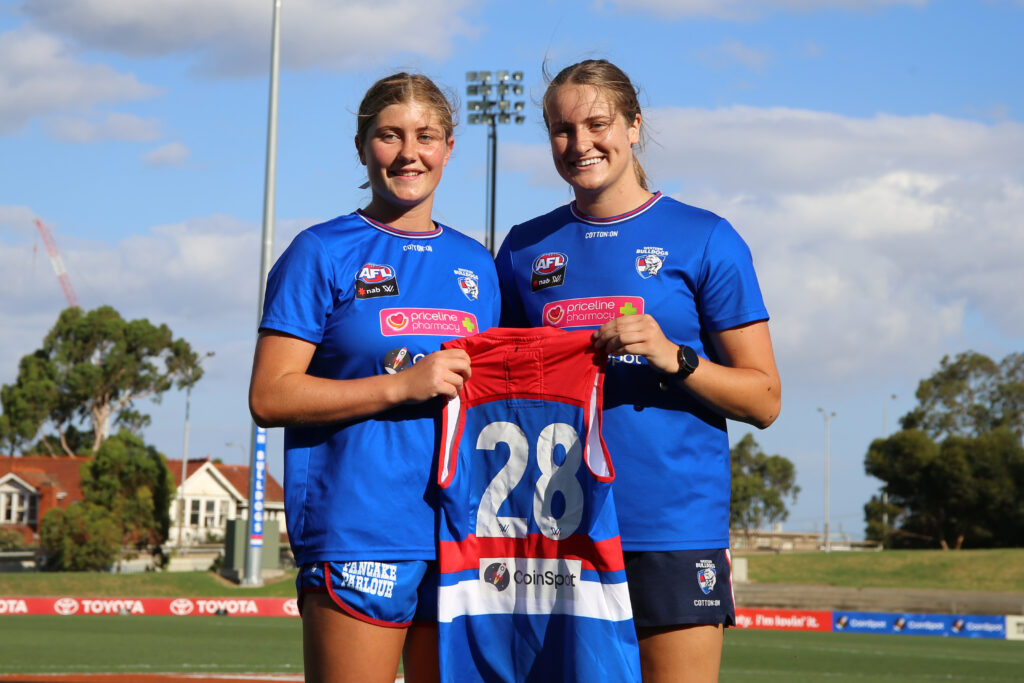 Since joining the Dogs, Woods' fellow teammates have really led by example and took her under their wing, a quality of the club and its players that signifies her appreciation.
"All the girls are really good to me, they teach me a lot. I think because I'm so young like there's a lot of stuff I need to get used to and learn," she said.
"They're really good at leading by example in that way, I'm really lucky to have them."