Australia Paralympic sensation Isis Holt has announced her retirement from athletics after an incredible career that saw her win five Paralympic medals along with four world titles and Commonwealth gold medals.
Running in the T35 category, Holt broke nine world records in her short career, but will now move onto a career in psychology which deeply influenced her during her time as an athlete.
"I'm really excited to explore what my career could look like out of the sport. Psychology has always been something that I've been fascinated by and that comes from the mental toughness and resilience that has a huge place in sport," Holt said.
"Having been put onto High-Performance teams at the age of 14, I had to grow up quickly and learn those skills of being able to be resilient, go with the flow and essentially, build my mental toolbox.
"When I was younger, there was this internal struggle where I felt like I did such grown-up things like the race for Australia, and then I would come back to school and my friends wouldn't get it. That pushed me to work with my own psychologist to help find the balance and now I find myself loving the study of it."
Her career began when she was just 12 years old breaking the 200m T35 world record, going on just a year later to break it again by shaving another second off at the 2015 World Championships.
At the Rio Olympics in 2018, she won medals in all three events taking home silver and bronze in the 100m and 200m as well as bronze in the 4x100m relay.
That led to her taking a break from the sport to finish high school before winning yet another Olympic silver in Tokyo in 2021. The delay in the Olympics certainly helped her by giving some extra time to train after finishing year 12.
"I didn't grow up thinking I wanted to be a Paralympian, but I definitely felt I had very big shoes to fill when I found myself there, and it was a learning curve for me for the first few years," Holt said.
"After a break, I came back to the track with a different perspective. As much as I was chasing gold and the world records, I wanted to feel like I could run the best race I could run. I knew I wasn't going to stop until I felt that, and after my 100m in Tokyo, I realised I was at peace with what I had done.
"It was a starting point about reflection and what satisfaction meant to me."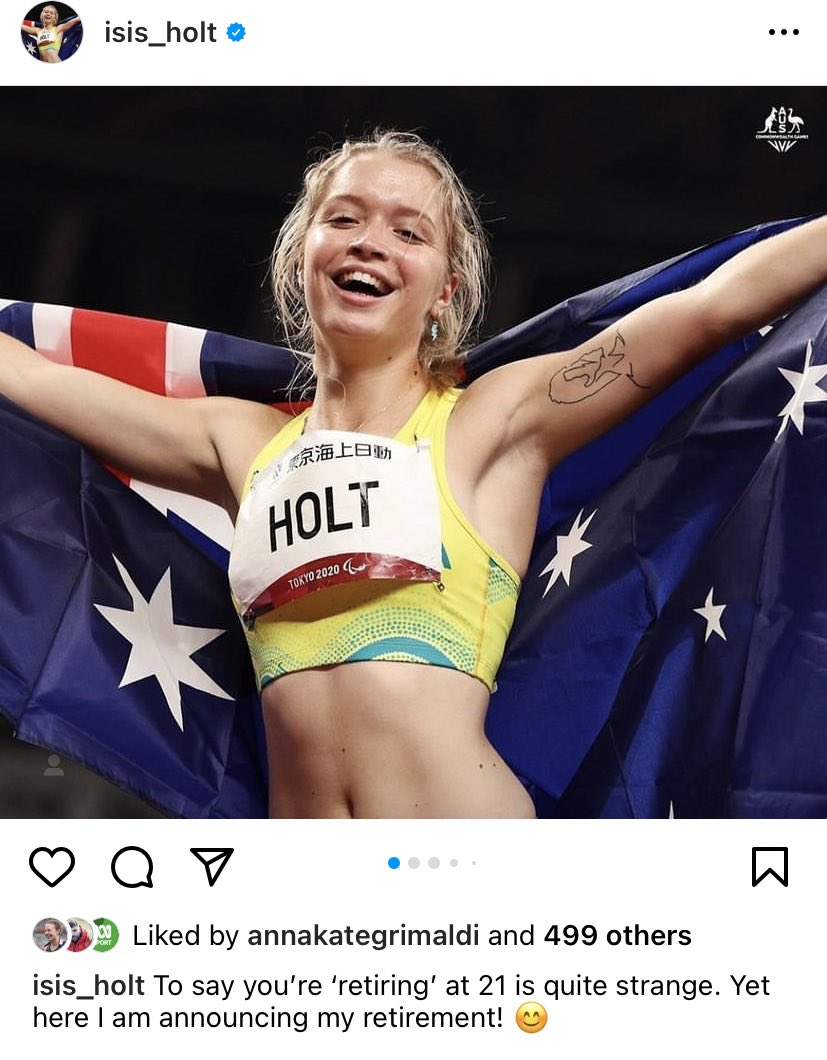 Her life now moves onto the academic world with her studying psychology and looking to become elite at yet another career. It may have been short and sweet but Holt was certainly one of the most impactful and enjoyable athletes we have seen in a long time.
Isis Holt OAM – a career snapshot:
Rio 2016:

Silver – 100m T35

Silver – 200m T35

Bronze – 4x100m T35-38

Tokyo 2020:

Silver – 100 T35

Silver – 200m T35
World Para Athletics Championships:
Doha 2015:

Gold - 100m T34

Gold – 200m T34

London 2017:

Gold – 100m T35

Gold – 200m T35