Despite regular roster turnover and being a smaller market team than some others in the competition, the Illawarra Hawks will be looking to reach the expanded playoffs once again and test their mettle against the best in the NBL. Will they be able to reach these heights again this year?
Last year for the Hawks was an impressive performance in the regular season. They stormed out to the second-best record in the league for the home and away portion of the season and were a dreaded fixture to see coming ahead if you were any of their opponents as the season went on. Their team balance and exciting performers meant that they were one of the best teams throughout the season.
Their MVP was breakout star Duop Reath who was a part of the Australian Boomers' historic Tokyo 2020 bronze medal squad and showed just how dynamic a player he is on both ends of the court, averaging 15.5 points per game and 1.5 blocks per game.
The Hawks had four players averaging over 13 points per game with Xavier Rathan-Mayes and Sam Froling not far behind with 10 and nine points per game respectively.
Additionally, the Hawks never showed a particularly tangible weakness last year with improved defensive performances across the board with Antonius Cleveland (who won the NBL's Defensive Player of the Year), Tyler Harvey and Justinian Jessup averaging four steals per game between them and great rebounding presence with Froling and Reath (14.5 rebounds per game between them).
The Hawks fell short in a three-game semi-final series with the Sydney Kings which could've easily gone the other way.
2nd - Semi-Finals (19 wins, nine losses, 106.52%)
Proving they're the real deal and their strong showing in NBL21 was not just a fluke, the Hawks once again qualified for the playoffs in NBL22 and will be looking to build and progress even further this year to mark a complete turnaround for the NSW South Coast side. The striking thing about the Hawks these past two seasons is just how well they play together as a team and produce results beyond the sum of their parts.
American Tyler Harvey is entering his third season with the Hawks now as an import player and lead the team in scoring last season with over 16 points per game to go with three assists and almost two steals per game. Harvey's all-around game has improved and while his scoring numbers are down, that was merely a symptom of the stronger offensive performances he was getting around him from the likes of 2022 NBA Summer Leaguers Reath and Justinian Jessup as well as emerging Australian Boomer Froling.
With the Hawks heading into NBL23, the key point of improvement needed for them to establish themselves as an NBL dynasty is depth. While the Hawks were impressive all around last year, they had a distinct lack of production from non-import players. Reath and Froling were the only local players to average more than nine points per game with the other members of the Hawks being developing young talent like that of Akoldah Gak and Alex Mudronja.
The loss of veteran big man AJ Ogilvy will be felt by all around the locker room as he was a key veteran presence for the Hawks turn in fortune over the last couple of seasons. But at 34 years old, Ogilvy decided to call time on his great seven-season NBL career to make way for the younger talents developing in Illawarra.
In essence, what the Hawks need is improved time and contributions by young Gak and starting center Mangok Mathiang returning to Australia after a six-year period playing overseas in Europe and the USA. There is reason to be hopeful however as Froling continues to improve, having the experience of Mathiang alongside him playing a bigger role than Ogilvy will only help the development of the Hawks frontline.
Returning: Tyler Harvey, Sam Froling, Akoldah Gak, Alex Mudronja, Dan Grida, Lachlan Dent (Development Player), Tim Coenraad (Nominated Replacement Player)
Ins: Justin Robinson (Detroit Pistons), George King (Ontario Clippers), Mangok Mathiang (Cedevita Olimpija), Wani Swaka Lo Buluk (Sydney Kings), Deng Deng (Illawarra Hawks), William Hickey (Illawarra Hawks- Development Player), Harry Morris (Illawarra Hawks- Development Player), Kevin White (Perth Wildcats - Injured Replacement)
Outs: Antonius Cleveland (Adelaide 36ers), Duop Reath (Qingdao), Xavier Rathan-Mayes (Melbourne United), Justinian Jessup (Zaragoza), Harry Froling (Brisbane Bullets), Emmett Naar (Heroes Den Bosch), AJ Ogilvy (Retired), Isaac White (Tasmania JackJumpers)
Point Guard- Justin Robinson | Alex Mudronja | Lachlan Dent
Shooting Guard- Tyler Harvey | Kevin White | William Hickey
Small Forward- George King | Wani Swaka Lo Buluk | Dan Grida | Harry Morris
Power Forward- Deng Deng | Tim Coenraad
Centre- Sam Froling | Mangok Mathiang | Akoldah Gak
While it's not exactly a number that's measured or looked at in terms of recorded stats, the Hawks team play to most watching is likely to be the best in the league. The Hawks pride themselves on taking good shots on offence by passing the ball around and have the unique gift of disciplined team defending as well.
With a new coach and some changed personnel, the Hawks will look to try and use these points as the foundation to progress with some of their more dynamic acquisitions like Justin Robinson. Adapting to quite a changed team however can be difficult, but the Hawks will hope a solid start to the season will propel them to quick chemistry.
What the Hawks have lost a lot of over the off season is proven rebounding presence, as their lead rebounder last season Reath has moved on to opportunities overseas. This will put a heavy burden on Froling and newcomers Deng and Mathiang who not only need to adjust to being integrated into a new team with a new system but also need to ensure they carry themselves with the same dynamic physical presence that Reath had.
Size in basketball is always a key point of interest and in that respect, Froling and Mathiang certainly possess it. The key here is to be able to secure defensive stops with the rebound at the end of the play and that will allow the Hawks to set up their team-oriented offensive passing with less pressure.
Sam Froling is set to have yet another breakout season as he cements himself as the young upcoming big for the Australian Boomers. After several confident outings during the Asia Cup and the FIBA World Cup qualifiers, Froling looks in the best shape and highest confidence he's ever been.
Froling is taking on active possession of the ball which is a great skill for a larger player to have, steadily improving his rebounding numbers during the season and shown what a stifling defender he can be, looking right at home with premier shot-blocker Thon Maker and the human embodiment of energy Keanu Pinder.
With the movement in the off-season, now's the time for Froling to have a full, healthy season where he takes the next step into becoming a star in the NBL, and if his international performances are anything to go by, he's certainly capable of just that.
It will be interesting to see how things pan out with the Hawks having already picked up some key injuries in the off-season that may regress the quality of the team's product. However, they will certainly fight tenaciously throughout the season and are likely to find themselves in this season's extended post-season.
Predicted Starting Lineup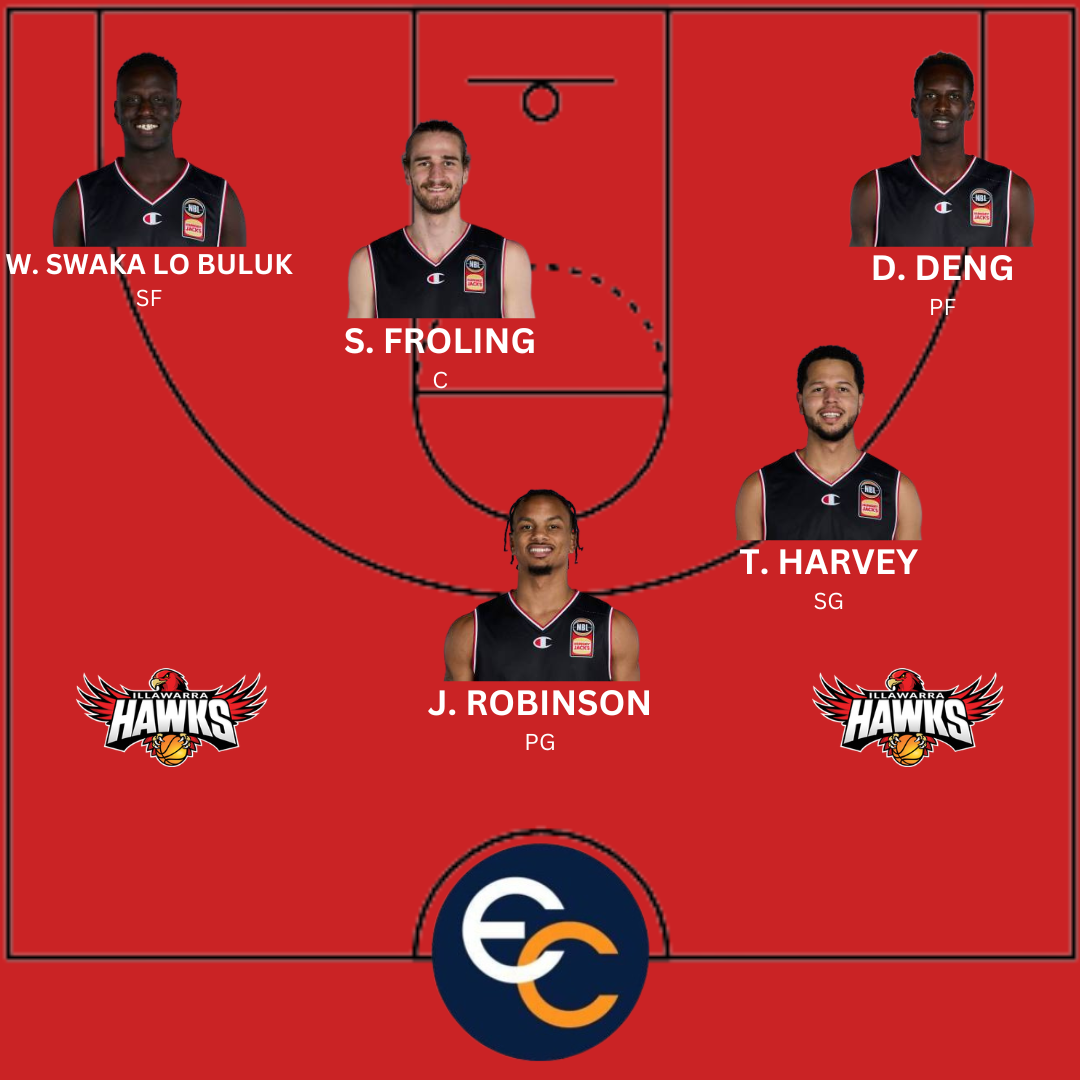 The Illawarra Hawks begin their NBL23 campaign at home against the Sydney Kings at WIN Sports and Entertainment Centre on Saturday, October 1 from 8pm AEST.